Although the cryptocurrency market has entered a bear market with depressed crypto prices, the companies behind these altcoins are still growing strongly over the past years.
That said, cryptocurrency enthusiasts looking for meaningful engagements are still left in the dust as there are not many crypto use cases for the direct consumers themselves (they are usually designed for B2B uses).
Luckily, I chanced upon Crypto.com – a global company with a local presence in Singapore. Digging deeper, I saw that Crypto.com is a secure and robust platform that offers plenty of interesting services such as being able to buy and sell 55+ cryptocurrencies in one convenient place.
To someone who has been 'hibernating' ever since the cryptocurrency market crash, this platform really got me excited.
Personally, I feel that Crypto.com has emerged as a good way for even beginners to get started with cryptocurrencies.
How Crypto.com is driving retail adoption
One of the greatest concerns hampering the development of the crypto industry is this – the lack of adoption for digital money by the masses.
There are many potential investors or users who have stayed out of cryptocurrencies simply because they can't see how cryptocurrencies are of benefit to them.
Making crypto accessible and easy to use is vital for adoption. And that's where Crypto.com comes in.
Through its MCO Visa Card and smartphone app, Crypto.com users can access a variety of payment methods to send money or spend their money freely without restrictions since their cards are in partnership with VISA.
More importantly, cryptocurrency investors can also store their assets in the form of Bitcoin (BTC), Ether (ETH) and more supported cryptocurrencies in this all-in-one wallet.
In short, Crypto.com allows a user to easily integrate cryptocurrencies into their daily lives. When that happens, retail adoption will skyrocket as more and more users join into this ever-expanding virtuous loop.
With that in mind, I will cover 3 interesting features of Crypto.com that any cryptocurrency user or potential user should know about.
1. Crypto.com App – Sleek & Comprehensive
All the good regarding Crypto.com has been bundled in its mobile device application.
Available on both Android and iOS store platforms, the Crypto.com app is the place for users to access all the various features of Crypto.com as shown below in the screenshot I grabbed from my mobile phone.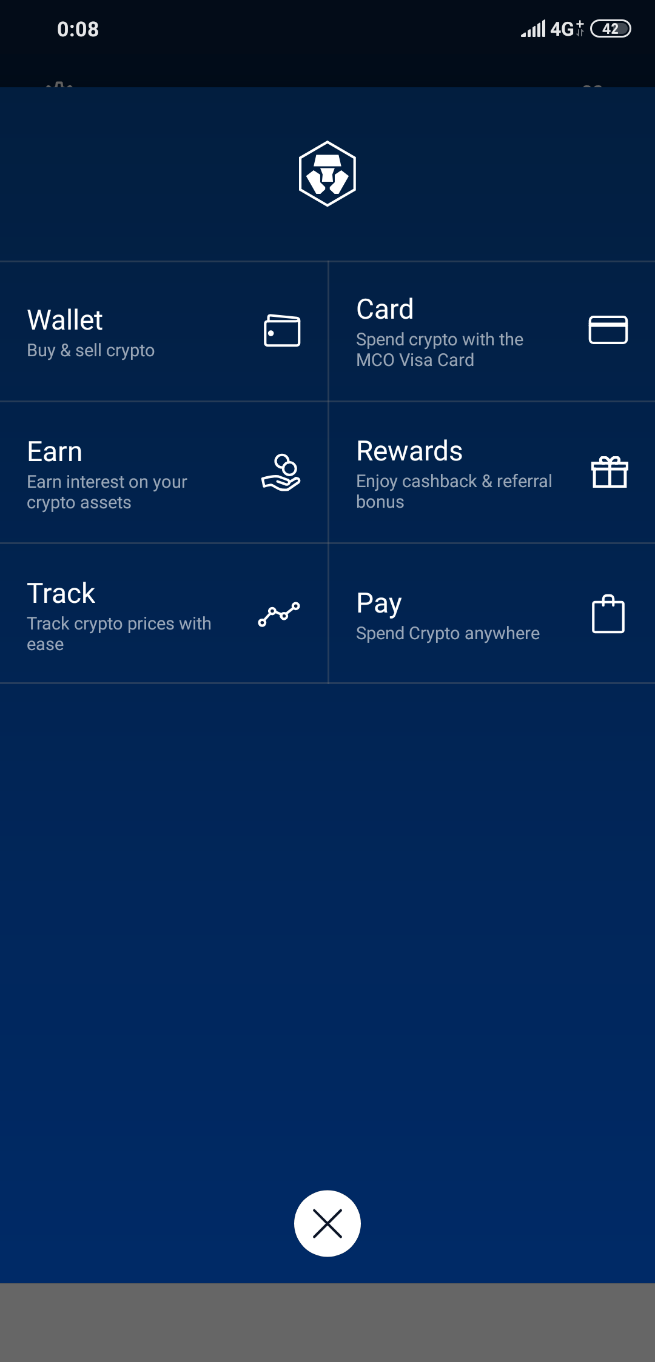 After meddling with the app for a while, I find the mobile app's user interface (UI) sleek and simple to use. I can go to my crypto wallet to securely buy/sell/store/send cryptocurrencies.
If you are a savvy crypto investor, you will also find the the Track Coins function to be beneficial as you can track 200+ coins and setup personalized price alert.
Last but not least, the 'Card' segment allows me to apply for a physical debit card with generous perks and benefits. This brings me to the next point – MCO Visa Card.
2. MCO Visa Card – Attractive Perks
The versatility of the Crypto.com app is further boosted by Crypto.com's MCO VISA Card with the MCO token as the backbone.
For a quick background, the MCO token is the native ERC-20 cryptocurrency token of Crypto.com's payment platform coin.
The token sale (think IPO) in 2017 raised well over $26 million and MCO is currently traded in 22 cryptocurrency exchange platforms, including Binance, Bithumb, and Bittrex. The coin's circulating supply is over 15 million tokens.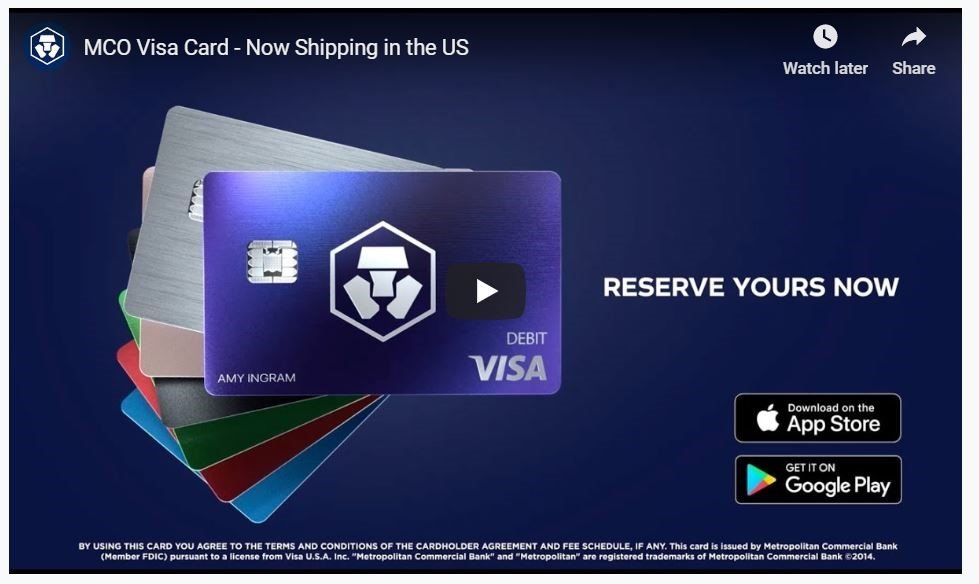 The above video shows a quick introduction of the MCO Visa Card and how it can deliver a range of perks based on different tiers.
Users will instantly be able to turn crypto into fiat and use it at any merchants that accept VISA globally.
Best of all, there are no annual fees or overseas transaction fees!
Below is a comparison of the card tiers and how you can obtain them by staking MCO tokens.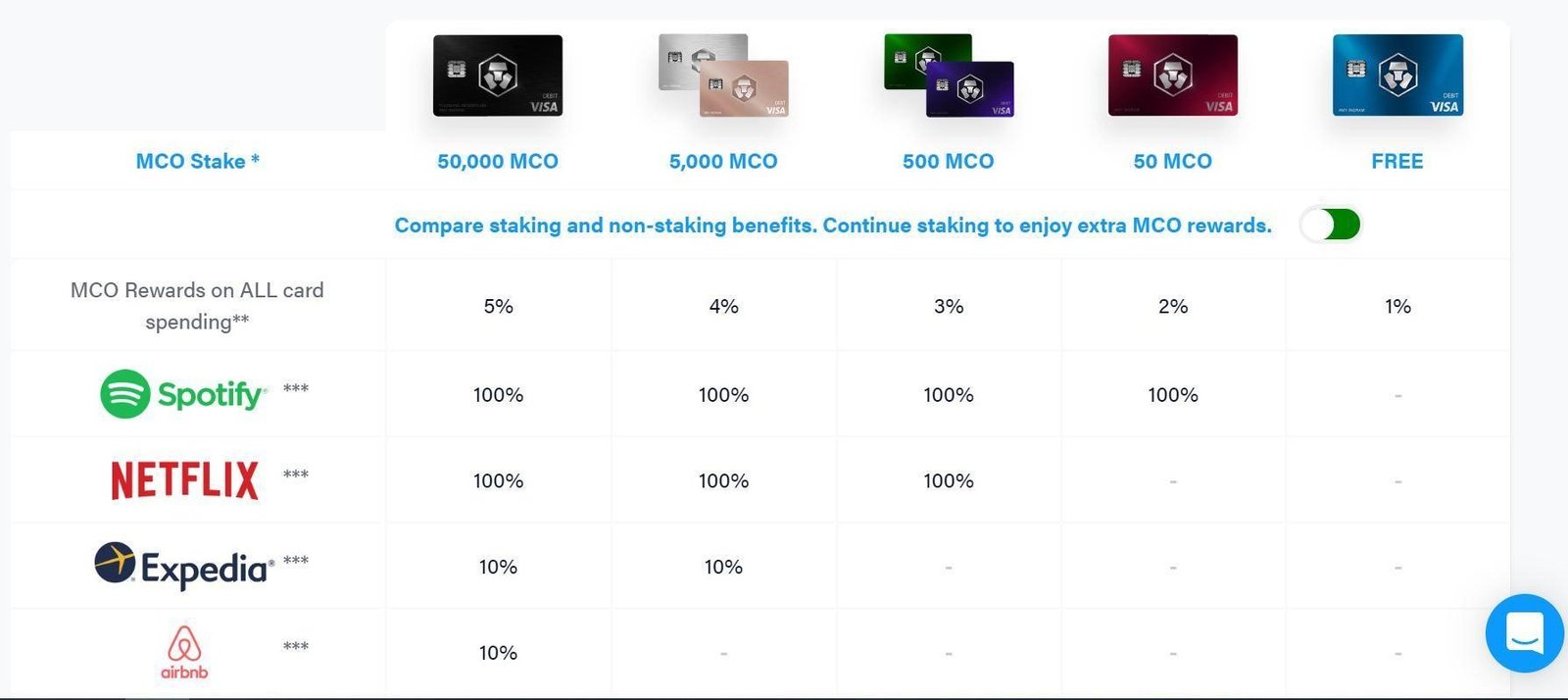 Taking the middle tier (Jade Green and Royal Indigo cards) as an example, you will need to purchase 500 MCO tokens and hold them for 6 months (what we call 'staking').
Based on the MCO token price of US$3.65 at the time of writing, it will come up to US$1,600 or S$2,208 in equivalent. Unlike annual fees, these are returned to you after 6 months.
With that, you will get a 3% rebate (in MCO tokens) on all your card spending with no minimum spending or any cap involved.
Furthermore, you get 100% rebates on your Spotify and Netflix subscriptions (capped at USD9.99 and USD12.99 respectively) and LoungeKey™ airport lounge access too.
Want higher rebates of 4% or 5%? You can choose to stake more MCO tokens to the tune of 5,000 MCO and 50,000 MCO.
With all these generous perks tagged to the metal composite card, it can potentially draw away users using other cards at the moment.
3. Crypto Earn – Up to 18% p.a.
If there is one feature that you want me to pick among all that from Crypto.com, it would definitely be the "Crypto Earn" feature.
By depositing the more common tokens and stable coins into your wallet, you earn up to 18% per annum on the deposited currency (simple interest and will not be compounded).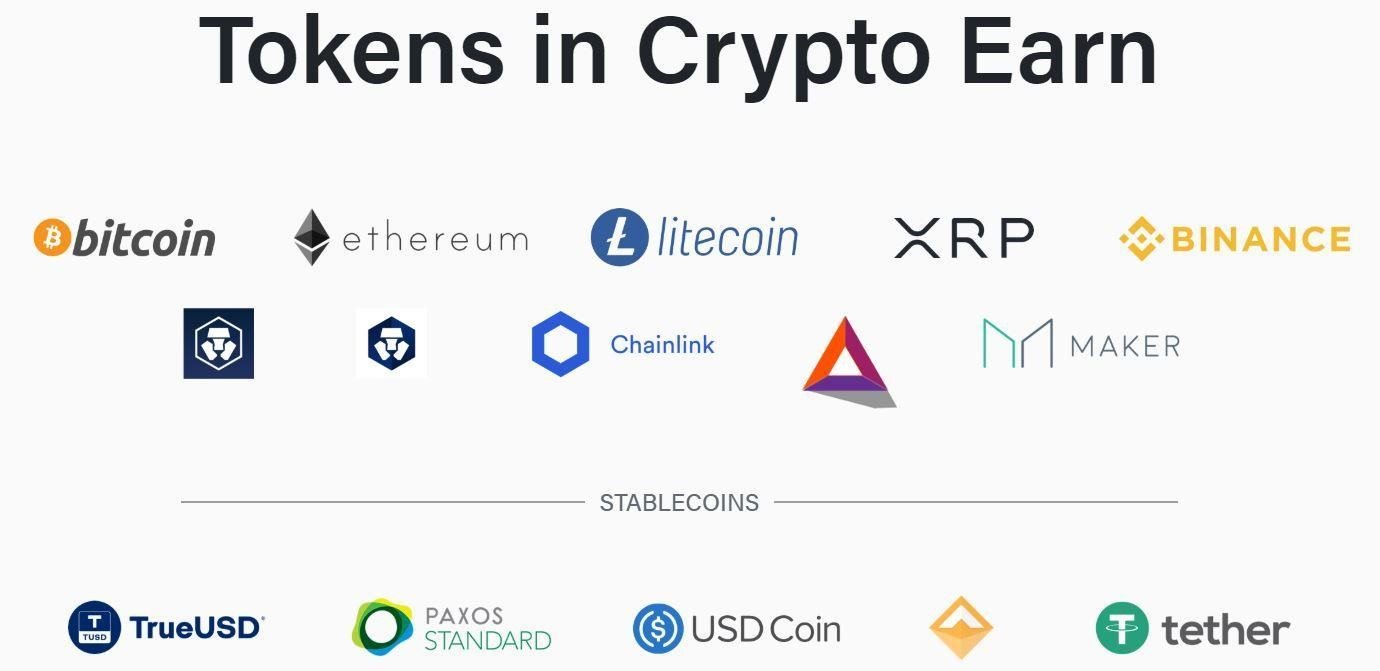 For illustration, if you stake 500 or more MCO tokens and deposited TrueUSD into a 3 month period in Crypto.com, you will receive a whooping 12% interest rate.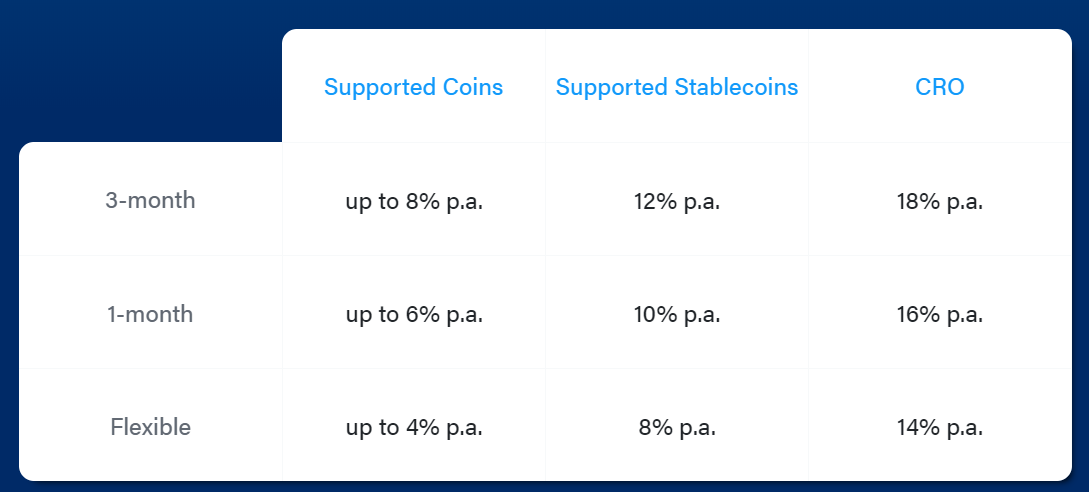 This interest is payable weekly into your wallet and based on your deposited cryptocurrency i.e. you will receive interest amounts in Bitcoin if you deposited Bitcoin.
Those wondering how Crypto.com is able to offer such high interest rates and whether it's a scam can take comfort in 2 probable reasons:
Crypto.com takes the deposits from your end and lends them out to people who do margin lending for crypto trading – they pay much higher rates and Crypto.com earns the spread in between.
Binance and other cryptocurrency players are also doing the same – allowing holders of various tokens to earn interest on their funds. For instance, BNB holders (Binance Coin) offers a 15% annualized interest rate.
Conclusion
In summary, Crypto.com has developed an app with a simple yet comprehensive User Interface. Coupled with the MCO Visa Card's perks, we think that it is capable of attracting both beginners and experienced crypto users to try out the platform going forward.
When more users join the network of Crypto.com, they will also start to stake MCO tokens to earn interests and rebates. All these will constitute to a virtuous loop and potentially drive up the price of MCO token in future.
The only thing is whether you will be part of the revolution that is going to take place with or without you…
And if you use my referral link here to sign up, we will both get USD $50 each. So why wait? Join us today!
---
Want to find out what is FUD, HODL or FOMO in Cryptocurrency Lingo? Find out more here!