Things are definitely looking better for Singapore!
Pursuant to the easing of social-distancing measures, Singapore is now further lifting up most Covid-19 curbs from 26 April 2022 and lowering the DORSCON level to yellow.
You can check out our previous article: 16 'Turnaround' Stocks to benefit from Covid-19 Re-opening
In general, i think going back to Pre-Pandemic is a welcome move for many – except that we may need to go back office for work soon (oops).
But as an investor, what we want to know are the measures that would benefit certain sectors and in turn, the subsequenty Covid Rebound Stocks.
So without further ado, lets jump right in!
1. F&B and Retail Sectors
When COVID-19 lockdown happens 2 years ago, one of the most adversely impacted sectors are the F&B and Retail ones.
You can literally imagine going into the shopping mall and seeing the retail associates standing around and swatting flies. F&B staff are also not attending to a big crowd in their outlets; mainly packing orders for our delivery heroes.
Now that there's no more social distancing and we're almost back to pre-pandemic levels, these 2 sectors will stand to benefit the most.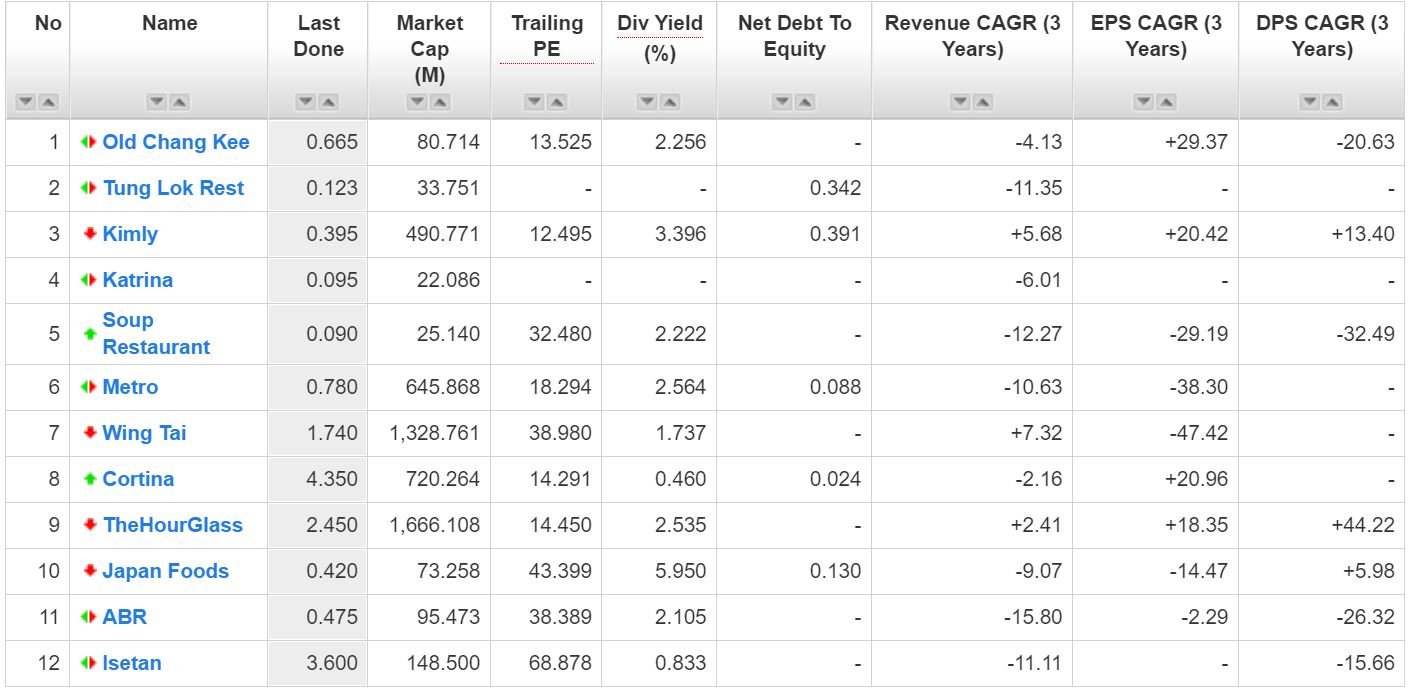 Sourced from Shareinvestor.com
We cheery picked 12 stocks to be included in the table above. A quick glance shows that their 3-Year Revenue CAGR (compound growth) has been sub-par as most of them are negative.
Among them, only Kimly and Wing Tai and TheHourGlass show positive numbers.
More impressive is that Kimly and TheHourGlass are offering higher dividends per share too with 3-Year DPS Cagr coming in at 13.4% and 44.22%.
Quick Take
F&B/Retail stocks are decimated by the COVID pandemic as shown by their poor fundamentals.
Hence, it probably makes more sense to pivot to the 'mean to reversion' or see it from a technical rebound. Investors should also be aware of the cut-throat competition and soaring inflation costs too.
Read also: https://www.smallcapasia.com/3-small-cap-stocks-with-big-cap-potential/
2. Retail and Office REITs + Transport
Separately, all workers can now return to the workplace and are not required to wear masks (no physical interaction) too.
Employers and higher management which lean on the safer side previously may now be more inclined to secure longer leases for office spaces.
The return of the workforce will mean 3 things (on top of the MRT jams):
Office spaces are more important than before
Retail REITs will benefit from the vibrancy again as more people going to shop there right after work
Public transport definitely a boom because they need to go back offices now!
Here are 10 stocks that make the list:

Sourced from Shareinvestor.com
Although the Retail + Office REITs stand to benefit from further easing, their valuations (Price/NAV) do not seem that cheap.
Other than OUE Commerical REIT trading at 0.72x P/B, Lendlease REIT and CapLand IntCom Trust are trading at 1.1x and 1.13x P/B.
The transport winners are the 3 usual ones – VICOM, ComfortDelgro and SBS Transit. I have also added EuroSports Global to take advantage of the higher demand for cars (although COE is going 100K :x).
Quick Take
The REITs and Transport stocks are not exactly cheap when you look at their P/B and P/E ratios above 1x and 15x respectively.
That said, we must also remember that their asset values and earnings are pulled down during the pandemic. This means that the share prices may experience some upside potential in conjunction with the financial growth.
In particular, barring the increase in fuel costs, ComfortDelgro looks interesting because it benefits from:
Public bus and charter bus services & Rail services through SBS Transit;
Motor vehicle evaluation through Vicom;
On top of that, it has offered Dividends per share of at least 9 S-cents since FY2015 before COVID. At the current $1.50 price, it translates to an indicative 6% dividend yield.
3. Rejoice at Events & Hotels
Want to get married? You better hurry because the race for wedding slots are on!
Anyway, the events organizers and hoteliers are finally rejoicing now that Singapore has no capacity limit for Large Events [>1,000 pax]!

Sourced from Shareinvestor.com
Among the list above, Suntec REIT probably has the most to gain from the relaxation of measures.
This is because it is our local convention centre primarily used to house many renowned events like InvestFair and IT-Fair etc.
Genting Singapore will also enjoy a higher footfall for its resorts when more people flock down to the adjacent Marina Bay Sands or Sentosa to attend bigger events.
In addition, many people are probably itching to catch up on concerts like the A-Lin's tour by UnUsUaL Limited below.
Mr. Leslie Ong, group CEO of concert promoter UnUsUaL Entertainment is upbeat about this development and said:
"We are extremely delighted to announce our presentation of the very first concert, after so long, at the Singapore Indoor Stadium. It is now time for us to restart our work to bring live concerts to satiate the pent-up demand from local concert goers."
Quick Take
Its kinda nostalgic thinking about the times pre-Covid and the activities we enjoy are usually:
Overseas Trips (quoting my wife – 'Singapore so small!')
Staycations
Concerts
Movies (now streaming wars have started)
Experiences (Disney on Ice!)
And that makes us positive on mm2 Asia, same as the analysts who covered it here: https://www.smallcapasia.com/mm2-asia-a-turning-point-finally-arrives/
Conclusion
All in all, the easing of social distancing measures can have a broad-based positive effect on Singapore's companies and the overall economy.
This puts Singapore in a bright position to continue flourishing as we are among one of the first few Asian countries to ride on this rebound.