Excerpts from UOB-KH Report
mm2 Asia (MM2 SP)
We expect earnings to post a sharp recovery from FY22 onwards, driven by all three segments:
Cinema attendance expected to recover as the majority of Singapore's and Malaysia's populations are vaccinated,
Robust pipeline of core production business of S$150m-190m in the next 2-3 years, and
Resumption of in-person concerts. mm2 plans to launch Metaviva, a NFT marketplace.
Mm2's 5x FY24F PE is expected to expand closer to global peers' average of 21x. Maintain BUY with a higher target price of S$0.115.
Cinemas: Better positioned for recovery.
Domestic cinema attendance is poised for recovery as 93% of Singapore's population is fully vaccinated with 60% having taken the booster shot and close to 80% of Malaysia's population is fully vaccinated.
Cinemas in Singapore and Malaysia have been allowed to reopen since 2H21, albeit at a lower capacity.
Singapore's authorities have allowed 1,000 pax per cinema hall with a 1-metre safe distancing rule between different groups while Malaysia's cinemas are allowed to operate at 50% capacity.
Furthermore, dining-in and food and beverage consumption in cinemas, a large and vital contributor of revenue, has been permitted in both countries which would help boost cinema revenue.
Core production business: Robust pipeline.
Over the next 2-3 years, mm2's core production pipeline remains sizeable, amounting to S$150-190m. Currently, the group has over 30 projects that are in various stages of development, production and distribution.
As production of films/tv series ramps up in FY22, mm2 is set to produce and distribute highly
anticipated titles in new and existing markets.
Some titles include local favourite "Ah Girls Go Army", making S$1m in ticket sales in three days with a second sequel already being confirmed.
Concerts: Restart of in-person concerts.
After a lengthy hiatus, in-person concerts/shows have resumed as more countries gradually ease restrictions.
In 1HFY22, Unusual Entertainment (Unusual) co-produced 59 in-person shows for circus act "La Clique" and 29 shows for local act "Boom Boom Room Live!".
Also, Unusual produced two sold-out in-person JJ Lin concerts, indicating pent up demand for concerts. In a recent announcement, Unusual is set to co-produce 54 concerts across 54 Chinese cities for renowned singers Angela Zhang and Kelly Yu.
Others: Entering the Metaverse.
mm2 has plans to launch an online NFT marketplace named "Metaviva" for digital assets focusing on popular regional media content.
As a comparison, the global OpenSea NFT marketplace currently boasts a valuation of US$13.3b.
Peer Comparison

Comparing to global peers, we expect mm2 to follow suit and experience a sharp recovery in earnings. AMC Entertainment, one of the largest US cinema chains, has turned EBITDA positive on the back of easing restrictions since 1Q21.
Closer to home, IMAX China recovered strongly as 90% of its theatres have reopened in 1H20, with 2H21 expected to outperform yoy according to the company.
Valuation
[UOB-KY] Maintain BUY, with a higher target price of S$0.115 (S$0.095) based on a SOTP valuation seen below.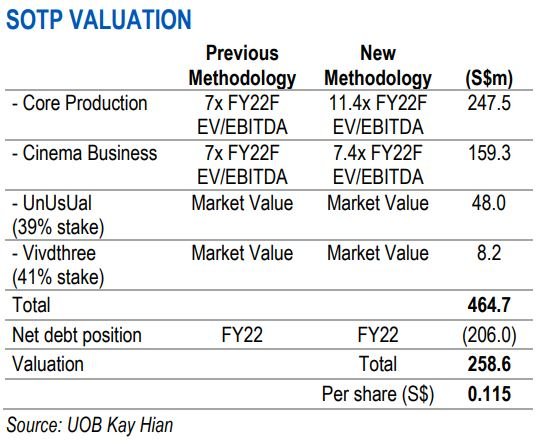 You can find the full report here.