Excerpts from SAC Capital report
Cordlife Group Limited (SGX: CLGL)
Signs of recovery
2H21 revenue (+7.4% hoh, +3.3% yoy) and EBITDA (+52.3% hoh, +51.6% yoy) point to a recovery.
EBITDA margin, at 15.6%, was above FY19's 14.3%, as it signed up more full-payment plans, improved processes and incurred lower marketing costs.
FY21 net profit was 31.2% higher yoy, if the non-recurring S$2.1m government grant received in FY20 were excluded. Full year's revenue was -3.9% yoy, led by -5.7% in core cord blood banking services. Diagnostics services grew 33% to S$3.6m, though this was only 6.3% of total revenue.
The growth in sample collections in 2H21 (+19.3% hoh, +5.0% yoy) suggested an uptick in the core cord blood banking operations, as these would translate into revenue in future periods. Contract liabilities, representing advanced receipts, rose 7.8% yoy to S$76.1m as at end 2021, indicating higher revenue recognition going forward.
These supported OCF/share of S$0.037 and a strong net cash of S$74.6m, or 29.2 cents/share.
Lifting of COVID curbs would help lift earnings in the following ways:
Higher marketing activities through greater engagements with doctors, and roadshows and seminars to raise awareness;
Easing of movement restrictions in key markets. As banking services are conducted in the major cities, the resumption of domestic travel will help in collection of samples nationally; and
Increase in offshore banking, with the resumption of flights and travel. Samples are collected in the country where the customer resides and transported to Cordlife's banking facilities for processing and storage.
Cordlife has drummed up efforts to sign up more full-payment plans
Unlike instalment plans, full-payment plans
generate higher processing income;
lower credit risk and control cost; and
collects cash up-front.
Cord blood banking could gain wider acceptance if more studies demonstrate the benefits of using stem cells in regenerative therapy.
Low live-births in core markets Singapore
(45% of revenue) and HK (13.6%) remain a concern. Singapore's total number of babies grew 0.16% in 2021 to 38,651. Still, this was 1.6% lower than 2019. An impetus to sign up cord blood banking is the charges can be deducted from the partially Government-funded Child Development Accounts.
HK births fell by a sharper 8% to 38,684 in 2021, the seventh year of decline. What's more worrying is the decline in number of marriages, from about 44,000 in 2019, to 28,000 in 2020 and 27,000 in 2021.
Besides other private cord blood banking providers, Cordlife also have to contend with the public cord blood bank, Singapore Cord Blood Bank, who also offers private banking services.  In other developed markets such as the US, there are private operators that also offers public services, such as listed Cryo-Cell International (FY21 PE 30x).
Valuation
Trades at 30% discount to book. The share price is at a 30% discount to book value of S$0.534/share, 3x FY21 EV/EBITDA and 16.3x FY21 PER.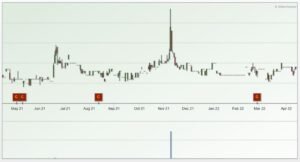 You can find the full report here