Tat Seng Packaging Group Ltd (Tat Seng) designs, manufactures and sells a wide range of corrugated packaging products, which include paper boards, assembly cartons, paper cartons, and die-cut boxes in Singapore and Mainland China.
In this article, here are 10 things to know about Tat Seng before you invest.
1. Geographical Markets
Tat Seng has six plants where five are based in Mainland China and one is located in Singapore. Thus, the bulk of Tat Seng's sales and profits are derived from its operations in Mainland China.



2. Segment 1: Mainland China

In September 2009, Tat Seng has purchased Nantong Hengcheng Paper Industry Co. Ltd, thus, contributing to a hike in its revenues to S$ 111.4 million in financial year (FY) 2010.

Since then, Tat Seng had achieved a CAGR of 12.6% and 17.0% in sales and earnings. Revenues had increased from S$ 111.4 million in 2010 to S$ 288.3 million in 2018. Earnings had risen from S$ 8.5 million in 2010 to S$ 29.9 million in 2018.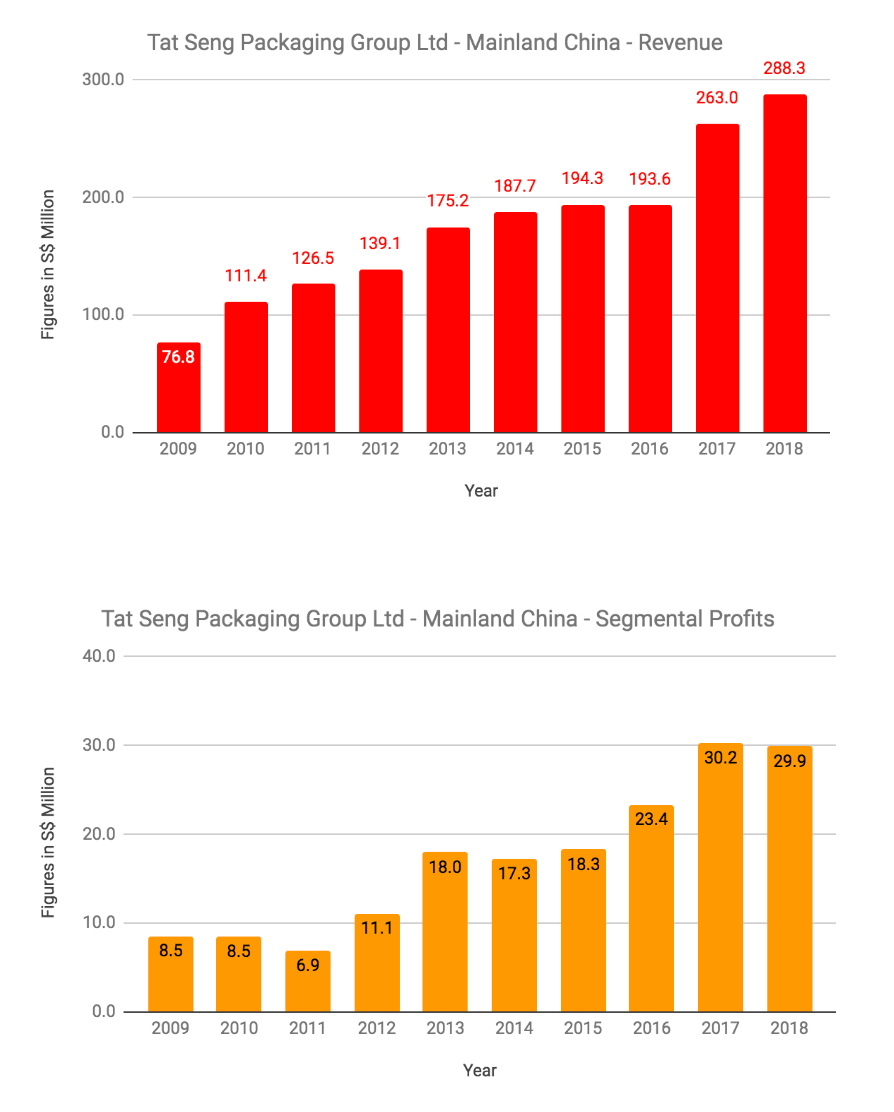 3. Segment 2: Singapore

In Singapore, Tat Seng operates under United Packaging Industries Pte Ltd. It has brought in about S$ 40 million in revenues per annum. But, it has been unprofitable for most years since 2012.


4. Group Financial Results

Overall, Tat Seng has achieved a CAGR of 12.7% and 11.2% in revenues and shareholders' earnings for the past 10 years. Group revenues grew from S$ 113.4 million in 2009 to S$ 333.3 million in 2018. It contributed to growing shareholders' earnings, up from S$ 7.4 million in 2009 to S$ 19.3 million in 2018.
During the same period, Tat Seng has averaged a Return on Equity (ROE) of 12.82% per annum for the last 10 years. This means, it had made on average S$ 12.82 in annual earnings from every S$ 100 it has in shareholders' equity from 2009 to 2018.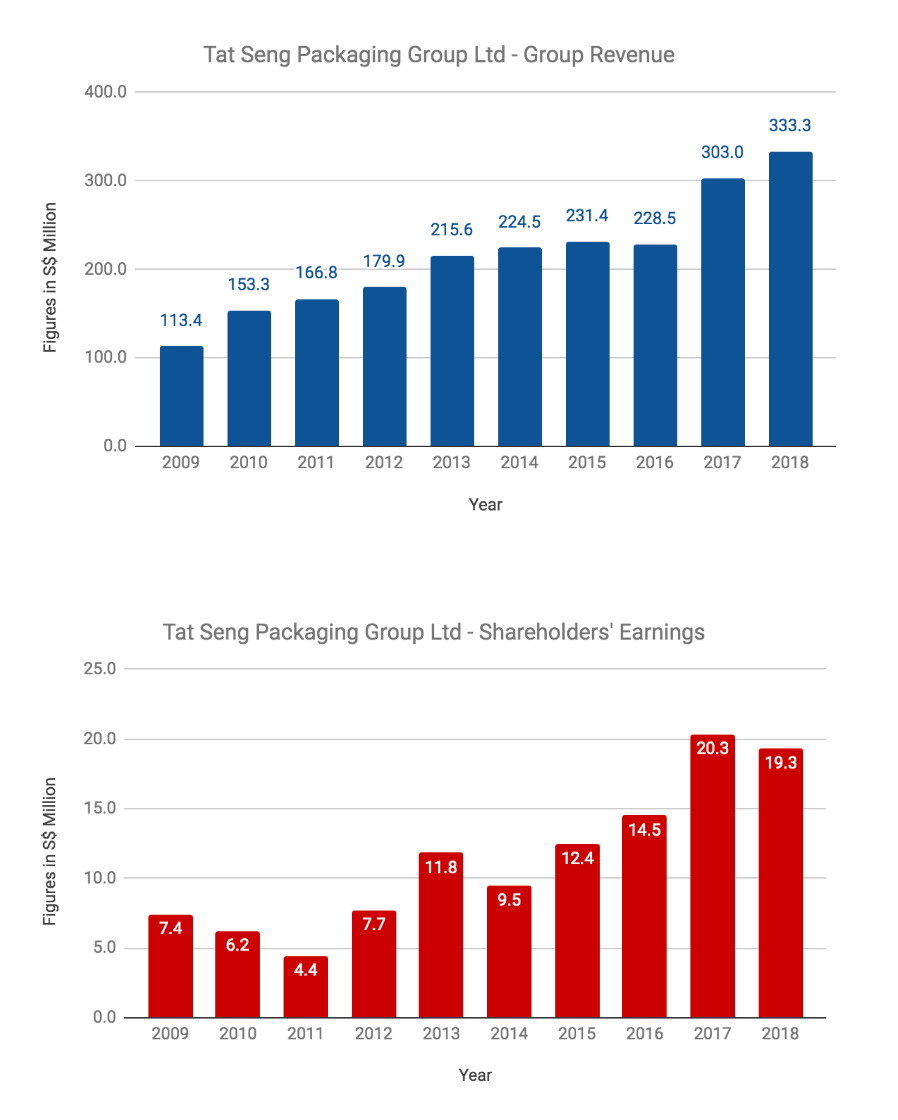 5. Cash Flow Management

From 2009 to 2018, Tat Seng had brought in around S$ 115.2 million in operating cash flows and raised another S$ 64.0 million in borrowings. Out of which, it has spent on the following:
– S$ 104.2 million in net capital expenditures (CAPEX).
– S$ 29.9 million in dividend payments to its existing shareholders.

As such, it had raised its cash balance from S$ 13.3 million in 2009 to as much as S$ 48.5 million in 2018. Hence, Tat Seng has built itself a track record of generating positive cash flows and had chosen to spend more of its cash proceeds in CAPEX to grow its profits in the last 10 years.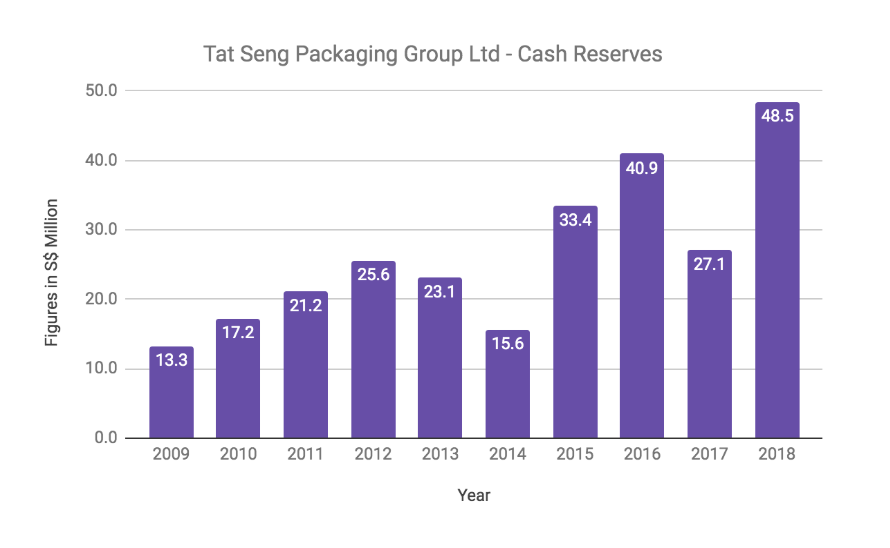 6. Balance Sheet Strength

In Q3 2019, Tat Seng has S$ 21.5 million in non-current liabilities and as much as S$ 129.5 million in shareholders' equity. Thus, its gearing ratio is 16.6%.
Also, Tat Seng has S$ 174.3 million in current assets and has a total of S$ 110.1 million in current liabilities. Hence, its current ratio is 1.58 presently.
7. Major Shareholders

Ku Yun-Sen and Loh See Moon are major shareholders of Tat Seng with 63.95% and 15.00% shareholdings respectively. Ku Yun-Sen's stakes are held within Hanwell Holdings Ltd.
Loh See Moon is currently the CEO & Managing Director of the company.
Read also: Hanwell holds a 63.9% stake in Tat Seng Packaging Group Ltd.
8. Latest 12-Month Financial Results

For the last 12 months, Tat Seng has generated S$ 294.9 million in sales and S$ 14.5 million in shareholders' earnings or 9.24 cents in earnings per share (EPS).
Its latest 12-month results was lower than 2018 figures due to weakening of Renminbi against the Singapore Dollar despite the company maintaining its sales volume in 2019.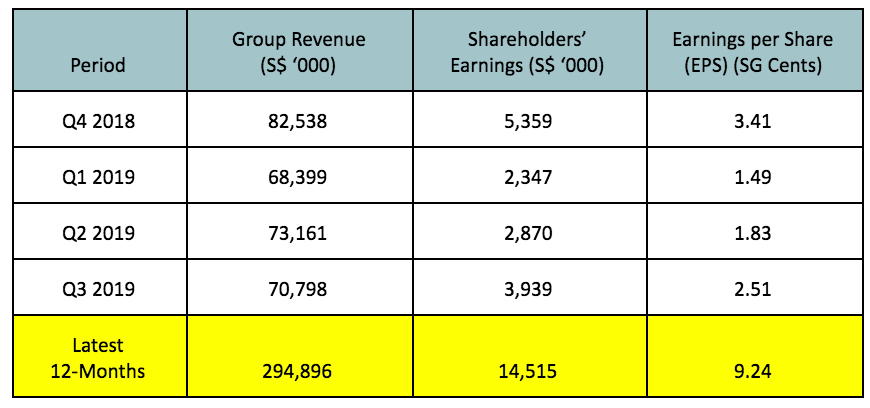 9. Future Prospect 1: New Factory at Nantong

In 2018, Tat Seng has acquired a 50-Year Leasehold Land measuring the size of 35,000 sqm at Nantong, Mainland China for S$ 4.53 million. The company has set up its new factory on its new piece of land and began its operations in 2019.
Subsequently, Tat Seng will cease its operations at its former factory at Nantong Hengcheng which has a smaller built-up area. The new plant is intended to be used to grow its existing market share in Nantong in the future.
10. Future Prospect 2: Hefei Land Acquisition

As of 16 July 2019, Tat Seng has entered into an agreement to purchase a piece of leasehold land measuring the size of 7,647 sqm in Hefei, China for a price of S$ 0.74 million.
The company intends to build a new factory on it and the land lease will expire on 23 May 2055.
11. P/E and P/B Ratio

As of 17 December 2019, Tat Seng is trading at S$ 0.52 a share. Hence, it has a current P/E Ratio of 5.63, higher than its 10-Year P/E Average of 5.05 presently.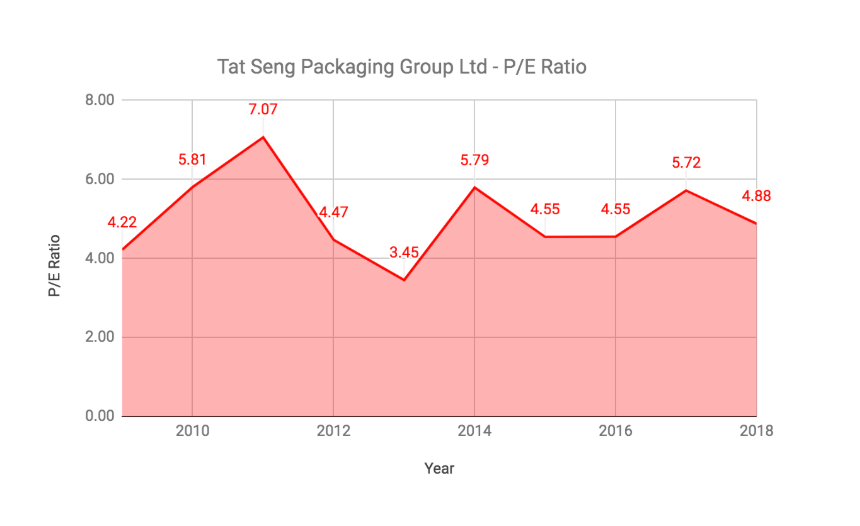 In Q3 2019, Tat Seng has net assets of 82.39 cents per share. Hence, its current P/B Ratio is 0.63, on par with its 10-year average presently.

12. Dividend Yields

In 2018, Tat Seng has paid out 3.0 cents in dividends per share (DPS). If it is able to maintain its DPS at 3.0 cents a year for subsequent years to come, its current dividend yield is 5.77% per annum, higher than its 10- Year Average of 5.41% per annum presently.
Conclusion
In summary, Tat Seng had delivered growth in revenues, earnings, and dividend payments to its shareholders due to its growing operations in Mainland China over the past 10 years. Mainland China remains as the driver of growth for Tat Seng with the commencement of a bigger factory in Nantong and the recent acquisition of a land in Hefei. 
It is trading at a cheap P/E Ratio of 5.6x and offers an attractive 5.77% dividend yield. Although the company has delivered consistent growth prior FY2018, investors should take note that Tat Seng is impacted by a huge drop in profits due to the fluctuation of raw material costs.