Excerpts from Careyourpresent
Why you should include Western Astrology as part of your crypto trading strategies
Western astrology is very profound. Astrology is about the planets such as Mercury, Venus etc and also the Moon that revolve round our planet Earth and thereby affecting our energy and emotions. It will indirectly affect the prices of cryptocurrencies and the way we trade.
However, if we know how to include this strategy in our trading of cryptocurrencies, we will be able to profit handsomely from buying before it goes up and sell before it comes down.
Moon Phase Theory
Lets take a look at the price chart  for ETH to illustrate the accuracy of using this theory.
Black is referring to  Full Moon
White is referring to New Moon.
Bars between full and new moons are colored accordingly, as growing or waning.
Once you see a full moon it means a local bottom for the price. Then it will slowly fade and around 15-16 days later, you will see the moon round again and will form a new moon which means a local top for the prices of crypto.
Do note that the Moon Phase Theory only tells you local bottom or local top for the price of cryptocurrencies. However, it is still a very useful strategy to know  if you want to use it to do short term trading of cryptocurrencies profitably.
If we want to see major tops or bottoms for cryptocurrencies, we have to factor in major events like Solar eclipse and the planets for cryptocurrencies.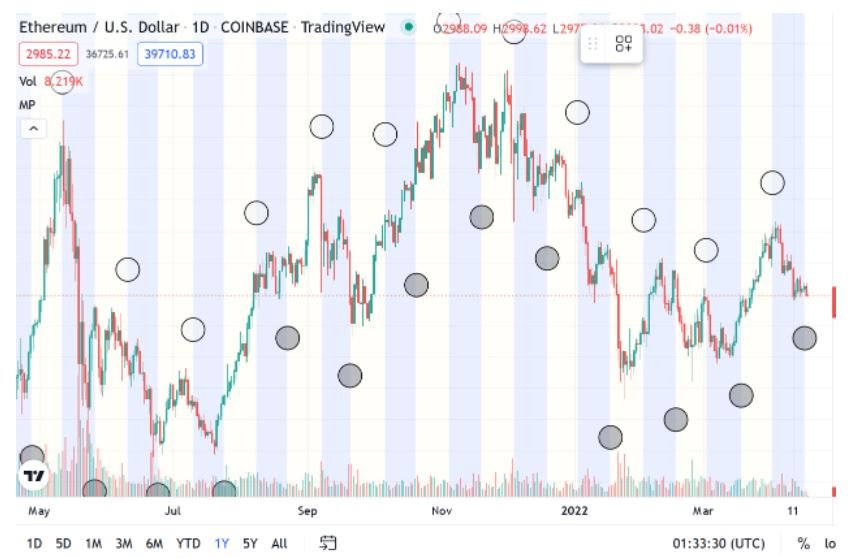 Source : Tradingview.com
You can read the full article in CareYourPresent blog here