Excerpts from UOB KayHian report
Choo Chiang Holdings (SGX: 42E)
With a dominant position in the distribution of electrical products, Choo Chiang has benefitted from strong growth of demand for its products, with 2021 EPS growing 190% yoy.
Choo Chiang to achieve EPS growth of 13% yoy for 2022, driven by increased sales of its own brand products and tie-ups with contractors for better order visibility. Also, divestment of its existing investment properties could unlock value.
Initiate coverage with a BUY and target price of S$0.56, pegged to 12x 2022F mean PE.
Dominant position in distribution of electrical products with robust earnings growth
Choo Chiang Holdings has established sturdy relationships with building contractors, renovation contractors and interior designers.
Today, it has a 60% market share in Singapore, where it operates 10 retail branches and retails over 30 third party brands along with its own proprietary brands Choo Chiang Marketing (CCM) and CRM.
As the construction sector recovers, Choo Chiang is well-positioned to benefit from the increase in sales of electrical products.
Total units sold for HDB and private resale units rose 18% and 82% in 2021 and we expect renovation works to be Choo Chiang's key growth driver. For 2022, we expect Choo Chiang's EPS to grow 13% yoy.
Renewed focus on better-margin proprietary products and relationships with contractors
Choo Chiang targets to increase contributions from its electrical main contractors and its proprietary brands. The group's current overall gross margin is 29.7%.
With CCM and CRM contributing 42-45% of its revenue and commanding around 25% higher gross margins as compared with third-party brands, increasing sales from both brands would boost both Choo Chiang's brand and overall margins.
In addition, Choo Chiang aims to increase market penetration with electrical main contractors, which contributed roughly 12% of 2021 revenue.
Having stronger relationships with electrical main contractors would bolster earnings quality, order visibility and market demand for the
group's products.
Divestment of investment properties could unlock deep value
Choo Chiang owns 12 investment properties whose occupancy rates have since fully recovered. Also, recently implemented cooling measures have diverted more liquidity into commercial properties.
As of 2021, we estimate the fair value of the properties at S$15m vs their carrying value of around S$13m.
Upon divestment of these properties, Choo Chiang could enjoy a capital gain of at least S$2m, representing around 20% of 2022 earnings with net proceeds of S$15m, roughly 20% of its current market cap.
Valuation/Recommendation
Initiate coverage with BUY and a target price of S$0.56, pegged to 12x 2022F PE (five-year mean PE).
We think current valuations of 8x 2022F PE for Choo Chiang and 2022 dividend yield of 6.6% are attractive, given the group's dominant market share, strong EPS growth and huge net cash of around S$22m (around 30% of market cap).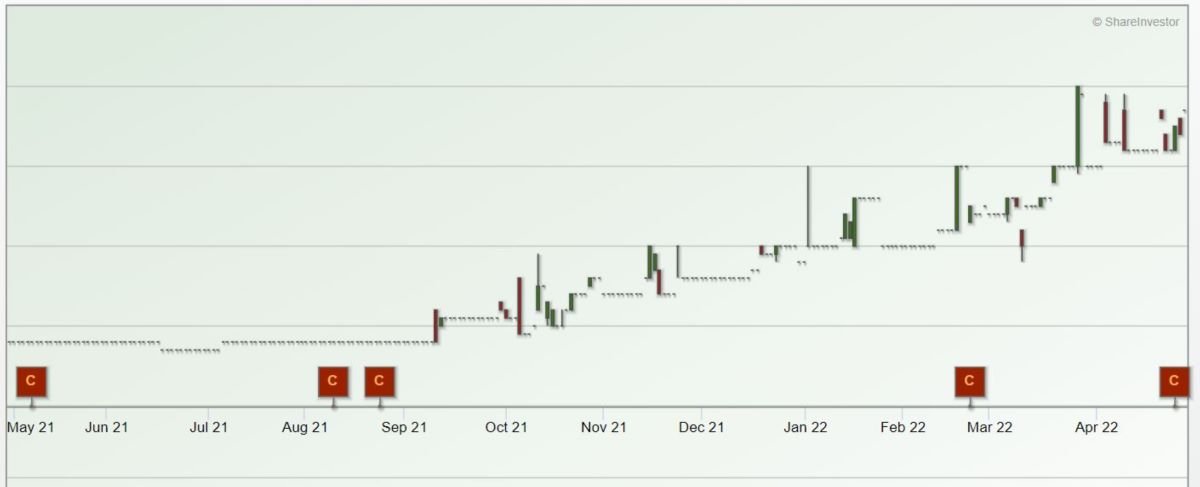 You can find the full report here