From retail mall points like CapitaStar to SIA's air miles, everyone likes the thrill of getting free stuff and the chance of simply winning some 'rebates' by being a loyal customer. Its even better when you can perform several short tasks to level up and reach the 'premium tier.
What if I tell you that there's something similar in the TigerBrokers app?
Something that is better than paying low commission and having access to a ton of investing tools?
Yes!
And that's their TigerCoins system!
Introducing Tiger Coins + Prizes to be won!
Let's talk about what you can redeem as gifts first before the other nitty gritty stuff.
There are 3 main types of prizes you can redeem using Tiger Coins for now:
Commission-Free Trades
Reuters Video Access
Stock Vouchers
#1 Commission-Free Trades
Commission-Free Trades are pretty straightforward and probably the most redeemed reward.
You will use 888 coins (very easy to obtain, I will show you how later) to redeem for 5 comm-free trades. They are also split into stock market specific i.e. U.S., H.K., Singapore and Australia.
Take for example if you trade S$10,000 on a SG stock, your commission rate (excluding SGX fees) would be 0.08% * S$10K = S$8.
5 comm-free trades would then = S$8 * 5 = S$40 in value!
*Take note that there is a cap of USD$15 on the free commission each trade when using the Commission-Free Trades!
#2 Reuters Video Access
What if you want to get updated on the latest industry/market news or obtain more information on some popular stocks?
Then you would like this Free Reuters Video access!
To access the Reuters' videos, simply click on the <Community> button (below row) and then the <Video> tab on top.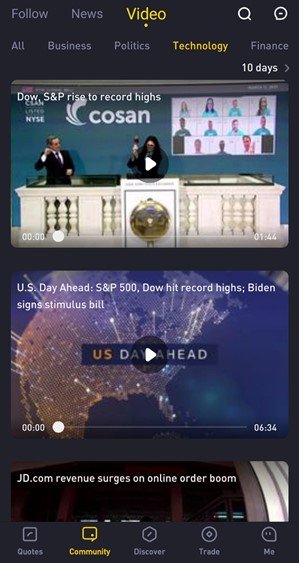 Based on the screenshot above, you can see that the free access include market summary videos as well as company's analysis (i.e. JD.com).
Note: These videos are locked and you have to purchase the access for either 10 or 30 days using Tiger Coins.
#3 Stock Vouchers
Last but not least, you can also go for the stock vouchers of 30 USD or 100 SGD.
A stock voucher allows you to purchase a stock at a discount that equals the value of the voucher. It can be interpreted as a form of cash credit which is credited automatically to your account.
For example, when you purchase 1 share of Apple at US$120, your costs would be US$120. If you apply the 30 USD stock voucher, your real outlay would be reduced to US$90!
How to exchange Tiger Coins for Prizes
Once you've successfully redeemed a particular prize using Tiger Coins, it will then show up in your rewards center.
Go to <Me> button -> <Promotions & Rewards> under <My Activity>.
Below is who it looks like:
Inside, make sure you press the <Collect> button to redeem the rewards. If not, it will just stay there and you will be left wondering why you haven't got the free commission rates yet.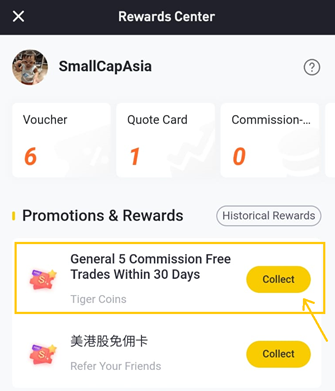 Once you've collected your reward, you will see the successful notification page below.
Now that you know of the dazzling prizes and how to redeem them, the next step is to find out exactly how you can stack up these Tiger Coins.
Lucky for you, I have also listed down the step-by-step guide to earn Tiger Coins below..
Step by Step Guide to Earn Tiger Coins
#1 How to access the Tiger Coins Page
When you're logged in to the app, head over to <Me> button.
Under <My Activity> section, click on <Tiger Coins>.
If its your 1st time visiting this page, you will most likely see the 'Clock in successful' message below.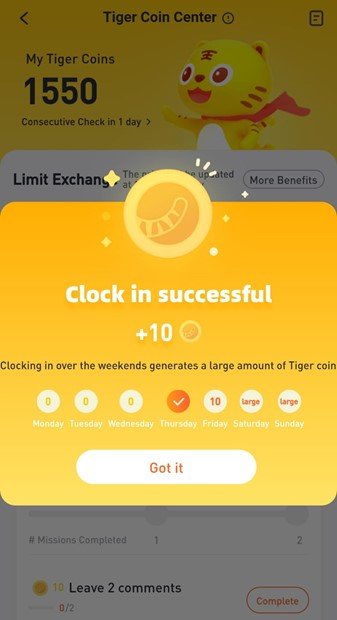 #2 Obtain Tiger Coins through Daily + Achievement Tasks
Users can obtain Tiger Coins using 2 types of tasks namely the Daily Tasks and Achievement Tasks as shown below.
From the looks of things, the tasks are pretty simple as well. You have daily tasks like leaving comments, reading articles and following users.
All these daily tasks can be completed via the <Community> tab and then going to <Follow> and <News> tabs on the top row. An even simpler way is to click on the 'Complete' button beside each task and it will bring you to the page directly!
For achievement tasks, you would have completed most of the tasks during account opening. To add stocks to your watchlist, head over to <Quotes> tab and click on the magnifying glass icon.
You will be shown 10 stocks each time and you simply have to click on the <Heart shape> to add the stock to your watchlist.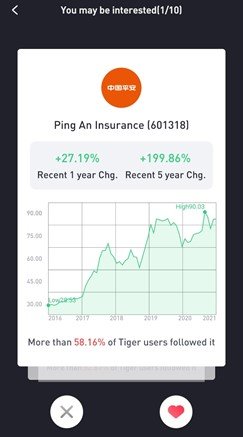 Do that 50x and you would be rewarded with 800 Tiger Coins easily!
Last but not least, don't forget to check in on a daily basis – you get 10 Tiger Coins on weekdays and even more on weekends!
#3 Tiger Coin Statement – See your past records
It is a breeze to check in how much you have collected/redeemed Tiger Coins too.
Just click on the top right corner button (which looks like a report) to access your Tiger Coins Statement.
I have displayed my activity records for your reference too.
FAQ of Tiger Coins
For any further questions on Tiger Coins, you can also check out their FAQ in this link.
We have also highlighted some common ones below for your quick reference:
Q1 Do Tiger Coins Expire?
Tiger Coins are valid for two years, from the next day after the Tiger Coin is collected to December 31 of the second calendar year (less than one year is counted as one year), after which Tiger Coins will automatically expire. The Tiger coins will be used in the order they are received by the client.
Q2 How long will it take to receive the reward after the redemption?
Rewards are normally delivered within [15] calendar days after the client completes the reward redemption or collection (in case of a holiday, the delivery may be postponed).
During the reward redemption or collection process, the client needs to verify their delivery address, mobile phone number, and other information to ensure that the data is correct.
If the delivery is affected by circumstances such as the failure to contact their receiver, it may not be possible to resend the reward.
Q3 Can Tiger Coin be transferred or cashed?
Tiger Coins can only be used to participate in lucky draws or redeem corresponding goods or services in the Tiger Coin Center and do not constitute any client assets, so they are not transferable or redeemable for cash.
Conclusion – Tiger Coins Rock!
Despite being a frequent user of Tiger Trade app, I find that I seldom utilize the <Community> tab until I know of the Tiger Coins function.
However, it has become a vibrant go-to place for me after adding multiple stocks into the watchlist and following some key opinion leaders (KOLs).
What's more, I get to earn Tiger Coins while I complete these simple tasks subconsciously. Looking forward to the day where I can redeem the stock vouchers again!
So if you like what you see and want to try it yourself, don't forget to use my exclusive referral link (click here). Happy Investing!~
This article is written in collaboration with Tiger Brokers but the views/opinions are of my own.