Gold prices have fallen off the cliff due to the recent rise in the US Dollar as bond markets get rattled by US Fed Chair Jerome Powell.
However, there are 2 main reasons to be bullish about Gold prices.
1) Yields may not increase sustainably, given the fact that governments do not favour higher yields on their accumulated gigantic debt
2) The US stock markets are nosediving right now after a long bull run and gold prices are generally viewed as the safe haven
Among the gold-related companies out there, we chanced upon an interesting one called Chaarat Gold listed in the U.K. Here's a quick background about the company.
Profile of Chaarat Gold
Chaarat is a gold mining company which owns the Kapan operating mine in Armenia as well as Tulkubash and Kyzyltash Gold Projects in the Kyrgyz Republic.
The company has a clear strategy to build a leading emerging markets gold company with an initial focus on the FSU through organic growth and selective M&A.
With that in mind, here are 5 things to like about the company.
1) Operations in Mining Friendly and Established Jurisdictions
Both areas where Chaarat Gold are mining friendly and established jurisdictions.
For Kapan in Armenia, it has a long history of being an established mining jurisdiction since the 1960s. The mining sector is one of the most important sectors and revenue generators in country and there is a highly skilled and well educated workforce in mining.
Lastly, it has a well-developed infrastructure to supply both gas and water for the whole territory.
As for Tulkubash & Kyzyltash in Kyrgyz, the government is supportive of the mining activities as well. It offers several benefits for mining companies such as clear mining laws, absence of red tape and low corporate taxes – zero for Chaarat!
Chaarat has even secured offtake with state smelter buying gold at market prices which means very low logistics costs involved.
2) Fantastic FY 2020 Highlights
According to the press release, the Company has exceeded its production guidance at its Kapan Mine ("Kapan") in Armenia and made good progress on the development of the business despite the COVID-19 pandemic, and earlier cross-border hostilities in Armenia and protests in the Kyrgyz Republic.
FY 2020 production guidance of 55 thousand gold ounces equivalent ("koz") exceeded by 6%, finishing the year at 58.2 koz despite the ongoing COVID-19 situation and hostilities in H2 of 2020.
Exceeded processing target of 50 thousand tonnes ("kt") for third party ore by 17.8 kt (+36%) in 2020, contributing significantly to exceeding the production guidance of 55 koz.
All-in-sustaining cost ("AISC"2) of USD 1,034/oz was in line with USD 1,040/oz for 2019.
A 50% increase in unaudited preliminary stand-alone EBITDA contribution of approximately USD 19 million at Kapan level in 2020 before group accounting adjustments and non-cash items (2019: USD 12.7 million).
Peace deal signed in November 2020 between Armenia and Azerbaijan led to stabilisation in country resuming sooner than expected.
In short, FY2020 was a great year for Chaarat with increased production of gold and ore despite the ongoing pandemic.
3) Strengthening of Balance Sheet
On the corporate finance front, Chaarat has accomplished several initiatives to increase liquidity and led to an overall reduction in debt.
One of recent notable event is the completion of an estimated US$52 million financing package through an equity fundraise of US$ 30.0 million and a debt to equity conversion with Labro Investments Ltd. of US$22 million.
The figure exceeded its previously announced target of US$ 25 million in the Financing due to strong demand from new equity investors.
More importantly, this leads to a significant improvement in the Company's debt position reducing the net debt position from US$64.5 million as at 31 December 2020 to US$12.5 million, a reduction of 80%.
After securing the funding, Chaarat is now focusing on completing the Tulkubash debt financing of approximately US$ 80 million during H1 2021 in order to fully fund the project construction capital of approximately US$ 110 million.
4) Strong Management Team
Its important for a company to have a capable management team and preferably one with a significant ownership in the company.
Chaarat's management team has the right mix here as it is managed by a high-quality operating team supported by an independent board.

Executive Chairman Martin Andersson is the largest shareholder in the company and has relevant experience serving on the board of Siberian Coal Energy, one of the largest thermal coal producers in Russia.
The other senior management also has extensive experience under their belts to support the business well.
In addition, having operated in these jurisdictions for decades, they have developed good western culture. well-versed with the business philosophy to employ and empower locally 90% locals in Kyrgyz republic and 99% locals in Kapan Armenia.
In fact, Chaarat have not faced any problems since the operations start in 2008 in Kyrgyz and 2019 in Armenia.
5) Positive Outlook for Chaarat
From the above, investors can see that there are clear near term accretive milestones stretching all the way to year 2026. Gold and ore production at Kapan will also see an uptick once the development of the east flank gets completed by 2022.
Below are some important excerpts from the commentary of Mr. Artem Volynets, Chief Executive Officer of Chaarat:
"a low commodity price environment in H1 2020 had its impact on our first half performance but the strong rebound in prices in H2 2020 supported the strong performance overall despite the unrest in Armenia.
Construction progress at Tulkubash was heavily impacted by the COVID-19 movement restrictions leading to a shift in first gold pour date as previously reported. The hiatus did provide time to carefully and conservatively assess the project to ensure its robustness. The emphasis of 2021 will be to ramp up construction on Tulkubash but also be to progress work on Kyzyltash to create substantial long-term value for Chaarat shareholders."
Conclusion – Huge Upside Potential for Chaarat Gold
There are many re-rating catalysts for Chaarat such as Kapan's East Flank development and free cash flow growth and significant Kyzyltash resource landbank supporting long-term growth through staged development.
On top of that, brokers are sanguine about the company as well. In fact, they estimate the fair value of Chaarat to be an average 105% premium to its GBp 30 share price (see below).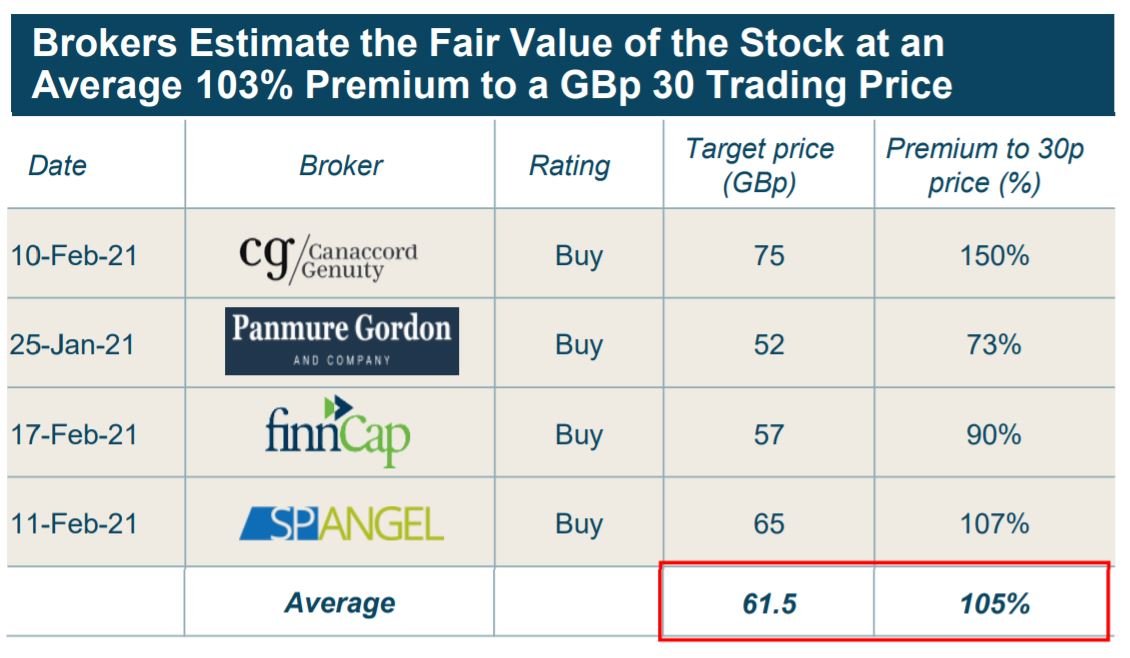 In addition, Chaarat Gold is currently trading at 25p, increasing the margin of safety as compared to the brokers' target price and the exciting milestones ahead.
Although gold prices have tapered off due to the sharp rise in US Dollar recently, Norman, former CEO of bullion dealer Sharps Pixley, still remains bullish on it saying that:
"Gold thrives on several factors being present, and virtually all of them have been present in bucketfuls this year: falling government bond yields, dollar weakness, extreme stimulus packages and high levels of geopolitical uncertainty."
All in all, factors such as a positive macro-economic background and higher production capacity will underpin the value of a listed gold production company like Chaarat Gold.
This article is written in collaboration with Chaarat Gold.