Pestech International Bhd (KLSE: 5219) (PIB) is a listed integrated electric power technology company in Malaysia.
It derives income from engaging in projects of engineering, procurement, manufacturing, construction and the commissioning of power substations, transmission lines and rail electrifications in Malaysia and Cambodia.
Without further ado, lets zoom into 10 quick things about PIB: 
1. Profitability 
In 2017, PIB has successfully clinched the following main orders:

In addition, PIB has acquired Colas Rail System Engineering Sdn Bhd, a company that was awarded with the MRT 2 system project. Thus, they resulted in growth in revenues from RM 500 million levels in 2016-2017 to RM 800 million levels in 2018-2020. 
Despite the rise in revenue, its shareholders' earnings had maintained at RM 70 million a year for the last 5 years. PIB had recorded higher earnings in 2017 and 2019 for PIB made higher unrealised gains on foreign exchange in both years.
In 2020, PIB had recorded RM 51.5 million in shareholders' earnings, the lowest in 5 years due to it incurring a fair value loss on derivative financial instruments.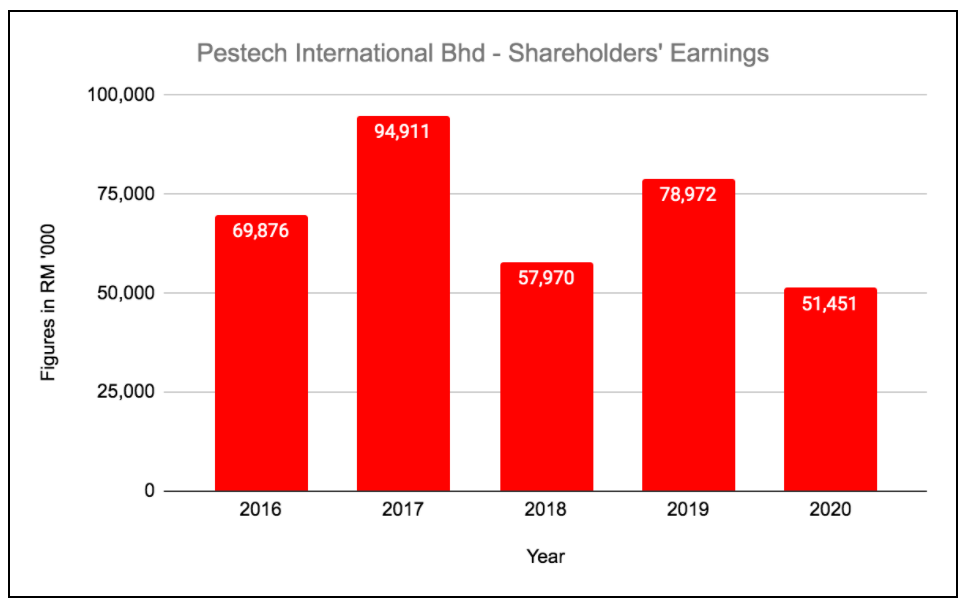 In view of its past 12 months, PIB has reported RM 50.8 million in shareholders' earnings or 6.65 sen in earnings per share (EPS).
2. Cash Flow Management 
In 2016-2020, PIB incurred RM 570.3 million in operating cash outflows. PIB has reported cash outflows for its contract customers.
It also incurred a total of RM 124.4 million in net acquisitions of property, plant & equipment (PP&E) and RM 220.0 million in acquisition of concession assets in 2016.
These are funded by a net addition in its short-term & long-term borrowings of RM 947.0 million. 
3. Balance Sheet Strength
In Q2 2021, PIB had reported RM 719.7 million in non-current liabilities and RM 524.3 million in shareholders' equity.
Thus, its gearing ratio is 137.3%. Also, PIB  reported RM 1.33 billion in current assets & RM 1.10 billion in current liabilities and thus, having a current ratio of 1.21. 
4. Concession Agreements
PIB's concession asset constitutes 20.8% of its total assets in Q2 2021, worth as much as RM 519.6 million. This is related to its 60% interests in Diamond Power Ltd (DPL), which is involved in the construction, manufacturing, and servicing of the Kampong Cham – Kratie 230kV transmission system in Cambodia. 
DPL completed the construction of the transmission system in November 2017. It commenced its operation on 1 January 2018 and would be in operations over a period of 25 years. Upon its expiry, DPL would return the transmission system to the Electricite Du Cambodge (EDC). 
5. 2 More Projects Completed in Cambodia 
In the financial year 2020, PIB completed 2 key projects in Cambodia.
In addition to its Kampong Cham-Kratie 230kV transmission system, PIB started to receive cash flow payments on a monthly basis from EDC. 
6. Future Contracts 
Since financial year ended 30 June 2020, PIB secured the following contracts: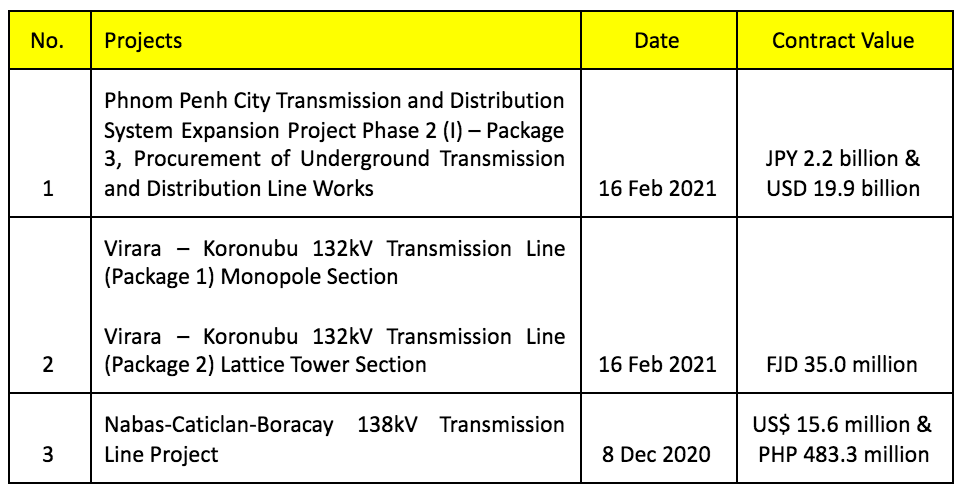 As at 24 February 2021, Pestech has recorded an outstanding order book at RM 2.2 billion, which is an increase from RM 1.67 billion as recorded in its annual report 2020.
7. Pestech (Cambodia) Plc 
On 12 August 2020, PIB had successfully listed Pestech (Cambodia) Plc (PCL) on the Cambodia Stock Exchange (CSX). 
According to this news article, Pestech International Bhd and its consortium partner Furukawa Electric Co Ltd have secured two contracts worth RM165mil in Cambodia.
Pestech said this is the company's first successful venture to export extra high voltage underground cable design and laying capability overseas.
8. Major Shareholders
As of 17 March 2021, Lim Ah Hock and Lim Pay Chuan (Paul) are the two major shareholders of PIB with 33.4% and 20.3% shareholdings respectively. 
Lim Ah Hock is the founder of PIB and is appointed as its Executive Chairman. Paul, his nephew, is the Managing Director of PIB.
Meanwhile, Stanley Lim Peir Shenq, his son, has been appointed to be its Executive Director in 2020. Hence, the Lim family occupies 3 out of 7 seats in PIB's board of directors. 
9. Valuation Ratios
As of 18 March 2021, PIB's stock price is RM 1.12 per share. Thus, based on its latest 12-months EPS of 6.65 sen, its P/E Ratio is 16.8x. 
That said, it would makes more sense to value Pestech using P/B approach given the asset-heavy nature of Pestech's business.
Based on the chart above, Pestech's Price/NAV is at a historical low of 1.34x across the past 10 years. 
10. Growth Prospects
There are three other potential rail electrification projects available for tender including:
the Bangkok's MRT Orange Line's rail electrification work (valued at RM 500 million -RM 600 million)

Taiwan's 50km Cycle Line's work (valued at about USD 200 million) and

A 4km RTS line for JB side with two stations (worth RM 40 million -RM 50 million).
Right now, the company is still pending an update on the tender for the local rail electrification projects such as HSR, ECRL and KVDT2. 
Another more interesting prospect is the EV charging infrastructure that Pestech can build going forward.

Pestech's EV Charging Infrastructure has slowly matured to its current state. Partnering with TNBX and have successfully launched myEVC mobile app with myEVC infrastructure in the basement parking of Menara TNB Jalan Timur, Pestech has enabled TNBX to manage all the charging data base with a custom-built management portal.
This system is well integrated with Pestech's cloud based platform and could be tailored for different needs of any customers.
For a clear view of how the EV charging works, click on this video – Pestech charging EV.
Conclusion
All in all, Pestech is an electric infrastructure play which has lots of potential to tap in the developing nations across Asean.
Although it has relied on some debt to ramp up its expansion push, Pestech has continued to increase its top-line and clinch higher orderbook over the years.
The mega projects have come to a halt due to COVID-19 and its revival + fast-growing energy infrastructure development will bode well for Pestech in the long term.
Lastly, according to the interview sharing video (below), CEO Paul Lim has mentioned that he is confident to reach RM $1 Billion sales and RM$100 million profits in FY2022. This means a clear visible double-digit yoy growth for this Asean powerhouse with an 'electrifying' future.
Additional Reading:
https://pestech-international.com/sites/default/files/analysis-coverage/pdf/PESTECH-201209-CU%20%28Kenanga%29_0.pdf
https://pestech-international.com/sites/default/files/analysis-coverage/pdf/PESTECH-201209-CU%20%28Kenanga%29_0.pdf
https://pestechenergy.com/events-and-news/news/pestech-energy-showcases-ami-smart-streetlight-and-ev-charging-infrastructure-during-auw-2019/