If you haven't heard of it, OxPay Financial was previously MC Payment and the name change came about after a board tussle for control.
You can read more about it here.
Anyway, now the company is chaired by Mr. Ching Chiat Kwong – who is also CEO of Oxley Holdings while his son Shawn Ching is also roped into the firm.
About OxPay Financial
The Group is principally engaged in the provision of payment processing services and digital commerce enabling services, with focus on the retail, transportation, and food and beverage industries.
The Group operates two (2) distinct business segments:
MPS business segment – The Group provides payment processing services through its unified platform and smart software, which can be (a) installed onto or integrated with any smart devices (including mobile phones, tablets, and smart point-of-sales ("POS") terminals) for merchants with physical stores or (b) integrated into websites and applications of online merchants.
DCES business segment – The Group provides its ancillary services, such as the sale/lease of smart POS terminals, provision of proprietary and licensed software as a service, and white-labelling of its proprietary or licenced software, and development of bespoke software for its merchants.
To understand why Mr. Ching wanted a piece of the payment provider, we need to look at the inherent value of its payment licenses.
OxPay Financial is Singapore's first payments company to be listed and possesses four payment licences including the Payment Services Provider Licence from the Monetary Authority of Singapore (MAS).
Mr Ching is upbeat about its prospects and said:
"You will not see payment companies in Singapore with so many licences for Singapore, Malaysia, Indonesia and Thailand, and potentially, licensed in Europe, Australia and Cambodia.

These licences will expose us to greater international communities in the e-payment business".
The firm also has a target to acquire 4 more payment licenses across 4 countries in the next 2 years namely Vietnam, Cambodia, Philippines and Australia.
How OxPay Financial makes money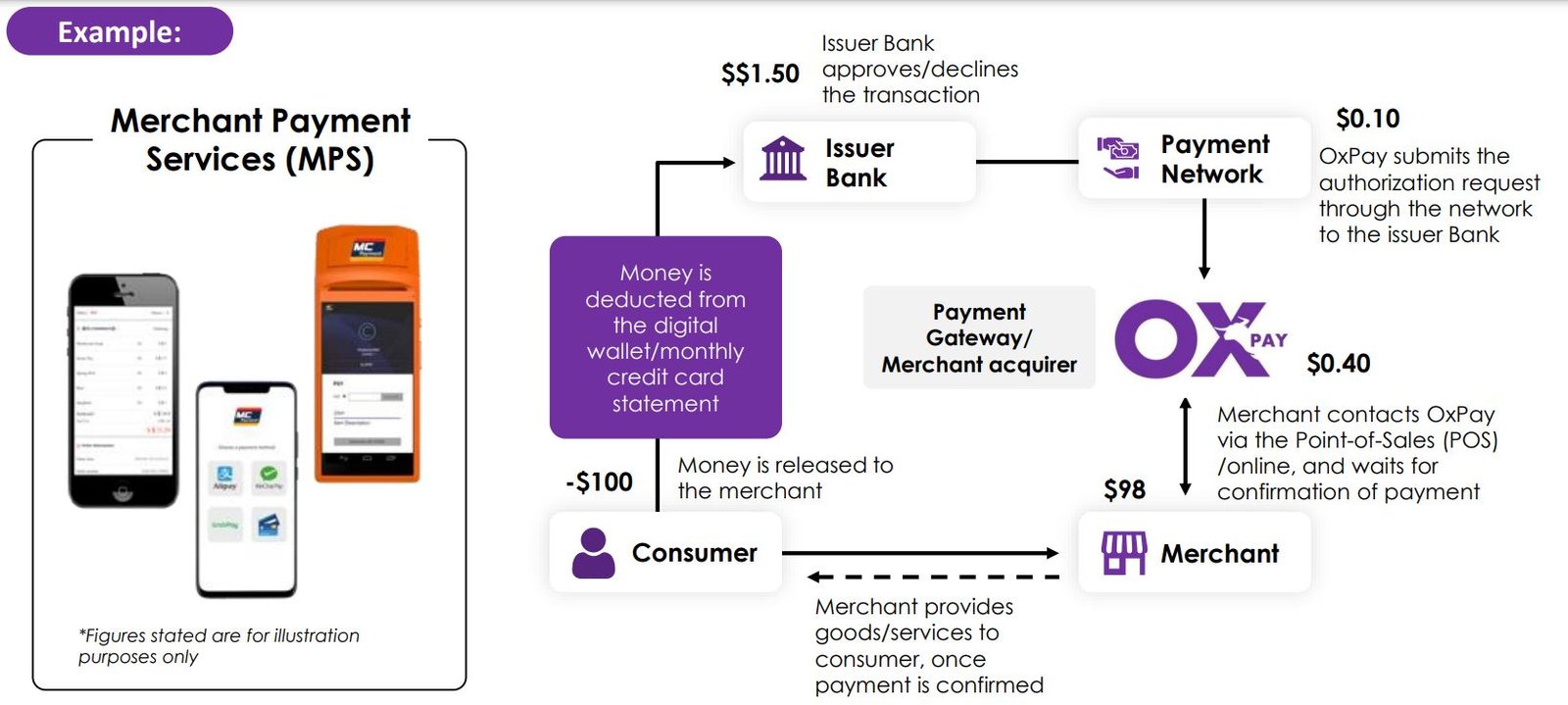 From the above, you can see that Oxpay Financial takes a cut out of every transaction being made (ignore the actual numbers because it may not reflect the actual %).
Here's also another video to show Oxpay POS accepting GrabPay transactions:
Growing Top and Bottom-line
The numbers also look not bad from the onset, with revenue growing at a fast clip of 39.8% CAGR and adjusted income coming at S$3.2 million.
OxPay announced adjusted net profit of S$3.2mn in FY21 VS FY20's net loss of S$1.9mn, driven by a surge in revenue of 53.2% YoY in FY21. Gross profit margin jumped to 62% in FY21, from 32% in FY20.
In fact, you can clearly see that they have written off the one-time loss of S$29.99 million and the underlying profit is healthy.
What got me interested is their growth prospects ahead.
Series of partnerships to drive top-line
OxPay recently entered into multiple partnerships in the "Buy Now Pay Later" (BNPL) space and expanded service offerings for merchants via neobanking facilities with its partnership with TranSwap.
Capitalising on its specialty in the F&B and retail space, OxPay has also acquired up to 20% stake in AppPOS, a network of over 300 F&B and retail merchants.
Conclusion – OxPay to gain from multiple tailwinds
The below picture probably sums up the whole bull case of OxPay can ride on the Cashless payment trend together.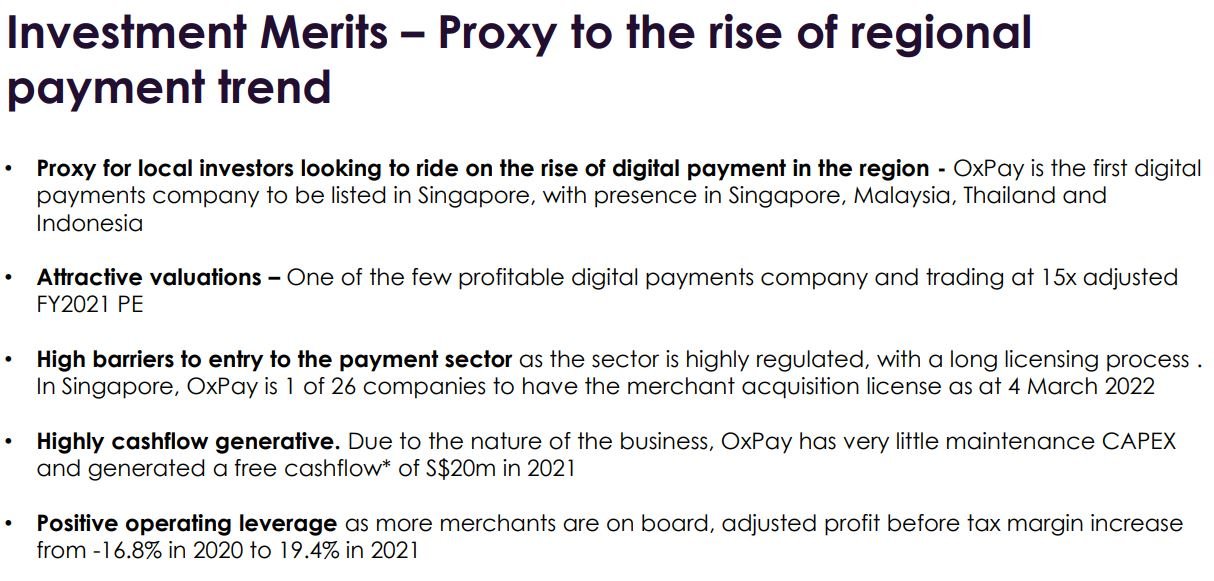 Sourced from Corporate Presentation
There are many positives going for this OxPay Financial business and if I were to pick one, it would probably that the business nature is highly cashflow generative and there is little maintenance Capex required.
On the flip side, there seems to be stiff competition among many POS providers too – i.e. Qashier, Square and more.
Hence, it remains to be seen if Oxpay Financial will thrive in the long run but there is a good chance for that given the streak of merchants' acquisition and partnerships.