I got a question from my reader a while back. I decided that it is with everyone's best interests to learn together after soughting his permission so here goes:
Question:
Hi James,
I wonder if I could have your thoughts on the following companies:
1) UMS holdings and its foray into aerospace
2) Design Studio and the recent poor results
3) Spindex and the recent poor results
I have held DS and Spindex for some time now and am not sure whether the recent earnings misses constitute drops in fundamentals for the 2 companies.
Answer
In order to keep it concise, the answers will be split into 3 different parts to cater for each question/stock.
We have touched on UMS Holdings in this article.
Now, let's take a look at Design Studio (SGX:D11) now.
– Design Studio and its recent poor results.
For a quick background, Design Studio Group is a Singapore based high-end interior fit-out and joinery manufacturing company. If you don't know, joinery refers to "the method by which two or more pieces of wood are connected".
Supported by automated manufacturing facilities in China and Malaysia, Design Studio specializes in fit-out of high-end hotels, restaurants etc. as well as turnkey projects including Mechanical & Electrical and Structural works.
Its global portfolio stretches across various disciplines including:
Residential – Marina One, Riversails etc.
Hospitality – Hotel Jen Orchard Gateway, Carlton-Hotel etc.
Commercial – Asia Square Tower 1 & 2 Food Court, Robinsons Department Store
Gaming and cruises – RWS Casino, Aida Perla Cruise
How exactly poor is the FY2017 results?
From the reader's question, we already know that it is a bad year for Design Studio. But how about its past financial history? Let's take a look:

At one glance, revenue seems to be stagnating and earnings just seem to prod along. Things take a turn for the worse in FY2017 as projects dry up due to lesser commercial & residential projects being completed.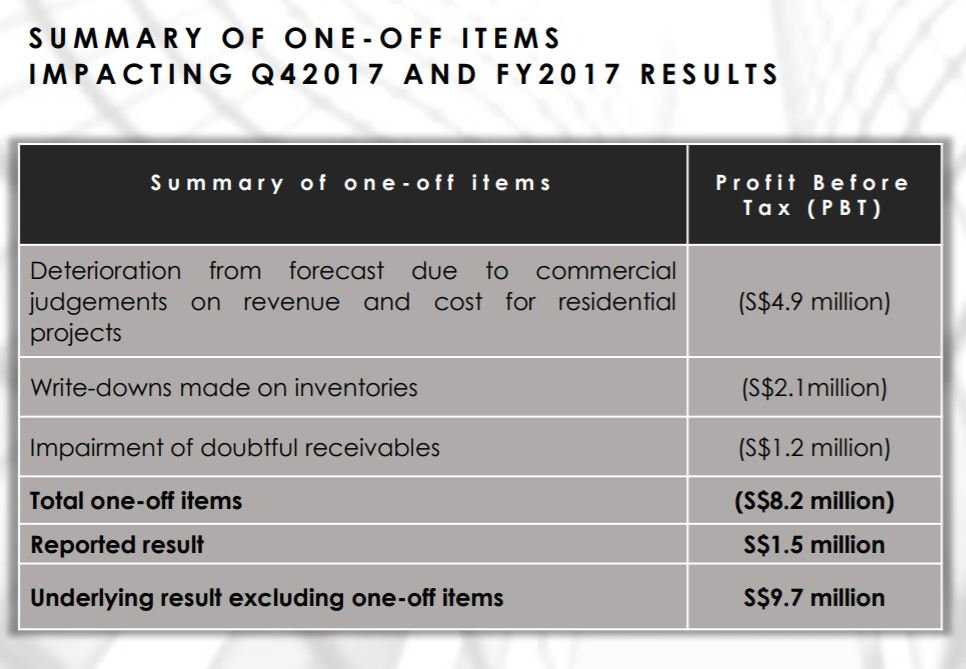 On the other hand, things aren't that bad if you look at the total one-off items of S$8.2 million. It seems like the new CEO Edgar Ramani (appointed Feb 2018) wished to start everything on a fresh start. He is supposedly a good addition to the team with his extensive experience in the similar industry -> check out his profile here.
Anyway, all this reflects that the company is highly dependent on the property market. Despite a good property market upturn a few years back, Design Studio doesn't seem to be able to capture the opportunity fully as revenue has not increased by a wide margin.
Hence, if i am not mistaken, Design Studio is in an industry where the interior designers do not have significantly differentiated offerings. Thus, it is constantly facing stiff competition and margin compression.

 That aside, i can understand why investors like this stock. Having an asset-light business model (Interior design), it doesn't require much capital expenditure and can pay out a big portion of its profits.
Verdict
To make sense out of all the research, I decided on a short and long term wager for Design Studio.
In the short term (< 2 years), i feel that the stock has strong potential to turnaround due to the reasons:
Low earnings base of S$1.2 mil in FY2017
Change of management – Edgar Ramani (CEO) with decades of experience; already secured new projects and implementation of ERP system for cost savings
Rebound of property market (Apac Realty and many property counters are already enjoying huge share price gains)
In the long run, the company operates in a tough environment and their projects are not recurring in nature. It means that Design Studio has to continually bid for higher margin and more volume of business for earnings growth. In short, its a Nay for me in the long run unless Edgar can show me otherwise.
Fancy an Ebook that teaches you the hallmarks of multi-bagger stocks and how to find them? Simply click here to receive your copy of a brand-new FREE Ebook titled – "100 BAGGERS" by Christopher W. Mayer here today!
Last but not least, do remember to Like us on Facebook too as we share the latest investing articles and stock case studies for you!