Riverstone Holdings Limited was started in 1989. It manufactures healthcare gloves, nitrile gloves, finger cots, face masks, and packing bags. Most of its products are used in industries like healthcare, semiconductors, manufacturing, biotechnology and pharmaceutical.
Its share price rose from SGD 0.225 per share in 2013 to about SGD 1.04 per share at the time of writing, a CAGR of 35.8% over 4 years. The share price has gone up substantially due to increase in the company's net profit.
Here are 5 Quick Things To Know About Riverstone Holdings.
1. Growth History
The company earned a net profit of RM 58 million in 2013 and grew to RM 129 million in 2017, a CAGR of 22%.
The company reported a remarkable growth in the year 2015.
It earned RM 560 million in revenue, a 40% increase from 2014, which is RM 399 million. Its net profit rose from RM 71 million in 2014 to RM 127 million in 2015, an increase of 79%.
The growth was achieved majorly due to the sales increase of both cleanroom and healthcare gloves. Besides, completion of the expansion plan in Taiping helped to boost its earnings.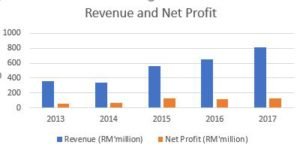 Source: Riverstone Holdings Limited 2016 Annual Report
2. Consistent High Return on Equity (ROE)
Riverstone has a consistently high ROE over the past 5 years. With the lowest ROE of 18% in 2013 and the highest of 26% in 2015, Riverstone has an average ROE of 21% in the past 5 years.
ROE measures a corporation's profitability by revealing how much profit a company generates with shareholders' money. The higher the ROE is, the better.
In fact, the Oracle of Omaha, Warren Buffett uses ROE as part of his investment decision-making process too.  
Source: Shareinvestor
3. Low Debt to Equity Ratio and a Net Cash Position
Riverstone is a conservatively financed company. The company has a low debt to equity ratio of only 3.9%.
As at 31 December 2017, the company reported total debt of RM25 million and a total equity of RM634 million.
With total cash and cash equivalent of RM114 million, it gives the company a net cash of RM89 million.
Obviously, the company can easily pay off its financial obligation when there is a financial downturn.
Besides, by having a low debt burden, the company pays lesser interest expenses and thus, contributes more income to shareholders.
4. High Insider Ownership
Riverstone's CEO, Mr Wong Teek Son has a 50.75% substantial interest in the company shares.
There is a strong alignment of interest between the management and shareholders as the company's CEO owns a substantial share in the company.
This is because the company's directors would be motivated to perform better. It is because as the company grows, its management team gets richer along the way too.
5. Future Outlook
Despite its small market cap, Riverstone strives to grow its business by increasing production capacity. The company has been expanding its production plan for the past few years.
In fact, Riverstone has anticipated that there will be strong demand for both its cleanroom and healthcare gloves. Hence, the company is now in the process of accelerating its expansion plans via:
Undertaking of phase 5 expansion plan which will add 1.4 billion gloves bringing the total annual production capacity to 9.0 billion gloves by the end of December 2018.
Plans to add another 1.4 billion gloves by the end of 2019 as Phase 6, giving the Group a total annual production capacity of 10.4 billion pieces of gloves.
Conclusion
All in all, Riverstone Holdings Limited sounds like a great company to hold with its bright future outlook and high ROE. On top of that, it has a rock solid financial position and support of its CEO too.
It is currently trading at PE of 17x and offers a fair dividend yield of 2.2%.
Fancy a simple 10-Step System that teaches you how to investing profitably? Simply click here to receive your copy of a brand-new FREE Ebook titled – "100 BAGGERS" by Christopher W. Mayer here today!
Last but not least, do remember to Like us on Facebook too as we share the latest investing articles and stock case studies for you!