Excerpts from CGS CIMB report
Frasers Centrepoint Trust (SGX: J69U)
Frasers Centrepoint Trust (FCT) suburban malls continue to outperform its peers in this phase of recovery, delivering tenant sales above pre-COVID levels and positive reversion.
Strong leasing momentum continued into 3Q; 35% of GRI signed YTD 9M22.
Reiterate Add rating with unchanged DDM-based TP of S$2.75.
Strong leasing traction continues into 3Q
No financials provided in the 3QFY9/22 business update. To recap, 1H22 DPU was in line at 48.8% of FY22F. Frasers Centrepoint Trust started off the year with 40% of GRI to be renewed in FY22.
It signed 10%/35% of GRI in 3Q/9M22, leaving 5.4% of GRI to be re-risked in 4Q22. YTD reversion came in at 1.7% and retention rate was high at c.80%.
Retail occupancy dipped from 97.8% to 97.1% due to pre-termination of cinema operator Filmgarde's lease at Century Square, resulting in mall occupancy declining from 93.4% to 83.0%.
FCT is in advanced negotiations with other cinema operations to take up the space. Current occupancy cost of 16% remains healthy compared to the 15.7-17.0% range over 2016-19.
Occupancy at FCT's only office asset, Central Plaza, remains at 77% after non-renewal by an anchor tenant who gave up three floors of space. While some of FCT's peers have begun raising service charges for newly signed leases, FCT's current strategy is to manage inflationary cost by increasing gross rents.
Electricity cost is largely hedged for FY9/22, with the first energy contract expiring in Aug 22. Remainder of the energy contracts will expire in Feb and May 23.
If electricity rates stay at current levels, we could potentially see a 50-60% jump in electricity cost when electricity hedges roll off, translating to a negative c.1.7% impact to FY23F DPU. We have not built this into our current numbers.
Frasers Centrepoint Trust tenant sales 10% above pre-COVID levels
3QFY9/22 tenant sales were up 23% yoy, 10% above pre-COVID levels, while shopper footfall jumped 32% to reach 80% of pre-COVID levels since Apr 22, after workplace capacity restrictions were lifted.
Tenants in the services, supermarkets, beauty & health, entertainment & leisure categories experienced stronger sales, driven by further reopening and pick-up in social activities.
We think tenant sales at above pandemic levels could be partly driven by inflationary cost given the 3.6%/4.4% core inflation numbers in May/Jun 22, excluding which, tenant sales would still have punched above 2019 levels.
Resilient suburban portfolio backed by robust balance sheet
Cost of debt inched up qoq from 2.2% to 2.4% while 69% of its borrowing has been hedged, an improvement from end-Dec 21 interest hedge of 54%.
FCT's S$589m green loan facility secured in May 22 has a step-down feature which could result in some interest savings if FCT maintains GRESB ratings of four stars and above.
FCT's gearing of 33.9% is low compared to its peers and translates to a debt headroom of S$600m/S$1.2bn to reach 40%/45% gearing. Cap rates for suburban malls remain stable.
Valuation/Recommendation
We maintain our Add call and unchanged DDM-based TP of S$2.75. We continue to like FCT for its pure exposure to suburban malls which should enable it to outperform peers.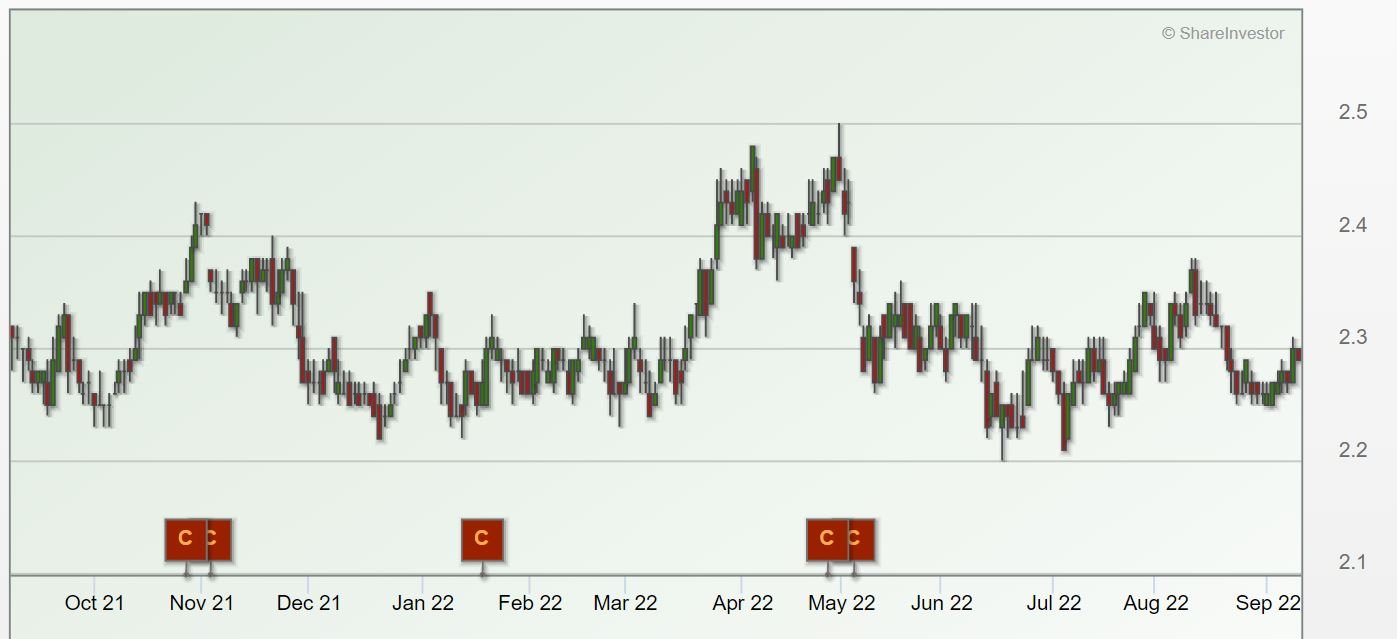 You can find the full report here and the company website here