Zendesk stock lays out an interesting story worth diving into.
Prior to the pandemic, global SAAS cloud services grew at an extraordinary rate.
Lockdowns and dampened economic activity slowed this for a period. Yet, companies like Zendesk grew revenues even in the depths of the crisis.
But do they deserve their lofty valuation?
The company hasn't turned an operating profit yet, and expects to lose ~$16-$20 million on a non-GAAP basis and $35-$39 million on a GAAP basis.
Yet, they crossed the $1 billion revenue run-rate mark with revenue climbed 24% for the same quarter year-over-year, with GAAP gross margins up 4.1% to 76%.
And there's a lot to love with their investments and especially their recent partnership with WhatsApp.
Financial analysis
Since Zendesk hit the markets in 2012, they have yet to turn a profit. Normally that would be worrisome. Yet, they've managed to increase their gross margin steadily from 65.3% in the first year to a rolling 12-month 74.8%. 

Source: Morningstar
At the same time, they saw double-digit topline growth over 35% from 2017-2019 and still hitting nearly 25% in 2020 despite the pandemic.
Like other tech companies, the question is when will they turn a profit.
As you can see in the chart above sales and general administrative expenses declined steadily as a percentage of revenue. Yet, the company remains just below 18% of revenue in the hole. 
Other SAAS cloud computing companies give us an idea of where they might land. For example, ServiceNow (NOW) boasts a slightly higher gross margin of 76%-78%. Their SG&A sit around 50%-55% with R&D slightly lower at 20%-22%.
If you assume their current run-rate of improvement, it should take about five more years to get to and past breakeven. We can look to these other SAAS cloud companies to get a sense of where they might land in the future. 
Taking 4% EBT margin, we would get ~$0.37 EPS and a 383x P/E. So, it's not exactly cheap, even if you account for the growth. So, you've got a lot that needs to happen to make this a value.
How they measure up
At the moment, Zendesk tends to outperform its peers in most categories. Companies like Freshdesk, Zoho, Jira, and ServiceNow all get high ranks. Yet in one category or another, they often lack the full suite of options available from Zendesk.
Where Zendesk stands out is the company's ability to create end-to-end solutions. While this isn't always workable for small businesses, it offers an array of choices for businesses to create unique customer experiences.
The company's introduction on Zenesk Sunshine is a perfect example of where the company has taken the big data trend and turned it into an active product for customers. 
Keep in mind that the company has primarily focused on service and still sees enormous potential in other verticals.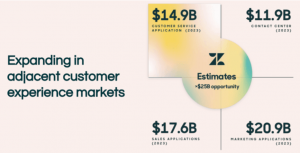 Whatsapp Partnership
As part of their ongoing efforts to create a fully integrated experience, Zendesk partnered with Whatsapp to create new channels for customer interaction.
This expands on the company's current messaging channel integration across web, social, and mobile. Customers will be able to engage with service representatives in a variety of engagements from purchase to solving service issues.
The addition of Whatsapp adds to the expansive capabilities of Zendesk's CRM platform, making it one of the few SAAS able to work across multiple mediums.
Final Thoughts
There's no question that Zendesk has the plan and vision for growth. What we don't yet know is whether they can turn a profit.
In their upcoming annual report, look for discussions about how and when the company expects to reduce SG&A relative to revenues and growth. This will be the key to their sustainability in the future.