*Warning* If you still have your TD Ameritrade account, you need to take action real quick now…
And here's why…
From 27 Nov 2023, retail investors will need to pay a monthly USD50 maintenance fee until their account cash balance is empty.
In addition, when the US market opens on December 4th, any accounts with a debit balance may see their positions liquidated to achieve a cash balance of zero or a positive amount.
So what can you do now if you don't meet the requirements to become an accredited investor?
There are just 2 options for you; so let me go through them below quickly.
1st Option: Cash Out Your Holdings
The fastest method would probably to sell all your holdings and initiate a cash withdrawal from your TD Ameritrade SG account to your personal bank account.
But what if you have many stock positions that you don't want to "let go" yet?
OR
You want to avoid paying additional brokerage costs and potential price differences by selling at TD and buying in another broker?
Then you need to go for the 2nd (wise) option – going for a switch to other brokers.
2nd Option: Switch to another Broker
As a matter of fact, it can be daunting to switch out because there are simply many different brokers available in Singapore to consider.
That being said, you can consider Tiger Brokers as it is one of the biggest, reputable brokers in Singapore with over 2 million customers.
In fact, I believe you will want to stick with a broker that's here to stay for the long term and offer you incentives to switch over…
And this is what they're doing right now – offering a helping hand through its promotion in times of need as shown below…
On top of the giveaway where you get up to SGD 840 rewards just to transfer to Tiger Brokers, it is also offering an ultra-low USD 0.65 fees per contract for US options with no minimum.
New users to Tiger Brokers will get an additional 180 days of unlimited commission-free trades for US stocks too.
Talking about options trading strategies, I am currently doing the simple selling of call options for my existing holdings and selling put options to lower my entry price for stocks I like.
Collecting option premiums is another way for me to gain some pocket money along the way when the stock markets are just going sideways at the moment.
Coming back, if you are keen to switch over from TD Ameritrade to Tiger Brokers, here's the step by step guide on how to do that.
For users who don't have a Tiger Brokers account yet:

Please click on my referral link here to register and apply for a trading account.

For Singapore residents, we recommend using SingPass for a quicker registration process.

Once the account opening is successful, you will receive a SMS notification.
Step-by-Step Guide to switch TD Ameritrade to Tiger Brokers
Step 1 – Initiate a Transfer-in request
Visit Tiger Trade APP or website to submit a Transfer-Stock-In request to Tiger Brokers as shown below
For the website, go to this link and sign in.
Next, click on to "My Account" page and tap on "Transfer Stock In" after logging in.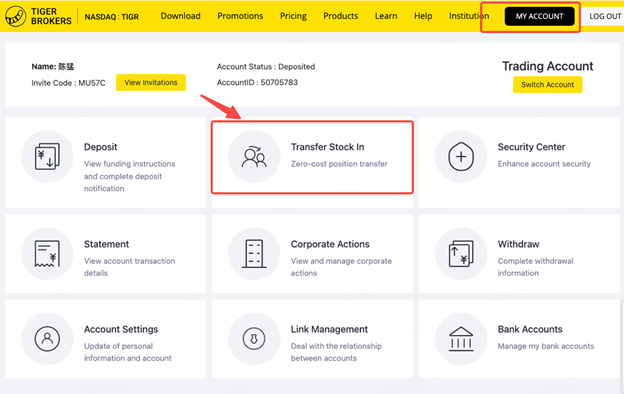 For the Tiger Trade APP: Navigate to "Portfolio" tab, tap on "More" then select "Shares Transfer In" function.
Step 2 – Fill in the "Transfer Stock In" form
Next, select a Market and fill up the Broker Information –> your TD Ameritrade Singapore Account Number and Name.
Step 3 – Add your stock holdings information
In the following pages, here's what you need to do:
On the 'Add Stock Information' page, browse the drop-down list and pick the correct stock symbol
Enter the quantities and cost price of the holdings you want to transfer before confirming and submitting the request. Note: You may add multiple stocks if necessary
After submitting your request, the system will automatically generate a pre-filled form for you.The form will be sent to your mailbox. Alternatively, you can click on "Download again" to retrieve the form.
Step 4 – Submit the form to TD Ameritrade
After which, you will need to submit this form via the "Transfer Request" form on TD Ameritrade's end.
The system will assist you in auto-filling the TD Ameritrade Share Transfer form and will send it to your registered email.
Sign the TD Ameritrade form and submit a digital version to TD Ameritradeto request an outbound transfer on TD Ameritrade's end.
Please note that a copy of the front and back of your NRIC with your signaturewill need to be attached in the request to TD Ameritrade.
Step 5 – Get notified when your positions arrive
The whole process will usually take 2-5 working days on TD Ameritrade's end and 1-2 working days on Tiger Brokers' end.
So do a quick check that all positions are successfully transferred into your Tiger Brokers account.
It will also help to keep your notifications switched on to get notified once the the process is completed.
*Note* Both TD Ameritrade and Tiger Brokers have waived the transfer fees at the time of writing.
Closing Thoughts
While it may be sad to part ways with your current stockbroker, it's reassuring to know that there are better options out there, like Tiger Brokers.
For example, Tiger Brokers offers a range of features that can enhance your investing experience, including competitive trading fees, a user-friendly platform and access to a broader range of investment opportunities.
In fact, if you look at how Tiger Brokers support multiple option strategies and multi-leg orders, it can be considered one of the best options trading platform in Singapore.
At the end of the day, opting for a new brokerage like Tiger Brokers that places a strong emphasis on the Singapore market could serve as a fresh start for your investment journey.
Special reminder to TD Ameritrade Singapore customers:
Please note that Tiger Brokers have pre-selected the 'transfer all available shares in your TD Ameritrade Singapore' option by default for your share transfer request.
For administrative purposes, Tiger Brokers recommend that you still input your major positions in the request form and include the cost price of the shares for the purposes of calculating the profit and loss of your positions.
To get started, you can scan my QR code below (or Click Here) or enter my invitation code: smallcap88
This article is written in collaboration with Tiger Brokers but the views/opinions are of my own.