The 5 Minute Guide to Bison Consolidated Bhd (KLSE:BISON)
Bison Consolidated's share price has been on a tear since its IPO on March 2016. With its last closing price standing at MYR1.72, it has gained 56% from its IPO price of MYR1.10 in 9 months!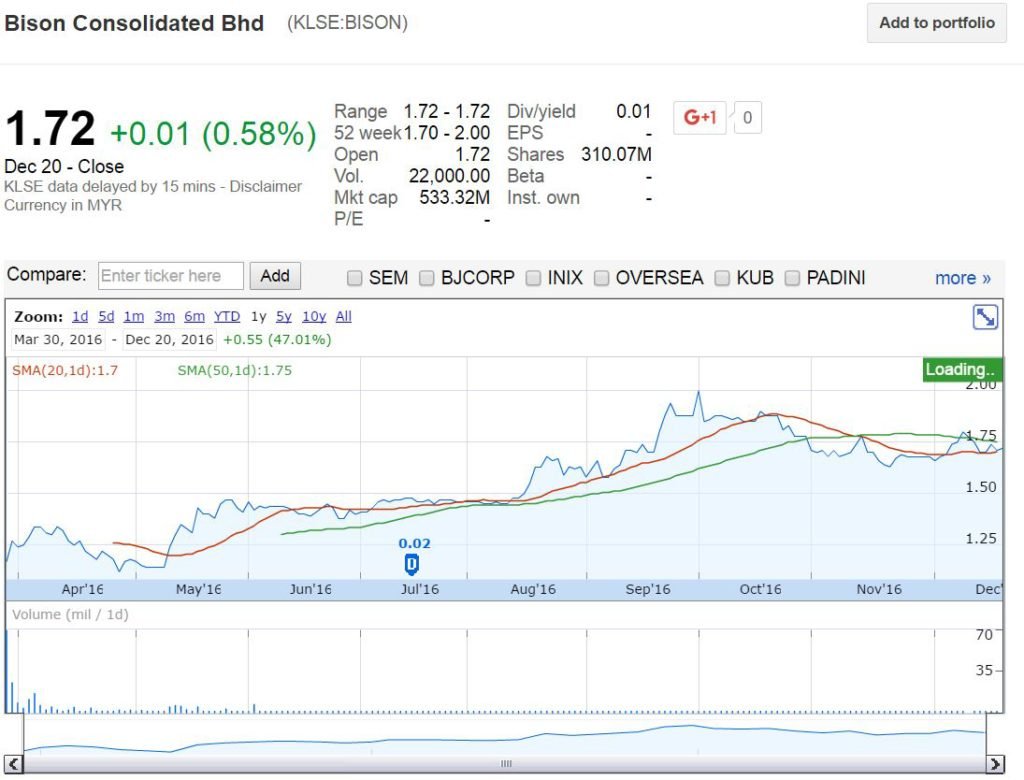 For those who are not sure what Bison does, it is a parent company operating a press and convenience retail chain throughout Malaysia. Investors may have heard the names such as  "myNEWS.com", "newsplus", "MAGBIT", "THE FRONT PAGE"; as well as the trade name of "WHSmith" (under our equal joint venture with WH Smith Travel Limited) that retail news, books and convenience products within international airports in Malaysia.
Taken from its prospectus:
Over the years, we have grown from a single newsstand to our current chain of press and convenience outlets across Malaysia focused on currently the second largest retail convenience store industry player in Malaysia, with an estimated market share of 8.6% in terms of outlet numbers and 6.6% in terms of revenue in 2015 .
Financial Highlights

Sourced from Bison's Website
A glance at the table shows that Bison has been growing its revenue and profits steadily throughout the past years. *Note: FY2013's profits have been bumped up due to the one-time gain on disposal of properties for RM6 million.
Its profit margin is also rather stable, propping up from 6+% in FY2014 to 7+% FY2016. Assuming we annualized the EPS, it will come in at 6.92 sens. With its last closing price at MYR1.72, its P/E ratio stands at 24.8, not exactly cheap if you compare to the KLCI (Kuala Lumpur Composite Index) P/E ratio of 16.3.
Despite that, there are several positive tailwinds for Bison that investors can rejoice for.
Future Plans
In its IPO prospectus, it states that Bison is going to expand its network of outlets and continue to boost its pdt/svc offerings and also improve on its backend IT and logistics. It can be seen in Bison's acquisition of Otaru Fine Food Sdn Bhd – a Halal certified manufacturer and dealer of bakery products.
The Otaru Acquisition augurs well for Bison in preparation for managing its own full- fledged food processing centre which it targets to construct and be ready and operational in the financial year 2018.
On top of that, Managing Director Dang Tai Luk also mentioned that the group would utilize RM50 million of the IPO proceeds to fund 115 new store openings by October 2017. Its store count last stands at 250 outlets at the launch of its IPO. This means we can potentially see the number of stores jump by 46% next year!
Dang's license application to franchise from the government may give some clue on how it is going to achieve the aggressive expansion of stores going forward. It appears that Bison is already following its plans and making inroads into South Malaysia through the purchase of a factory unit in Johor Bahru. You can read more here.
Conclusion
To sum up, Bison definitely seems like a recession-proof stock that can grow steadily over the long run. Any price corrections would be great opportunities for buy-and-hold investors.
We've released our 3 HOT growth stock picks which could skyrocket >100%  by the end of 2017. History has shown that getting in early on a good idea can often pay big bucks – so don't miss out on this moment.
Simply click here to receive your copy of our brand-new FREE report, "3 stocks poised for explosive growth".
Do Like us on Facebook too as we share the latest investing articles and stock ideas for you!