When it comes to investing, there are many investment options to choose from. Stocks, bonds, ETFs, mutual funds, you name it. However, there has been 1 very interesting investing option popping out recently and that is – P2P Lending.
In the past, i have looked at P2P lending in Singapore (or in fact, any P2P stuff) with skepticism because i personally feel that its too good to be true with the investment returns of 8% to even 15% annually!
I decided to give Funding Societies a try due to the good feedback i heard from my friends and online reviews via Seedly too.
P2P Lending in Singapore via Funding Societies
1st Step
Go to https://fundingsocieties.com/. Click on the "Invest" tab in Blue background.
2nd Step
You will be brought to the page where you are required to include:
Personal details like DOB, Address
Upload your front and back I.C.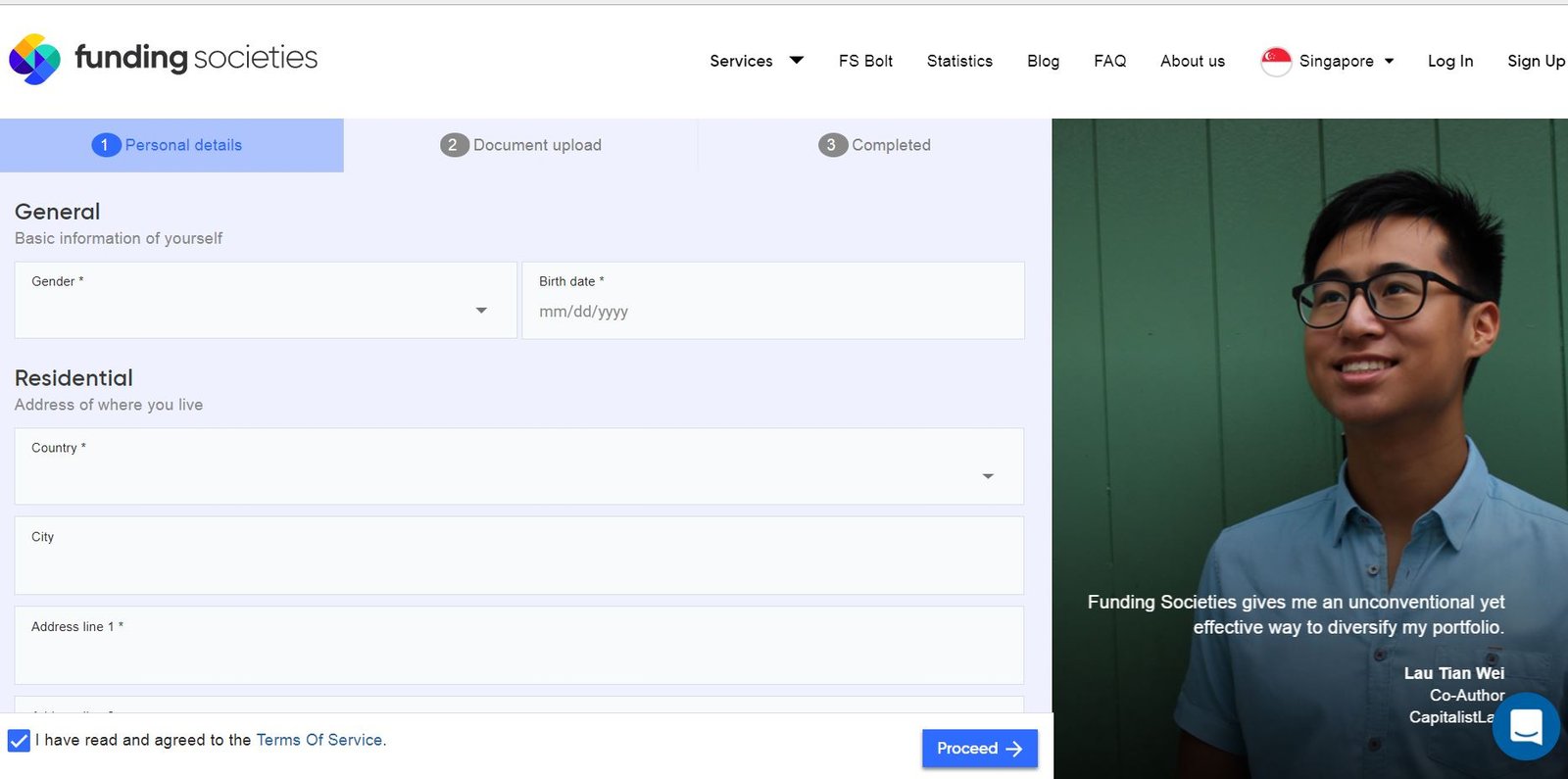 After filling up your personal contacts, they will prompt you that your sign up is successful. And check your email next.
You will need to click on the link in the email to proceed to the next step.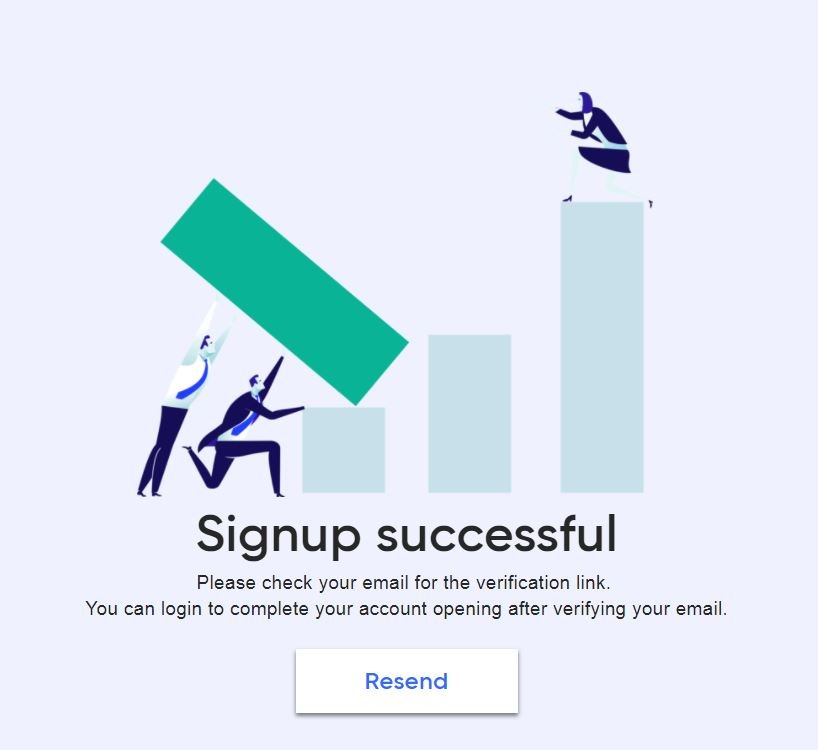 3rd Step
Once you clicked the link, you will be brought to the website again to fill up more necessary information such as:
#1 Assessment
To be compliant to MAS rules, Funding Societies require all investors to take a Suitability Assessment in order to gauge whether this P2P lending is suitable for the investor.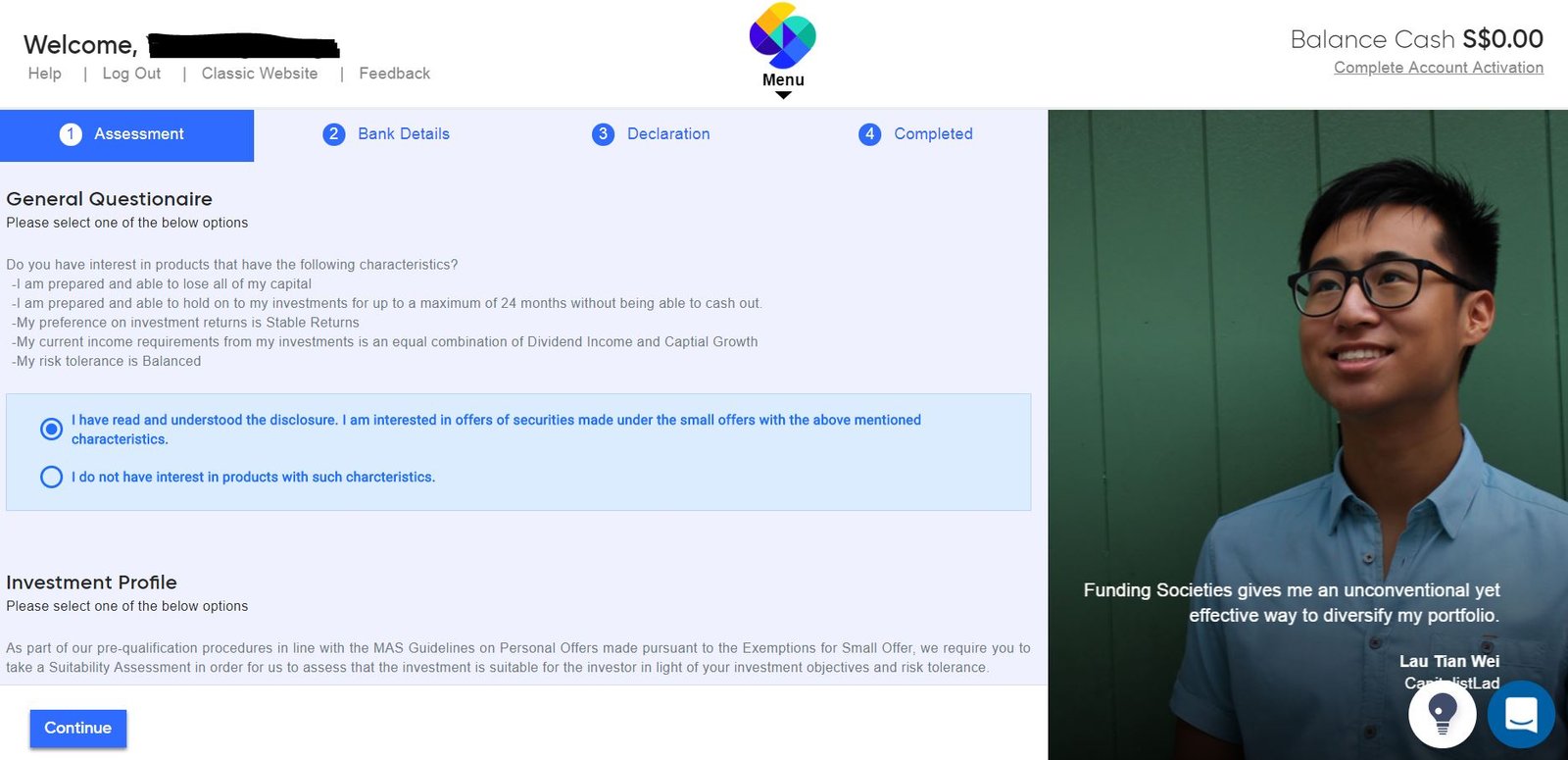 On top of that, both the General Questionnaire and Investment Profile are mandatory under MAS rules. "Aggressive | Balanced | Conservative" will fall under the investment profiles.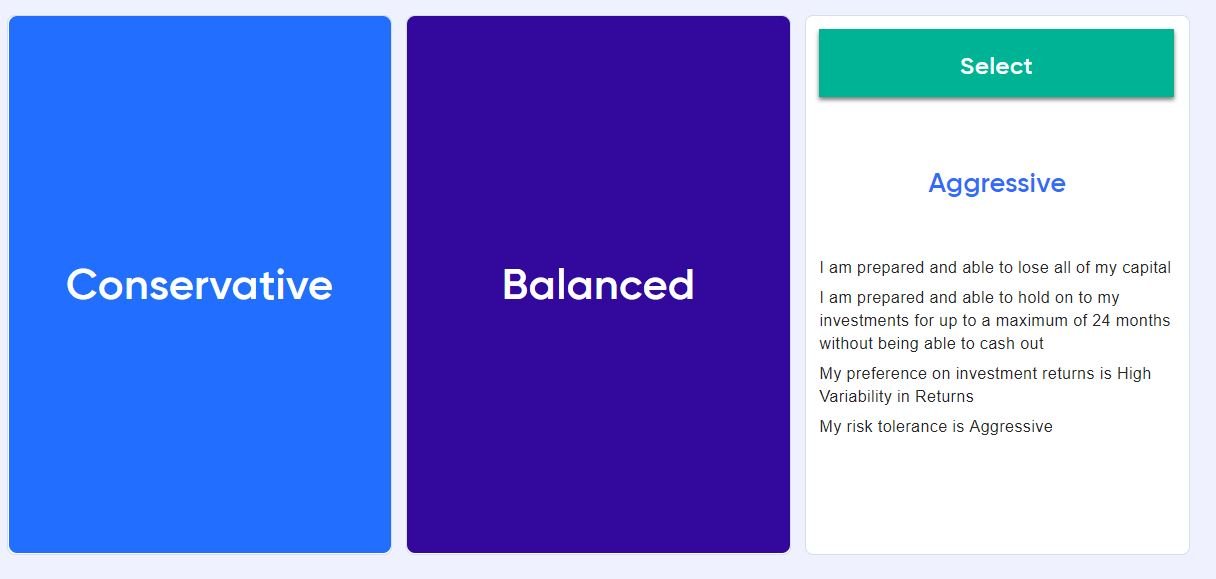 #2 Bank Details
After which, fill in your bank account details which you will do your deposit/withdrawal from. Do take note that once you stipulated your withdrawal account, the funds can only go to that specific account when you want to withdraw later on.
This is part of the AML (anti-money laundering) policy where one cannot keep changing bank account (equivalent to possible laundering of money).
#3 Declaration & Confirmation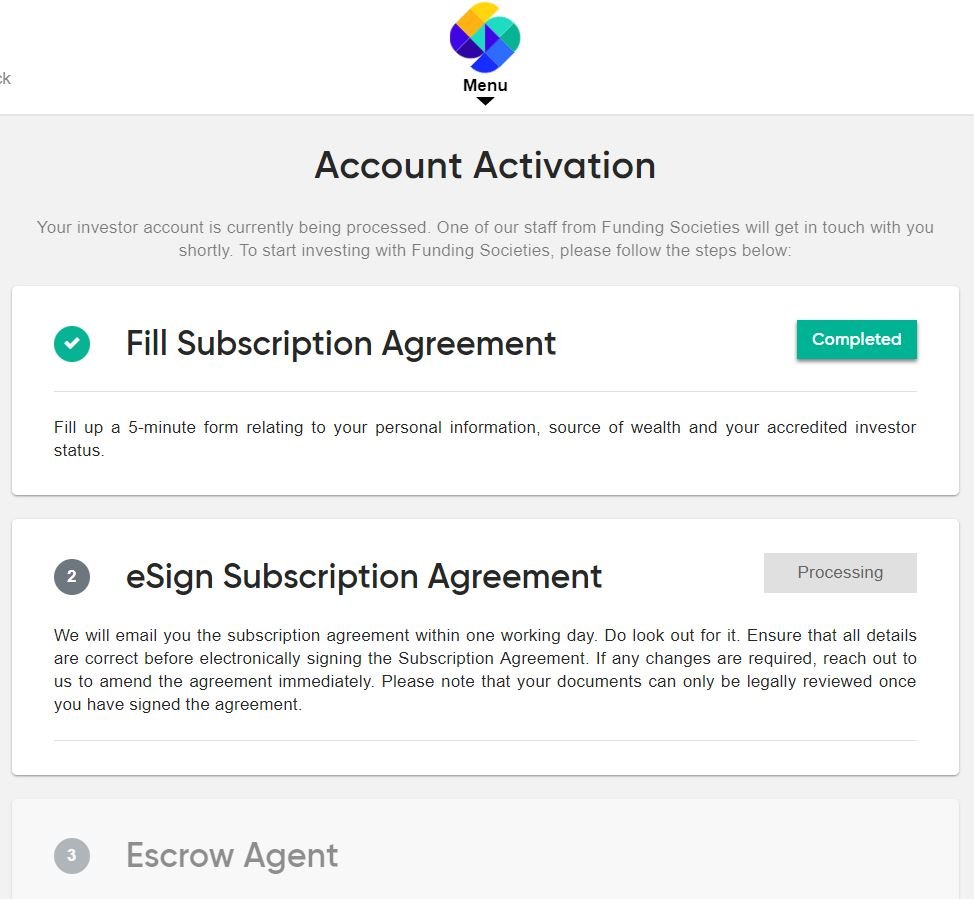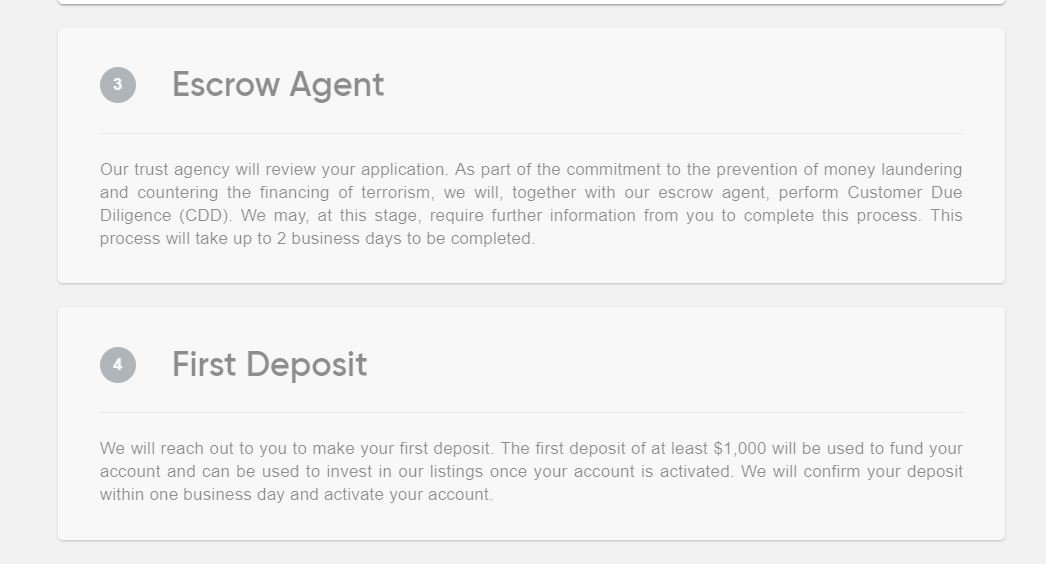 After completing the above, they will send you the subscription agreement to you via email for E-signing.
Here's what i did after i click on the email sent from invest (at fundingsocieties.com).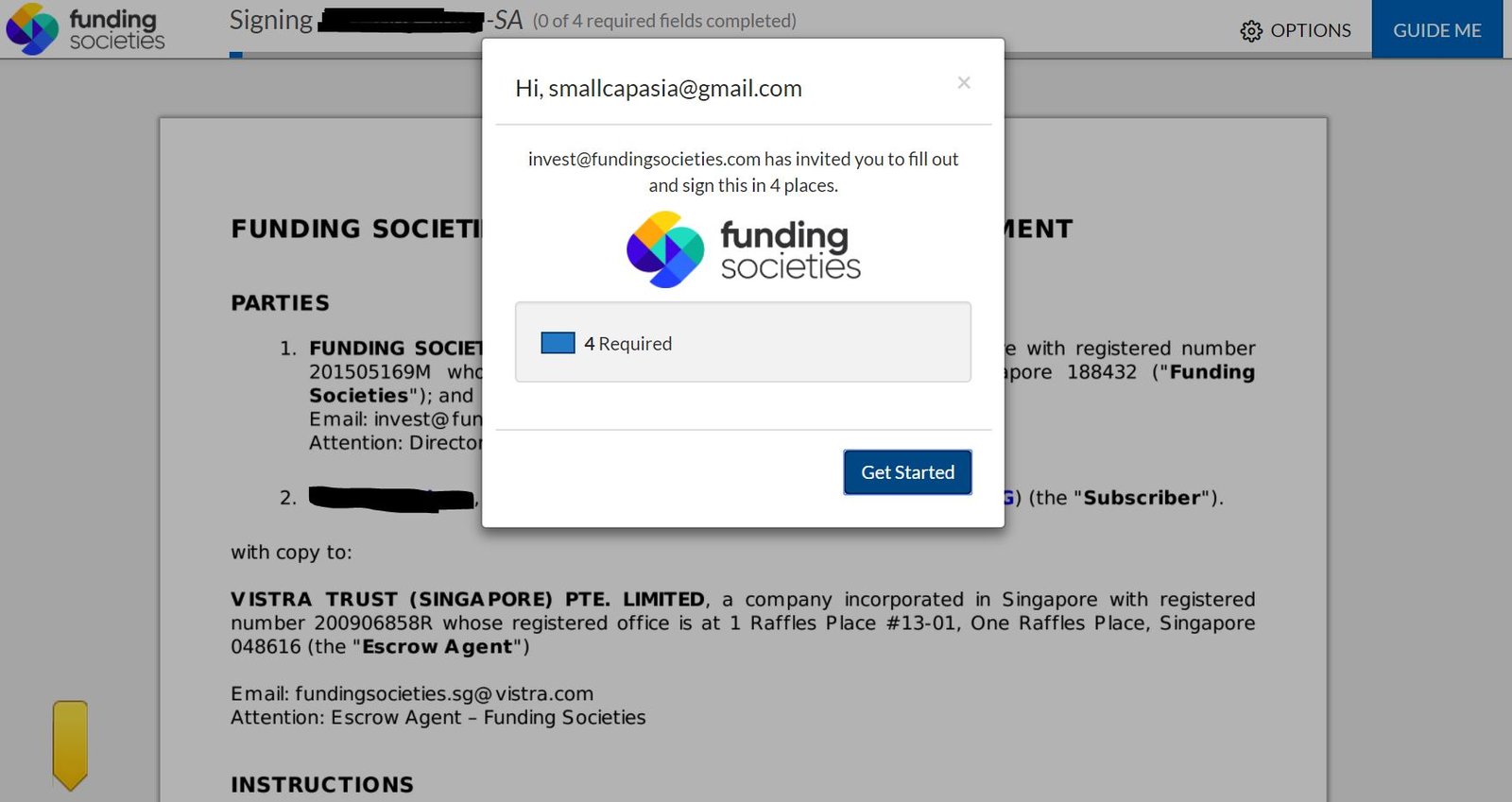 You can even draw your own signature! That's quite a useful website for e-signing documents i feel…

Finally, you will see the email below once you are successful in signing the document.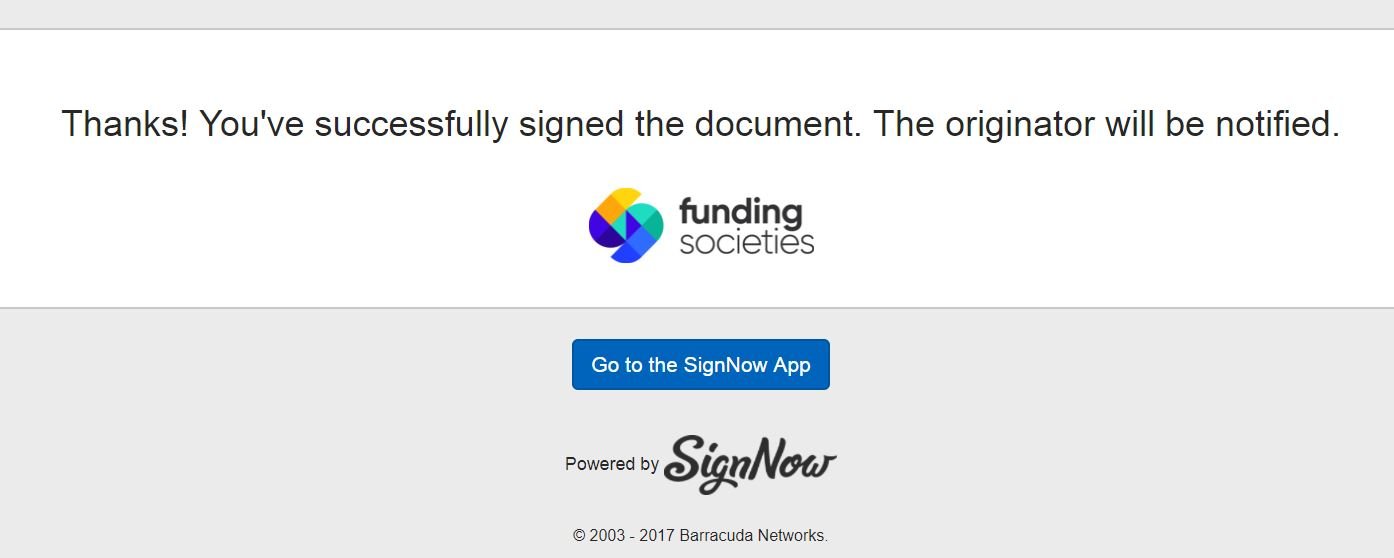 Meanwhile, i have had the chance to hear from Funding Societies communications associate about some common Faqs surrounding Funding Societies and regarding P2P lending Singapore.
Here goes:
Common FAQs | Funding Societies
Q: How long is the investment period and when do i get paid?
A: The investment duration can be from 1 to 12 months. There are 2 kinds of loans.
– For Business Term Loan (BTL), 1st and 15th would be the payment dates. What this means is there are 2 payment cycles depending when the investment is made. If loan is disbursed to the SME on 10 Mar for example, your next repayment is 15 April. If the disbursement is on 28 March, you'll get your first repayment on 1 May.
– For Invoice Financing (IF), it is a bullet payment scheme, meaning you get one-time repayment of full Principal + Interest at the end of the loan period
Q: How is the default rate like?
A: According to Seedly reviews,  the default rate is quite low at 1.29% as of 1st Qtr 2018 and they have pretty good reviews you can look through too.
You may find the loans disbursed and the default rate at the Progress page on the link —> https://fundingsocieties.com/progress.
In contrast, we are looking at default rates of 3.4% and <5% for Moolah Sense and CapitalMatch respectively.
Q: What happens when a company defaults for the loan?
A: This is the part that got me excited. There are a few things investors need to know.
Firstly, there're 2 default definitions: 90 days past due (dpd) for BTL, and a shorter 60 dpd for IF – this is quite similar to banks' definition. Thus, most often than not, the companies will be late in payments (>1 month) but will not necessarily delay >3 months unless they have cash flow issues. Furthermore, you earn the late payment fees when companies pay later than the stipulated date!
Secondly, as per my conversation with FS team, most of the defaults have happened after 50% repayments were made. This is because companies will generally still have the cashflow from the loan at the earlier stages. This means that you don't lose everything when faced with a possible default; you probably have recoup more than 80% of your investment before that.
Thirdly, any Recourse will be against the COMPANY and the personal/corporate guarantors (min. 2 for every loan) and is usually on a case-by-case basis.
In terms of late payment and default management, it starts even before default happens. Funding Societies have Relationship Managers and Collections team ready to be activated when late payments happen, and in some cases they may also also activate external debt collectors and also take legal action.
The views, information, or opinions expressed in this article are solely those of the individuals involved in Smallcapasia and do not necessarily represent the opinions of any entity whatsoever.
You can also check out another article: 4 Keys to Success when P2P Lending in Singapore.