According to the Sasseur REIT's preliminary prospectus:
"Sasseur REIT is the first outlet mall REIT to be listed in Asia with an Initial Portfolio comprising outlet malls located in the PRC.

Unlike traditional retailing formats such as department stores and shopping malls, sales through outlet malls in the PRC are experiencing strong growth.

Because of the strong growth momentum, the PRC's outlet sector is expected to become the world's largest outlet market by 2030."
The excerpt above sounds enticing. However, is it a really good investment? Without further ado, let's dig more about the REIT's information in this article.
1. Sasseur Reit IPO details
A total of 495 million units will be on offer at a price of 80 cents, raising $396 million in its initial public offering (IPO). Hence, the potential market cap of the REIT will be around S$ 944.2 million, with 42% of the issuer's post-listing stock of 1.18 billion units.
You can find the Sasseur REIT IPO Prospectus here. 
The IPO application date is from 22th – 26th March 2018, a short duration of 4 days. It is expected to list on the 28th March 2018, 9am. Its offering consists of 252.8 million placement shares and a public tranche of 13.8 million.
Sasseur REIT is one of Singapore listed REITs with the highest number of cornerstone investors. Some cornerstone investors for Sasseur REIT include:
Adroit Ideology Limited – a subsidiary of JD.com, Inc. which is both the largest e-commerce company in terms of revenue in the PRC and is the country's largest retailer in terms of revenue.
Bangkok Life Assurance PCL. – is a leading life insurance company in Thailand.
CKK Holdings Pte. Ltd. – is owned by the Charles & Keith group of companies, which owns and operates two brands, CHARLES & KEITH and PEDRO.

Secoo Holding Limited ("Secoo") – is Asia's largest online integrated upscale products and services platform as measured by gross merchandise volume in 2016.

Sparkling Gateway Pte. Ltd. – under the franchise L Catterton which has a strategic relationship with LVMH and Groupe Arnault.
TMB Asset Management Company Limited
The cornerstone investors make up about a whooping 45% of Sasseur total offering size. However, the breakdown of the percentage of units for ownership is not provided in the preliminary prospectus.
2. Sasseur REIT Profile
Sasseur REIT is a shopping malls operator in China. It is a part of the Shanghai-based developer and operator of retail outlet malls Sasseur Group.
Sasseur Reit initial portfolio will comprise 4 properties located in China, with an aggregate Net Lettable Area of 304,573 sqm.
The initial portfolio consists of the following properties:
Sasseur (Chongqing) Outlets

Sasseur (Bishan) Outlets

Sasseur (Hefei) Outlets

Sasseur (Kunming) Outlets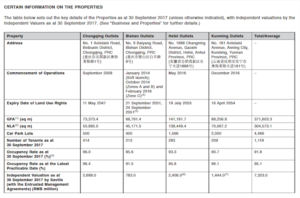 Source: Sasseur REIT Prospectus
3. High Sponsor Interest
The sponsor of Sasseur REIT is Sasseur Cayman Holding Ltd, which is one of China's largest retail outlet mall operators. Sasseur Cayman Holding Ltd is currently managing nine retail outlet malls in China.
Sasseur Cayman Holding Ltd through its 100% interest in the Cayman Holdco will be the largest single unitholder after the IPO of Sasseur REIT. Cayman Holdco will hold between 55% (assuming the Over-Allotment Option is exercised in full) to ~58% (assuming the Over-Allotment Option is not exercised) interest.
4. Use of Proceeds
Sasseur REIT plans to use the proceeds from IPO for:
Redemption for Cayman Holdco

Repayment of RMB 1,960 million of Sasseur REIT's existing debt (around S$ 407.6million).

Payment for listing expenses

Working capital
However, the prospectus does not show how much percentage will the proceeds be allocated to each segment.
5. Balance Sheet
With a total liabilities of S$ 630 million and total assets of S$ 1,551 million. Sasseur REIT has a gearing ratio of around 40.6%. The gearing ratio is a bit high relative to other REITs listed in SGX.
However, the total debt is expected to drop after the IPO as the management will use its proceeds from IPO to repay its debt.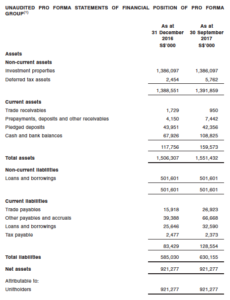 6. Dividend Policy
Distribution will be made on a semi-annual basis. The first distribution is expected to be paid around 30 September 2018 for the period ended 30 June 2018.
Sasseur REIT will be distributing 100% of its distributable income until 31 December 2019. In addition, the management promises a 7% yield in 2018 and mid 7% in 2019.
7. Individual Entrusted Manager Agreement (IEMA)
Typically, REITs will lease out their assets and receive rental income. The rental income is then distributed proportionally to all unitholders according to their fractional ownership of units (or shares) in the REIT.
This is not the case for Sasseur REIT. Instead of charging a pre-agreed rental from its tenants, it has structured the agreement using an Individual Entrusted Manager Agreement (IEMA), where it received a percentage of the tenant's sales turnover as the rental. Therefore, the REIT's income is highly depending on the sales performance of its majority retail tenants.
The good news is that it results in a very active management of the assets as opposed to traditional REITs which are more passively managed. Besides, tenants might not mind staying on their premises when the market is bad or that they do not have many customers.
However, the downside will be that dividends distributed to unit-holders will swing according to their sales, which may be tagged to the retail market sentiment.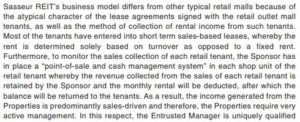 Conclusion
Overall, we are positive for both its short-term and long-term potential.
The 13.8 mil shares for public offer will be snapped up easily, especially by retirees with huge cash warchest.
And for the long run, Sasseur REIT has been granted a right of first refusal (ROFR) to acquire 2 outlet malls from the sponsor, which are Sasseur (Xi'an) outlets and Sasseur (Guiyang) Outlets.
Therefore, it will highly likely maintain some form of growth through sponsor's pipeline of assets, at least for the near term. Furthermore, JD.com may have some big plans for the company in its "war" against Alibaba.
Fancy a simple 10-Step System that teaches you how to investing profitably? Simply click here to receive your copy of a brand-new FREE Ebook titled – "100 BAGGERS" by Christopher W. Mayer here today!
Last but not least, do remember to Like us on Facebook too as we share the latest investing articles and stock case studies for you!