2021 has been a year of hope where vaccines are getting continuously pushed out to all nations. It is also a year to remember where stocks across the world reached its all time high. S&P 500, NASDAQ, Dow Jones indexes, you name it!
Although STI may have not reached its all time high, it has its fair share of stocks which have racked up double or even triple-digit gains!
Some of the stocks are renowned names while some you many have not heard of. We have shortlisted 3 stocks that have remarkable gains and may still have room to run.
#1 Oceanus Group Limited  
Oceanus Group, listed on the Mainboard of the Singapore Exchange ("SGX") in 2008 has diverse business portfolios ranging from aquaculture, distribution, services to innovation. It has presence in Asia, Australia, and USA.
As of its latest half-yearly report, Oceanus's revenue increased by an astounding 110% to RMB 40.3 million. Its net profit reversed from its losses last year to RMB 3.6 million.
Free cash flow was negative as Oceanus built up a good inventory stockpile for its goods. As a result, cash balance of the company came in at healthy level of RMB 79.09 million.
Oceanus's stock price started off 2021 with share price of $0.030 and last closed at $0.076. This translates to an increase of 153%!
Sustainability is a big topic across many institutions and consumers. Oceanus group has built up a good portfolio surrounding sustainable seafood channel and coupled with logistical capabilities. This will be the main driver of growth as COVID has proven that food supplies remain an extremely important asset to all countries.
Although Oceanus did not announce any dividends, it is more like a turnaround stock. In fact, its net profit in FY2020 came up to SG$8.6 million, a spectacular jump compared to the losses in the past.
#2 Thomson Medical Group Limited
Thomson Medical is one of the largest private providers of healthcare services for women and children in Singapore. It owns and operates the iconic Thomson Medical Centre and a network of specialist medical clinics and facilities providing outpatient women and children healthcare services etc.
As of its latest half-yearly report, Thomson Medical's revenue decreased by 1.3% to $116.6 million. Its net profit turned positive and came in at $127.6 million.
Its free cash flow came in at $11.9 million. As a result, cash balance of the company increased to $107.9 million.
Thomson's stock price last closed at $0.110 and it started off 2021 with share price of $0.0510. This translates to a big jump of 115%!
COVID has presented the medical industry as a whole new form of revenue as new products and services are needed. Thomson medical with its sprawling operations are definitely prime to capture these future needs.
For its latest 1HFY2020 results ended Dec 31, 2020, Thomson Medical posted a net profit of S$8.1 million for its first half  – a reversal from its loss of S$1.9 million in the year-ago period.
While revenue for the mainboard-listed group declined 1.3 per cent year on year (yoy) to S$116.6 million, its earnings before interest, taxes, depreciation and amortisation (Ebitda) jumped 32.6 per cent yoy to S$31.8 million.
That said, the increase in Ebitda was attributed to grants received via support schemes and initiatives from the local government to help employers through the pandemic.
The figure was "further augmented" by the additional income from providing serology testing operations for foreign workers housed in dormitories and isolation facilities, and bolstered by the group's austerity measures to mitigate the economic impact of Covid-19, said Thomson Medical.
Thomson Medical last closed at $0.110. The group did not announce dividends and as 2020's annual net profit was negative P/E ratio is not meaningful.
#3 iFAST Corporation Ltd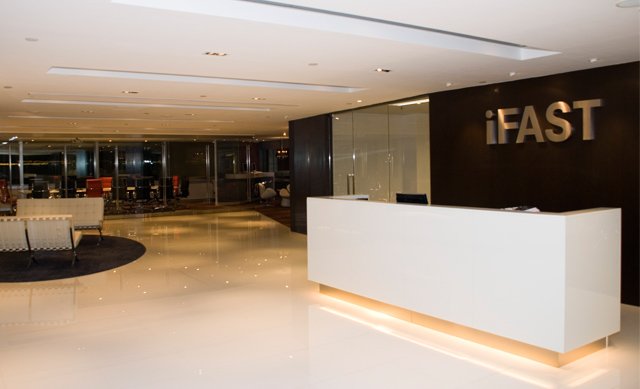 iFAST Corporation is a wealth management fintech platform headquartered in Singapore but has a presence in Hong Kong, Malaysia, China and India.
The Group offers access to over 12,000 investment products including funds, bonds and Singapore Government Securities (SGS), stocks, Exchange Traded Funds (ETFs), insurance products etc.
It also provides services + educational content such as:
online discretionary portfolio management services (DPMS),
research and investment seminars,
financial technology (fintech) solutions,
investment administration and transactions services.
As of its latest annual report, iFAST's revenue increased by a remarkable 35.5% to $169.9 million. Its net profit increased by 125% to $21 million.
Its free cash flow came in at a remarkable $29 million. As a result, cash balance of the company as a result increased to $36.4 million.
Despite losing the digital bank bid some time back, iFast still have other positive developments including 1) Winning the tender for managing Hong Kong's eMPF platform (something like singapore's CPF)
2) Launching of a new stockbroking service in Malaysia (its noteworthy given the many backdated brokerage firms in Malaysia)
With volatility of stock prices increasing across the world, more trades are carried out, which boosts iFAST's bottom line.
iFast's stock price started off 2021 with share price of $3.25 and has already reached a high of $6.40. This translates to an increase of 90+%!
Financial products are ever-changing and ever improving. iFAST has positioned itself well to push out these new products to consumers. Moreover, it has yet to break into other big Asian markets such as Korea, India, etc.
With the expertise it holds, it definitely will be able to succeed and build up new sources of revenue, thus growth.
iFAST last closed at $6.14 which values it at a P/E of 79x and dividend yield of 0.54%.
Billionaire Warren Buffett is arguably the most successful investor of all time.
Learn the secrets to Warren Buffett's investment success by downloading the Free Guide below: