For decades Advanced Micro Devices (AMD) lagged Intel (INTC) in the processor market. Having an 'Intel Inside' was ubiquitous with performance.
Over the last several years, a noticeable shift occurred.
AMD, focused entirely on design and development, outsourced nearly all of its fabrication. Intel, on the other hand, drifted away from its engineering roots.
Very quickly, AMD not only caught its much larger rival, but in many cases, surpassed their performance. In fact, their recent acquisition of Xilinix puts them squarely in the crosshairs of NVIDIA in the GPU market.
In response to their lagging performance, Intel fired their CEO Bob Swan in favor of Pat Gelsinger, hoping to regain market share from both AMD and NVIDIA.
But at these depressed prices, is it a better buy than AMD?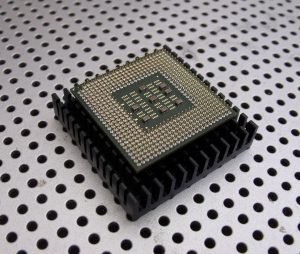 Intel (INTC) Pros & Cons
Intel's recent quarterly performance was nothing to write home about. Revenue dipped 1% year-over-year with flat earnings. That said, investors expected a lot worse.
Unlike AMD, NVIDIA, and other chipmakers, Intel manufactures its own chips. That requires significant capital investment and expertise, effectively splitting the attention of the company. The problem was their foundry struggled to keep pace from 2013-2018 under CEO Brian Kranzich.
With Gelsinger at the helm they certainly have a better shot at fixing issues with manufacturing, not to mention the recent failings with their R&D and design. However, that's going to require a significant amount of capital.
That said, with the pullback in share price creates a decent value play. Shares trade at just over 11x earnings and a little more than 12x forward earrings with a price to earnings growth ratio of 2.46x compared to AMD with a trailing P/E of 125.39, forward P/E of 54.95, and a price to earnings growth ratio of 1.22x. Plus, it pays a nice 2.5% dividend.
Advanced Micro Devices (AMD) Pros & Cons
Once a second fiddle, AMD came out swinging in recent years. They delivered the Ryzen 5000 CPUs based on the 7-nanometer process compared to Intel's 14-nanometer. In fact, Intel isn't expected to have its 10-nanometer process chip available until later this year. One analyst expects AMD's share of the CPU market to jump to 50% in 2021.
That might sound lofty. But keep in mind, Q4 revenue was up 53% year-over-year. Considering the size of the company, that's a massive gain and still doesn't include their acquisition of XLNX.
AMD's improved financial position helped lift. Just a few years ago, the company struggled mightily, burning cash each year. Today, the company sits on $2.3 billion in cash with free cash flow of $777 million in 2020.
By no means is the stock cheap. It doubled in value through 2020. As noted above, the P/E and PEG ratios both suggest it's at the higher end of the valuation range.
Our Pick – AMD
This is a classic dilemma between a value turnaround and growth that appears overpriced. So, let's break this down into the choices and explain why we like AMD over INTC.
Betting on Intel means you expect several things to occur.
Intel catches up to its revivals in technology

They solve their manufacturing problems

Revenue growth accelerates

Pat Gelsinger can get the job done
AMD is fairly expensive. So, you need the following to happen:
Growth to accelerate beyond the current trailing 12 months

Margins to improve slightly

They both capture and lead in the GPU market

Demand for AI and heavy CPU loads remains strong
Comparing the two, there are a lot more IF's with INTC than there are with AMD. Intel needs to effect a strategic turnaround. AMD just needs what's currently happening to continue. 
Does that mean Intel has less potential upside? Not necessarily. But when you compare the risk and potential reward, AMD looks much better.