As of 16 September 2019, Lendlease Global Commercial REIT (Lendlease Global REIT) had filed in its IPO Prospectus to the Monetary Authority of Singapore.
Lendlease IPO price is set at S$0.88 and investors can apply for the IPO at 25 September 2019 to 30 September 2019.
You may read its IPO Document (500+ pages in total) via this link – Lendlease Global REIT IPO Prospectus. 
Alternatively, you can check out our summary of 9 things you need to know about Lendlease Global REIT before investing in it as follows:
#1: Initial Property Portfolio 
It consists of two major properties:
(i) 313@Somerset and
(ii) the Sky Complex 
The breakdown is as follows: 
#2: Property 1 – 313@Somerset
It is a leasehold eight-storey retail mall which has direct access to the Somerset MRT station measuring 429,870 sq. ft. in net lettable area (NLA).
The land lease balance is approximately 86.3 years. The retail mall is 99.6% occupied where its five biggest tenants namely, Zara, Marche, K Bowling Club, Hai Di Lao, and Food Republic occupying 29.3% of its retail spaces.
The total monthly gross rental for 313@Somerset is S$ 4.91 million as at 30 June 2019.
#3: Property 2 – The Sky Complex 
It consists of three freehold office buildings located at Southeast of Milan, Italy.
They measure 999,116 sq. ft. in NLA and is currently leased to Sky Italia, its sole tenant for a 12+12 year term, which expires on 15 May 2032 for an annual rent of €16.21 million presently.
Sky Italia is an Italian satellite TV platform, which is owned by Sky Ltd, which was acquired by Comcast Corporation in 2018.
For the financial year 2018, Sky Italia has made €3.0 billion in revenues and granted an 'A3' and 'A-' credit ratings by Moody's and Standard & Poor's respectively.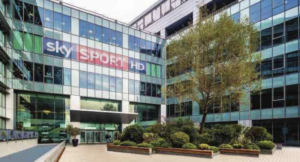 #4: Forecasted Financial Results


The financial results for FY 2020 is for a period of nine months, which will begin from 1 October 2019 (assuming it is its Listing Date) to 30 June 2020. As such, it will report its first full financial year in FY 2021. 
Personally, I would check its forecasted revenue to make sure that it tallies with the 'actual rental received' as reported by the attached valuation reports within the IPO Prospectus. I have discovered:
#5: Why Is There No Reporting on Past Financial Results? 
The 313@Somerset Property would be acquired from a Property Vendor where 75% of its effective interest is held within ARIF1, a property fund which is being managed by Lendlease Group, the Sponsor.
Meanwhile, the Sky Complex would be acquired from another Property Vendor, Sviluppo Comparto 3.
Both Vendors are not willing to provide necessary representations and warranties for the two properties' financial records to the REIT Manager.
Hence, Lendlease Global REIT is unable to prepare a three-year financial accounts in its IPO Prospectus. 
#6: Balance Sheet Strength
Upon its listing, Lendlease Global REIT has forecasted to have S$ 512.79 million in loans & borrowings and S$ 1.47 billion in total assets. Its gearing ratio works out to be 35.0%. 
#7: Lease Profile 
Lendlease Global REIT would derive income from 150 tenants and the weighted average lease expiry (WALE) of its portfolio is 4.9 years based on its gross rental income or 10.4 years based on NLA.
Leases for both properties have an average built-in rental escalation as follows: 

The top 10 tenants and their contribution by gross rental income (GRI) as of 30 June 2019 are as follows: 
#:8 Who's the Sponsor? 
Lendlease Corporation is the sponsor of Lendlease Global REIT.

Lendlease Corporation is a ASX-listed international property and infrastructure group worth as much as A$ 9.5 billion in market capitalisation with operations in Australia, Asia, Europe and Americas presently.
Lendlease Global REIT has revealed that it may consider to expand its portfolio into other 'gateway cities' through Rights of First Refusal (ROFR) or via other potential opportunities sourced from its Sponsor from time to time.
To name a few, the projects in these gateway cities include: 
#9: Valuation: 
The IPO offer for Lendlease Global REIT is S$ 0.88 per unit. Based on its forecasted Distribution per Unit (DPU) for 2020 and 2021, its distribution yield is a total of 5.80% and 6.01% per annum.
In addition, the forecasted net asset value (NAV) is at S$0.81 upon listing. Thus, Lendlease REIT would be valued at around 1.08x P/B ratio. 
We decide to do a quick peer-to-peer comparison with the other Commercial + Retail REITs: 

We can see that Lendlease REIT has comparatively higher yields and a lower P/B ratio.
Lendlease REIT IPO – to subscribe or not?
All in all, there are many things to like about Lendlease Global REIT.
Although Lendlease REIT has just 2 prime properties in its portfolio, it has Lendlease Group (a reputable property conglomerate) as its sponsor.
Furthermore, i just saw that they also secured a whole list of renowned asset management firms as their cornerstone backers – AEW, BlackRock, Fullerton, Lion Global, Nikko Asset Management etc.
Given the uncertain economic turmoil, Lendlease Global REIT seems to come in at a good time for people to utilize their excess cash. Adding to the decent P/B ratio and distribution yield, Lendlease REIT would probably be over-subscribed.
You can also check out Lendlease IPO reviews by 2 prominent bloggers here:
(i) https://financialhorse.com/lendlease-global-commercial-reit-ipo-review/
(ii) https://investmentmoats.com/money-management/reit/lendlease-global-reit-ipo/
---
FREE Download – "7 Top Stocks Flashing On Our Watchlist"
Psst… We've found 7 exciting companies that are poised to skyrocket >100% in the years to come. Simply click here to uncover these ideas in our FREE Special Report!