We had an exclusive corporate visit at Hyphens Group on 6th July 2019 (Saturday) and it was really an eye opener! InvestingNote has taken quite a number of photos for the corporate visit and you can check them out here.
I am really heartened to see that more than 60 people had turned up on a Saturday morning when they could have snoozed their way after a long week. That said, I believe that they were rewarded plenty with the generous hospitality of the Hyphens team – refreshments, tour around the company and networking sessions.
More importantly, I left the building with a deeper understanding of the company and hope to share with you 10 things I learnt from the corporate visit below.
For a quick background, Hyphens Pharma International Limited (SGX: 1J5) is Singapore's leading specialty pharmaceutical and consumer healthcare group. With a long history dating back to 1998, Hyphens has a direct presence in 5 ASEAN countries – Singapore (HQ), Indonesia, Malaysia, the Philippines and Vietnam, and is supplemented by a marketing and distribution network covering 6 other markets – Bangladesh, Brunei, Cambodia, Hong Kong, Myanmar and Oman.
The group operates in 3 main segments:
Specialty Pharma Principals – premium quality specialty pharmaceutical products including Stérimar® nasal sprays, Bausch+Lomb eye drops, Vivomixx™, Fenosup® Lidose® and Piascledine®.
Proprietary Brands – Hyphens' own proprietary range of dermatological products (Ceradan® and TDF® brands) and health supplement products (Ocean Health® brand).
Medical Hypermart & Digital – wholesale of pharmaceuticals and medical supplies in Singapore through Pan-Malayan Pharmaceuticals – a medical hypermart that many healthcare professionals (i.e. doctors) are familiar with.
Next up, we delve deeper into the company based on the insights garnered from the company visit and the panel Q&A discussion.
(1) Opening of the new Integrated Facility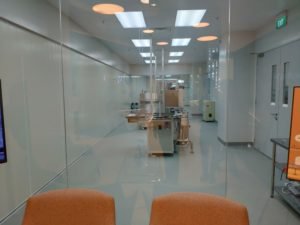 Hyphens Group officially opened its corporate headquarters and integrated facility on 21 March 2019 with Senior Minister of State for Trade and Industry, Dr Koh Poh Koon as Guest-of-Honour at the event.
In my opinion, the place looks very modern and spacious. CEO Mr Lim also mentioned that they used to have 4 separate offices and things moved slowly due to lack of communication.
However, now that he has everyone under 1 'roof', he joked that he can reach out to anyone now just by standing at the pantry area!
(2) Costs of the Integrated Facility
However, the costs of renovating the whole integrated facility to their requirements don't come cheap. It cost them around S$3 million dollars and will be depreciated over 5 years.
That said, this integrated facility will help the company improve the productivity, efficiency and teamwork amongst colleagues in different departments within the Group.
The integrated facility houses an automated packaging line that was designed in collaboration with Singapore Polytechnic's Food Innovation and Resource Centre, while the warehousing space was designed in conjunction with Republic Polytechnic's Centre of Innovation for Supply Chain Management to improve logistics efficiency.
(3) Ocean Health new packaging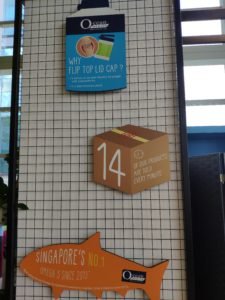 Ocean Health was acquired by Hyphens Group around January 2016 and the management recently embarked on a new initiative to refresh the packaging of the Ocean Health brand.
They kept the brand's signature dark blue cap and background to maintain its identity but added more prominent text and colours to highlight the benefits in order for the supplements to 'sell themselves'.
The 3 Best-Sellers for Ocean Health supplements are
OMEGA- 3 Fish Oil
Multivitamin and Minerals
Joint-RX.
Fun fact – CEO Mr Lim mentioned that if you have never taken any supplements before, you can still go for the Omega- 3 Fish Oil because it cannot be produced by our bodies and it is essential in supporting cognitive function and memory.
(4) Hyphens Pharma's Warehouse
Within the same level, Hyphens Group has a big warehouse to store all its products just beside the office.
The warehouse has to be kept cool 24/7 and they have temperature monitoring kits to perform this task as they have to report to the government on their temperature statistics when they conduct audit of the warehouse.
In addition, there are cold rooms specially catered for products which must be stored between 2oC and 8oC.
(5) 1st Quarter results
For the recent 1st quarter 2019 results, the group's net profits suffered a 20.3% hit because higher demand for radiology products last year, ahead of the product licensing renewal in Vietnam, was not repeated in 1Q2019.
There is also a jump in admin expenses due to higher depreciation expenses with the opening of the integrated facility and higher compliance costs due to its listing status.
The management reiterated that while they cannot promise that every quarter would be a better one compared to the year before due to one-off events, they pointed to their past history of how revenue and profits had been increasing steadily and are confident that this positive trend will continue.
(6) Dividend Policy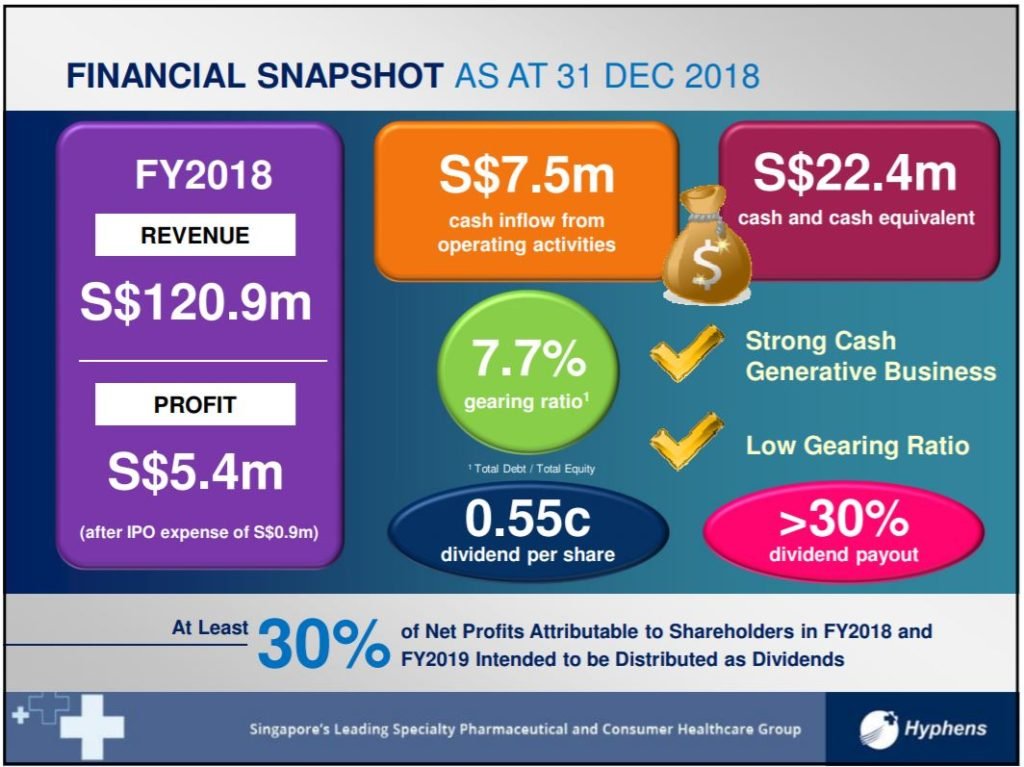 Zooming into the latest corporate presentation, Hyphens has a strong balance sheet with 7.7% gearing ratio and declared a 0.55 cents dividend per share as at 31 December 2018. Based on the share price of S$0.21, it translates into a 2.6% dividend yield.
When queried with the management whether the company will continue to pay out an increase in dividends and what's the pay-out ratio we can expect, CFO Ms Fang Lee Wei said (in my own words):
"Although the company has a cash and cash equivalents of S$22.4 million, it is trying to strike a balance between using it for dividends and potential M&A, organic growth opportunities. Hence, Hyphens is likely to adopt a prudent approach on the dividends end although they will continue to pay out dividends to reward shareholders."
(7) Exclusive distribution agreement with Lundbeck
Hyphens recently signed an exclusive distribution agreement with Lundbeck to distribute their products in Vietnam. When asked about the expected timeline and impact on the bottom-line, the management shared that there is a long gestation period for such medical partnerships.
This is because the company still has to follow a lengthy procedure like getting the authorities for approval, bringing awareness and marketing to the doctors using the products etc. On the bright side, the company will be rewarded by a recurring income stream once everything is set in stone.
Moving on, a few interesting questions came from the floor during the panel discussion as well. Here are some of them and the management's answers to them:
(8) Impairment on Goodwill
Question: If you check on the annual report 2018, there is a line under the cash flow statement called "Impairment on Goodwill". What is it with regard to?
Answer: The impairment of goodwill is actually pertaining to Ocean Health's acquisition.
Upon their annual review of the carrying value of impairment, the management realised that Ocean Health is not growing as well as they have expected due to the challenging retail environment in Singapore and hence, decide to pare down the goodwill of Ocean Health.
(9) Percentage of R&D costs
Question: Does Hyphens cater a percentage of its revenue towards Research and Development to build on its product pipeline?
Answer: Hyphens work with outside partners to leverage on their medical expertise instead of setting up a whole R&D team which is not cost-effective for a small company like Hyphens.
One good example is how they have signed a MOU with A*STAR to be strategic dialogue partners in the Field of Dermatology.
(10) Will the big companies take over Hyphens role?
Question: Hyphens currently has a segment where it distributes specialty pharma principals for much bigger players overseas.
One person raised the question on whether the manufacturers will snatch back Hyphens' share and do the sales themselves if Hyphens become very profitable?
Answer: CEO Mr Lim replied that while such risks exist, he is of the opinion that it is not easy for manufacturers to set up and build a distribution network of what Hyphens has, in a short period of time.
Furthermore, it will take up a lot of capital and time to build everything from scratch so they would rather work with established partners like Hyphens.
Conclusion
Being able to go behind the scenes and see first-hand of the business premises certainly is a huge leap forward compared to analysing a company's operations and financial numbers on paper.
With that, we come to a close for our company visit to Hyphens Group. We want to show our appreciation to the whole Hyphens team for making this corporate visit a success and below is a group photo with CEO Mr Lim See Wah (see how everyone has enjoyed the visit!).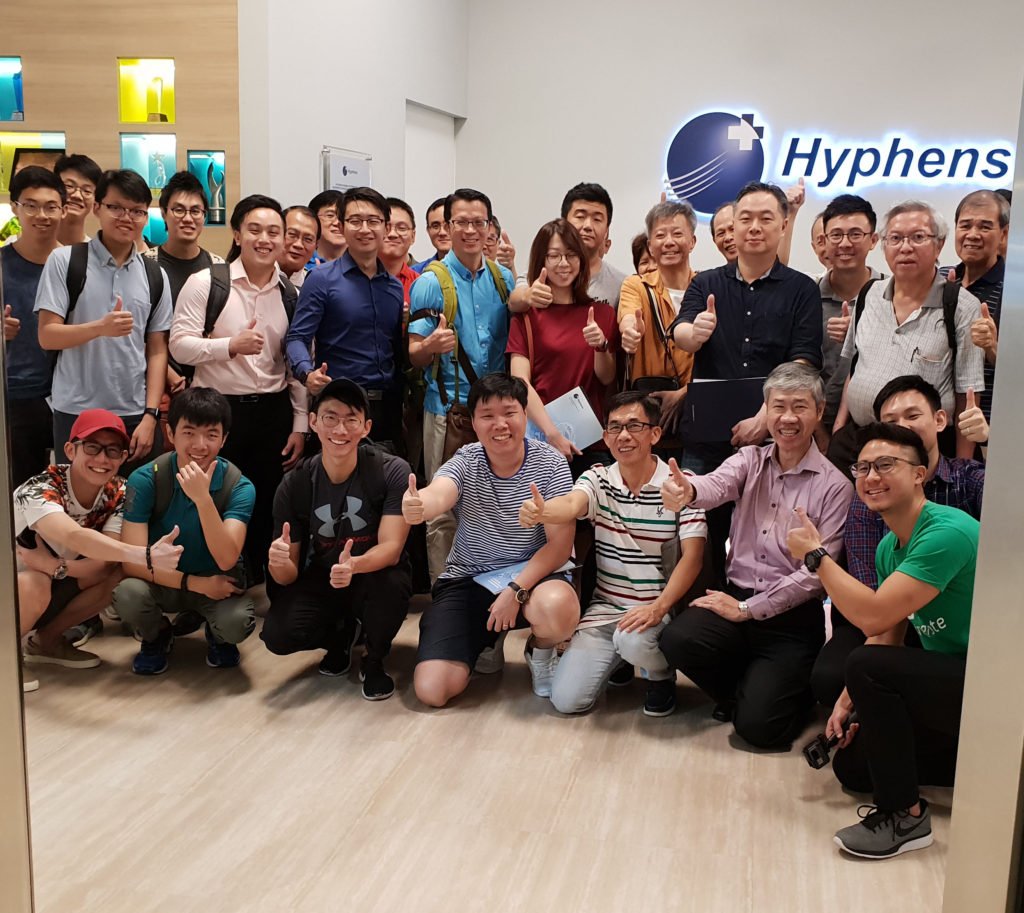 ---
P.S. You can also check out our IPO article on Hyphens Pharma here -> https://www.smallcapasia.com/hyphens-pharma-ipo-heres-quick-5-things-you-need-to-know/