Excerpts from CGSCIMB report
Enviro-Hub Holdings Ltd (SGX: L23)
Enviro-Hub Holdings Ltd (ENVH) plans to focus on growing its e-waste recycling and healthcare (gloves/pharmacies) segments from FY22F onwards.
ENVH is trading at 0.9x CY22F P/BV, vs. e-waste recycling peers at 1.5x CY22F P/BV and glove peers at 0.8x CY22F P/BV.
A mini conglomerate with e-waste recycling as its core driver
ENVH owns four segments:
Trading, recycling, and refining of e-waste/metals
Manufacturing and trading of healthcare products
Property investments and management, and
Piling contracts, construction, rental, and servicing of machinery.
In FY21, ENVH penetrated the glove manufacturing and healthcare consumable sectors through the 100% acquisition of Pastel Glove Sdn Bhd, a Malaysian glove company.
Revenue for e-waste recycling could jump 50% yoy in FY22F
ENVH is a leading service provider of trading, recycling, and refining of e-waste. It derives revenue through the sale of precious metals and base metal. Revenue for e-waste recycling grew to S$16.4m in 1H22 (+14.6% yoy), contributing c.71.7% to total group revenue.
PBT margin spiked from 7.6% in FY20 to 21.3% in 1H22. ENVH also expects a 50% yoy jump in e-waste recycling revenue in FY22F from the addition of a new MNC customer, coupled with projects for other new customers in 2022.
The company is expanding capacity by 40% from 3,600 tonnes/year to 5,100 tonnes/year (to be completed in 2H22F) to cater to a larger volume of e-waste.
Disposal of property investments could turn it to net cash
The company disposed S$63m worth of investment properties in FY21, improving its net gearing from 1.56x in FY20 to 0.48x in FY21. ENVH lowered its net gearing further to 0.45x in 1H22.
We understand that most of its existing debt relates to property loans which will be paid down upon disposal of its properties.
However, the management prefers to hold its properties for now in view of the appreciating property market. Should it successfully dispose its remaining S$60.5m of investment properties (as at 1H22), its net debt position could be reversed to net cash.
Not a conventional pharmacist
Through its 40%-owned JV, the company opened its first retail pharmacy (R Pharmacy) on 16 Apr 2022. It has 7 outlets as at 2 Oct 2022, and targets to have 25 outlets by Apr 23 and 90 outlets by Dec 24.
Capex averages RM500k-600k (S$153k-183k) per store and will be funded internally, according to FY21 slides. ENVH differentiates itself through in-house pharmacists who provide personalised advice and high-quality services to customers.
By branding itself as a premium service, ENVH captures revenue from the sale of pharmaceutical products, as well as from the listing of SKUs and advertisements.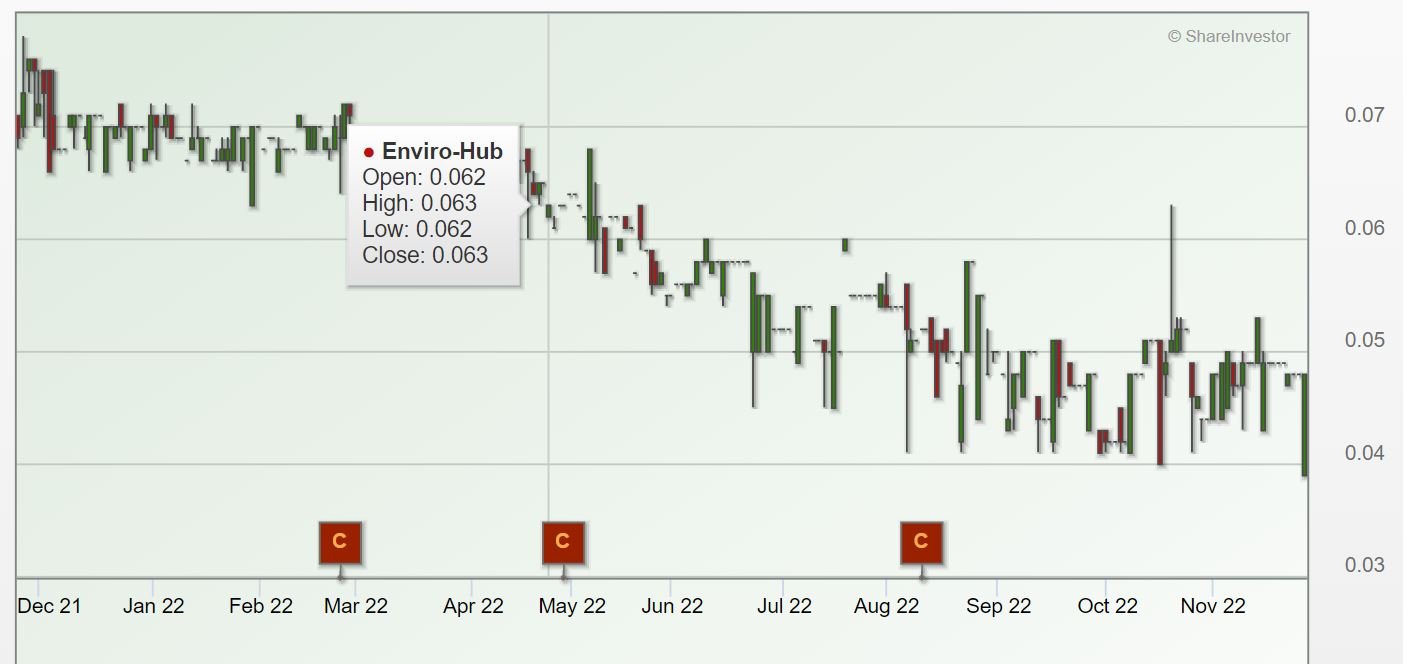 You can find the full report here and the company website here