EC World REIT is a Singapore REIT that invest in properties used primarily for e-commerce, supply-chain management and logistics purposes with geographical focus on the PRC.
EC World REIT share price has fallen from a high of 47 cents to current price of 34 cents ever since the results was announced on 23 Feb 2023.
That is more than 27% drop in value in only about 2 weeks; this does seem like a record for a REIT but at the wrong end :O.
Investors who are vested in this REIT must be feeling very concerned; hence we wish to do a deep dive to understand some of the reasons behind the drastic fall in EC World REIT's price.
1. Lack of confidence in Sponsor
First things first, EC World REIT is heavily indebted and wish to divest Stage 1 Properties of Bei Gang Logistics and Chongxian Port Logistics on 3 Oct 2022 which will help to pare down the outstanding loans due on 31 Dec 2022.
However, the purchaser aka Sponsor, Forchn Holdings, was unable to obtain the necessary financing to proceed with the purchase. The deal was postponed to 31 Jan 2023 for the purchaser to obtain the necessary financing but further extended till 30 April again in an update.
This is a BIG red flag as the continued extension of the Equity Purchase Agreement does not invoke any sense of confidence in the Sponsor, which in turn, will cause investors to 'run away' from the REIT.
2. Falling DPU
To make things worse, the drastic fall of 59.1% in the REIT 4QFY2022 DPU to 0.628 cents was another painful thing to look at.
If you look closer, the distributable amount retained is S$4.14 mil, a big jump from the previous year because of loan repayment, refinancing related costs.
Increasing DPU is the key determinant in a strong REIT and investors will be terrified with such a big decline in DPU.
3. Fall in NAV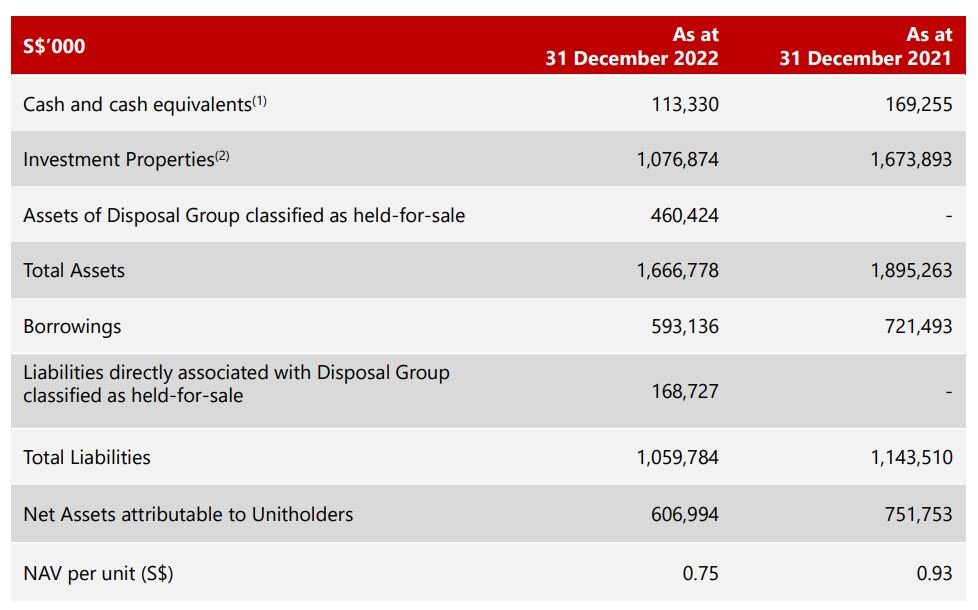 Based on the table above, the REIT NAV has fallen too from 93 cents to 75 cents, further hitting investor sentiment.
The sharp decline in value of Investment Properties from $1.6 Bil to $1.1 Bil can be attributed to the following based on the corporate presentation:
derecognition of Fu Zhuo Industrial
reclassification of disposal group as asset held for sale and
Weakening of RMB against SGD
For those who don't know about the compulsory expropriation of Fu Zhuo Industrial, you can read this article here.
That said, with the current share price trading at 34 cents, it is now trading at a deep discount to NAV of 75 cents.
4. Rising interest cost
The final straw is the high running interest of >5% and an incredibly short weighted average debt maturity of only 0.44 years (thats 5 months!?) and it typically doesn't go down well when your loans are maturing so quickly in an high i/r environment.
This was probably a tell-tale sign that investors should have taken note of when examining the risks in a REIT.
Conclusion
The above pointers serve as some notable points that investors should take note in deciding whether to invest in any REIT.
As for EC World REIT, investors need to contend if their assets can benefit from the upturn with China's re-opening while managing the high interest rate environment and slowing global economy
You can view the REIT website here