Excerpts from UOBKayHian report
Kuaishou Technology (HKG: 1024)
Kuaishou's 3Q22 earnings were above expectations. Revenue grew by 13% yoy to Rmb21.7b, in line with the street's expectation.
Gross profit rose 25.8% to Rmb10.7b yoy with gross margin improving 5ppt yoy to 46.3%. Operating profit from the domestic segment was Rmb375.1m, compared with an operating loss of Rmb2.5b in 3Q22.
Non IFRS loss for the period was Rmb672m, significantly narrowing from Rmb4.6b in 3Q22, beating our and the street's estimates.
Maintain BUY. Target price: HK$79.00.
3Q22 advertising revenue recovery was slower than expected
Kuaishou online marketing services revenue grew 6.2% yoy/5% qoq to Rmb11.6b in 3Q22, driven by increased Kuaishou e-commerce merchants and high-quality content.
Live streaming revenue improved 15.8% yoy/ 4% qoq to Rmb8.9b, driven by a 29.3% yoy growth in average monthly paying users (MPU) and better operational enhancements.
Revenue from other services jumped 39.4%yoy/22% qoq to Rmb2.6b, primarily due to the 26.6% yoy growth from e-commerce gross merchandises value (GMV).
Kuaishou margin improved in all levels
Gross profit margin improved 5ppt yoy, in line with our expectation. 3Q22 non-IFRS operating loss narrowed to Rmb904m with non-IFRS
operating margin expanding by 21ppt yoy to -4%.
Driven by better savings in sales and marketing (S&M) and better user conversion, Kuaishou's domestic business continued to deliver positive operating profit of Rmb375m or IFRS margin of 1.6%, with overseas operating loss decreasing 41% yoy.
Non-IFRS net profit margin grew 20ppt yoy to -3%, 14ppt above the street's estimate.
Healthy user engagement growth
Average daily active users (DAU) was 363m (+16m qoq and +43m yoy) and monthly active users (MAU) increased strongly to 626m (+40m qoq and +53m yoy) in 3Q22.
User engagement indicator DAU/MAU was resilient at 58.1% and average daily time spent per DAU rose 8.6% yoy to 129 minutes, reflecting Kuaishou's close loop community.
Kuaishou valuation/recommendation
Maintain BUY with a lower target price of HK$79.00. We remain cautiously optimistic on the company due to stable growth in individual subscriptions and resilient growth in institutional subscriptions.
Our target price implies 3x 2023F PS. The company is trading at 2x 12-month forward PE, below its historical mean and peers'.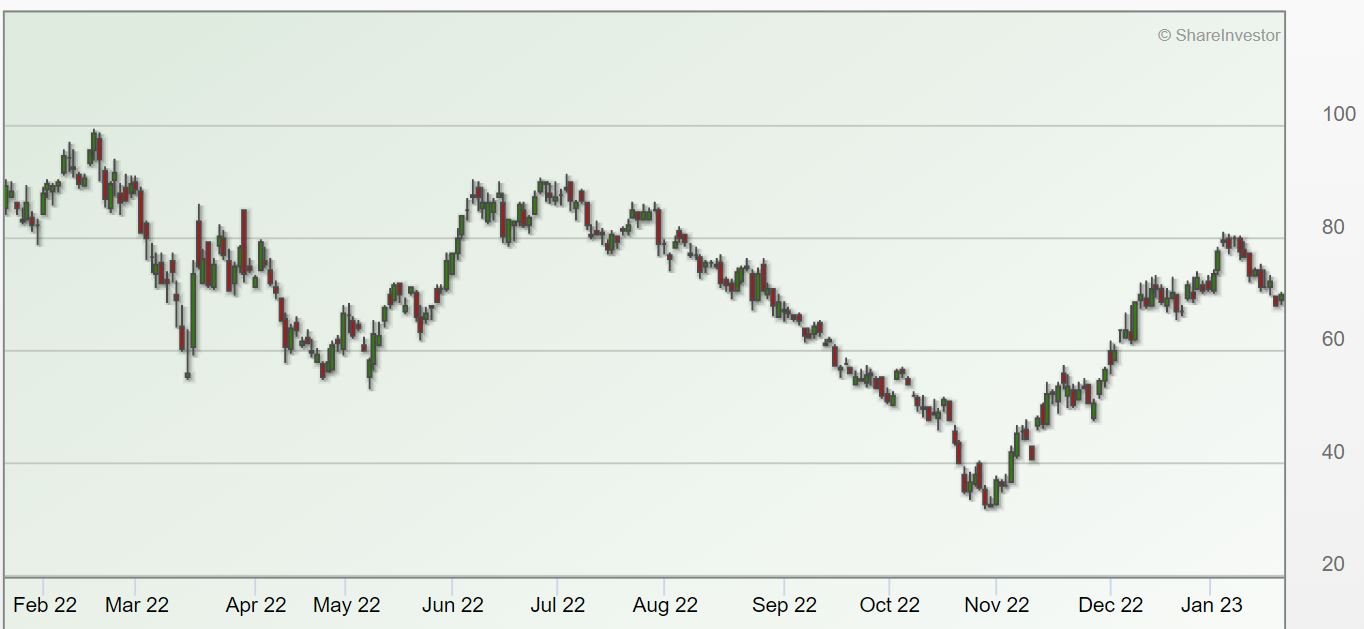 You can find the full report here and the company website here.