A year end IPO bonanza has descended upon Singapore! 2 separate REITS are looking to be listed on SGX and are in the midst of book making.
REITS have been a staple for Singaporeans due to the love for dividends. SGX boasts many different kind of REITS – Industrial, Logistics, Healthcare, etc.
But nothing gets more exciting than a pure data centre REIT as it enables the investors to ride on the booming information age.
Here are 7 things that you should know about Digital Core REIT IPO before investing.
#1 Who is the sponsor for Digital Core REIT?
Digital Realty (NYSE: DLR) is the largest global provider of cloud- and carrier-neutral data centre,
colocation and interconnection solutions dedicated to the full customer spectrum, from the
enterprise to the hyperscale cloud service provider.
Digital Realty's top 20 customers have an average of over 40 deployments across the Sponsor's 291 facilities in 47 metros throughout 24 countries on six continents. Digital Realty (NYSE: DLR) is one of the 10 largest U.S.-listed REITs, with an equity market capitalisation of approximately US$44 billion and a total enterprise value of approximately US$58 billion.
To put things into perspective, Capitaland currently has a market capitalisation of approximately $15.34 billion. Digital Realty is roughly triple the size of Capitaland.
#2 Impressive Data Centres on offer
The Digital Core REIT IPO Portfolio is comprised of 10 institutional quality, 100% freehold data
centres concentrated within top-tier markets in the U.S. and Canada with an aggregate Appraised
Valuation of US$1.4 billion.
The IPO Portfolio totals 1.2 million NRSF as at 30 June 2021 and is 100% leased to a roster of blue-chip customers, each with numerous deployments across the Sponsor's global platform.
9 out of 10 of its centres are situated in USA and 4 of it is in the heart of all technological advancement in the world – Silicon Valley. An impressive feat is that occupancy is at 100%, which is very rare for REITS.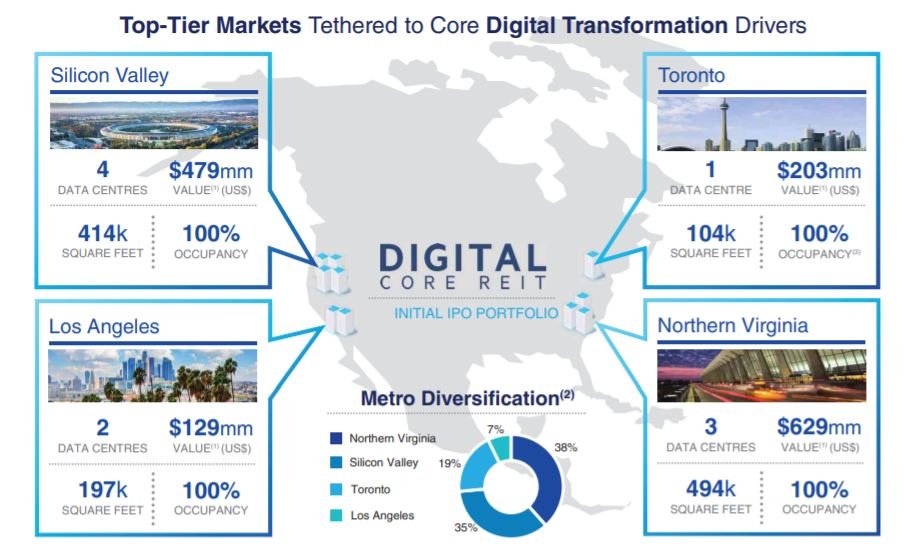 source: Digital Realty IPO Prospectus
#3 Attractive WALE and long lease expirations
The IPO Portfolio has a long weighted average remaining lease term of 6.2 years and 7.7 years, based on Base Rental Income for the month of June 2021 and NRSF as at 30 June 2021 respectively.
Approximately 89.3% of the IPO Portfolio has been leased on new or renewal lease agreements since 2017. The IPO Portfolio has a well staggered lease maturity profile. Leases expiring in 2022 and 2023 represent only 0.1% and 0.1%, respectively, of Base Rental Income for the month of June 2021.
This enhances the predictability of the cashflow less any currency effects. This helps the investors to have a good gauge of the dividends that could be received.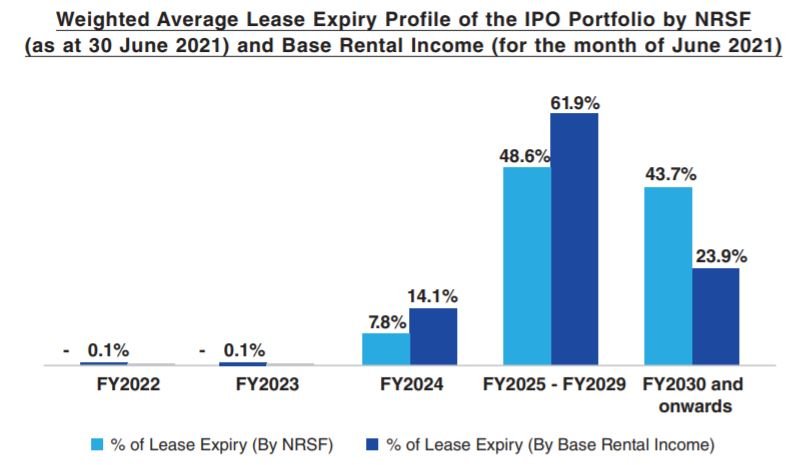 source: Digital Realty IPO Prospectus
#4 Outstanding Data Centres in Sponsor's pipeline
This pipeline of projects under various stages of construction and lease-up provides Digital Core REIT a significant opportunity to grow its portfolio through the acquisition of newly-built and high-quality development properties from the Sponsor upon stabilisation.
Furthermore, this pipeline represents an opportunity for growth outside of North America as the Sponsor's developments have increasingly expanded internationally over the past few years.
As at 30 June 2021, the Sponsor's sizable global development pipeline, totalling approximately US$5 billion when completed, is comprised of 220 MW across 20 metros in EMEA and APAC, or 76% of the Sponsor's total development pipeline globally.
With the outstanding pipeline that could be bolted on to the REIT, investors could expect expansion in the future, supported by the sponsor.

#5 Low gearing ratio suited for future acquisition
As at the Listing Date, Digital Core REIT is expected to have an Aggregate Leverage of approximately 27.0%, which is significantly below peers.
This also gives it US$ 160 million, US$424 million and US$596 million of debt headroom to 35%, 45% and 50% gearing, respectively, to fund post-IPO investments.
Gearing ratio is an important criteria for REITS listed in Singapore. Currently the highest possible gearing ratio is at 50%. With Digital's REIT hovering only at 27%, it gives it ample space to expand and leverage on the pipeline of its sponsor. Moreover, this will help current investors as there will be less rights issue, thus less dilution.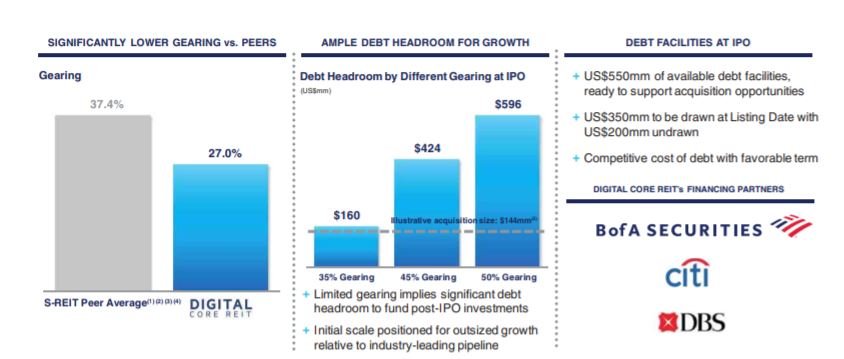 #6 Superior projected return for year 2022 and 2023
Digital Core REIT offers an attractive distribution yield of 4.75% for Forecast Year 2022 and 5.00% for Project Year 2023 with a superior total return of 10.01%, with nearly 100% of Base Rental Income for Forecast Year 2022 and Projection Year 2023 derived from existing contractual leases.
The offering price per unit will be at USD$ 0.88 per unit. 
Currently the highest fixed deposit rate that one could get in Singapore is at 0.9% per annum with 3 years lock up period. The projected distribution yields are approximately 3-4% higher! This translates to $300-400 more per annum with $10,000 invested.
#7 First Class list of cornerstone investors
Cornerstone investors are investors who put up their money and lock in for a certain period of time. Usually cornerstone investors are important for retail investors as it helps to boost the confidence in investing in the company.
Notable cornerstone investors:
Blackrock, Inc
 DBS Bank Ltd
Eastspring Investments (Singapore) Limited
Fullerton Fund Management Company Ltd
Lion Global Investors Limited
Nikko Asset Management Asia Limited
TMB Asset Management Company Limited
Value Partners Hong Kong Limited
Conclusion
After jumping around 20% during the 1st day of listing, Digital Core REIT (SGX: DCRU) is now trading above US$1 Billion, making it the largest IPO of 2021.
This share price jump also signifies that investors are generally bullish on Data Centre REITs like Keppel DC REIT (SGX: AJBU) and Mapletree Industrial Trust (SGX: ME8U) which trades at around 2x P/B and 1.68x P/B respectively.
Given that Digital Core REIT is trading at around 1.2x P/B, this suggests that Digital Core REIT may have more room to run to play catchup. But investors will have to contend with lower distribution yields of <4% going forward.
---
Check how you can learn the secrets to Warren Buffett's investment success by downloading the Free Guide below: