Excerpts from UOBKayHian report
Sales volume is falling as a result of lower consumer confidence, amid lower ASPs for rubber accelerators expected in the coming term.
However, capacity expansion efforts are still ongoing by China Sunsine.
We have lowered earnings expectations for 2022-23, due to the macroeconomic uncertainties.
Maintain BUY with a lower target price of S$0.45.
Sales volumes fell amid economic slowdown
Due to the rising interest rate environment and unprecedented European energy crisis, the economy is slowing down, leading to lower demand for tyres.
This is worsened by former China's zero-COVID policy, which has impacted most Chinese tyre manufacturers' production utilisation rates as well as consumer confidence.
According to McKinsey & Co, optimism about China's economy has dwindled to below 50% on China's COVID-19 control measures, and consumers are spending more conservatively. This is in line with the fall in sales volume in 3Q22 to 48,268 tonnes (-6% yoy).
Lower ASPs expected in the near term
While higher ASPs fuelled better-than-expected 9M22 performance, ASPs are declining in 4Q22. China Sunsine Chemical's 9M22 net profit rose 52% yoy to Rmb555m, as a result of higher revenue of Rmb2.94b (+11% yoy).
This is attributable to the elevated ASP of rubber accelerators, China Sunsine Chemical's key product, which increased by 11% yoy to Rmb18,858/tonne as per Sublime China Information (SCI).
The better-than-expected ASP was from the higher prices of aniline, the major feedstock for rubber accelerators, stemming from rising oil prices in the same period.
However, the reduced demand for tyres will likely drive down prices of China Sunsine Chemical's rubber accelerator products. This will negatively impact the group's earnings going forward.
Continuous expansion projects undertaken during the year
In Oct 22, China Sunsine Chemical had commenced the construction of an additional 20,000 tonnes/year (+17.1%) from Phase 1 of a project for the intermediate rubber accelerator material, bringing total annual capacity to 137,000 tonnes/year.
China Sunsine has also embarked on the construction of Phase 2 of an insoluble sulphur project, which increases capacity by 50% to 90,000 tonnes/year.
These projects are expected to be completed by end-23, and are likely to lift sales volume upon commencement of production.
Valuation/Recommendation
Maintain BUY with a 35% lower target price of S$0.45 (from S$0.695). We have lowered our valuation peg from 6.4x to 4.9x (-0.5SD below mean) 2023F PE, in line with its historical five-year average, on the back of macroeconomic uncertainties.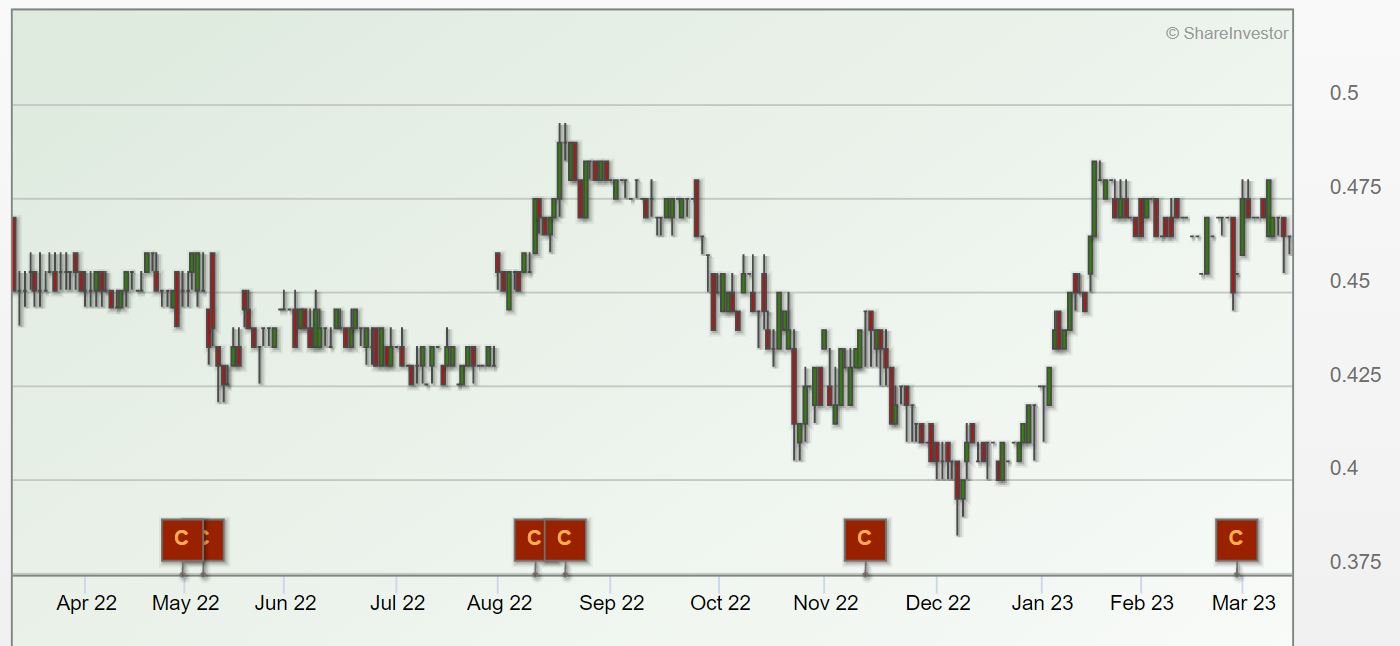 You can find the full report here and the company website here.