Acute Angle (Cloud) is a globally distributed IaaS service platform and is designed to be a basic-layer service platform based on blockchain technology which will realize global distributed cloud computing based on Acute Angle PC, Acute Angle Chain and IPFS (Interplanetary File System) (Acute Angle Platform).
With the development and maturity of Acute Angle Cloud, it will gradually support a value system that uses AAC as a circulation medium.
Check out its whitepaper ENGLISH here.
So, what is Acute Angle PC about?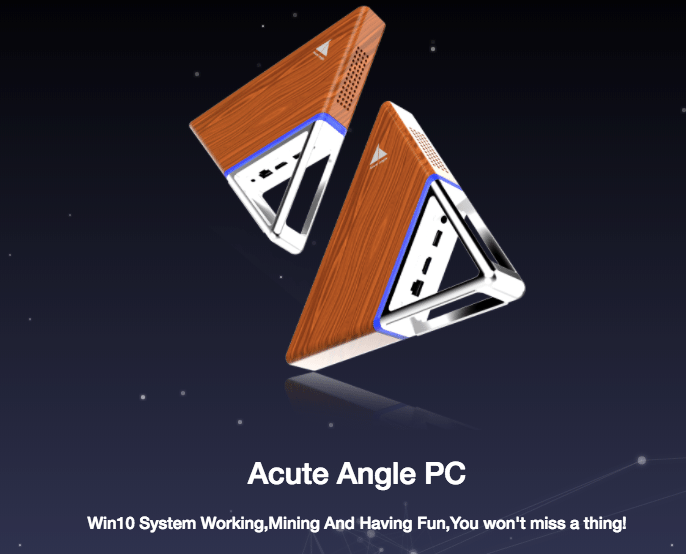 The Acute Angle PC is a key part of the Acute Angle ecosystem. The PC is a miner. It's a self-contained PC that can start running immediately after purchase.
Basically, by running the PC, users can earn Acute coins by 2 ways:
sharing idle storage space and bandwidth through the Acute Angle PC
sharing content.
Here are some of the key features of the Acute Angle PC:
Futuristic design: the PC has a triangle-shaped design that demonstrates the trust, stability and security of blockchain spirit – according to the whitepaper.
Inside, the PC has a 128GB SSD hard disk. It means that you can start generating Acute Angle Coins (AAC) by sharing idle storage space and bandwidth once the platform is up and running
Pre-installed Windows 10, Intel quad-core microprocessor – you can surf Internet and Entertainment. The Acute Angle PC can perform all the functions of an ordinary PC… wow!
Electricity consumption of the Acute Angle PC is only 0.03 kWh, which is 10% or lower of an ordinary desktop
computer. Low cost mining all day translates to juicy, high yields.
Dual-band Wi-Fi (2.4GHz and 5GHz) ensures users can generate Acute Angle Coins efficiently and quicker.
For more information on how to get the PC, you can go to https://www.acuteangle.com/shoping_en.html.
However, last i saw, the flash sales are already over. It seems that they are doing the same The pre-sale for Acute Angle PCs reportedly sold out in 19 minutes, according to the official website.
>>Read also how to vote for AAC in Huobi HADAX here<<
What is the Acute Angle Coin (AAC)?
Acute Angle Coin is a cryptocurrency you can earn by running the Acute Angle PC. The total AAC circulation is capped at 1 billion.
In essence, the firm plans to offer massive services through the Acute Angle Cloud. AAC will then be the token in use for the following:
Exchange shared services such as shared cloud disk, shared cloud computing and shared CDN etc.
Exchanged with other virtual currency as a virtual currency.
As time goes by, the more personnel engaging in coin mining will result in more difficulty in gaining AAC.
The Team also shared the short term and long term goals of AAC:
Short-term goal
Our short-term goal is, as a platform for offering long-term service, to put at least 10 authoritative exchanges online. Through the expansion of regional coverage, the product is in conformity with the market demand.
With that, promoting the AAC's circulation on the market and ensure AAC to have the basic value.
Long-term goal
Our long-term goal is to be a builder of global IaaS distributed service platform and a participator to popularize the encrypted virtual digital currency.
We will achieve this goal by making use of encrypted virtual digital currency (AAC) for exchanging Acute Angle Cloud platform cloud service.
Team Behind Acute Angle Coin
I highlighted the key things we should zoom in to for the core team behind Acute Angle.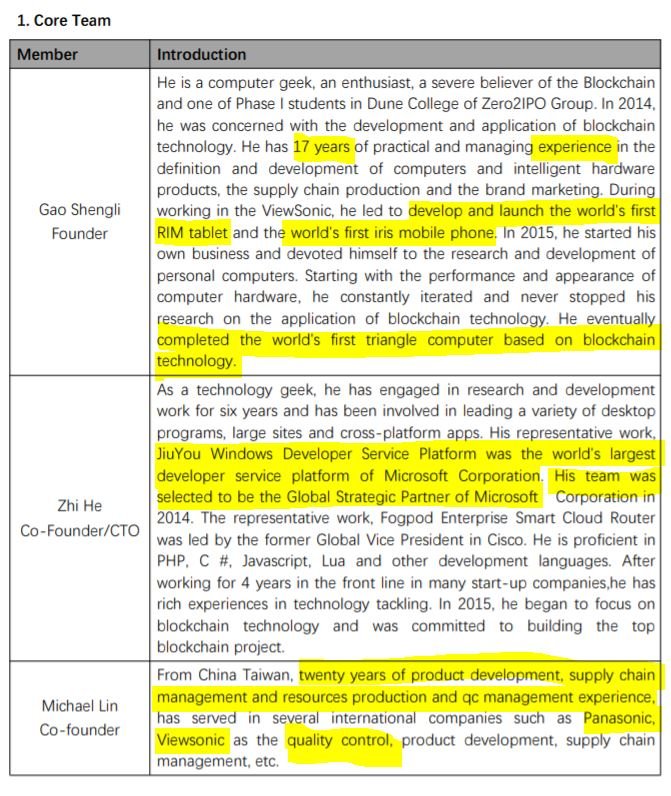 Overall, i feel that the whole team is skewed towards the engineering and product development of the Personal Computer. That said, they brought in Advisors (e.g. Lawyer, Investment Director, Marketer) who can help to complete the whole package.
Conclusion (Acute Angle)
To sum up, Acute Angle ICO is something really unique compared to other ICO projects.
Instead of talking about the world's problems and solutions, AAC whip out a new concept of having users buy a Personal Computer where you can earn their coins in exchange for services.
Presently, i am still not sure how well the Acute Angle PC will work but i may get my hands on them if the feedback is awesome.
To learn more about how you can get your hands on FREE AAC tokens, check out https://www.youtube.com/HuobiPro/live.
In order to vote, you also need to open an account with Huobi.pro. Find out more here -> https://www.smallcapasia.com/how-to-open-a-huobi-account-step-by-step/