On 20 July 2018, Nova Wellness Group Bhd has successfully made its debut on the ACE Market of Bursa Malaysia. Its shares, which were offered at RM 0.55 a share in its IPO, have been oversubscribed by a multiple of 2.84 times. Presently, Nova Wellness is worth RM 190.6 million in market capitalization.
You can also check out their products here: http://nova.my/product
Without further ado, I'll share 7 things to know about Nova Wellness before you invest in it.
#1: Background
Nova Wellness was founded by a husband and wife duo: Phang Nyie Lin and Tan Sok Mooi in 1989 to trade animal health products beginning in 1990.
In 1997, Phang initiated a research on Phyllanthus Niruri, a special herb that is used to treat liver diseases, leading to his development of Hepar-P Capsule – a liver tonic in 2000. Phang started to market this product after he received the marketing approval from the Ministry of Health (MOH) in Malaysia.
In 2004, Phang had set up his GMP-compliant plant equipped with its R&D facilities in Sepang, Selangor to manufacture both dietary supplements and animal health products. In 2017, Phang had completely ceased operations for its animal health products to focus on manufacturing of its House Brand and OEM Brands of pharmaceutical products in Malaysia.
#2: How does it Make Money Today?
Presently, Nova Wellness had developed 144 product formulations where 88 of them are sold under 5 different House Brands such as Nova, Novavis, SP8, Activnex, and Sustinex mainly in Malaysia. 37 of these products had received Halal certification from JAKIM.
These 88 products are made up of 49 dietary supplements, 11 functional food products, and 28 skincare products. They are distributed across a network of 227 independent retail pharmacies across Malaysia.
#3: The Financials
Nova Wellness had made RM 20 – 25 million in revenues a year over the last 3 years. From which, it generated RM 12 – 14 million in net profits a year for that 3-year period. Net profit margins had remained steady at 50% – 60% per annum from financial year (FY) 2015 to FY 2017.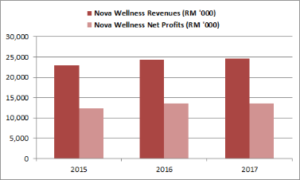 Source: IPO Document of Nova Wellness

#4: The Purpose of IPO
Nova Wellness had raised RM 44.91 million in gross proceeds from its IPO. It intends to utilize the proceeds to:
New GMP-Compliant Production Facility: RM 16.5 million


Nova Wellness intends to build a new plant on a piece of vacant land adjacent to its current facility in Sepang to increase its production of functional food and skincare products. It had started its construction in August 2017 and is scheduled to start production by March 2019.

R&D activities: RM 11.6 million


This mainly involves pre-clinical trial on a nutraceutical product that contains oil palm leaves standardised extract costing RM 5.0 million, its clinical trial on the same product above costing RM 2.5 million, & a third clinical trial for Hepar-P Capsule costing RM 2.5 million. The trials would be carried out within 36 months upon its IPO listing.

Expansion of Retail Market: RM 5.0 million


As stated in Point 2, Nova Wellness sells its products via a network of 227 independent retailers. Out of which, 105 of them are participants of Nova Wellness Partner Programme (NWPP) where they are given exclusive distributorship of its House Brand products. Nova Wellness intends to spend RM 1.10 million on trade discounts, advertisements via banners, flyers, and buntings and to initiate negotiations with its independent retailers to become NWPP. It intends to grow its NWPP partners by 41 in 2018 and by another 51 in 2019.  In addition, it also budgets RM 1.40 million to enhance its online retail store and would spend RM 2.50 million on various brand awareness campaigns which include organizing health awareness campaigns, securing prominent shelf spaces, setting up designated sampling areas, and social media.

Working Capital: RM 9.2 million


This involves the purchases of raw materials and packaging materials and payment of factory overheads.

Estimated Listing Expenses: RM 2.6 million

#5: Key Risks
Nova Wellness had identified several key risks which could impact negatively on its financial results in the future. They are:
Absence of Tax Exemptions


Nova Wellness was awarded the 'BioNexus' status by the Malaysian Bioeconomy Development in 2006. It allowed Nova Wellness 100% tax exemption on statutory income on qualifying activities for ten years until 2017. On 1 November 2017, the exemption had expired. Nova Wellness would be subjected to concessionary tax rate of 20% on the statutory income on qualifying activities for the next 10 years. The absence of the tax exemption would impact its reporting of net profits in the future years to come.

Failure of Pre-Clinical & Clinical Tests


There is no assurance of favourable results to these tests. This would affect Nova Wellness' competitiveness and ability to increase its sales of Hepar-P Capsule and commercialize its Ficus Cream products. In this case, Nova Wellness may incur a loss from spending money from running these clinical tests.

Reliance on 3 Major Customers


Nova Wellness derived bulk of its sales from 3 main customers. They are Powerlife (M) Sdn Bhd, AM PM Pharmacy Sdn Bhd, and All Day Pharmacy. They contributed 34.2% of its total revenue currently. Any changes in sales orders would impact total revenue of Nova Wellness in the near future.
#6: Valuation
As I write, Nova Wellness is trading at RM 0.60 a share. Thus,
In 2017, Nova Wellness had made RM 13.71 million in net earnings. It will start to pay an income tax of 20% starting the next financial year.

Thus, my assessment on Nova Wellness would be based on RM 10.97 million in net earnings

which is 80% of RM 13.71 million recorded in 2017.




Based on RM 10.97 million in net earnings, Nova Wellness would be making RM 0.035 in earnings per share (EPS). Thus, at stock price of RM 0.60, its current

P/E Ratio

works out to be

17.39x

.




It had reported a pro forma consolidated net assets of 17 sen a share. Thus, at stock price of RM 0.60, its current

P/B Ratio

works out to be

3.53x

.
#7: Dividend Policy
Nova Wellness adopts a dividend policy where it aims to payout 30.0% of its annual audited profits for FY 2018 to its shareholders. Based on net earnings of RM 10.97 million, the minimum dividends to be paid out works out to be RM 3.29 million or 1 sen a share. Hence, its dividend yields works out to be 1.73% per annum.

Conclusion:
Nova Wellness had achieved high and stable profit margins for the last three years and thus, is in position to expand for the future. Despite its merits, the pharmaceutical company faces numerous challenges in most of the areas for its business model, from clinical tests, to production, and to marketing.
Thus, the future success of Nova Wellness lies heavily on the ability of the board & its management team to overcome these challenges and steer itself towards greater heights in the future.
You can read more about the company here:
https://klse.i3investor.com/servlets/staticfile/334326.jsp
https://klse.i3investor.com/servlets/staticfile/334524.jsp