On 3 March 2020, United Hampshire US REIT ("Hampshire REIT" in short) lodged its complete IPO document and hence, extended an invitation to all to subscribe its units for US$ 0.80 or S$ 1.12 a unit.
It is the first US-focused Grocery-Anchored shopping centre and self-storage REIT to be listed on the SGX. The subscription to the IPO units would end on 10 March 2020. 
You may download its IPO Prospectus to assess its potential for investment. Or, you may spend 5 minutes reading this write-up, where I had listed down 10 key things you need to know about Hampshire REIT before investing into it. 
#1: Property Portfolio 
Hampshire REIT's initial portfolio consists of 22 properties worth US$ 599.2 million that are 97% freehold, located in the East Coast of the United States, and has a total of 3.17 million sq. ft. in net lettable area (NLA). Out of which, 18 properties are grocery-anchored shopping centres. The remaining 4 properties are made up of modern, climate-controlled self-storage facilities. 
The geographical breakdown of Hampshire REIT's initial portfolio is as follows: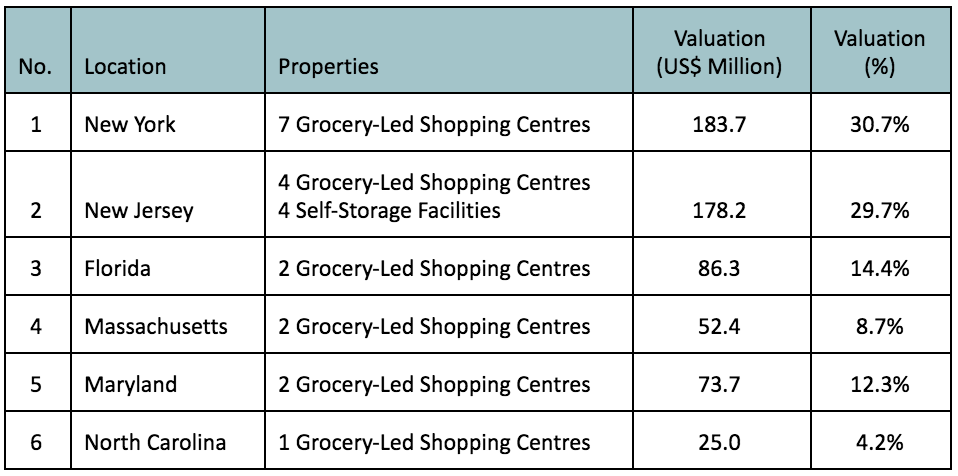 #2: Financial Results 
Hampshire REIT derives revenue largely from: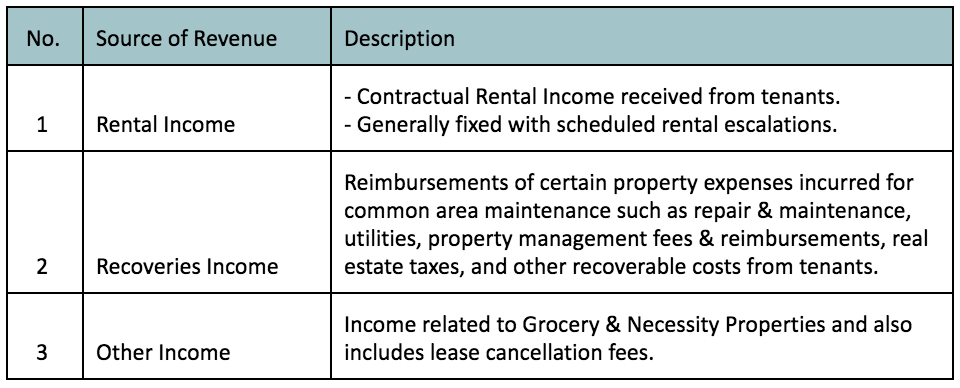 The breakdown of Hampshire REIT's revenues are as follows:
Hampshire REIT had acquired three properties namely, BJ's Quincy in September 2016, Wallkill Price Chopper in December 2016, and Arundel Plaza in February 2017.
This has resulted in an increase in revenue and net income to Hampshire REIT over the past three years.
#3: Top 10 Tenants 
Hampshire REIT's financial results are hugely attributed by its 10 largest tenants, where they comprise well-known retailers in the United States.
Their contributions to the base rental income of Hampshire REIT are as follows:
#4: Lease Profile
As of 30 September 2019, Hampshire REIT enjoyed an overall occupancy rate of 95.2%.
Its grocery-anchored shopping centres currently have a long weighted average lease expiry (WALE) by Base Rental Income of 8.4 years with as much as 70.2% of the leases expiring in financial year 2024 and beyond.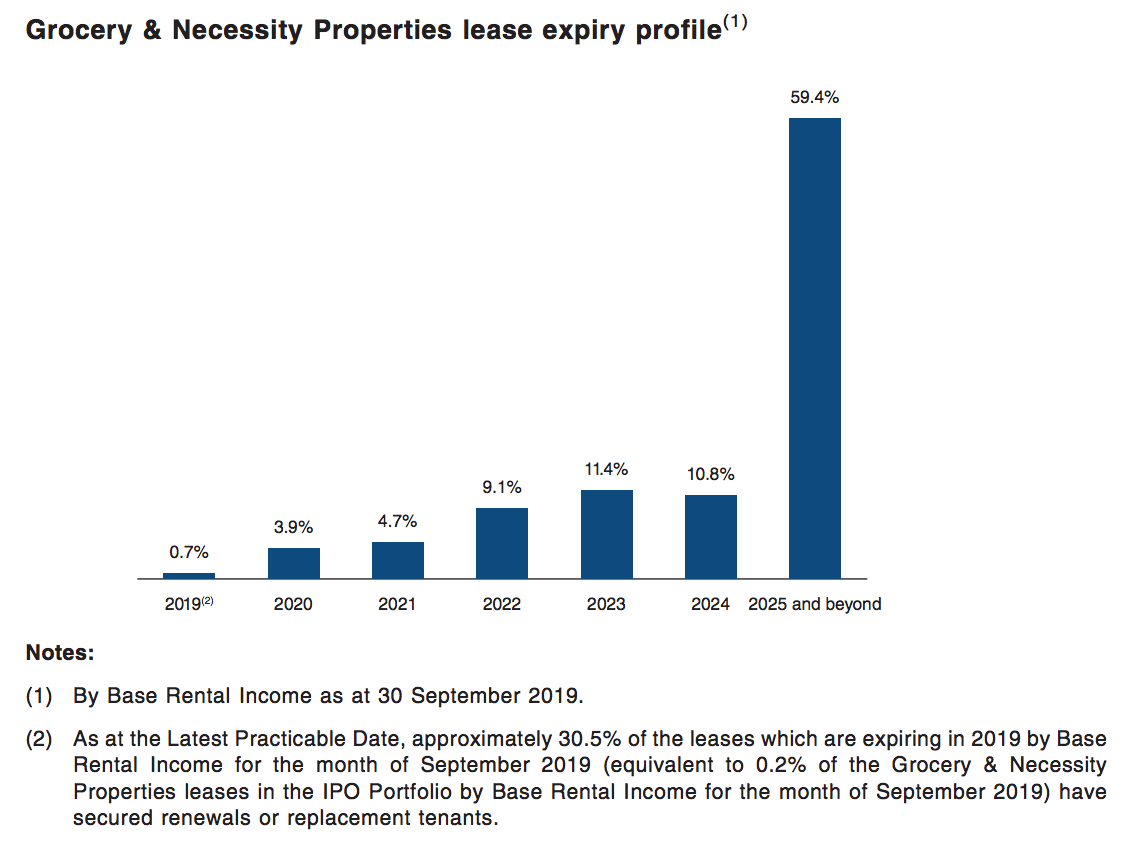 #5: Capital Management 
As at the listing date, Hampshire REIT would report US$ 219.5 million in borrowings.
Its expected aggregate leverage would be 37.0%. 
#6: Sponsors and Major Unitholders
Hampshire REIT has two major sponsors and they are United Overseas Bank (UOB) and the Hampshire Companies, LLC (Hampshire). UOB is one of Singapore's leading banking groups.
Meanwhile, Hampshire has 60+ years of track record in US real estate where it is involved in acquiring, developing, leasing, managing, funding, repositioning and disposing of properties.
It has acquired and developed a total of 12+ million sq. ft. of grocery-anchored shopping centres and was involved in 49 self-storage transactions in the United States. 
The major unitholders of Hampshire REIT after IPO listing are listed as follows: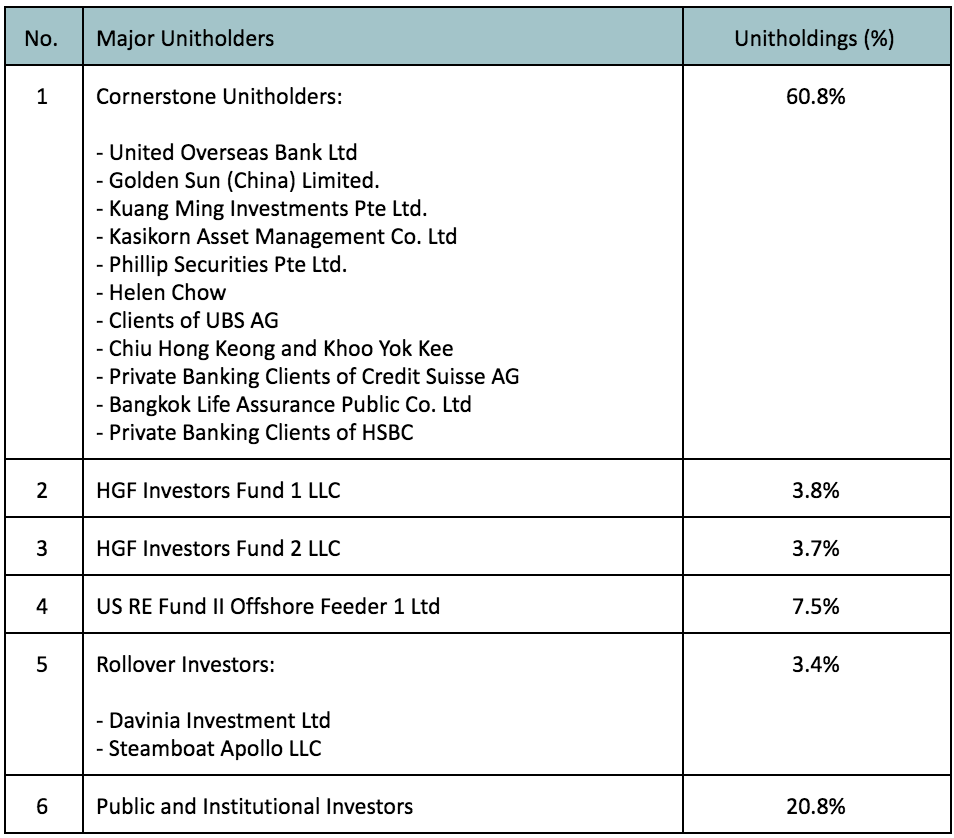 #7: Top-Up Arrangement 
Hampshire REIT has three properties which come with income top-up arrangements:

St. Lucie West Expansion: 
Presently, St. Lucie is undergoing an asset enhancement initiative (AEI) which is slated to be completed by Q2 2021. Publix Super Markets, Inc (Publix) would be vacating its current premise at St. Lucie and would shift into the new expanded area of St. Lucie after its AEI works.
Presently, Hampshire REIT has secured up to 57.3% of the existing premise occupied by Publix. Income attributed to new tenants of St. Lucie would not commence until the completion of its AEI works.
Hence, Hampshire REIT has set aside US$ 1.80 million from its IPO raised to mitigate lower income caused by the ongoing AEI works of St. Lucie. 
Elizabeth & Perth Amboy Self-Storage:
The Elizabeth Self-Storage has been completed recently in January 2020. Perth Amboy Self-Storage is still under construction and would be completed by Q2 2020.
In anticipation of the income levels not reaching their optimal levels, Hampshire REIT has set aside S$ 2.2 million and S$ 2.5 million from IPO raised to mitigate lower income from the two properties for the next 4 years from the completion date of the Purchase and Sale agreements. 
#8: Earn-Out Arrangements 
Hampshire REIT has two properties under earn-out arrangements namely, Carteret and Millburn.
It states that Hampshire REIT would pay US$ 200,000 and US$ 500,000 to its sponsors respectively.
It is applicable only if the 2 properties hit their targeted net operating income of US$ 954,117 on or before 30 June 2021 and US$ 1,145,703 on or before 30 April 2022. 
#9: Foreign Exchange
Distributions from Hampshire REIT would be denominated in the US Dollar. As such, an investment into Hampshire REIT would be subjected to foreign exchange risk.
Over the last 5 years, the exchange rate between SGD and USD are as follows: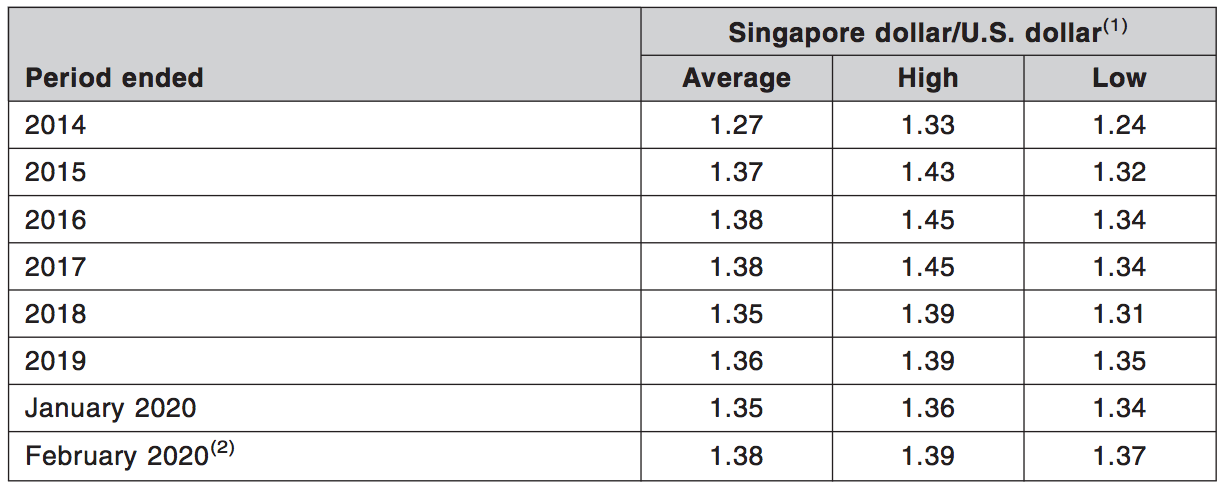 #10: Valuation 
The net asset value per unit of United Hampshire US Reit is US$ 0.75. As such, the offer is at P/B Ratio of 1.07x. 
The annualised distribution per unit (DPU) for financial year 2020 and 2021 are as follows:

Conclusion: 
Hampshire REIT offers investors an opportunity to gain market exposure into defensive real estate based in the affluent area of the United States.
These properties are leased to well reputable retailers for a long WALE with rental escalation.
On the side note, Hampshire REIT has several properties under top-up arrangements and earn -out arrangements, which are based on assumptions stem from confidences for their income generation in the long-term.