On 28 January 2020, Elite Commercial REIT (Elite REIT) has opened an invitation to all to subscribe its IPO units at ₤0.68 a unit or S$ 1.21 a unit according to the latest exchange rate of S$ 1.78 per pound sterling.
The application for IPO units is scheduled to close on 4 February 2020. You may download its IPO Prospectus and study it to access its investment potential. 
Alternatively, you can spend 5 minutes reading this write-up where I have listed down 6 things you should know about Elite REIT before investing into it: 
#1: Business Model 
Elite REIT is a SGX-REIT that is focused on investing into commercial buildings in the United Kingdom. It has 97 properties, where 96 are freehold properties and 1 property carries a long leasehold tenure which expires in 2255.
Collectively, it leases 99% of its properties to the Department for Work and Pensions (DWP) of the UK government under a co-terminus triple-net lease agreement, which was renewed on 1 April 2018 for a period of 10 years. 
#2: Department for Work and Pensions (DWP)
DWP is the largest public service department of the UK government, where it is responsible for welfare, pensions, and child maintenance services in the United Kingdom.
Presently, 82.5% of the properties leased to DWP would be used for a range of front-of-house services that involves face-to-face interactions with the general public.
It uses 17.5% of the properties with back-of-house services such as IT & administrative functions, call centres and claims processing functions. 
#3: Growth Prospects 
I discovered the REIT has revealed three key areas where they would contribute growth in the future. They include:
a. Rental Escalations 
The current leases to the DWP are subjected to rent reviews every 5 years once where the rate is adjusted based on UK Consumer Price Index (CPI).
The growth in rent rate is subjected to a minimum of 1% and capped at a maximum of 5%. 
b. Potential Asset Enhancement Initiatives (AEIs).
Elite REIT possesses a handful of properties which have potential for AEI works. An example given is Peel Park at Blackpool which is used as a technology hub for DWP.
It consists of 11.7 hectares, which is 75% of the property, of undeveloped grassland which could be either developed and leased to DWP or be carved out for alternative usages in the future. 
c. Rights of First Refusal (ROFR) Properties from Sponsors 
Elite REIT has three key sponsors. They are Elite Partner Holdings Pte Ltd (EPH), Ho Lee Group Pte Ltd, and Sunway RE Capital Pte Ltd.
They have provided ROFR on their completed and income-producing properties in the United Kingdom to Elite REIT, thus, granting the REIT opportunities for acquisitions in the future.
In particular, EPH has granted 62 ROFR commercial properties to Elite REIT, where they are currently being leased to the UK government. 
#4: IPO Proceeds 
Elite REIT intends to raise ₤130.9 million from issuance of IPO units and it plans to use most of it on partial repayment on its existing loan agreements.
As such, Elite REIT has revealed that it expects to have an aggregate leverage of 33.6%, which is below the minimum regulatory of 45.0%.

Here, I'll provide a breakdown on its uses for its gross IPO proceeds: 
#5: Major Unitholders 
Upon its IPO listing, the major unitholders of Elite REIT are as follows: 

#6: Forecasted Financial Results 
For 2020 and 2021, Elite REIT has forecasted to make ₤23.3 million in revenues, ₤22.7 million in net property income and ₤16-17 million in income available for distribution.
This works out to be 4.8-4.9 pence in distribution per unit (DPU) or 8.5-8.6 Singapore cents per year in 2020 and 2021. Thus, it projects to deliver a 7.1-7.2% in gross distribution yield to unitholders in the first two years.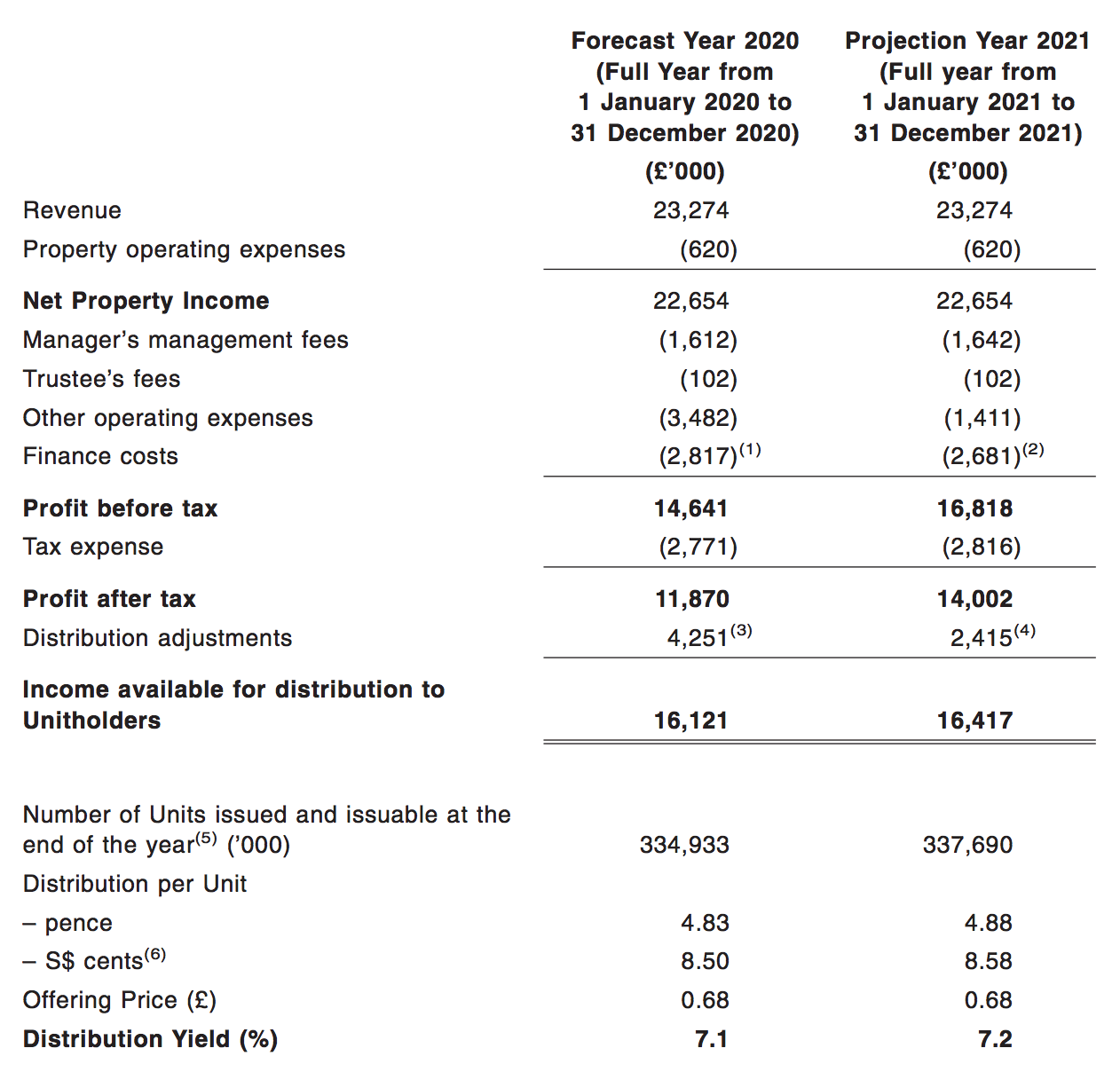 Based on unitholders' fund of ₤192.2 million and 334.9 million units in issue, its net asset value (NAV) per unit is ₤0.586. Thus, the IPO price of ₤0.68  is offered at a P/B Ratio of 1.16. 
#7: Major Risks 
I learnt that an investment into Elite REIT carries the following risk: 
a. Currency Risk 
The financial results of Elite REIT is reported in Pound Sterling. Its DPU payment would be converted into SGD, unless the unitholder himself opts to receive his DPU in Pound Sterling. Inevitably, its DPU is subjected to continuous fluctuations in exchange rate between the Pound Sterling and Singapore Dollar.
Over the past 5-6 years, Pound Sterling has weakened against the Singapore Dollar. Its exchange rate had dipped from an average of S$ 2.087 per Pound in 2014 to an average of S$ 1.771 per Pound in January 2020. 
A weaker Pound Sterling would negatively impact the DPU amount in Singapore Dollar.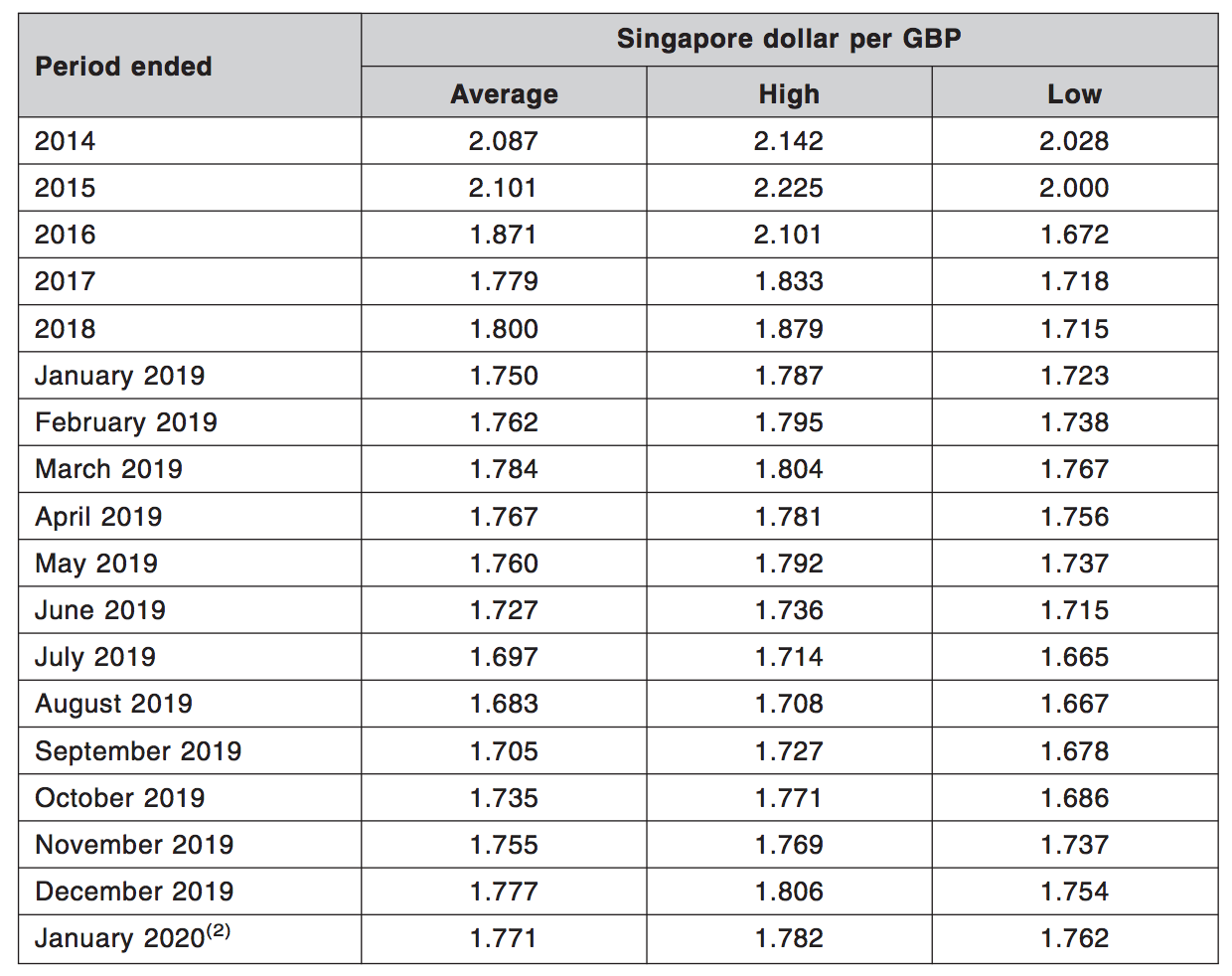 b. Lease Expiry 
99% of Elite REIT's leases would expire in 2028. A handful of the leases carry an option for DWP to terminate in 2023 and these leases contribute a total of 70% of the total revenue for Elite REIT.
Hence, Elite REIT is subjected to both the risk of relying on 1 single tenant and having the same tenant potentially quitting its leases at the same time.
But having said that, Elite REIT's properties are located in strategic locations which are densely populated and are closely accessible to public transportation and key amenities such as supermarkets, F&B outlets and medical facilities.
Hence, these properties have many attributes that enable the REIT to find new tenants, should DWP terminates its leases. 
Conclusion
Elite REIT offers investors an opportunity to gain exposure to the second largest traded real estate market in the world, which is the United Kingdom.
The REIT's offering has an appeal for investors who prefer to have a steady cash flow as its rental income is derived from the UK Government, which has a rating of AA and Aa2 by S&P and Moody's respectively. The leases are long-term in nature as the expiry is in 2028. 
The main concern for Elite REIT would be the strength of the Pound Sterling. As the REIT's leases would be only reviewed in 2023, a weaker Pound would put a dent to the DPU of Elite REIT in Singapore Dollars especially if the rental income from its current leases are fixed until 2023. 
---
FREE Download – "7 Top Stocks Flashing On Our Watchlist"
Psst… We've found 7 exciting companies that are poised to skyrocket >100% in the years to come. Simply click here to uncover these ideas in our FREE Special Report!