If you were to follow Singapore's IPO scene closely, one new business trust which got listed recently on 20 January 2017 is Dasin Retail Trust (SGX: CEDU). With an offering of 151,768,900 units of shares at S$0.80 each, 2 million shares are offered to the public in Singapore. From its IPO, it had raised a total of S$146 million, surpassing its initial expectation by S$23.5 million.
Here is a 5-minute guide to what you need to know about Dasin Retail Trust.
1. Sponsor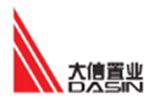 First up, let us probe into the sponsor behind Dasin Retail Trust – Zhongshan Dasin Real Estate Co. Ltd. This company has 15 years of experience in its business throughout China, which includes real estate development, property management, commercial and interior decoration.
It is currently operating 10 retail malls and owns nine other assets which are undergoing development and reconstruction. And that is not all. In 2012, they are also awarded the Top 10 ranked commercial real estate developer in China!
2. Initial Property Portfolio
Next, let us bring your attention back to Dasin Retail Trust to understand its composition. With a market capitalization of S$440 million, its initial portfolio comprises of 3 retail malls, namely Xiaolan Metro Mall, Ocean Metro Mall and Dasin E-Colour.
These commercial malls are all located in Zhongshan City, China. In addition to the trio, a further acquisition of Shiqi Metro Mall will be taking place prior to 30 June 2017. Below are some information of the malls which you may want to take note of:

Sourced from its IPO prospectus
Overall, its occupancy rates seem satisfying. This is accompanied by the fact that its gross rental income brings in close to RMB 20 million a month! However, there may be an issue in the long term when its land use rights expire, starting from 2041. With that, we suggest that it is best to exercise discretion if you were planning to hold this Trust past the period of 20 years.
3. Financial Performance
Looking at its financial performance from 2013 to 2015, there is a huge revenue growth of 52% from 2014 to 2015.This extraordinary increase is due to rental income contributed by both Ocean Metro Mall and E-Colour which commenced operations in December 2014 and May 2015 respectively.
Shifting our focus to its net property income, there is a slight decrease of RMB 6.3 million from 2013 to 2014. This is mainly due to marketing, advertising and decoration costs incurred for Ocean Metro Mall, due to be opened later that year. The figures are graphed below for your easy reference.

4. Projected Dividend Yield
Based on its projection of returns, Dasin Retail Trust is expecting to distribute 100% of its returns – RMB 82.2 million this year 2017 and RMB 103 million next year in 2018. This will give us a projected dividend yield of 8.5% in 2017 and 9.0% in 2018.
After which, Distributable Income to Unitholders may come down to the 90% threshold in respect of FY2019 and onwards. Therefore, investors should do well to evaluate if its distribution growth can cover the distribution waiver from its sponsor once it is being plugged off.
5. Growth Prospects
On our final note, we look at the growth outlook of Dasin Retail Trust.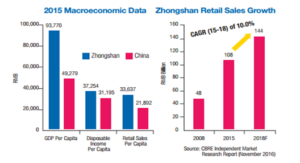 Sourced from IPO Prospectus
According to the above diagram, the disposable income and retail sales per capita in Zhongshan City is generally higher compared to the whole of China. This comes as no surprise, considering that Zhongshan City is of close proximity to Hong Kong and Macau.
This prime location enables Dasin Retail Trust to capitalize on the higher standard of living and strong consumer spending culture in Zhongshan City, amid stronger economic development.
However, one key risk investors must be aware is that of concentration risk. It is because all of its retail properties are based in one location – Zhongshan City. Any external factors (like natural disasters or change in government policy) may result in drastic changes to its financial performance.
Dasin Retail Trust last closed at S$0.805 and has a price-to-book ratio of 0.79 based on a NAV of S$1.01 per unit.
Fancy an Ebook that teaches you the hallmarks of multi-bagger stocks and how to find them? Simply click here to receive your copy of a brand-new FREE Ebook titled – "100 BAGGERS" by Christopher W. Mayer here today!
Last but not least, do remember to Like us on Facebook too as we share the latest investing articles and stock case studies for you!