On 22 June 2021, Yenher Holdings Bhd (Yenher) released its IPO Prospectus and thus, extended an invitation to subscribe its IPO shares at 95 sen per share.
The IPO subscription has ended on 1 July 2021 and the date of listing is set to be on 15 July 2021. You may download Yenher's IPO Prospectus (Part 1, Part 2, and Part 3) to study its prospects.
Alternatively, you could spend around 5 minutes here, where I have summarised 7 major things to know about Yenher before investing into it. 
#1: Business Model 
Yenher has 2 business segments: manufacturing and distribution. 
Yenher's manufacturing division produces premixes, complete feed, formulated products, and biotech animal feed ingredients mainly for the poultry and swine industry.
This division accounted for 56% of its total revenues in 2020 and thus,  is a bigger revenue contributor to Yenher. 
Yenher's distribution division is currently focused on distributing a variety of animal-related products such as:
feed additives

vitamins

veterinary pharmaceuticals

veterinary vaccines

and farm equipment
This segment contributed as much as 44% of its total revenues in 2020. 
Last but not least, Yenher complements and supports both divisions by offering value- added multiple diagnostic and material analyses services. 
Its breakdown of revenues are as follow: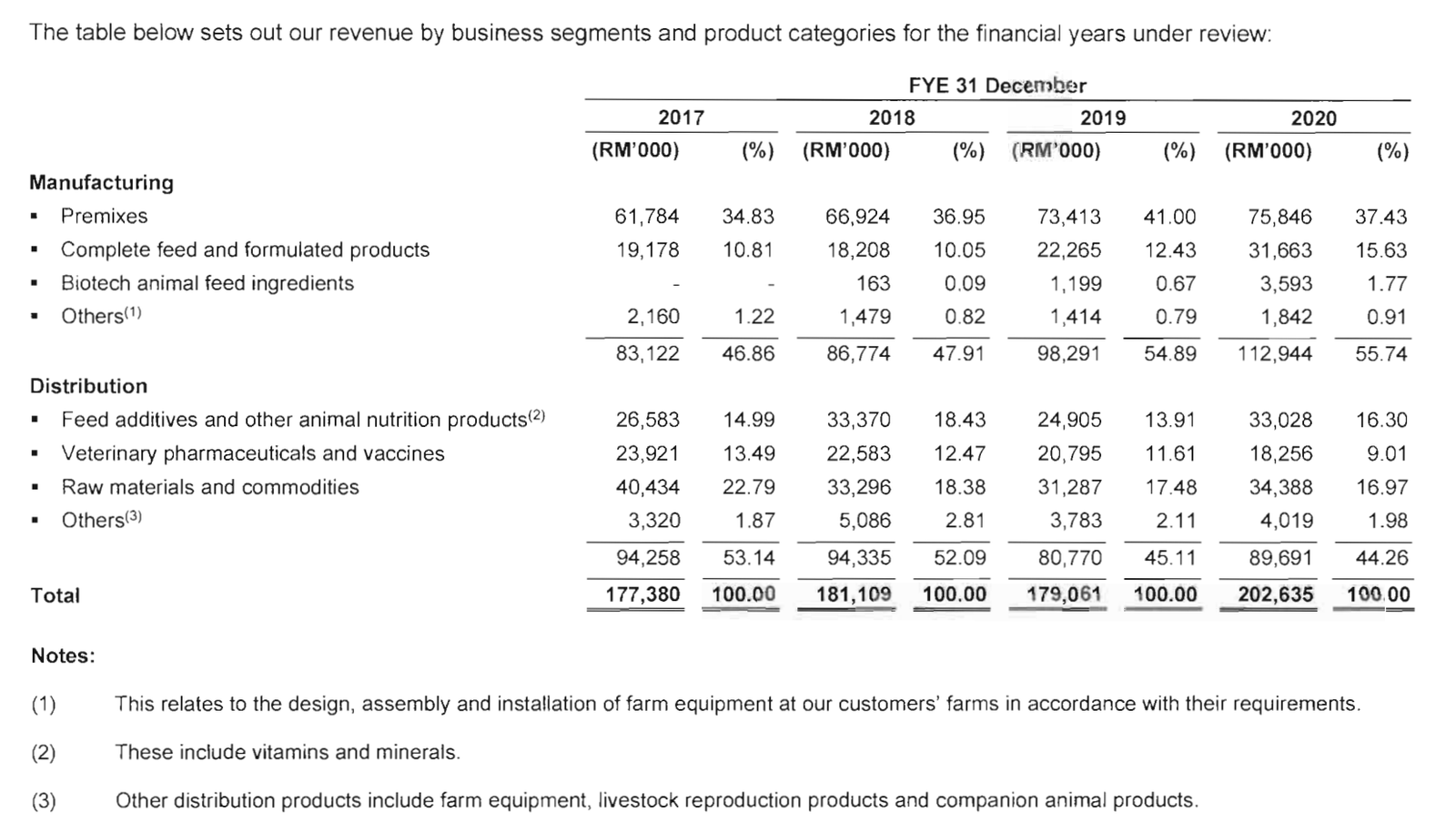 #2: Financial Results 

Overall, Yenher recorded an increase in revenue, from RM 177.4 million in 2017 to RM 202.6 million in 2020.
This is contributed by sales increase from Yenher's manufacturing division, which exceeded a marginal decline from its distribution division in that period.
Its PAT had increased from RM 19.0 million in 2017 to as much as RM 22.4 million in 2020.
Yenher's PAT in 2018 was inclusive of RM 7.09 million in gains of property, plant & equipment and its investment properties in that year, which are transactions that are one-off and non-recurring in nature. 
Excluding 2018, Yenher maintained a net profit margin of 10-11% a year. 
In addition, with rising current assets and reduction in current liabilities, Yenher has increased its current ratio from 1.71 in 2017 to 5.04 in 2020.
#3: Utilisation of IPO Proceeds 
Yenher plans to raise a gross proceeds of RM 61.2 million, where it intends to: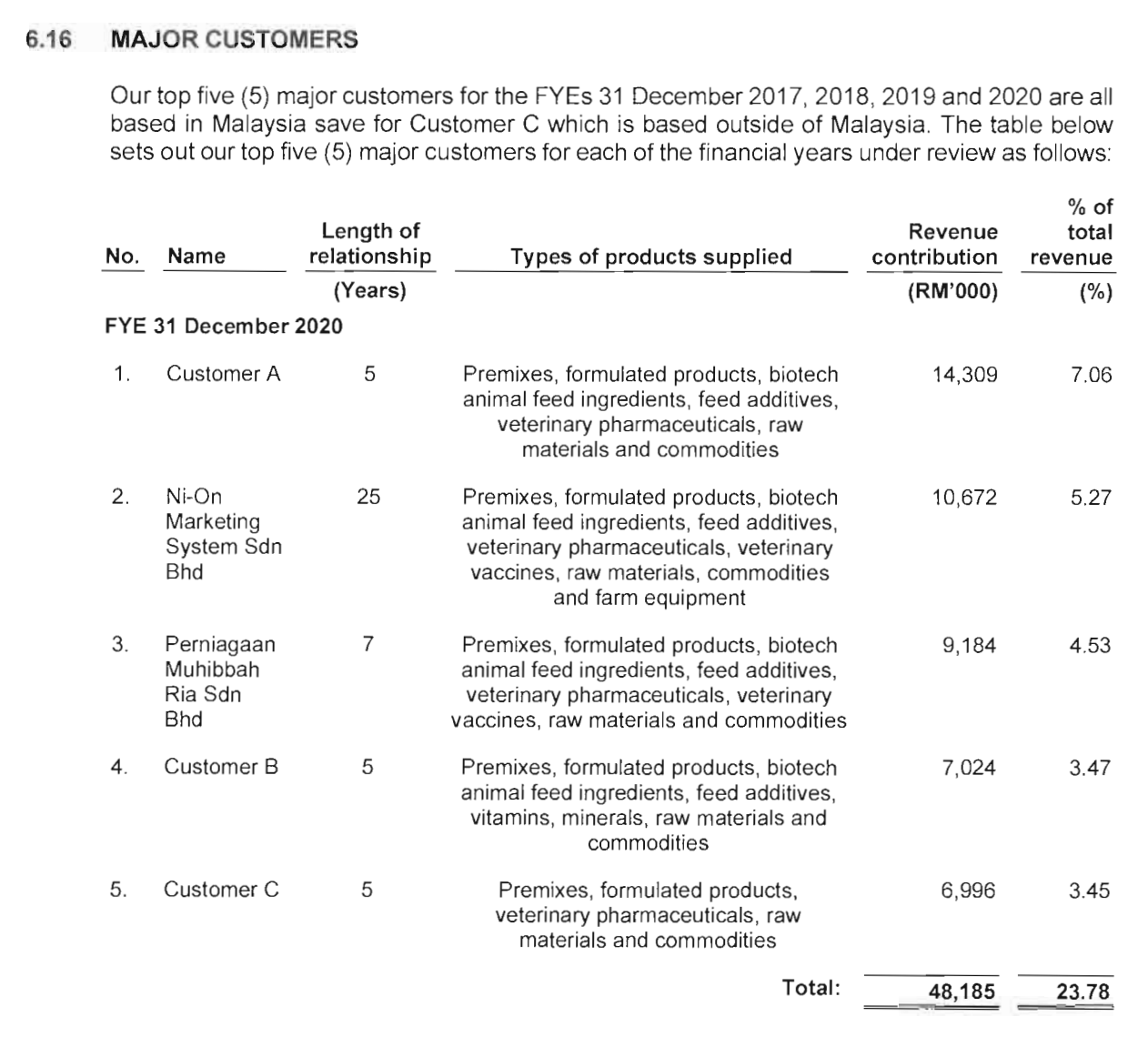 At present, Yenher operates out of 3 properties in 2 rented premises at Penang, where its production capacity currently stands at: 


They are now operating at full capacity. 
So, Yenher plans to build 2 factories, 1 office building and 1 canteen on its piece of vacant freehold land located in Penang.
Yenher will relocate its operations to its new facility upon completion of its construction.
Thus, upon relocation, it shall grow and expand its operations to the planned production capacity stated below: 

Currently, the progression of its construction is listed as follows: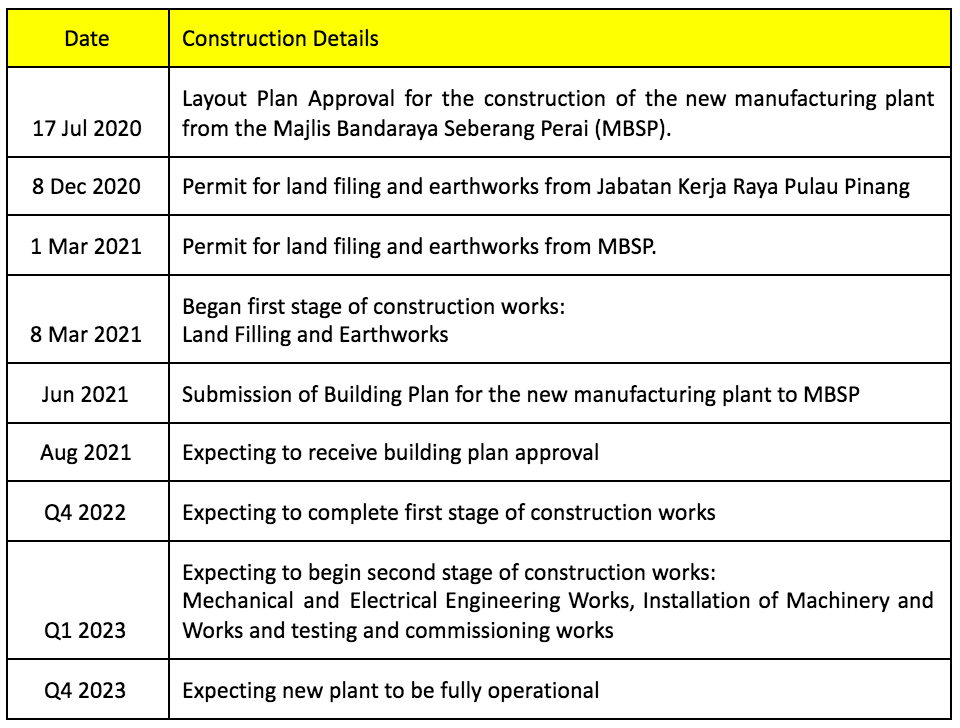 #4: Risks 
Yenher revealed several key risks associated with its business operations: 
a. Reliance on 5 Top Customers 
In 2020, Yenher's 5 largest customers contributed RM 48.2 million in revenue to the company. They accounted for 23.8% of its total revenues in 2020.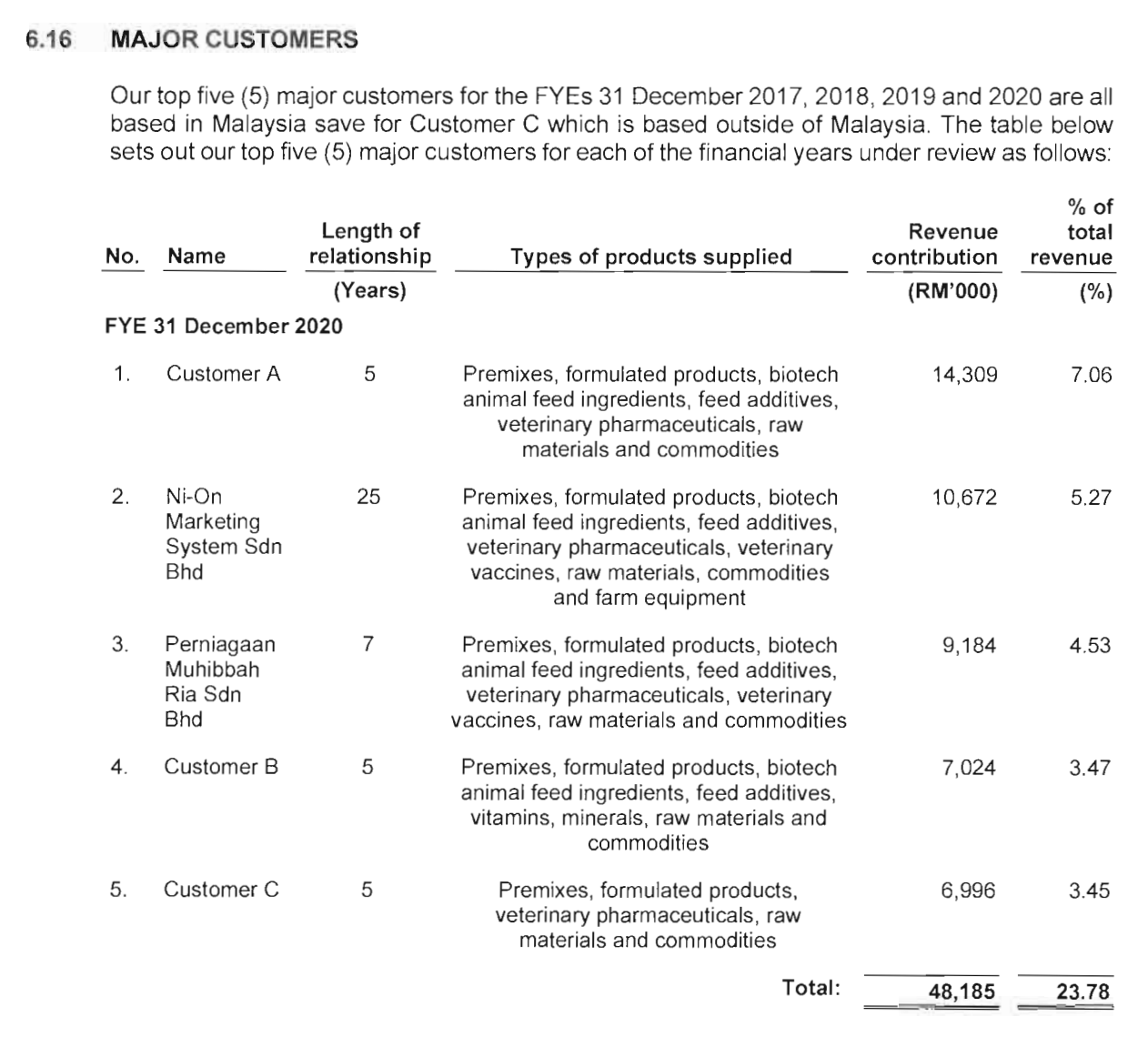 b. Animal Diseases 
Any widespread outbreak of animal diseases would severely affect the demand for its animal health and nutrition products. 
c. Dependency of Foreign Workers 
Presently, Yenher has hired 47 foreign workers from Myanmar, Bangladesh, and Nepal, representing 34% of its total workforce.
Based on requirements that are imposed by the Malaysian Investment Development Authority (MIDA), it would be required to employ at least 80% of its total workforce by 31 December 2022, failing which, it risks its licence to be revoked. 
d. Fluctuations to Crude Oil Prices 
Raw materials and distribution products represent 90+% of its costs of sales for the last 4 years.
They are subjected to fluctuation in crude oil prices as selected petrochemicals which include benzene, cellulose acetate, and propylene glycols are used to produce veterinary pharmaceutical and biological products.
#5: Main Shareholders
Cheng Mooh Tat and Cheng Mooh Kheng are appointed as the Group Managing Director and Executive Director of Yenher.
They are major shareholders through their direct shareholdings in Yenher and indirect interest through CGH Holdings which is the biggest shareholder of Yenher after its IPO listing. 
#6: Dividend Policy 
Yenher intends to recommend and distribute, at least, 40% of its audited profits attributable to its shareholders in the form of dividends. 
#7: Valuation Ratio 
After its IPO listing, it would have 300 million ordinary shares issued. Hence, its market capitalisation shall be lifted up to RM 285.0 million based on its offering of 95 sen per IPO share. 
In 2020, it had made RM 22.397 million in profits after tax (PAT). Thus, the offer is valued at 12.72x its earnings or at a P/E Ratio of 12.72. 
Based on its dividend policy, Yenher will pay out a minimum of RM 8.96 million in dividends to its shareholders. Thus, its dividend yield is at least 3.14% a year. 
Conclusion
: 
Yenher had reported small growth in profitability in 2017-2020 and it intends to increase its manufacturing capacity by constructing its own facility in Penang.
It has 5.04x in current ratio and will have 5% in gearing ratio, after its IPO listing.
In the present, Yenher's immediate concern would be to hire local workers so that it could fulfill the hiring requirements set by MIDA.
It is also to manage its workforce and business operations during the nationwide lockdown (MCO 3.0) that began in June 2021.
All in all, investors should weigh the potential risks and rewards in both the short and long term before investing into Yenher.