If you have heard of Cathie Woods and her renowned ARK ETFs, you would probably have heard of the many exciting and disruptive themes like Space exploration, 3D printing, genomic revolution and more.
We would go a little further to 'borrow' ARK's definition – where ''disruptive innovation'' is the introduction of a technologically enabled product or service that potentially changes the way the world works.
Now that's a very big statement to make when you want to change the world.
But it is actually not as far-fetched as we think. In fact, the birth of the 1st Apple's iPhone in 2007 revolutionized how we go about our daily lives texting, mobile gaming and even live streaming.
Another clear example is Amazon, which morphed from an online bookstore to the E-commerce juggernaut and disrupted the whole physical shopping experience.
With that said, lets jump into how we can dig out these new disruptive stocks from Tiger Brokers itself.
How to uncover disruptive stocks in Tiger Brokers' Discover tab
Luckily for us, Tiger Brokers have made it pretty easy for us.
Under the middle 'Discover' Tab of Tiger Brokers app, you can scroll down to the 'Hot Collections' segment. Click on that and you will reveal many innovative themes and the stocks associated.
Check out the below screenshots on what to expect:
Step #1
Under either the 'Hot' Tab or 'Opportunity' Tab on top; scroll down and you will see 'Hot Collections' as circled in orange:
Step #2
After clicking on 'Hot Collections', you can find almost 30 unique categories (circled in orange) such as:
SAAS
Semiconductor
New Energy Vehicles
SPACs
Blockchain related firms
WallStreetBet (you probably can't find it elsewhere!)
Step #3
Click on any category that excites you.
For example, I have clicked on 'New Energy Vehicles' and see many other Tesla's competitors in the EV space (see below screenshot).
You can even click on 'more' to read the description of this particular sector.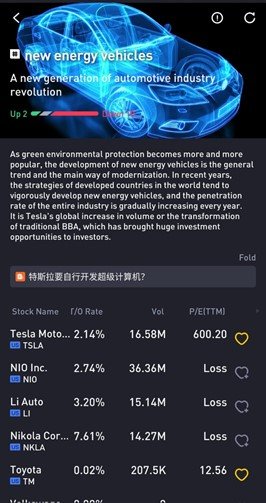 Other than the latest price and price change %, you can even check out the P/E (TTM) by scrolling to the right.
Looking to monitor certain stocks? Add them to your watchlist just by clicking the heart shape icon (like the 2 orange hearts shown above).
What Stocks to Expect in various Trends
Below, we showcase 3 burgeoning trends and the stocks inside each of them for illustration purpose only).
1) E-Commerce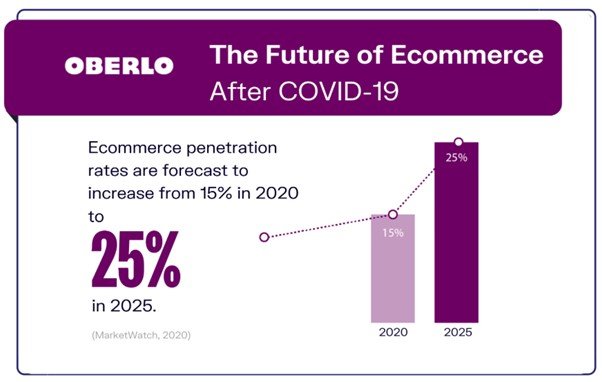 Market analysts have all agreed that the E-commerce industry is one of the biggest beneficiaries of the COVID-19 pandemic.
With governments worldwide shutting stores and implementing lockdowns to restrict social movement, people have no choice but to resort to online shopping to purchase their daily needs.
In fact, once they have crossed the first hurdle to make their 1st online purchase, most people are likely to continue this pattern. With that, penetration rates are expected to increase from 15% to an incredible 25% by 2025 (MarketWatch, 2020).
Here are some stocks which potentially benefit from this trend: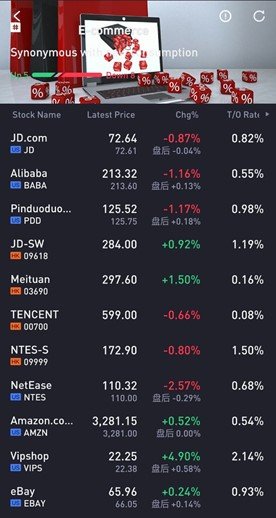 2) 5G – Next-Gen Mobile Network
Its easy to get excited over 5G – the next generation mobile network as countries all over the world start to compete for supremacy in this technology.
The reason is simple – 5G wireless technology promises lightning-fast speed, incredibly low latency, and the capacity to carry massive numbers of connections simultaneously.
This results in the multiple application use cases such as Internet of Things (IoT), autonomous vehicles, smart grid, surgery etc.

Sourced from Frost & Sullivan
All in all, the low latency and lightning-fast 5G tech is going to spawn new and exciting industries not possible in the past. And as more governments continue to incentivize the telecommunication companies to ramp up 5G adoption, the future is bright for this industry.
With that, lets check out some 5G-related stocks below: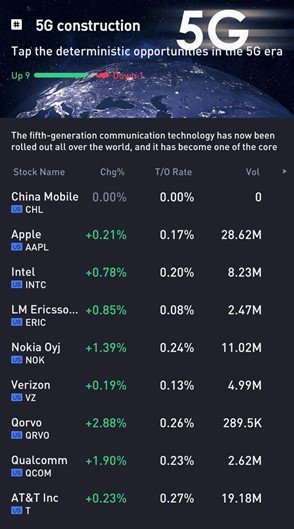 3) SAAS – Software as a Service
Covid-19 has definitely spearheaded the 'working-from-home' trend and contributed to the explosive growth of SaaS companies such as office collaboration tools and video conferencing.
According to Maximize Market Research, global Software as a Service (SaaS) market was valued at US$148.03 Bn in 2019 and is expected to reach at US$369.41 Bn by 2027 at a CAGR of 12.11% over forecast period 2020-2027.
On that note, you should also check out the SaaS stocks below:
Next up, lets look at how you can search for similar disruptive stocks with the help of a very smart 'Technical Selector'.
Let me show you what its all about below.
Technical Selector – how to find stocks with similar technical patterns
Imagine this scenario:
You are interested in the US Tech stocks which have fallen from their highs in recent times. In your watchlist, only Fiverr International (NYSE: FVRR) seems to meet this criteria.
You wish to look for other similar stocks that are like Fiverr International but not sure how to do so.
And that's where 'Technical Selector' comes to the rescue!
Below is a quick step-by-step guide on how you can replicate the same TA pattern to screen for other stocks:
Step #1 – Go to 'Opportunity' tab and click on 'Candlestick technical selector'.
Step #2 – Search for a stock; in our example we use Fiverr International.
Step #3 – Drag the chart frame for the 'TA pattern' you are looking for. Click 'Search Similar Stocks' button below.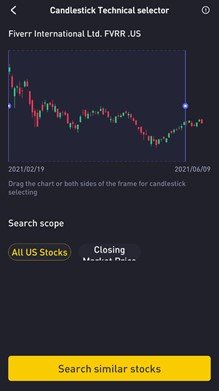 Step #4 – Scroll through the 'Similar Stocks' section and see the stocks which have a high similarity degree to what you selected.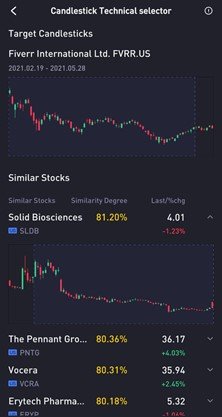 If you wish to keep it simple, you can also go for predefined technical screens that Tiger Brokers provide for you.
Just click on the '>' by the right side of 'Classic Technical Selector'.
Inside, you will see many different TA strategies with their win rates in the past 60 days.
I have grabbed a screenshot of 'Rise relay' – the TA strategy with the highest win rate.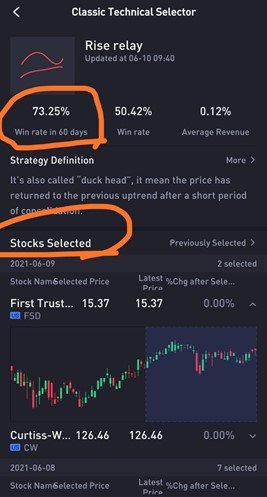 Here, you will then be able to scroll through the filtered stocks and see how they have performed.
Conclusion
Are you utilizing any of the functions shown above?
If not, you are missing out on a lot especially when you can literally find disruptive stocks with just a few clicks!
Last but not least, you can also add all these interesting stocks to your watchlist first and wait for the right time to pounce. The most important thing is to be ready when the time is right. Happy Investing!~
Disclosure: This post is written in collaboration with Tiger Brokers. The above stocks/sectors quoted are for illustration purpose and and does not constitute to any investment advice/recommendations.