Trading on the TSX Venture, Ventripoint Diagnostics (TSXV: VPT, OTCQB: VPTDF) or symbol 'VPT', is all about the heart.
Heart disease is the leading cause of deaths for both men and women worldwide.
In addition, US$200 Billion is spent on cardiovascular diseases in just US alone on an annual basis – with US$1.4 billion spent on echocardiogram machines each year.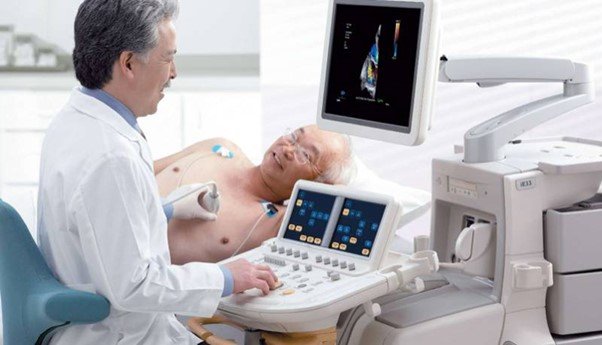 On that note, the current 2D echocardiogram is the most commonly-used cardiac diagnostic tool world-wide. But there are a few problems with it:
It does not obtain accurate and reliable volumes for any heart chamber
The machine does not measure the right ventricle (RV) volume & ejection fraction in children
Lastly, its tedious to work on difficult to scan patients (ie: obese)
Even the in-depth MRI scan has its own set of problems – costly, less efficient and often requires sedation of patients.
Luckily, there is a solution to all that.
Enter Ventripoint's VMS+ 3.0™.
About Ventripoint
Ventripoint Diagnostics Ltd is a medical device company that is primarily engaged in the development and commercialization of cardiac diagnostic tools (monitoring patients with heart disease).
Going back to the previous example, Ventripoint is an AI imaging company with its proprietary VMS+ 3.0 system which processes all standard 2D echocardiograms to generate MRI equivalent 3D cardiac metrics.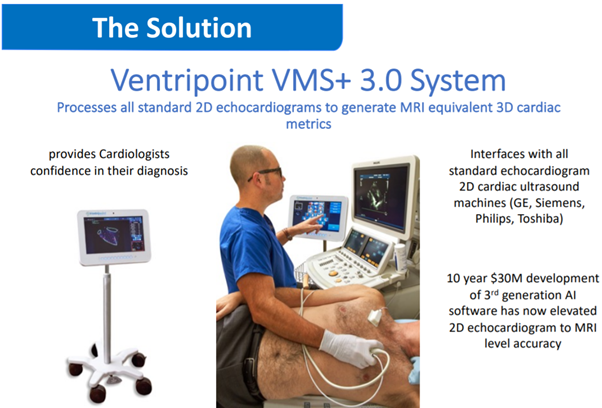 For those not familiar with the technical side of things, it simply means that Ventripoint's system can fuse itself with all standard, existing 2D cardiac ultrasound machines made by GE, Siemens, Philips and Toshiba.
This means that Ventripoint can provide clinically important data faster and at less expense than MRI. The benefits are multi-fold too – just check out the table comparison between VMS+ 3.0 vs MRI.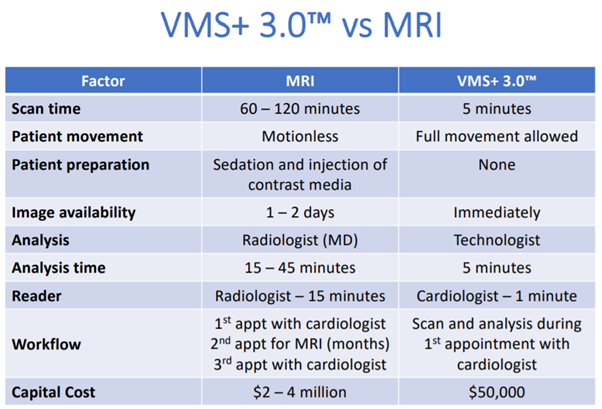 The scanning time, patient's convenience and even analysis time are greatly enhanced with the VMS+ 3.0 system.
The icing on the cake is also that doctors/hospitals only need to fork out a capital cost of $50,000 as compared to $2 – 4 million for the MRI machine.
2. Revenue Model + Key Placements
Sourced from Corporate Presentation
Based on the revenue model above, after the customer (i.e. hospital) secures a unit at US$50K, the company will stand to benefit from a recurring $5K annual licence fee.
On the other hand, customers can also opt for a pay-per-use leasing model for which the customer will not incur a high list price at the beginning – increasing adoption rates.
In fact, the company has already gained early sales traction with 16 sites completed the placements and 11 sites in progress. The Hospital committed placements breakdown is as per follows:
Canada – 5 sites completed/2 additional sites in process
US – 1 site completed/4 additional sites in process
UK – 1 site completed and 3 sites in process
Europe – 1 site completed/2 sites in process
China – 8 sites completed
Last but not least, it is anticipated that multiple units will be purchased regularly by each hospital that uses the VMS+3.0 system – further boosting the growth ahead.
3. Experienced Leadership Team
Its important for a company to have a capable management team and preferably one with a significant ownership in the company.
Ventripoint's management team has the right mix here as it is managed by a high-quality management team with a total of 6% insider ownership.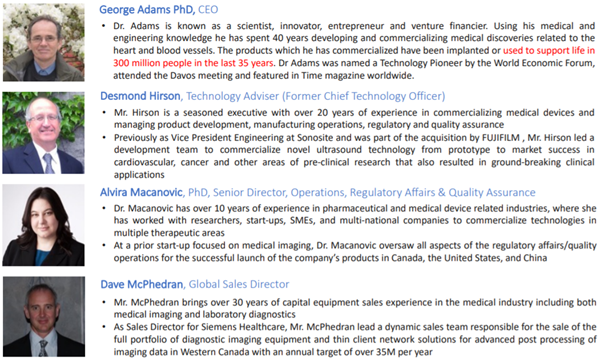 While the board has many years of experience in their own field, CEO Dr. George Adams seems to stand out brightly due to his pertinent expertise for the company's operations.
Having spent over 40 years developing medical discoveries related to the heart and blood vessels and named a Technology Pioneer by the World Economic Forum, he is the key driver behind the company's quality products and its adoption.
 4. Strong Growth Prospects
With the product development already done and regulatory approvals in hand, the company has been busy exploring the various sales channels.
Below are some key highlights of the strong growth prospects ahead:
Ventripoint has a joint venture with General Electric Healthcare to place their software on GE's ultrasound machines. Just capturing 1% of this specific market is $2 Billion in sales.
Ventripoint is building their distributors network and the first announcement on this initiative is imminent.
Ventripoint is in discussion with an emerging European Digital Health firm about a potential joint venture. The potential for a business combination is 'on the table'.
Ventripoint is working with a veterinary group to set up VMS for horses, dogs and cats. For some context, there are over 100 million dogs in USA and 10% have heart disease – indicating a huge market potential here.
Despite several financial houses offering funds to Ventripoint, the firm is holding them off given that it has no debt and not in need of any capital injection.
5. Unique Market Positioning
The story wouldn't be complete if you don't compare the company against its peers. Hence, we decided to pit Ventripoint against Nasdaq-listed Nano X- Imaging Ltd. (NNOX) with a market cap of US$1.57 Billion.
| | | |
| --- | --- | --- |
| | Nano X Tech | Ventripoint |
| System | 2D Digital X-Ray | 3D software for Ultrasound imaging |
| Market Value | ~US$1.57 Billion | ~US$50 million |
| FDA Approved | No | Yes |
| Joint Venture | No | Yes with GE Healthcare (selling into multi-billion dollar market imminently) |
| Revenue | No | Yes |
From what we can derive from the table, Ventripoint is a great investment as compared to its peer Nano X Tech ..
Conclusion – Positive Catalysts Abound
To sum up, there are many positive catalysts for Ventripoint. Firstly, any investment in the company is substantially de-risked given that the product is already developed  with regulatory approvals and sales are already underway.
Its current valuation of USD$50 million is also small change for large players and this may result in an attractive exit strategy if an acquisition goes through.
Your next step is to find this stock on the TSX Venture under the symbol VPT.
Lastly, it is all about the heart with (V)ery (P)roactive (T)echnology…..and VPT will help kill the silent killer.