Xiaomi Corporation (HKG: 1810) is an internet company with smartphones and smart hardware connected by an Internet of Things (IoT) network platform at its core.
It aims to 'build amazing products with honest prices to let everyone in the world enjoy better life through innovative technology.
Read on to find out why am investors should be optimistic about this company in our Xiaomi stock review below.
Brief History
Xiaomi was founded by Lei Jun and seven other engineers including a former Google Employee. Lei Jun is a highly respected figure among the elite technology firm founders in China.  He was a serial entrepreneur, having founded software developer Kingsoft in 1992 and guided it to a successful listing.
He also established Joyo, an online bookstore and e-commerce site which was sold to Amazon for US$75 million in 2004.
Lei Jun then set up Xiaomi after age 40 and built it into a firm with 18,000 employees. It went public in a US$4.7 billion IPO and was the first company with weighted voting rights shares listed on Hong Kong Exchange.
Business Overview
Xiaomi sells smartphones at a competitive pricing with high-quality hardware. As of end-2019, it was the world's fourth largest smartphone vendor with a 9% market share in Q4 2019.
Apart from that, Xiaomi has a well-established IoT and lifestyle products business. It covers the smart appliances and personal devices such as TV, smart speakers, and wearables, all connected to the MI user interface and the Artificial Intelligence assistant: 小爱同学。
The third division is the Internet Services segment. It includes advertising, gaming, e commerce, and various ways of monetising Xiaomi's large user base.
Xiaomi's revenue grew 17.7% in 2019. Smartphones was the largest revenue generator with a 59.3% share, while IoT and lifestyle products amounted to 30.2% share. However, the IoT division recorded strong revenue growth of 41.7% year-on-year.
With a robust revenue growth, adjusted net profit increased almost 35% to reach RMB11.5 billion.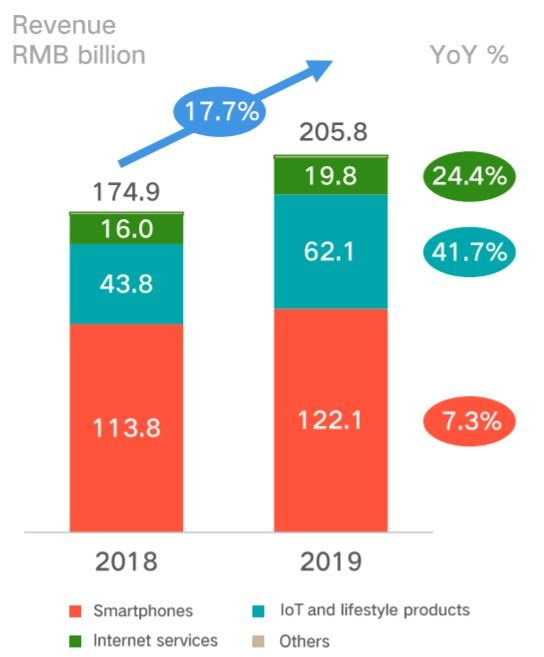 Did you Know?
Xiaomi sold the most wearable bands globally with a 21.2% market share in 2019, even beating that of Apple. It has been the top smartphone brand in India for 10 consecutive quarters, with a 29% market share in 2019.
It is the fifth largest TV brand globally by shipment, and has significant presence in China's domestic home appliances market including air conditioning, fridge, and washing machine.
Xiaomi has achieved tremendous growth. Just look at the 112% annual growth in revenue since 2011. It took just 10 years to debut on the Fortune Global 500 list as the youngest member ever. How long did other China tech titans – Tencent, Alibaba, Huawei, JD.com, take to attain this feat? 14 years, 18 years, 23 years, 18 years respectively.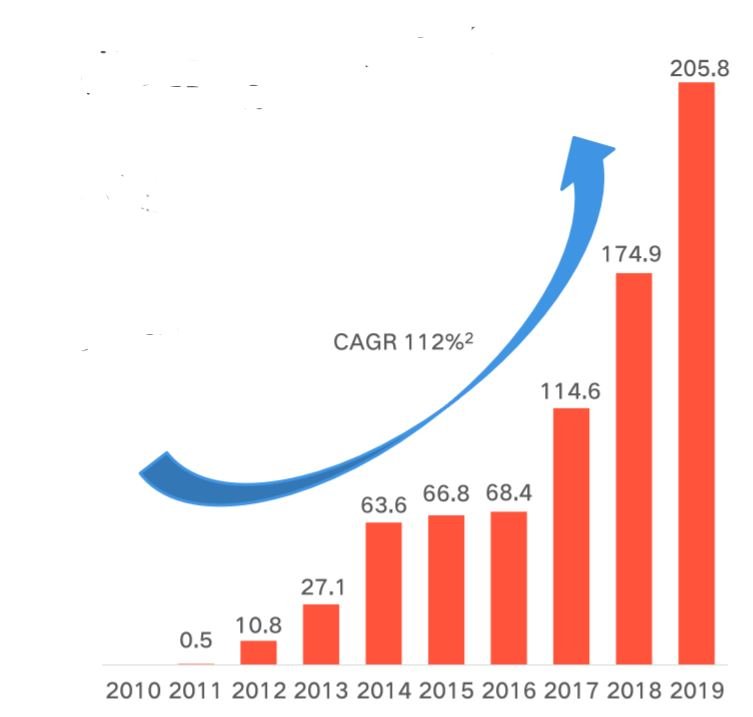 Smartphone Sales Maintained Strength
While smartphones saw lower revenue growth in 2019, its sales improved a much higher 22.8% in fourth quarter. This is due to the strong growth in Q4 shipments.
Xiaomi has traditionally been known for its low cost, with high value for money handsets. Recognising the need for stronger branding, Xiaomi spin-off its Redmi brand into an independent line that focused on competitive phones with good price-performance ratio. The Xiaomi brand shifted gear towards the high-end, premium models.
The strategy seems to be working. Average selling price increased 2.2% year-on-year and gross margin increased to 7.2% from 6.2% in 2018.
Xiaomi has established a foothold in the premium market with its Mi 9 flagship model. The recently-launched premium Mi 10 model which is 5G-compatible, has received overwhelming response exceeding internal shipment target.
The New Growth Engine – AIoT
Xiaomi operates a leading global IoT platform, with 235 million smart devices (excluding TV and laptops) connected. The number increased 55.6% over 2018. Number of users with five or more devices reached 4.1 million, a 77.3% increase.
Besides TV and laptops, Xiaomi continues to expand its smart product portfolio. These range from major home appliances such as fridge, washing machines, and smaller devices such as earphones, wristbands, vacuum robots.
It seems that Xiaomi is creating a wholesome smart home ecosystem through many products that cover various usage scenarios. From my observations, Mi stores all over Singapore are getting more crowded. I have seen more friends and relatives started using Xiaomi home products.
Numbers wise, revenue increased 41% to RMB62 billion. Gross margin grew to 11.2% from 10.3% previous year due to higher sales from smart TVs and laptops.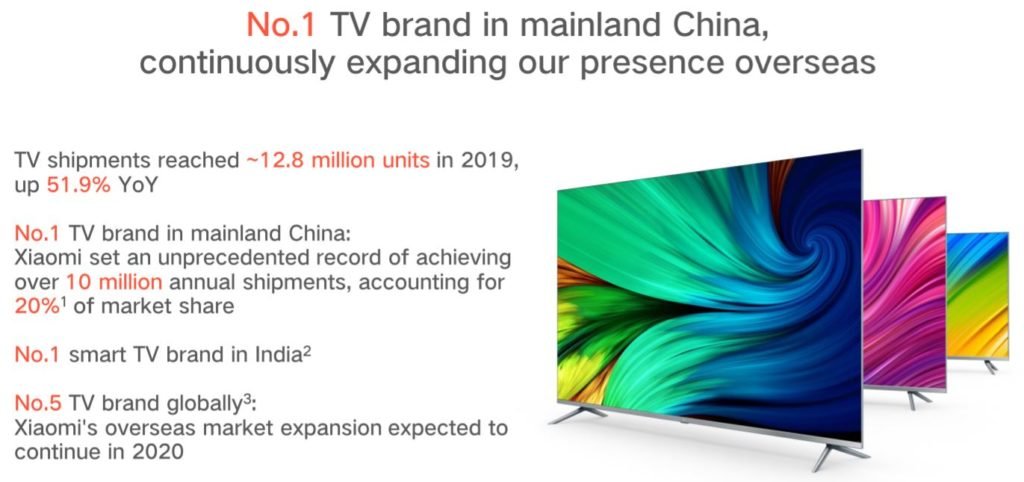 Significant Overseas Presence
Judging from its revenue constitution and geographical presence, Xiaomi can be considered a global company. In 2019, revenue derived from overseas market continued to grow to 44.3%, further reducing its reliance on China market that is fiercely competitive.
Consumers can get its smartphones in over 90 markets. It is among the top five in terms of smartphone shipment in 45 markets. In particular, it ranks first in India and fourths in Western Europe.

Key Strengths
Xiaomi has the first mover advantage in China's IoT and smart home appliances sector. Complementing its IoT product offerings is the seamless integration and control under the Mi Home app, giving users a convenient experience.
Furthermore, Xiaomi smartphones serve as a gateway to acquire more consumers. With higher sales come more users, increasing the chances of having more users on its IoT ecosystem. This is a clear illustration of network effect at play with multiple user-acquisition touch points.
The upcoming 5G network is expected to kick-start a new cycle of smartphone replacements. Xiaomi's dual brand strategy is likely to set it apart from competitors by offering good products to both the premium consumers and the more budget-conscious ones. This would help sustain its sales growth.
While Covid-19 affects sales due to closure of physical stores, Xiaomi was less severely affected due to its extensive online channels. Its senior management has observed a rebound in China smartphone shipments after Covid-19 outbreak subsided. As the virus rages on globally, Xiaomi's strength in online channels is likely to buffer in from extreme sales drop.
Key Risks
Xiaomi faces strong competition in its varied business segments. The top smartphone brands in China are the likes of Huawei, Oppo, Vivo which all rank above Xiaomi in terms of market share. Its entry into the premium smartphone market pit it against Huawei, while its smart home appliances compete against strong local brands such as Midea and Haier.
This means that product innovation is crucial to Xiaomi's long term prosperity. Besides generating higher sales, a popular killer product creates multiplier effect of enrolling more users onto its network, and materially strengthens the IoT and Internet Services segments too. These are critical competitive edge that Xiaomi needs to defend over other firms at all cost.
Hence, research and development is critical. Fortunately, Xiaomi has pledged to invest up to RMB50 billion in artificial intelligence and 5G technology in the next five years.
Xiaomi Stock Review Conclusion
Xiaomi has shown impressive growth since its founding ten years ago. Propelled by its 112% annual growth rate in revenue thus far, it became one of the top five smartphone brands globally. It seems to have many things going for it at the moment.
These include the impending 5G network, a successful AIoT and premium smartphones businesses, and strong growth in overseas market.
It is likely to face increased competition in the AIoT and smartphones arena. It all boils down to the management's strategy execution and foresight to steer the company forward.
Judging by its report card so far, I have no reasons to doubt the management's capability. It also helps that Xiaomi's share price has fallen way below its IPO price of HK$17, and the founder Lei Jun supporting it at HK$10+ during the past year.
Do you know that China has a whopping 1.3 Billion population size? Any company which can gain a foothold in the space like Haidilao, Tencent, Meituan DianPing can potentially grow beyond our wildest dreams.
Here are 5 China Stocks poised to take advantage of their moats and expand aggressively over the long term. Click here to uncover these ideas in our FREE Special Report!