Beyond your regular healthcare stocks, glove stocks are actually an essential part to the healthcare industry too.
However, although the pandemic is still on-going, glove stocks are taking a beating like no other.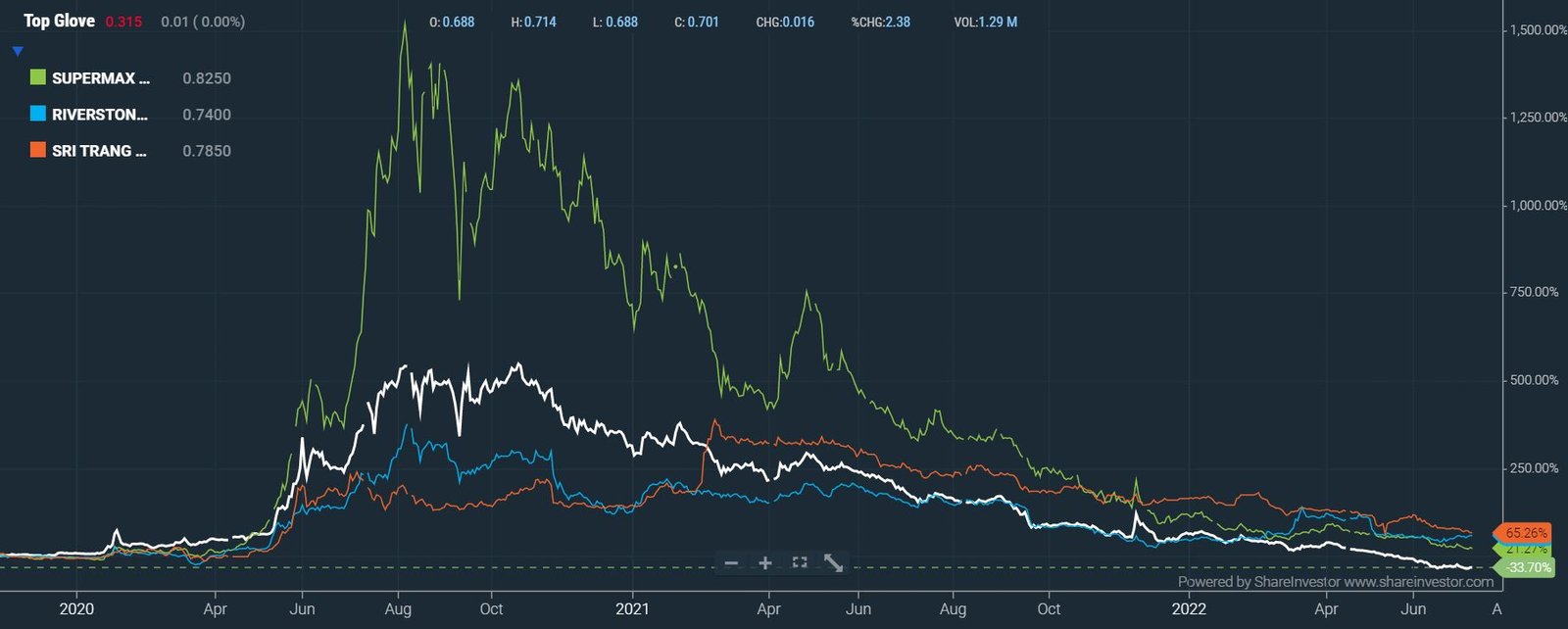 Look at that 1,250% gains from pandemic evaporate in 1-2 years' time!
While the "glove super-cycle has ended", gloves are still part of a daily routine in many corporations – semiconductor environments, hospitals and more. This will result in a sustained growth in the glove industry in the future even with the tapering off of the COVID-19 pandemic.
With that, we decided to delve into the 'Heavenly 4 Glove Stocks' below:
#1 Top Glove Corp Bhd (SGX: BVA)
Top Glove Corp Bhd, the #1 gloves maker in terms of sales volume, manufactures and sells gloves through several product lines to a diverse group of global customers.
Some of the different glove options include latex, nitrile, vinyl, and surgical.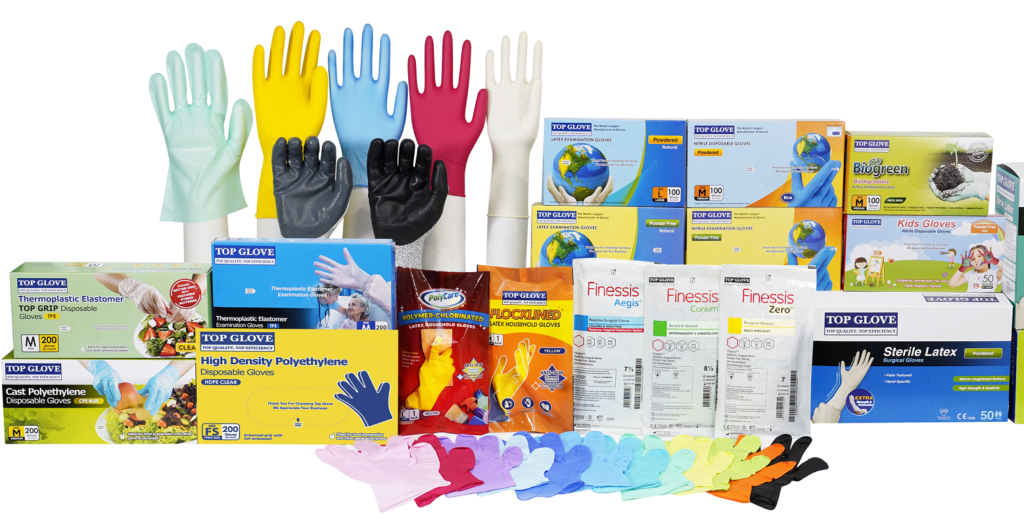 Top Glove's products are utilized in an array of end markets such as aerospace, food, beauty, medical, and home care.
Traditionally, the company has derived over half of its sales from its nitrile and powdered latex product lines, with customers in North America and Europe generating the most demand.
What started as only a local business enterprise has captured 26% of the world market share for rubber gloves today – an impressive feat by any measures!
In financial performance, the company registered a 124% spike in FY21 (ending in August 2021) due to the pandemic led demand.
However, for the first half ended Feb 28, 2022, the group's revenue slumped 70.04% to RM3.03 billion from RM10.12 billion.
Meanwhile, net profits plunged 94.77% to RM273.27 million from RM5.23 billion in the year-ago period due to the high costs and oversupply situation.
At the time of writing, its share price is around S$0.325 and it translates to a trailing P/E ratio of 9.7x. Based on its FY2017 dividends per share of 0.046 Singapore cents, the dividend yield comes up to 14%.
#2 Supermax Corp Bhd (MYX: 7106)
Another famous yet smaller glove company in Malaysia is Supermax Corp Bhd – an international manufacturer, distributor, and marketer of high-quality medical gloves and contact lenses.
It offers various types of latex gloves, which are exported to over 155 countries around the world.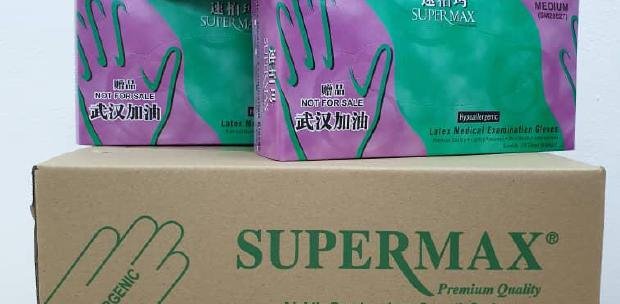 It has operational footprints across America and Canada, Europe and Asia with largest end market by revenue in America.
With 2.3x revenue jump and 6.3x PAT jump in FY21 (ended June 2021), Supermax was one of the biggest winner of the glove super cycle.
Similar to Top Glove, Supermax reported a 78.95% YoY decline in its 3Q 2022 revenue to RM407.80 million and its net profit plunged 99% as gloves ASP and demand subside.
The group also replied, "Many of the large buyers seen at the height of the pandemic, such as the governments and large hospital chains are full or near full in terms of their PPE stocks after a period of aggressive sourcing and buying. Buying activities have moderated in tandem with reduced consumption levels".
On the other hand, Supermax is not resting on its laurels as it officially started the ground-breaking of the US plant in May 2022.
This is part of its expansion plans to address concerns on the potential disruption of PPE supply chains in the US. Production is expected to start circa 2Q2023.
Supermax's share price last traded at RM$0.83 5 and sports an incredibly low 1.3x trailing P/E ratio.
#3 Riverstone Holdings Limited (SGX: AP4)
Riverstone Holdings Ltd is engaged in the manufacture and sale of gloves and non-glove consumables such as finger cots, static shielding bags, face masks, wipers, and packaging materials.
The group's products are widely qualified and used in sensitive industries like the Hard Disk Drive, semiconductor, and healthcare industries.
Riverstone stands out from the other glove makers with its niche focus on clean room gloves.
But it was not spared from the ASP declines too. For 1Q22, Riverstone reported revenue and net profit decline of 61.0% yoy and 79.2% yoy respectively as a result of the normalization of healthcare gloves ASPs (Average Selling Prices) from pandemic highs.
In contrast, Riverstone says its cleanroom gloves continue to remain in demand as the forecasted 13.6% growth of the worldwide semiconductor revenue could increase demand from its customers.
As Healthcare glove demand plateaus, cleanroom gloves are a key driver for future earnings growth. 1Q22 ASPs for Cleanroom gloves and its sales volumes were steady from strong secular demand.
Looking ahead, the group says it will be entering into its next phase of expansion plans for its production lines on existing lane with Phase 7 ending in 2022.
The next phase will increase the group's capacity by 1.5 billion pieces to 12.0 billion pieces of gloves annually.
Riverstone's shares last closed at S$0.775 and gave a 2.5x trailing P/E ratio. Based on the pre-pandemic FY2019's divdends' per share, it offers around 3% dividend yield.
#4 Sri Trang-Agro Industry (SGX: NC2)
One of the most unique thing that stand out is that Sri Trang Agro-Industry PLC generates the vast majority of its revenue through the production and distribution of rubber and latex products.
These products are used in the tire, automotive, and adhesive industries.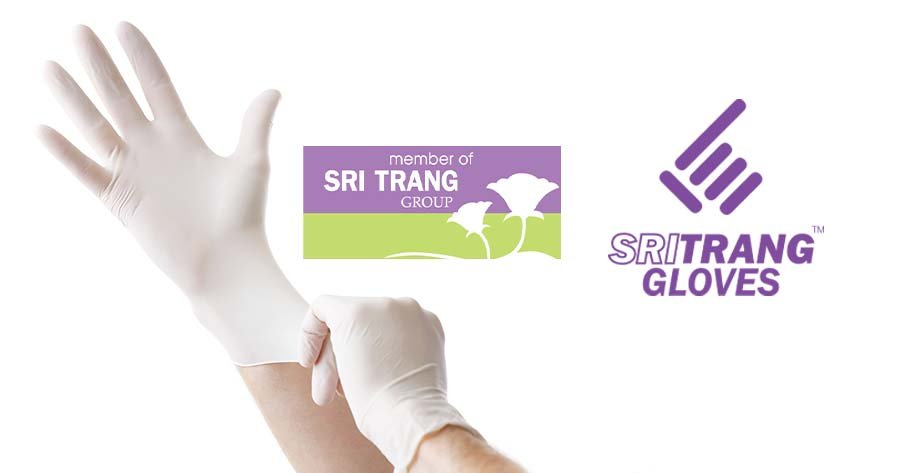 It also produces rubber gloves that are used for medical and industrial purposes, while also specializing in high-pressure hydraulic hoses used for industrial and mining operations.
Sri Trang Agro-Industry's primary processing facilities operate in Thailand, Indonesia, and Myanmar.
It's products are distributed in several countries while it is the largest manufacturer of medical rubber gloves in Thailand.
It reported a net profit of S$952.4 million in 2021. This was a 64.4% increase yoy, on the back of a 55.6 per cent yoy surge in revenue.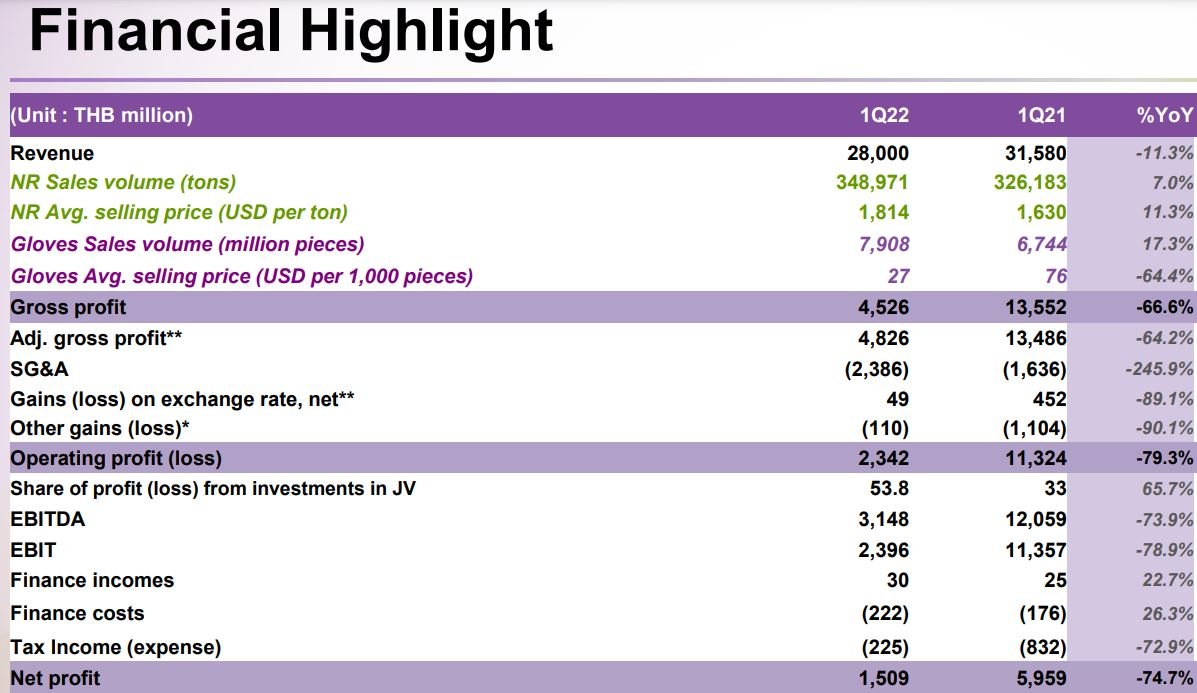 However, it suffered the same fate as other glove makers with the sharp dip of gloves Avg. selling price (US$76 to US$27) outweighed the modest 17.3% increase in sales volume.
Based on Sri Trang Agro's share price of S$0.785, it is trading at a trailing P/E of 2.7x and 1.9% indicative dividend yield if we take the FY2019's dividends per share as a mark.
Conclusion
By observing the charts of the glove stocks, we can see that they have given up a large part of their share price gains in the past year or so.
The 4 glove stocks mentioned above are all trading below 10x trailing P/E ratios too – Supermax at only 1.3x!
However, it probably makes no sense because even as the ASPs of gloves continue to normalize (drop), the huge cash influx for the companies are already in their coffers.
The next step is to zoom in to glove companies with high re-investment rates or probably a competitive edge in order to rise above the dull glove industry in future.