When SGAG released this short clip on the hordes of payment methods we have in Singapore….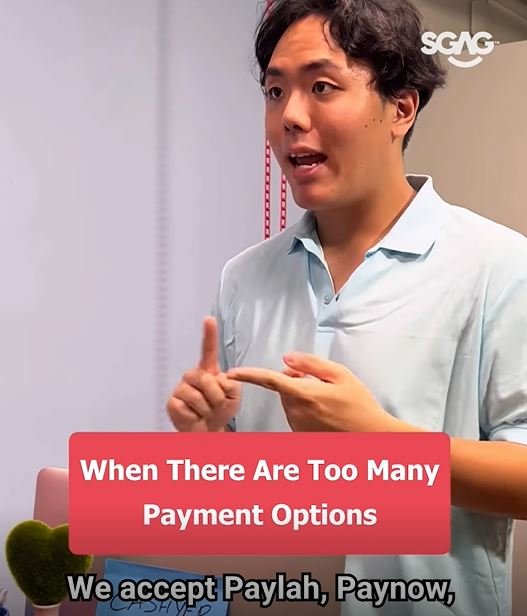 It literally made me LOL because it really strike a chord with me on this 'happy problem' every time I need to make payment at a retail store.
Imagine regurgitating out all of them – PayNow, Visa Paywave, PayLah, Google Pay, Apple Pay etc etc!!
Now that I have messed up your mind, lets dive in and do some quick comparison to see which payment method gives the best bang for the buck!
Tons of Cashless/Contactless Payment Methods In Singapore 
Before we go on any further, this article's purpose is not to list down all the cashless payment methods (there are over 40 of them according to this article!).
Instead, our aim is to find the one that offers probably the best cashback & convenience among the popular options.
So here goes… FavePay, GrabPay, ShopeePay, Shopback Pay or Visa Paywave?
1. PayNow
PayNow is probably one of the most flexible and fastest payment methods in Singapore as it is a collaboration of 7 different banks to make money transfer easy. The banks in question are United Overseas Bank (UOB), Standard Chartered Bank, OCBC, Maybank, HSBC, Citibank and DBS/POSB.
In order to use this payment method, one must have an account with one of the aforementioned banks. This method has taken off very well and is currently one of the more popular ones.
Pros: Almost all hawker centres and mom-and-pop stores that take the first step towards cashless payment start off with this SGQR code. Personally, I love the fact I can buy my mixed veg rice and Teh-C using just my OCBC mobile app.
Cons: The only likely downside is that it does not give you any cashback or reward points for usage.
2. Visa/Master/Amex Credit Cards
The most commonly heard from the retail cashier is: How do you want to pay? Paywave?
Inevitably, Visa & Master have done such a good job expanding their reach and the mind recall on 'Paywave' over the POS machine.
In fact, I find myself just saying 'Paywave' by default whenever my mind goes blank on all the payment methods available. haha…
Pros: For most credit or debit cards, it'll be either Visa PayWave and Mastercard PayPass. It'll also clearly display the contactless logo:

Almost every single shopping mall's merchant will need to accept credit cards so the convenience is definitely there.
The Best part? You can earn miles or cashback depending on which card you use..
For example, the DBS Live Fresh Card gives you 5% Cashback on Visa contactless spending.

Hence, it sounds like a pretty good deal when you think about the convenience + added cashback.
Cons: However, there's always a catch and for this card, the drawback is that cashback is capped at S$20 on Visa contactless spending. You also have to make the minimum spending of $600 as usual with other credit cards too.
These are among the most popular in Singapore simply because they tend to be supported by a majority of payment stations. If one has their phone with them, they don't have to worry about cards and coins, or a heavy wallet. To get this working, one needs to download the mobile app, type in the required card details, and by waving their phone over the contactless terminal, they can make their payment.
This payment method is praised for its security, speed, and convenience. The cards making waves with this payment method include VISA PayWave and MasterCard PayPass.
3. GrabPay
Everyone knows GrabFood and Grab[Mobility] are the 2 loss-making business segments and GrabPay is the 'fintech' division that GRAB is aiming to monetize and tell shareholders why it is a valuable Super-App.
According to its website, it is working hard on various partnerships like with Stripe and Adyen – the latter one which allows Grab to launch is Buy Now Pay Later (BNPL) option to enable more merchants to attract customers and increase revenue.
Pros: Each GrabPay transaction earns you GrabRewards points, which you can use to redeem 'attractive' rewards. If you are an active Grab user across their various segments (Food, Transport, Mart), you can probably earn a lot of points there.
Cons: Notice my pun at the 'attractive' rewards above?
Based on my own GrabFood orders, I am getting around 5.98 (~6) points per $1 spent. Looking at the 'Rewards' section under my Grab Account, i see that a $5 off McDonald's or $5 Zalora gift card costs the same at 2,500 points.
In short, you need to spend $416.67 to redeem $5 voucher; which translates to a mere 1.2% cashback – not forgetting the 3 months validity period. O_O
4. FavePay
MyFave is the parent company behind FavePay and does a whole suite of deals, payment, cashback, and rewards – the so-called 'lifestyle companion' all in one app.
On top of that, you always get notified of Flash Deals when the app notifications are on – mostly beauty & dining deals which hook you in for more later on.
MyFave was once my fav. payment option until I found out recently that I can't use it to get 10% cashback from the Food Junction food court and many other F&B outlets too. 
Pros: One of the most amazing things are the generous cashback FavePay offers, sometimes up to 50%! You can even maximize your cashback returns via purchasing e-Card of a particular Merchant.
The last i checked, I can purchase Subway e-Card worth $30 for $27 (a 10% discount). That's not including the additional e-Cashback you can use at Subway again in future.
Cons: Imagine getting a 20% e-Cashback after paying for a massage package of $2,000 – only to learn that it is only valid for your next purchase from the same merchant.
While it is okay for F&B merchants i keep returning to buy food from, it probably doesn't make sense to use FavePay for adhoc purchases. In addition, after the acquisition by PineLabs, I have a feeling that the number of merchants accepting FavePay have dropped drastically – starting with Food Junction.
5. ShopeePay
Even my daughter knows how to sing "Shopee pi pi pi!"; and with the company securing a digital license in Singapore, we can definitely foresee that ShopeePay would be the cornerstone of their financial arm.
As per their website, ShopeePay is a digital wallet service offered by Shopee and you can use it for:
Pros: For offline and in-store purchases, you get to enjoy 2% cashback capped at $1 when you pay with ShopeePay and get upsized cashback at selected offline merchants.
This is also validated through my own ShopeePay transaction at a CocoCane outlet.
Its easy to know for Shopee that every 1 Coin is equivalent to $0.01 (you would know upon redemption). So 8 coins = $0.08 and you divide $0.08/$4.20 = 1.9% cashback (~2%).
In addition, there are often Scan & Pay vouchers available here for you to enjoy discounts and deals from as low as $0.01 at selected offline merchants.
Cons: Looking at Shopee always gives me a headache especially during their monthly sales. Probably its just me but I feel that the vouchers plastered everywhere are designed to confuse us and make us spend more (nooooo!).
6. ShopbackPay
Last but not least, we have a new entrant into the Cashless payment space – ShopbackPay.
If you've heard of Shopback, you probably known it as a chrome extension that needs to be activated to earn enticing cashback when you make online purchases.
Pros: Under its website, ShopBackPay promises the highest CashBack for all Shopback eligible stores and will refund you the difference if you find another better deal!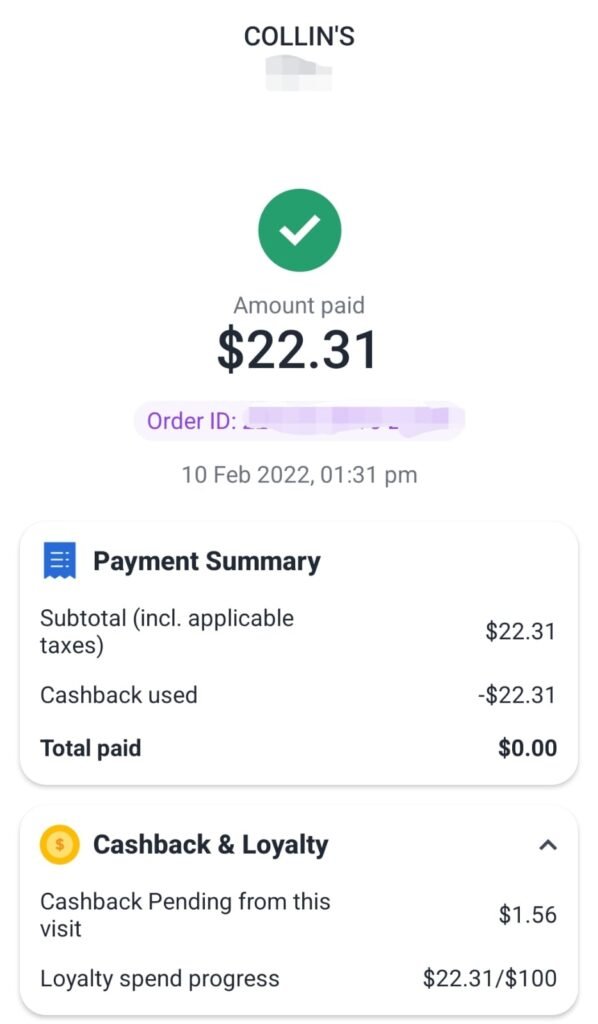 As shown above, I got a ~7% cashback of $1.56 from my $22.31 purchase! On top of that, I am able to pay everything using my Shopback balance _*
Cons: The catch of such a high cashback? Similar to FavePay, you can only use this cashback the next time you re-visit the same merchant.
Not yet a ShopBackPay user? Click on my Deals page for a quick review or simply sign up here.
Conclusion - My preferred payment method
With all that said, lets sum it up in a table below with rating 1 being the worst and 5 being the best...
To my surprise, I always thought I would lean towards GrabPay from the convenience it gave me (on top of GrabTaxi and GrabFood). However, after doing the research as shown above, I would probably skip GrabPay since it only gives a 1.2% effective cashback.
In my own opinion, I believe using Visa/Mastercard still results in the best score especially when I need to hit the minimum credit card spending of say $500-600 per month. After which, I would probably use ShopeePay for that 2% cashback (for transactions below $50) - to offset my online purchases from it easily too.
So, that's my personal preference after doing this research thus far...
What about you? Which payment method would you use?
Share in the comments below, esp. for the other types of payment methods that I may missed out!