Who still reads newspapers? You might be surprised. It's true that the percentage of Malaysians reading physical newspapers has been declining from 45% in 2017 to 17% in 2022.
However, most news outlets have started to pivot away from a physical print model into online platforms. The share of people reading online news has increased slightly from 86% in 2017 to 89% in 2022.
Star Media Group (Star Media) is a Malaysian news outlet providing news and content to everyday Malaysians through online, print, and social media. It was first published in 1971, making Star one of the oldest newspapers in Malaysia.
However, in recent months, Star has gained some attention from investors as its share price has gained about 53.3% since the beginning of the year until 20 April 2023. This makes Star Media one of the best-performing stocks in the Malaysian stock market.
What is driving this increase and what do you need to know about Star Media? Let's find out!
#1 Star Finally Returned to Profit for 2022
The pandemic hasn't been kind to Star. Star made two consecutive years of losses of RM20 million and RM132 million in 2020 and 2021 respectively.
Administration & other expenses doubled from RM117 million in 2021 to RM224 million in 2022, due to the loss in value of plants & machineries in the print and digital segments (-RM72 million), programme rights (-RM11 million), and subsidiaries' investments (-RM3 million).
After suffering these losses, Star Media's profits have finally rebounded to RM7 million in 2022, providing some relief to investors who are worried about the prospects of the company.
Perhaps more accurately, Star Media generated operating cash flows of RM30 million in 2022 compared to a loss of RM3 million in 2021, which strips out the change in the valuations of its assets.
#2 Revenue Improved Sharply, Driven by Print and Digital Content
Revenue rose by 16.0% from RM187 million in 2021 to RM217 million in 2022, marking the first time revenue has improved since 2016. The higher revenue was driven by the print & digital content and radio segments.
The print & digital content segment is the main driver of revenue for Star Media, encompassing about 85% of total revenue for 2022. Revenue grew by 15.5% to RM184 million, as print and digital advertising revenue improved amid the increase in Malaysian business confidence to advertise.
Meanwhile, in the radio segment, revenue increased at an even stronger rate of 31% to RM34 million in 2022. Commercial airtime revenue rose in line with an increase in business confidence also with the reopening.
#3 Can 2023 be the Turnaround Year for Star Media?
While the rebound in revenue and profits are much welcomed, Star Media's financial performance remains quite far below its historical levels. In 2017, Star disposed of its 53% stake in Cityneon for RM360 million to Lucrum Investment.
With that deal, Star Media gained a profit about RM214 million but lost a big chunk of its events and exhibition revenue source. In 2015, events and exhibition segment generated about 30% or RM304 million in revenue. By 2022, events now only account for about RM817,000 in revenue, a far cry from its peak before.
Its print and digital content segment's revenue have also declined considerably from RM 706 million in 2014 to about RM184 million currently in 2022.
All in all, Star Media used to be a company that generated about RM1 billion and RM120 million in annual revenue and profits respectively in the early 2010s. It now generates only about 22% of that RM1 billion in annual revenue and still has some ways to go to return to its former glory.
#4 Investments Have Yet to Bear Fruit
In 2017, Star Media gained about RM360 million from the disposal of Cityneon. Since then, Star Media has disclosed that it has utilised about RM208 million of the proceeds from the deal to fund investments and working capital of the company.
By right, this should have yielded an increase in the amount of revenue and profits for the company eventually. However, that hasn't materialised yet. Revenue has continued to decline from RM393 million in 2018 after the disposal of Cityneon to as low as RM187 million in 2021.
Its total assets have also continued to decline from RM1.2 billion in 2017 to RM775 million in 2022, as Star Media has declared a total loss in value of RM162 million and RM20 million in fixed and intangible assets respectively.
To make things worse, its cash position has also declined by RM116 million over the same period as it declared a cash dividend of RM332 million in 2017.
#5 It Might be Worth Giving Star a Shot to Realise its Investments
Ultimately, Star Media's growth prospects are derived from the ad. revenue for its print & digital and radio segments. The more audience they have, the higher the potential they have in generating revenue.
According to its 4Q 2022 quarterly results publication, Star Media will continue to invest in their digital transformations initiatives and strategies, consisting of Star Online, mStar and newly launched Bahasa Malaysia news portal, Majoriti.
On that front, Star Media is planning to invest about RM66.5 million in the next 24 months for mergers and acquisitions to expand its growth opportunities.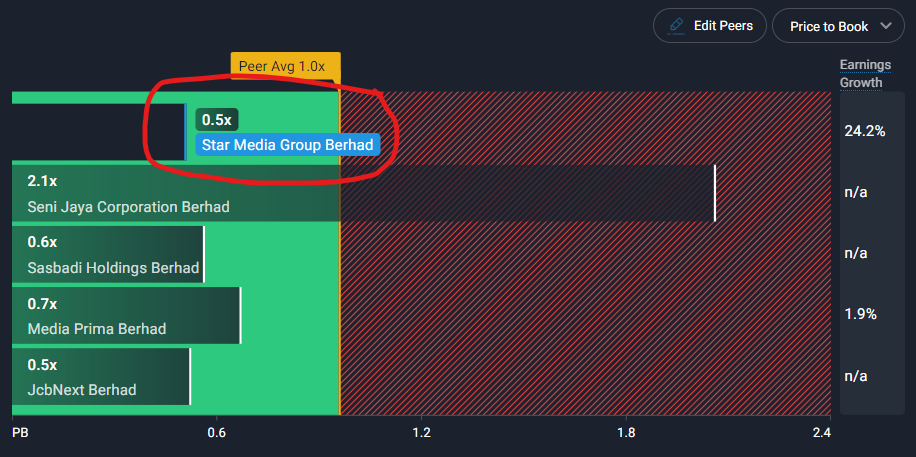 According to SimplyWallSt, analysts are most optimistic on the publishing industry with a forecasted growth of 24.2% for 2023. Star Media is currently trading at a price-to-book ratio of 0.5 times, lower than its other advertising channels' peers in Malaysia.
Conclusion
In conclusion, a low valuation and turnaround in financials may have fueled the sharp share price jump of Star Media Group.
While an over 50% increase in share price since the beginning of the year is indicative of the optimism of Star Media , it may have some way to go in a triumphant return to its former glory.
As always, its future performance would have to depend on the amount of readership and audience it can attract through its investments in the digital platforms.