Excerpts from CGSCIMB report
Japfa Ltd (SGX: UD2)
JAP's subsidiary AustAsia Group (AAG, 2425.HK, Non-rated) was listed on the Hong Kong Exchange (HKEX) on 30 Dec 2022 at HK$6.40 per share.
Eligible JAP shareholders will be entitled to a dividend-in-specie (DIS) of 200 AAG shares for every 1,000 JAP shares owned (c.S$0.23/share in value).
Reiterate Add, with a lower TP of S$0.42, pegged at 8x FY24F P/E (historical mean), after removing value of AAG's DIS from JAP from FY23F.
Change in default election option for AAG shares
With the listing of AAG, eligible Japfa Ltd (JAP) shareholders would be required to elect for one of four options regarding their entitled AAG shares.
Shareholders should take note that the default standing instruction has been changed from Option 3 (receive a physical AAG share certificate) previously to Option 4 (disposal of AAG shares by JAP's appointed broker and receive the net proceeds from the sale afterwards).
Investors who wish to retain AAG shares should ensure that they mark the selected option in their Election and Sale Election Form and submit it to the company by 5pm on 19 Jan 2023.
Considerations for various election options
We think that poor market sentiments have led to a less-than-ideal IPO valuation of HK$4.48bn for AAG despite its growing milking capacity, compared to the price tag of c.HK$9.12bn in 2021 when AAG onboarded new strategic shareholders.
Given the growth prospects of China's dairy industry, we believe that opting for Options 1, 2 or 3 may allow shareholders to benefit over the longer term.
However, the default option (Option 4) is convenient for shareholders entitled to less than the lot size of 1,000 AAG shares to dispose of odd lots, or for investors who do not wish to have exposure to AAG's business.
Nevertheless, investors should also consider that it may take till 19 Apr 2023 (i.e. 90 days after the end of the Election Period) to receive sales proceeds from the disposal of AAG shares by JAP on behalf of investors, whereas those who choose Option 1 or 2 could have their AAG shares credited to a Hong Kong brokerage or nominee/counterpart by 30 Jan 2023.
Valuation/Recommendation
We reduce our TP to S$0.42, based on 8x FY24F P/E on JAP's remaining animal protein businesses after removing its stake in AAG from FY23F. JAP's current share price of S$0.315 (3 Jan 2023) implies a 16% discount to its c.55% stake in Japfa Comfeed.
As a result, we expect the unpredictability of ASF to drag on JAP's consolidated earnings. Re-rating catalysts: subsiding of ASF and easing cost pressures; downside risks: weaker ASPs resulting in margin compression.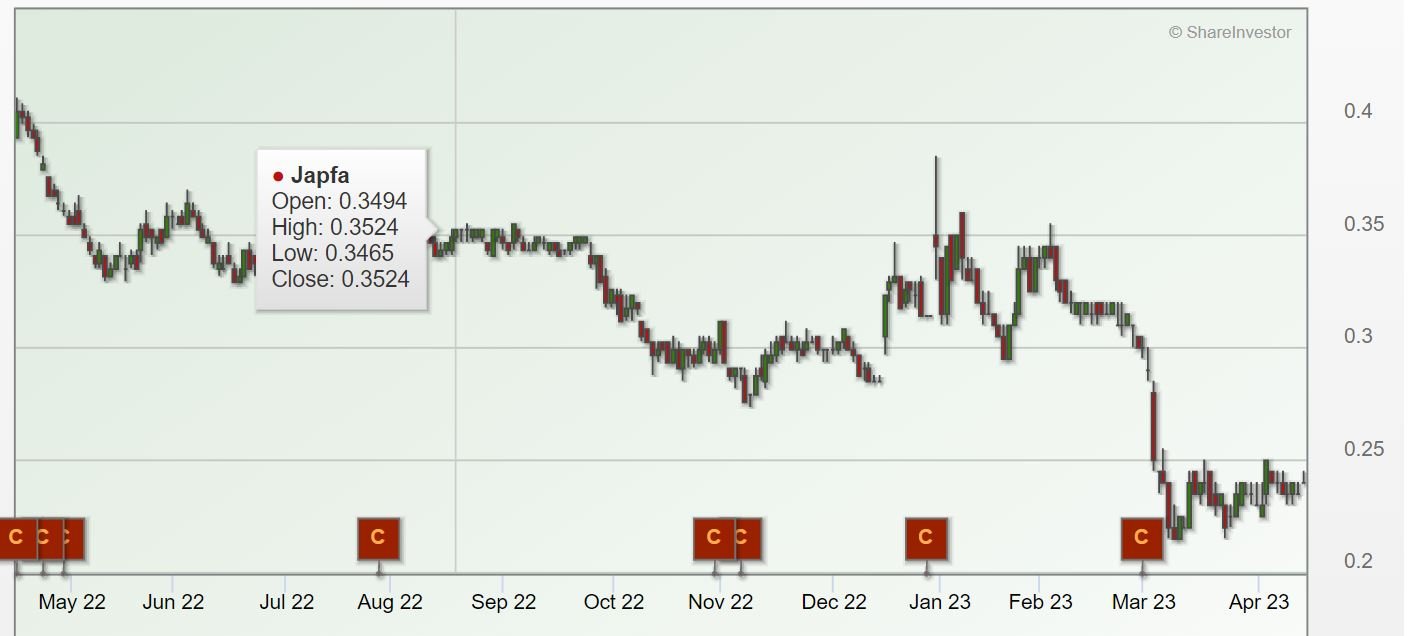 You can find the full report here and the company website here