India has officially became the most populous country in the world, overtaking China by around 1 million population in 2023!
Given their huge population, it is definitely noteworthy to look at stocks with India's exposure and we just have one on our hands: CapitaLand India Trust, (CLINT), formerly known as Ascendas India Trust (a-iTrust)!
Lets do a quick stock analysis of this interesting REIT based on its FY2022 results…
1. Financial Metrics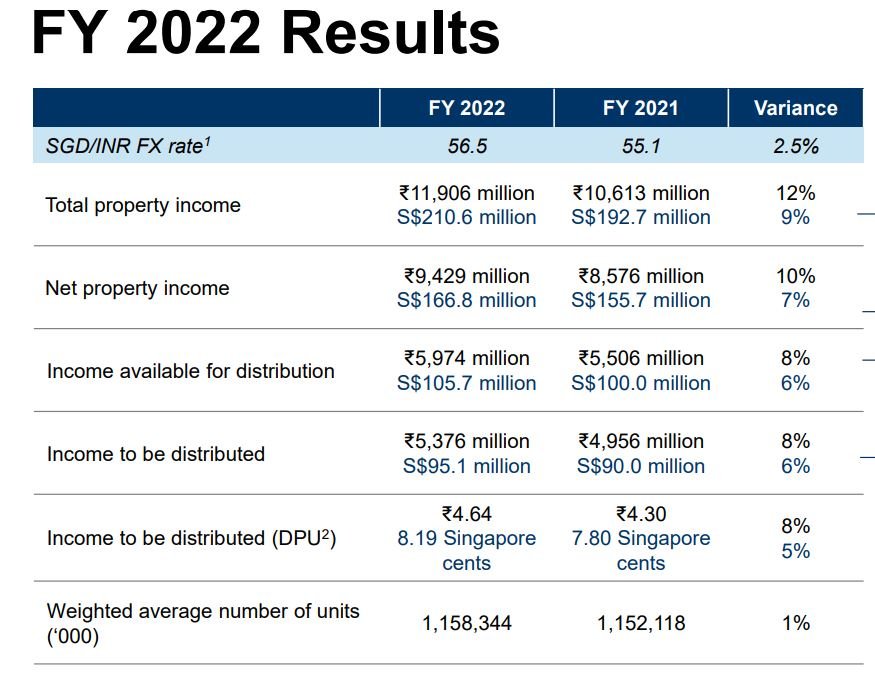 CLINT reported a 7% increase in net property income to S$166.8 million while DPU is up 5% to 8.19 Singapore cents. Despite a decent set of results, the share price has underperformed, probably due to the depreciation of the Indian Rupee against the Singapore Dollar.
However, on closer look, does investors really need to worry about forex losses?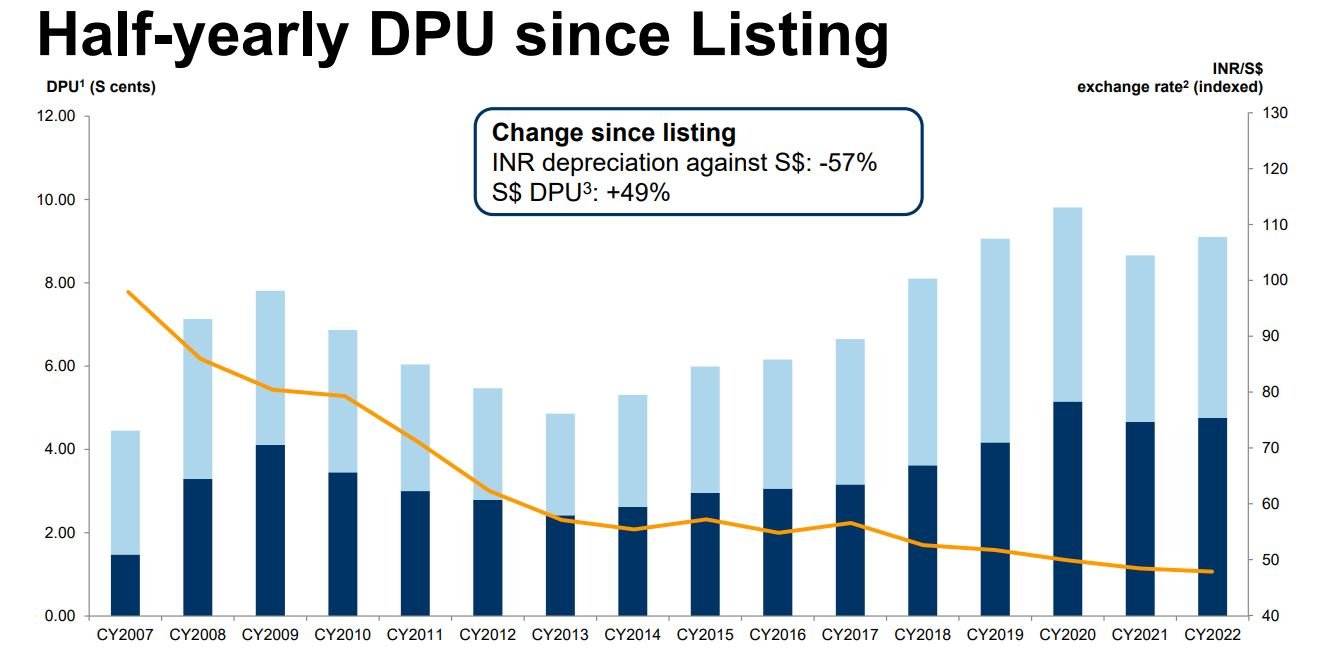 From the above, we can see that although since listing, INR depreciated against SGD by about 57% and yet DPU in SGD actually increased by 49%!
2. Debt Maturity Profile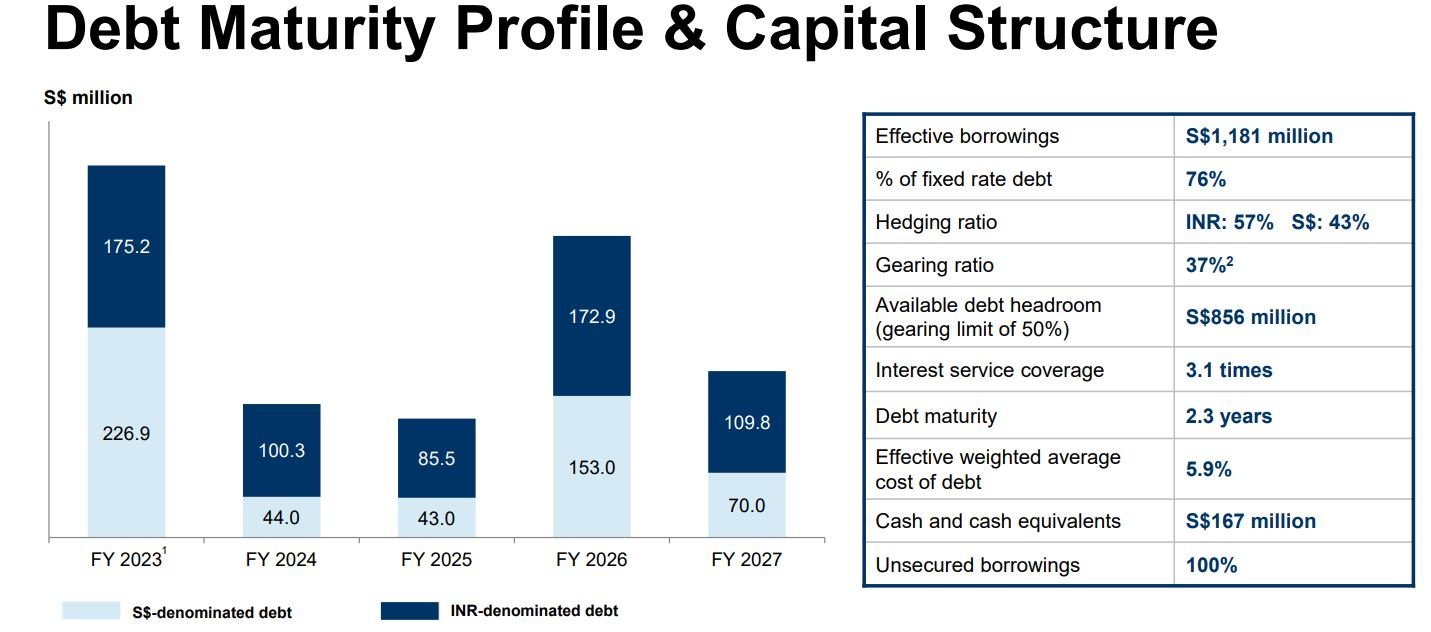 CLINT has hedged 76% of their debt on fixed rates while the gearing ratio is relatively comfortable at 37%. However, one concern is that more than S$402 million of their debt will expire in FY 2023.
CLINT weight average cost of debt is high at 5.9% and with the possibility of higher funding cost in future, the DPU could be affected when its refinancing time.
3. Portfolio Occupancy
Overall portfolio occupancy is high at 92% while weighted average lease expiry is 3.7 years.
Signing rents were 9% higher than in-place rents in December 2021.
This could ensure stability to the rental income and even DPU growth for CLINT.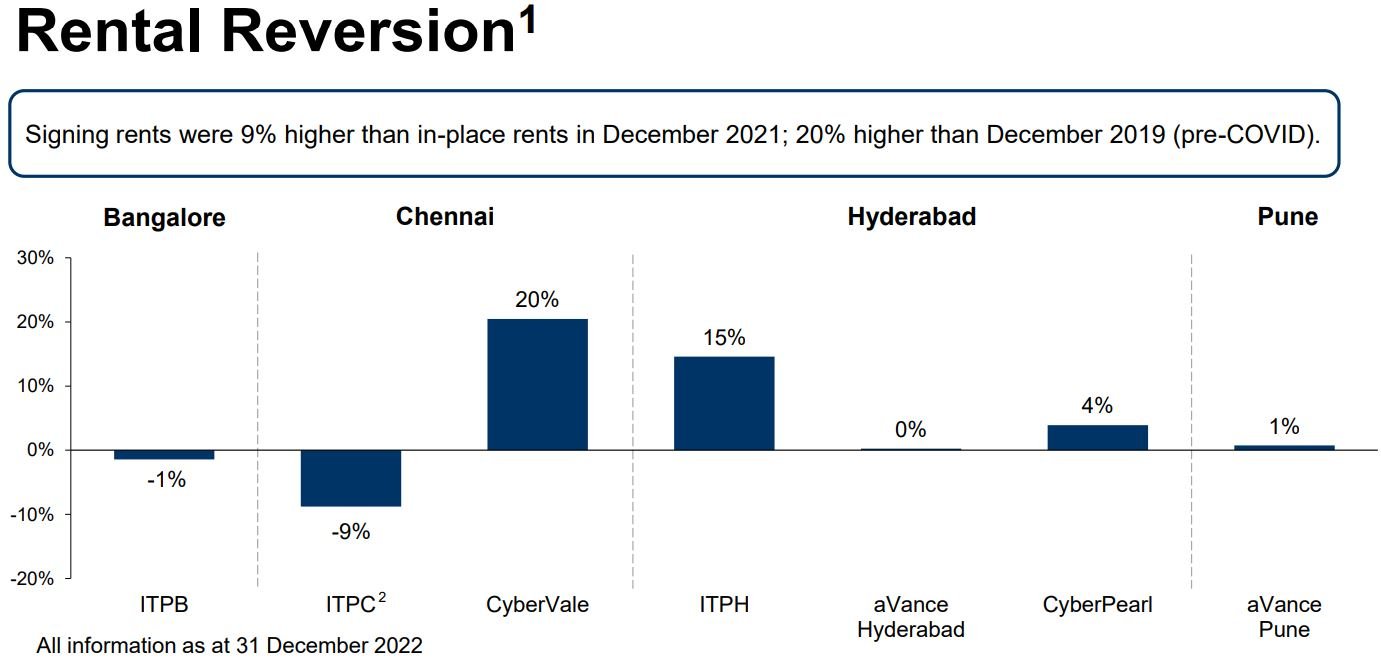 In addition, with the souring of trade relations between China and US, many US MNCs such as Apple has moved their manufacturing plants to India.
According to Asian Development Bank, India's economy is expected to grow by 6.4% in 2023 and rise to 6.7% in 2024 while China economy is expected to grow by a slower 5%.
This positive development has potential to create demand for CLINT business park properties and ensure higher occupancy rates.
Conclusion
With DPU of 8.19 Singapore cents for FY 2022, CLINT provides an attractive yield of 7.58% for investors.
However, its understandable for many investors to have concerns about the Forex Risks and High cost of debt, which undermines the share price.
On the other side, looking beyond such risks, CapitaLand India Trust (CLINT) is a great proxy to India's fast economic growth and even its  being one of the fastest growing economies and  more MNCs shifting their operations to India, CLINT could just outperform the REIT index this year.
You can view CLINT website here.