SGX, in partnership with EquitiesTracker, is bringing back the Singapore Trading Festival!
This event is going to focus on identifying investment trends and discuss what will drive the stock markets in the coming year.
This event consists of 4 full days (26 – 27 March, and 2 – 3 April 2022) virtual traders' summit where industry experts share trading strategies that will help you navigate and capture opportunities in the market.
In addition to the live webinar, there will be virtual exhibition booths from product issuers and brokers to showcase their assets and promotions (if any).
Event Highlights
Singapore trading festival is going to feature more than 15 brokers and issuers, and more than 40 speakers.
We are also going to see global prominent traders like Michael Covel of TrendFollowing.com and Ray Barros, a renowned fund manager.
Agenda for Singapore Trading Festival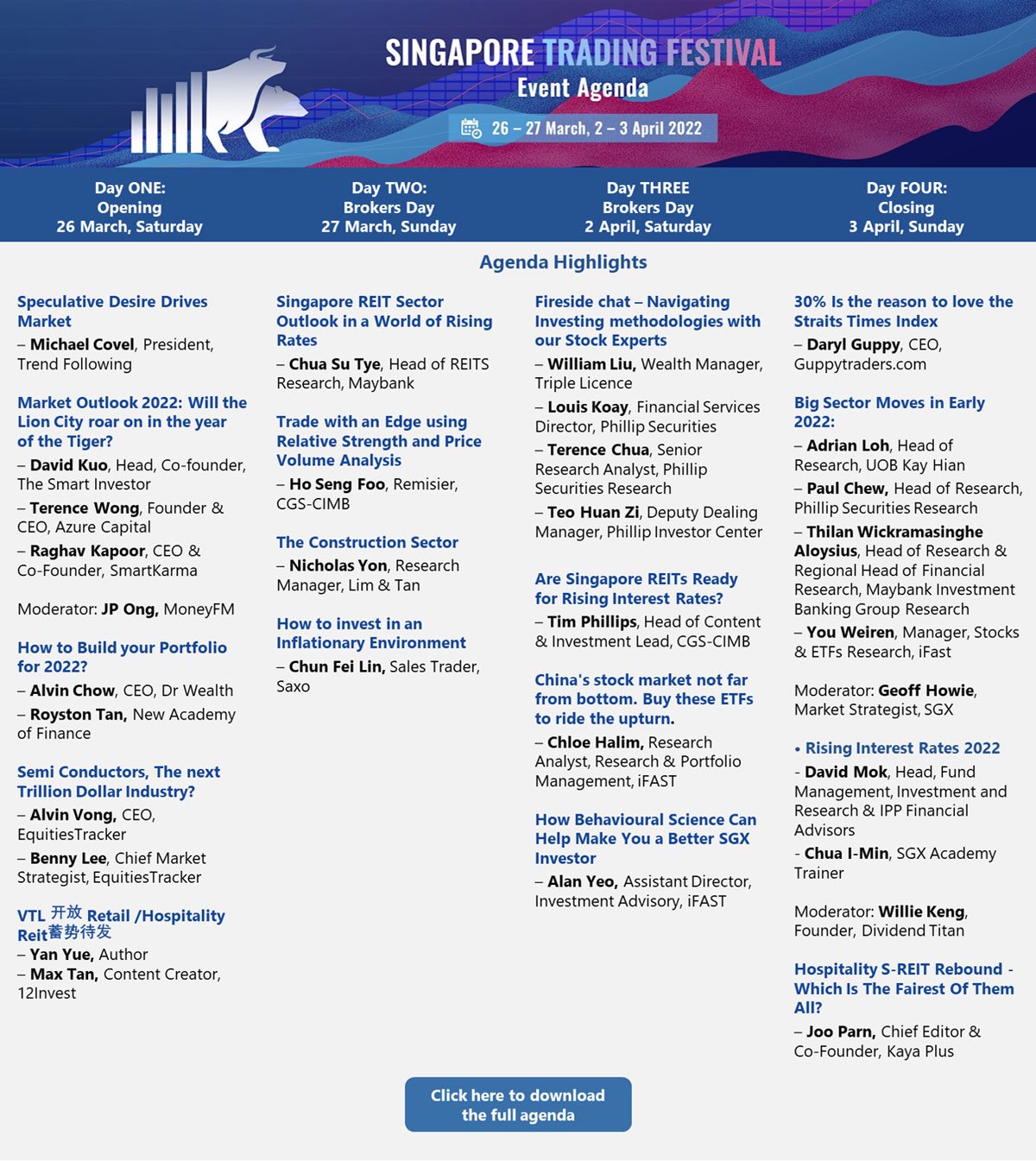 There are many interesting talks in this 4-day festival and you can find the whole agenda here.
That said, let me just cherry-pick 1 intriguing event that I would join myself for each day:
Day One [26 March]
I would love to hear about the 'Semiconductors, the Trillion Dollar Opportunity'.
AI and IoT, in particular, have sparked a new wave of innovation in the semiconductor industry. Manufacturers who can meet the needs of both AI and the IoT for semiconductor chips will likely rise to the top in future markets.
Some notable players are like Intel, Nvidia, AMD and TSMC. In Singapore, we also have semiconductor-related stocks like AEM, Grand Venture and Frencken Group.
Day Two [27 March]
Many REIT lovers in Singapore would probably be keen to know how to navigate amid the rising interest rate environment.
Hence, I think this event 'Singapore REIT Sector Outlook in a World of Rising Rates' will be an eye-opener and for readers to ask many burning questions too.
My own REITs watchlist include Capitaland China Trust, Digital Core REIT and Digital Core REIT.
Day Three [2 April]
On a personal note, I am also a fan of China/HK stocks despite them being hammered badly during the past year.
Hence, my pick would be this event called 'China's stock market not far from bottom. Buy these ETFs to ride the upturn'.
The ETF that sprang to my mind would probably be – OCBC Securities Hang Seng TECH ETF. It comprises of those popular tech stocks like Alibaba, Tencent, Xiaomi, Xpeng and more~
You can check out the holdings breakdown here.
Day Four [3 April]
To end off, I would probably attend the Panelist event – 'Big Sector Moves in Early 2022'.
If I am not wrong, one of the topics that are guaranteed to come out is the Russia-Ukraine war and what to do to ride on the oil/wheat/commodities prices surge.
Winners like Rex International, RH Petrogas and Geo Energy have already benefitted from the share price increases these past few months. On the flip side, investors would probably need to avoid counters that incur higher commodity costs directly e.g. QAF – wheat, SIA – oil and SBS Transit/ComfortDelgro – oil.
Anyway, with all the Heads of Research coming under one banner, this Panelist event is sure to offer a lot of insights. Prepare your questions beforehand!
Take advantage of this Free Virtual Event
Singapore Trading Festival 2022 is happening from 26 – 27 March and 2 -3 April 2022.
Want to attend a specific webinar but busy during that time period? No worries at all!
The live sessions will be recorded and available for replay the next day. Sign up and you can login to the platform to watch the webinar replays later on.
SmallCapAsia is honoured to be a media partner of the Singapore Trading Festival 2022, and we hope to see you on the inside!