Human resources provider Sheffield Green is seeking to raise over S$6 million through a Catalist IPO on the Singapore Exchange.
The counter is expected to begin trading on 30 Oct and its market capitalization will be S$46.6 million upon listing.
Looking for a company to tap on the clean energy wave? Then you need to read the 7 quick things to know about Sheffield Green below…
About Sheffield Green
Headquartered in Singapore with subsidiaries incorporated in Singapore, Japan and a branch office in Taiwan, Sheffield Green provides 2 main segments of HR solutions namely:
Provision of human resource services – Able to supply a wide range of personnel in accordance with its clients ranging from management personnel (including C-suite personnel), technical personnel, to offshore crewing personnel across industry sub-segments.
Ancillary Services – The Group provides a range of end-to-end ancillary services related to the provision of personnel, which include primarily visa and work permit applications, training and deployment logistics.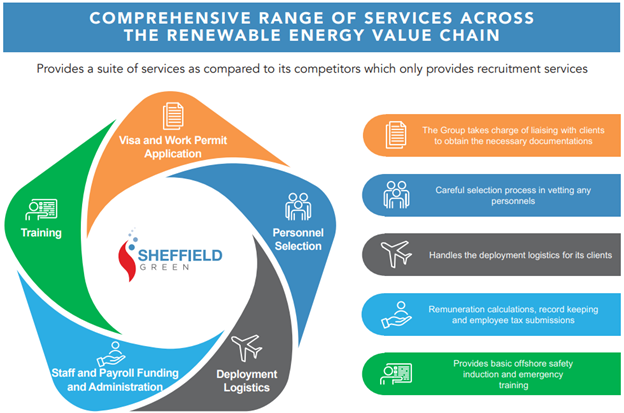 As seen from the picture above, Sheffield Green stands out among its competitors in that it offers a suite of services such as handling the deployment logistics for clients and even basic offshore training as compared to firms who only provide recruitment services.
Incorporated in Singapore in 2021, Sheffield Green is the renewable energy spin-off of Sheffield Energy – a global recruitment company formed over 30 years ago.
Sheffield Green IPO Details
A total of 24 million shares will be offered at $0.25 each, of which 3.6 million will be catered for retail investors, while the remaining is set aside for placement shares.
For those interested to invest in Sheffield Green's IPO, you can invest via the following methods:
ATMs and internet banking websites of DBS and POSB
Mobile banking interfaces of DBS and POSB
The "printed WHITE Public Offer Application Form"
Applications for this IPO will be open on 16 October, and will end on 26 October (Thursday) at 12 noon.
| | |
| --- | --- |
| Opening Date and Time | 16 October 2023 (immediately upon the Registration of the Offer Document) |
| Closing Date and Time | 26 October 2023 at 12 noon |
| Commence trading | 30 October 2023 at 9 a.m. |
Use of IPO Proceeds and Growth Plans
The estimated net proceeds to be raised from the Offering, after deducting the IPO expenses of S$2.2 million (37%), amount to an approximate S$3.8 million.
Sheffield Green plans to utilize around S$2.1 million (35% of the IPO proceeds) to set up new overseas offices and expand its geographical presence in locations where there are significant renewable energy related activities.
Next, Sheffield Green intends to allocate around S$1 million to expand its complementary offerings to better serve its clients. Some of the initiatives include:
Developing and operating in-house capabilities to minimize reliance on third-party service providers
Explore acquisition and/or strategic partnership opportunities with 3rd-party services providers such as industry trainers, immigration and travel logistics solutions providers
Diversify its staffing solutions segment by providing services further along the value chain, such as providing relevant technical services to its clients such that the client does not have to manage the employees directly
For instance, the Group already has plans to establish training schools and centres in Taiwan to conduct lessons for renewable energy personnel within an estimated 1 year from the listing date.
On top of that, according to an interview with the Business Times, the company plans to open an office in Poland by November 2023 and another one in Boston, United States by 1Q2024, given that work has begun on its first offshore wind project in New York.
Sheffield Green Financial Performance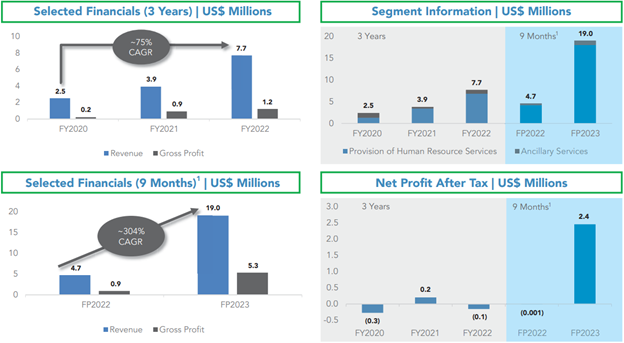 Sheffield Green saw its revenue skyrocket from US$2.5 million in FY2020 to US$7.7 million in FY2022, translating into a ~75% compounded annual growth rate. The sharp revenue jump in FY2022 can be attributed to 2 main reasons:
Securing of new projects in FY2022: 2 in Taiwan, 6 in France and 1 in Japan and
Increase in personnel for the existing projects in Taiwan and France
One important thing to note is that in the first 9M FY2023, the company saw its revenue hit US$19.04 million, 4x that of US$4.7 million sales generated in the past one year.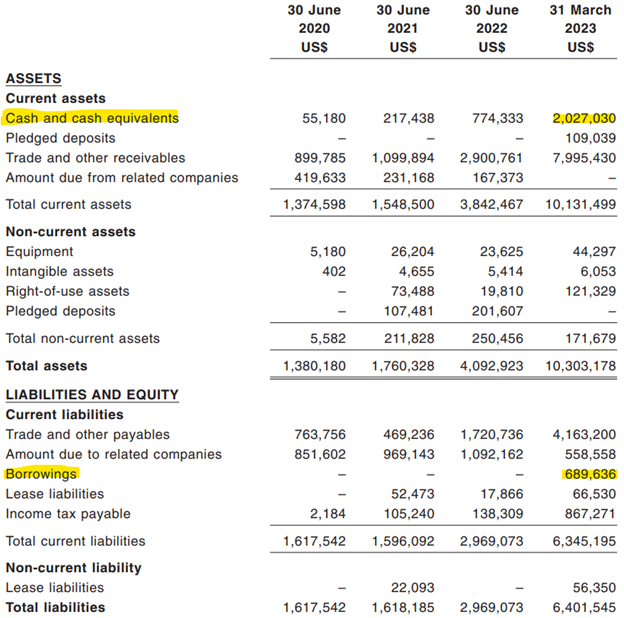 Sheffield Green also possesses a pristine financial position as its cash and cash equivalents can more than cover the borrowings as of March 2023.
How "Sheffield Green" was spun off from the Parent Company
Post-IPO, Sheffield Green's Chairman and CEO Mr. Kee Boo Chye will be the controlling shareholder with an approximately 72.88% deemed stake in the firm by virtue of his 58.35% interest in the parent company – Sheffield Energies Pte. Ltd as highlighted in the picture above.
Mr. Kee Boo Chye who has now over 20 years of experience in the business of providing HR services in the energy sector, founded "Sheffield Energies" around year 2000. Back then, the company was focused on providing manpower, staffing and human resource services in the oil & gas and marine industry.
Around the year 2015, Mr. Kee Boo Chye expanded the business of Sheffield Energies towards the provision of such services in the renewable energy industry in Europe underpinned by the growing global emphasis on achieving a carbon-neutral vision and the transition towards sustainable and renewable energy sources.
The Renewable Energy Business futher expanded to Taiwan and Japan in 2018 and 2021 respectively in order to capitalize on increasing support for the renewable energy by the government authorities.
After which, Mr. Kee Boo Chye decided to carve out the Renewable Energy Business from the holding company to allow the Group to be more strategically positioned to benefit from the developing trends in the renewable energy industry.
How Sheffield Green can leverage on the renewable energy boom
According to its prospectus, IEA predicts that the drive towards renewable energy capacity expansion will inevitably increase demand for renewable energy employment. Based on the industry research, the firm expects revenue to grow as the wind energy sector expands, with jobs in the renewable energy industry set to triple from 12.7 million in 2021 to 38.2 million worldwide by 2030.
In addition, there is one pressing problem faced by many renewable companies – a lack of experienced personnel in this new sector. Hence, Sheffield Green hopes to tap on the increased focus on the training of local workers by setting up various overseas offices.
Sheffield Green IPO Valuation and Dividend Policy
If we were to annualize the 9M FY2023 EPS of 1.32 Singapore cents post-IPO, the FY2023 forward EPS will be 1.76 Singapore cents.
The forward FY2023 P/E ratio is calculated to be 14.2x based on the IPO price of S$0.25.
While Sheffield Green revealed that it does not adopt a formal dividend policy, it plans to recommend not less than 30% in net profits for FY2023 to FY2024 to reward its shareholders.
Conclusion
To end off, governments worldwide are increasingly advocating for sustainability, implementing policies to promote renewable energy adoption and address environmental concerns.
Hence, Sheffield Green IPO comes at an opportune time to leverage on this trend as more companies are incentivized to hire more personnel trained in this field across the globe.