On 29 December 2021, Senheng New Retail Bhd IPO ('Senheng IPO') has launched at RM 1.07 a share and its market capitalization shall be lifted up to RM 1.605 billion upon listing.
The closing date of Senheng IPO subscription is on 10 January 2022 and its shares would be listed on 25 January 2022.
You may download its IPO Prospectus: Part 1, Part 2 and Part 3 to access it prior to investing in Senheng.
Alternatively, you may spend 5-10 minutes here, where I summarize 9 key things to know about Senheng. 
#1: Retail Network 
Senheng runs a chain of retail network which sells digital gadgets, audio visuals, and home appliances under 4 different concept stores namely:
Presently, Senheng concentrated its outlets in the Central Region of Malaysia as 37 out of its 105 stores are situated in Selangor, Kuala Lumpur, Putrajaya, and in Negeri Sembilan.
As for its other outlets, they are well-balanced geographically. Senheng has 22 stores in the Northern region, 18 stores in the Southern region, 12 stores in the East Coast, and 16 stores in Sabah and Sarawak.
Note: LPD refers to 30 November 2021. 
#2: Retail Products 
Senheng carries 10,000 stock-keeping units (SKUs) from over 280 brands. These brands also include Samsung, LG, Sony, Panasonic, Apple, Huawei and Sharp.
At present, these SKUs are categorised in 3 different categories as follows:
In addition, Senheng generates additional income from provision of installation, delivery, maintenance, and repair services of retail products and as well as from concessions to allow third parties to use retail spaces at Senheng's stores to sell their products. They accounted for less than 5% of annual revenues for the past 3 years (2018-2020).

#3: Loyalty Programme
Senheng runs a loyalty programme which is known as PlusOne. The programme offers members several benefits that mainly include reward points, rebates and extended warranty coverage of up to 24 months on top of standard warranty of the products' manufacturers.
As of 30 November 2021, Senheng has amassed a total of 3.24 million registered members and out of which, 1.04 million of these members have made a purchase for the last 3 years and thus, are considered as active members.
These PlusOne members contributed 94.2%, 96.6% and 97.5% of Senheng's annual revenues in 2018, 2019 and 2020. 
#4: Financial Results
In 2018-2020, Senheng had reported RM 1.1-1.3 billion in annual revenues.
The company maintained its profit after tax (PAT) margin at 4-5% and hence, earned RM 50-60 million in PAT per year over the last 3 years.
In 1H 2021, Senheng had reported better sales and profit figures than 1H 2020 as Senheng was impacted by the movement control order (MCO) during the period.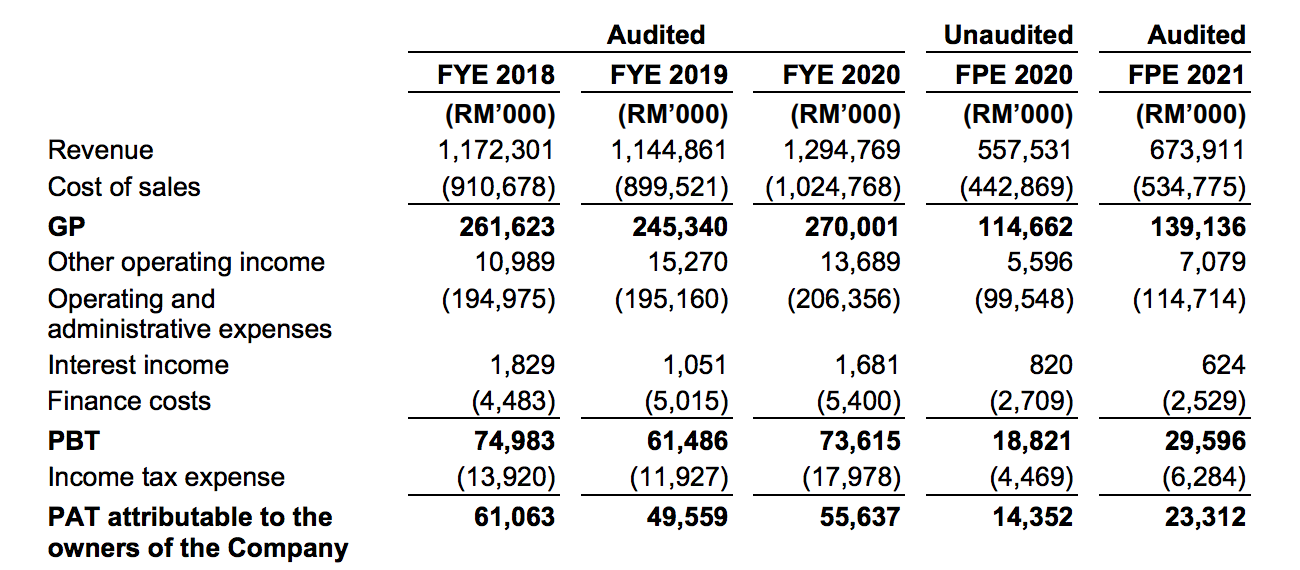 #5: Balance Sheet Strength 
Since 2019, Senheng has maintained its gearing ratio at 0.3-0.4 levels:
#6: Utilization of IPO Proceeds 
Senheng intends to raise RM 267.5 million in gross proceeds and the company's intentions of utilizing them are as follows: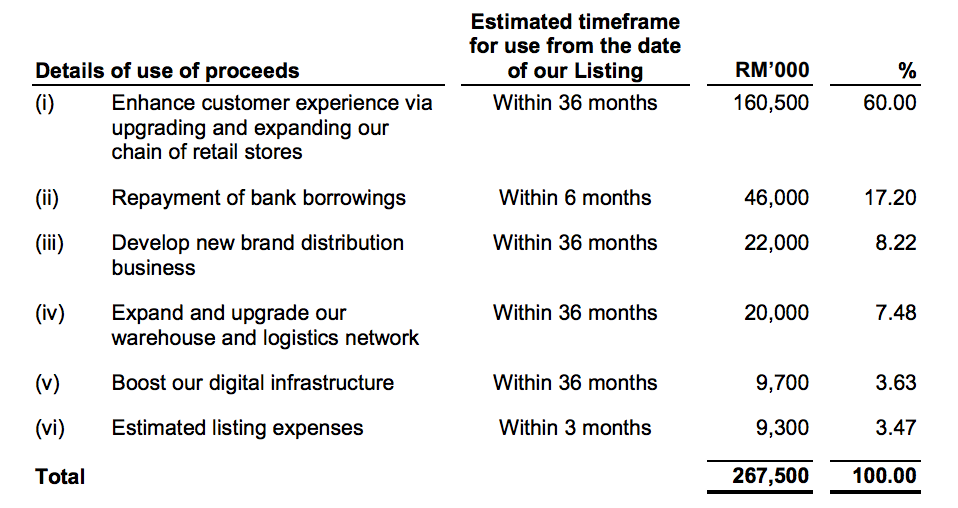 a. Retail Store Upgrades and Expansion (RM 160.5 million) 
On 30 November 2021, Senheng has a retail network of 105 stores consisting of 1 GSE store, 38 GS stores, 36 Senheng stores, and 30 SenQ stores. These outlets include 10 stores that were either opened or upgraded since 1 January 2021. 
From 30 November 2021 to 2024, Senheng intends to introduce 63 outlets. The 63 stores can be new stores to be opened or an upgrade from its existing stores to larger concept stores such as GSE and GS stores and Grand SenQ.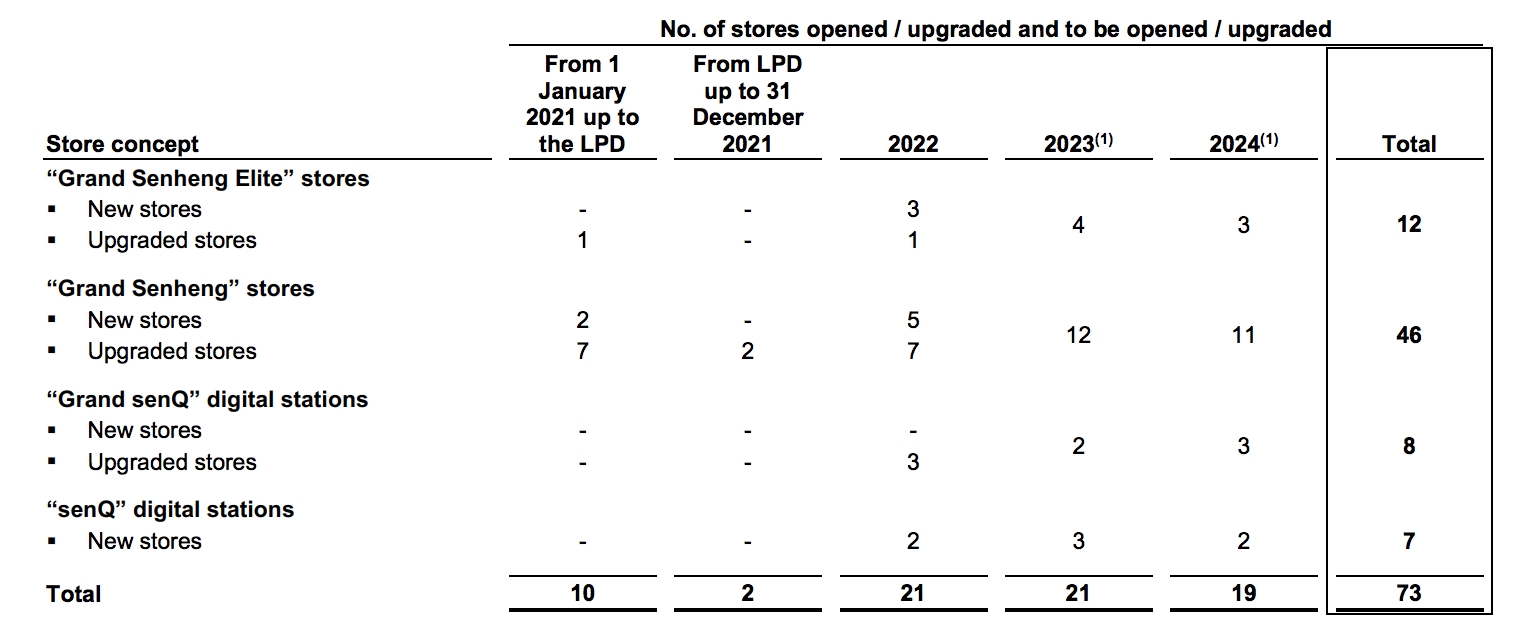 Here is a breakdown of its budget allocation for retail upgrade and expansion:
b. Repayment of Bank Borrowings (RM 46.0 million) 
These include repayments of term loans, from Public Bank, Hong Leong Islamic, and RHB, totalling RM 45.84 million.
Upon repayment, Senheng would save as much as RM 1.67 million in interest payments a year based on a weighted average effective interest rate of 3.62% per annum. 
c. Brand Distribution Business (RM 22.0 million) 
Senheng is presently the exclusive distributor of ROBAM kitchen appliances and JIMMY vacuum cleaners and hair dryers in Malaysia.
On top of that, it has officially launched Delighto – its own cookware brand in August 2021.
Most of the funds would be used to purchase inventories of the brands stated above, contract manufacturing and marketing expenses. 
d. Warehouse and Logistic Network Upgrade and Expansion (RM 20.0 million) 
This upgrade and expansion include 3 parts:
Construction of a new warehouse in its regional hub located at Kota Kinabalu

Relocation of existing Kuching hub to a larger warehouse and

Construction of the Bintulu regional hub to support its retail operations
e. Digital Infrastructure (RM 9.7 million) 
This includes the establishment of a centralised data repository platform that is known as a data lake.
This will enable higher efficiency in data sharing, assess more complicated data, and to facilitate better customer service.
In addition, Senheng plans to set-up a cloud-based disaster recovery system and enhance its existing WMS and ERP systems.
#7: Major Shareholders
Lim Kim Heng, Lim Kim Chieng and Lim Kim Yew are substantial shareholders of Senheng via their direct interests in the company and indirect interests held via SQ Digital Sdn Bhd.
They are siblings and are members of the board of directors at Senheng. Lim Kim Heng is its Chairman, Lim Kim Chieng is its President, while Lim Kim Yew is a Non-Executive Director of the company.

#8: Dividend Policy 
Senheng targets to pay out at least 30% of its PAT to its shareholders. 
#9: Valuation
As mentioned, Senheng is offering its IPO shares at RM 1.07 a share.
Hence, the offer is valued at P/E Ratio of 28.8x, based on 3.7 sen in earnings per share (EPS), which is calculated based on 2020 PAT and 1.5 billion shares upon listing. 
Conclusion: 
In summary, Senheng has 105 stores to-date and for the last 3 years, it had kept its revenues and PAT at RM 1.1-1.3 billion and RM 50-60 million a year.
Senheng has 1.04 million active PlusOne members and it plans to further grow its stores, introduce new retail brands and build on its logistic network.
Here, as investors, the onus is to decide on the valuation of the offer and compare with stocks that are of similar industries before investing in it. 
---
Billionaire Warren Buffett is arguably the most successful investor of all time.
Learn the secrets to Warren Buffett's investment success by downloading the Free Guide below: