On 27 April 2023, Radium Development Bhd (Radium) issued its IPO Prospectus (Part 1 and Part 2) and extended an invitation to subscribe its shares at 50 sen a share.
Source: Page 11 of Radium's IPO Prospectus
Upon listing, Radium's market capitalisation would be lifted up to as high as RM 1.73 billion.
The IPO subscription will end on 16 May 2023 & its listing date is set to be on 31 May 2023. 
Here, I'll summarise 7 things to know before subscribing to its shares. These are as follows: 
#1 Corporate Profile
Radium is a developer of high-rise properties in Kuala Lumpur. The properties it develops would include condominiums, apartments, and SOHO units.
Presently, Radium has 4 completed projects, 4 ongoing projects and 1 land held for future development. Their details are as follows: 
1. Completed Projects

2. Ongoing Projects
3. Land bank
Radium has a 5.31-acre leasehold land located at Kuala Lumpur which is held to be developed into a condominium and Residensi Wilayah (Refer Point 4 below).
#2 Financial Results
Source: Page 302 & 303 of Radium's IPO Prospectus
The above profits were contributed by its completed projects and hence, would not contribute materially to Radium's financial results in the near future. 
#3 Ongoing Lawsuit of Residensi Platinum Mira (RPM)
RPM is a serviced apartment project based in Kuala Lumpur valued at RM 377.0 million in Gross Development Value (GDV).
It is developed by Platinum Integrity (PI), a 80%-subsidiary of Radium. In 2017, PI acquired the site known as Lot 810 and received the approval from DBKL (KL City Hall) to develop RPM. But in the same year, PI and DBKL had received a lawsuit against them. 
This suit was related to Lot 810, where DBKL had previously planned to build an access road (known as Jalan Jejaka 1) to serve the local community. But, in view of RPM, DBKL had opted not to acquire Lot 810. Instead, DBKL had approved an alternative road.
Presently, this lawsuit is still ongoing. Its solicitors had advised against proceeding with its construction. Thus, PI would not derive any revenue from RPM for the time-being. 
#4 Utilization of IPO Proceeds
Radium intends to raise RM 434.0 million in gross IPO proceeds and use them: 

Source: Page 17 of Radium's IPO Prospectus
1. Acquisition of landbank and/or development expenditure (RM 171 million)
Presently, Radium has shortlisted 3 parcels of land at Mukim Petaling. Of which, 2 parcels of land would be acquired while 1 parcel of land shall be developed as a joint venture.
In addition, on 20 September 2022, Radium has entered into an agreement with Kadar Jutajaya Sdn Bhd (KJSB) to jointly develop on its land 932 units of condominium and 404 units of Residensi Wilayah.
At present, based on its IPO Prospectus, this project is now in its planning stages and Radium expects to launch the project for sale and commence its construction in 1H 2024. 
2. Repayment of Bank Borrowings (RM 94 million)
Of which, Radium expects annual interest savings of RM 4.95 million. 
3. Hotel Construction (RM 109 million)
Radium has embarked on the development of Suite Canselor which has 1 tower of SOHO together with its hotel component.
The hotel component consists of: 

The cost breakdown of this hotel is as follows:

Source: Page 23 of Radium's IPO Prospectus
Radium had provided an indicative timeline for its hotel construction project as follows: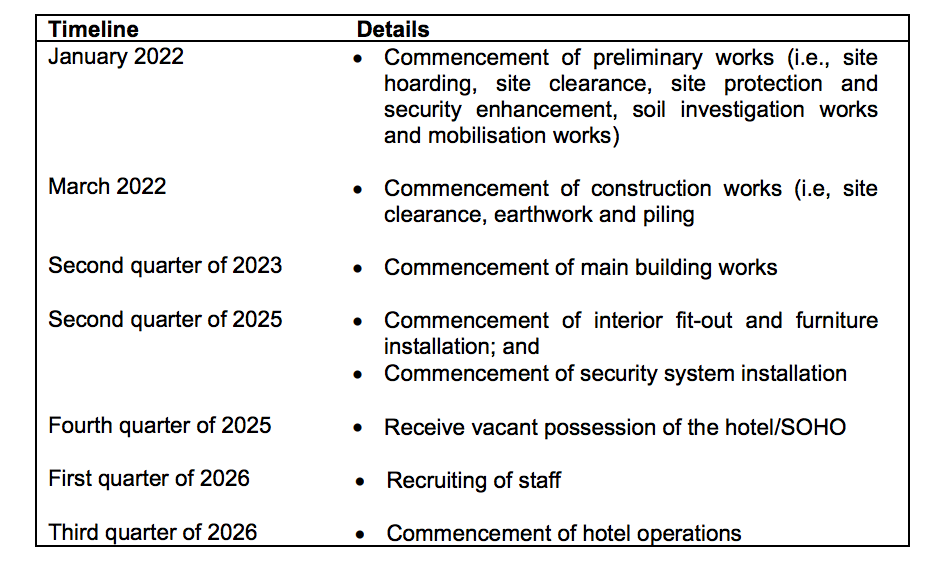 Source: Page 23 of Radium's IPO Prospectus
4. Working Capital (RM 40 million)
It refers to administration, marketing, branding, sales, and staff costs. 
5. Estimated Listing Expenses (RM 20 million)
#5 Major Shareholders

Source: Page 28 of Radium's IPO Prospectus
Datuk Gan Kah Siong, Gan Tiong Kian and Gan Kok Peng remain as Radium's key shareholders upon listing. Datuk Gan Kah Siong is the biggest shareholder.
He is appointed as Radium's Group Managing Director. Meanwhile, both his brothers are appointed as its Executive Directors. 
#6 Dividend Policy
Radium aims to pay out a minimum of 30% of its PAT to its shareholders.
So, for Radium, it recorded 2.93 sen in 2021 EPS and thus, would be paying out at least 0.88 sen in dividends per share (DPS).
Based on 50 sen per share during its IPO launch, the initial dividend yield would be 1.76% per annum.
#7 Valuation 
Based on its IPO price of 50 sen, the offer is valued at P/E Ratio of 17.06.
This is calculated based on its 2021 EPS of 2.93 sen. 
Conclusion
Radium had completed 4 development projects and had profited from them for the 3-year period in 2019-2021.
These projects would not contribute materially to Radium as these properties were handed over to its buyers.
At this point, the company depends on a few key projects to generate revenues and profits in the immediate term. They include: 
Suite Canselor

Residensi Desa Timur 

932 units of condominium and 404 units of Residensi Wilayah
As such, past success is an indication of its development track record. It doesn't guarantee Radium's future success.
As an investor, it is important to understand and assess the above projects and the implications of RPM before investing.