On 28 April 2023, DXN Holdings Bhd. (DXN) issued its IPO Prospectus and launched the IPO at 76 sen a share, which represents a price-to-earnings ratio (PER) of 15.6x.
You can check out the various parts of the prospectus below:
The IPO will result in a market capitalisation of RM 3.8 billion upon listing. The invitation shall end on 9 May 2023 and its listing date is set on 19 May 2023. 
Source: Page 19 of DXN's IPO Prospectus
Here, I'll summarise 7 things to know about DXN before investing.
#1 Business Model
DXN is a global direct-selling or MLM company in short.
Founded in 1993 by Datuk Dr. Lim Siow Jin, DXN is well-known for its Ganoderma or "Lingzhi" mushroom-related products.
Its product lines include dietary supplements, food and beverages, personal care products, skin care and cosmetics, household products and water treatment system.

On 30 September 2003, DXN Holdings Bhd was listed on the Main Board of Bursa Malaysia. DXN was delisted on 27 December 2011 due to a take-over offer by the founder.
Presently, DXN has:
2 R&D facilities (1 in Malaysia; 1 in China)

6 Cultivation facilities (Malaysia, China, and India)

10 Manufacturing facilities (Malaysia, China, India, Mexico & Indonesia)

327 Stock-Keeping Units (SKUs) 

79 sales branches and 12 external exclusive distribution agencies. 

14.9 million registered members (3.6+ million active members). 

Market presence in 48 countries. 
#2 DXN's 4 Product Categories
DXN separates its 329 SKUs into 4 main categories: 
Source: Page 146-149 of DXN's IPO Prospectus
Of which, FFB remains as DXN's largest revenue contributor, accounting for 60% – 70% of total revenues in 2020-2022.
This is followed by HDS for it had brought in 20% – 30% of DXN's total revenues in that 3-year period.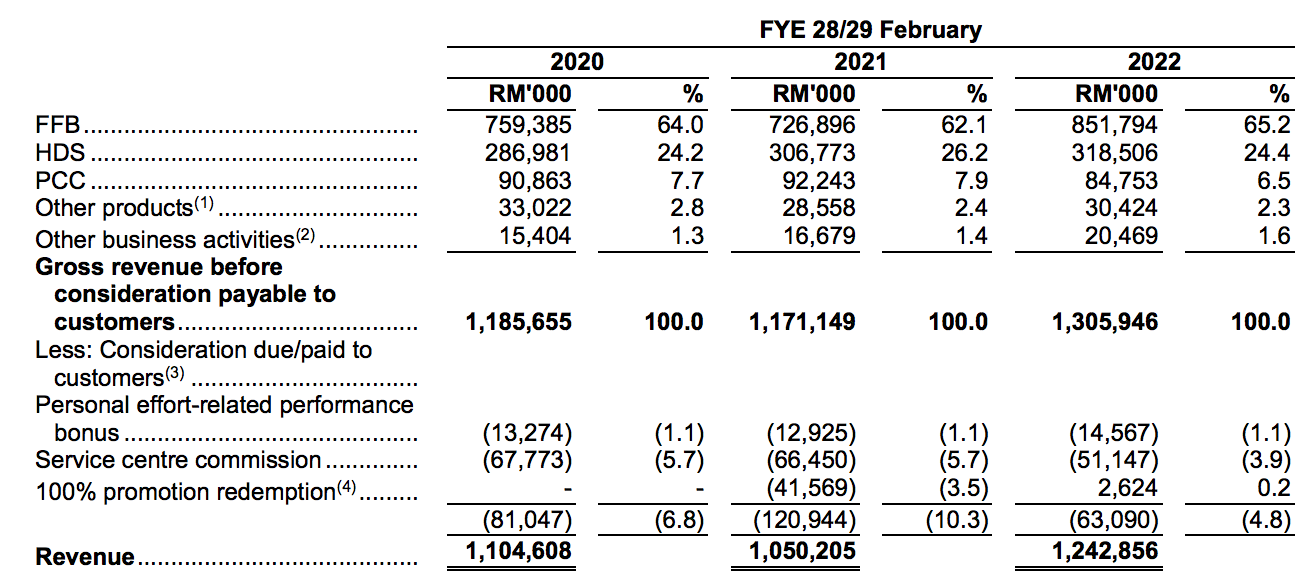 Source: Page 331 of DXN's IPO Prospectus
#3 Geographical Markets 
The top 5 markets where DXN had generated its total revenue in 2020-2022 are Peru, Bolivia, Mexico, India and Malaysia.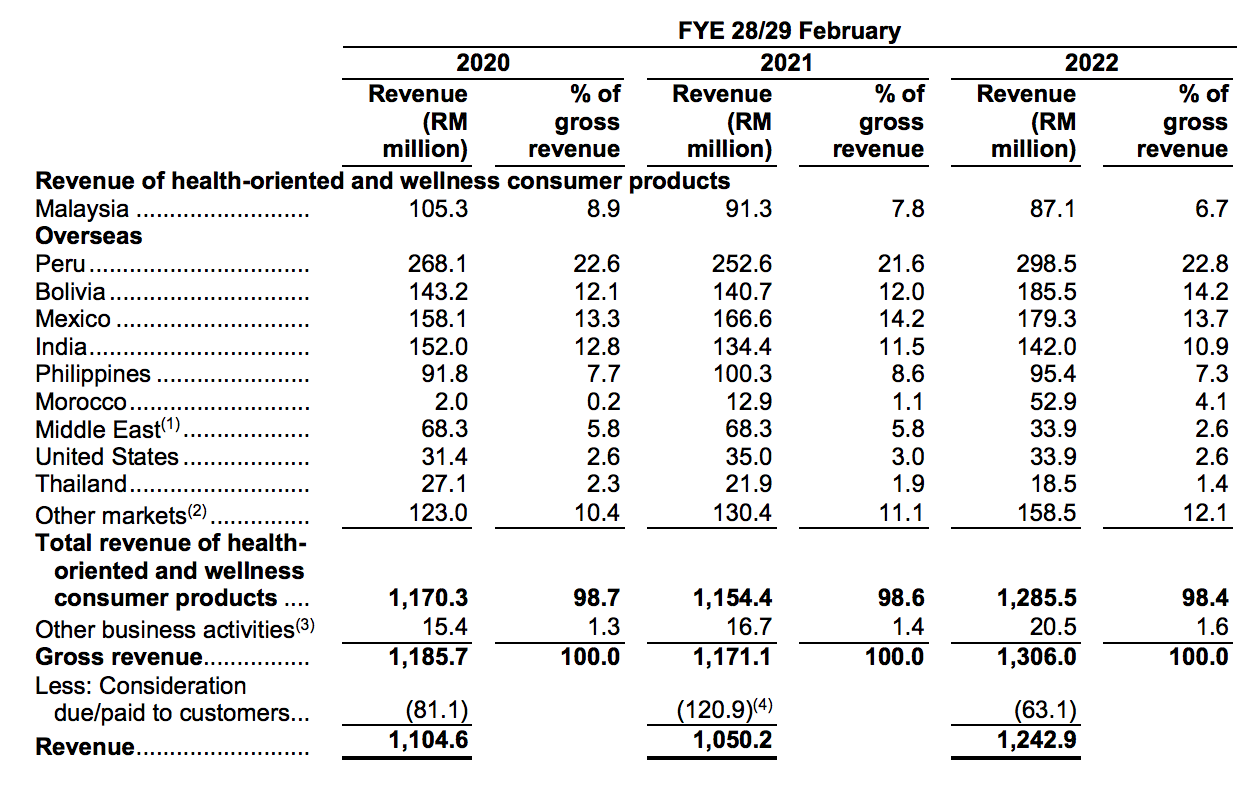 Source: Page 332 of DXN's IPO Prospectus
It is pretty interesting to see how the revenue contribution from its home base Malaysia has declined over the years while Peru, Bolivia and Mexico have surged in the same period.
#4 Financial Results 
DXN was listed on Bursa Malaysia on 30 September 2003. 8 years later, DXN was delisted after it was privatised and taken over by joint offerers as follows: 
Deras Capital Sdn Bhd (now known as LSJ Global)

DXN Group Sdn Bhd

Temasek Sejati Sdn Bhd

Dato' Lim Boon Yee

Lim Yew Lin
In 2011, the offer price was RM 1.75 a share (market cap: RM 393.7 million). After it was privatised, DXN's management had: 
Expanded into 14 new markets.

Increased sales in Peru, Bolivia, Mexico and India (its key markets). 

Invested in building and expanding its production facilities. 

Disposed its non-core businesses namely, property development. 
Hence, its business operations had expanded as follows:
Source: Page 82 of DXN's IPO Prospectus
As a result, DXN attained an impressive 11-year CAGR of 14.53% and 17.44% on its sales and earnings respectively.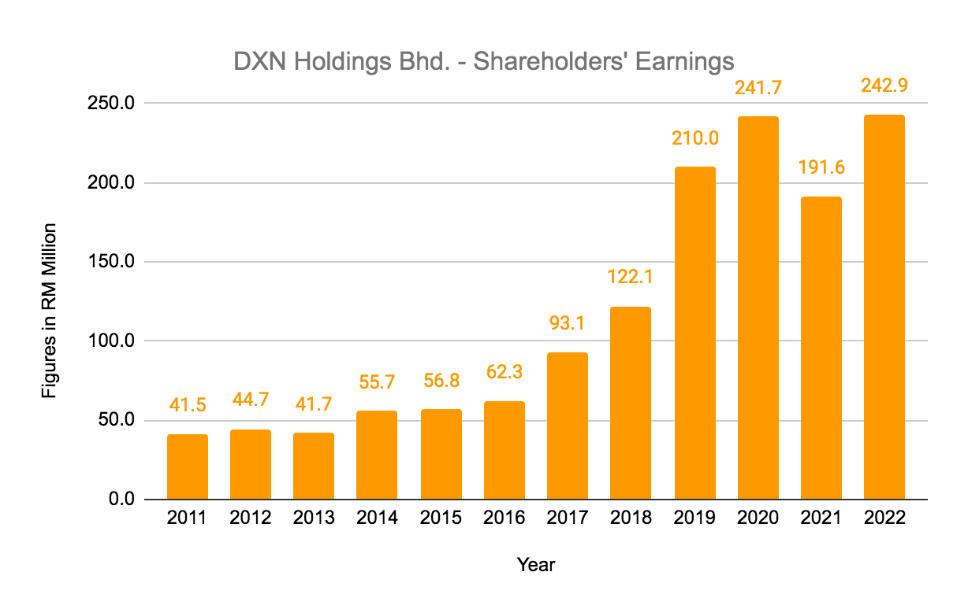 Source: Page 86 of DXN's IPO Prospectus 
#5 Expansion Plans
DXN has revealed the following key strategies to grow in the future: 

1. Construction of DXN Cyberville, Cyberjaya

On 10 November 2022, DXN completed the construction of DXN Cyberville. The facility is a 3-storey wellness & retreat centre which offers ganotherapy & many other natural health treatments using DXN's products. 
2. Construction of Manufacturing Facility in Pondicherry, India
This project has been completed in Q4 2022. It manufactures Spirulina cereal & Cordyceps cereal products. The facility is intended to meet growing demands in India and its nearby countries. 
3. Construction of Manufacturing Facility in Tlaxcala, Mexico
The facility has commenced production of its coffee products in Q3 2022. DXN's next step is to set up productions for its food supplement and juice products.
In its IPO Prospectus, DXN aims to commence such productions in Q3 2023. 
4. Planned Expansion Plans
In addition, DXN has revealed the following plans to construct the below too: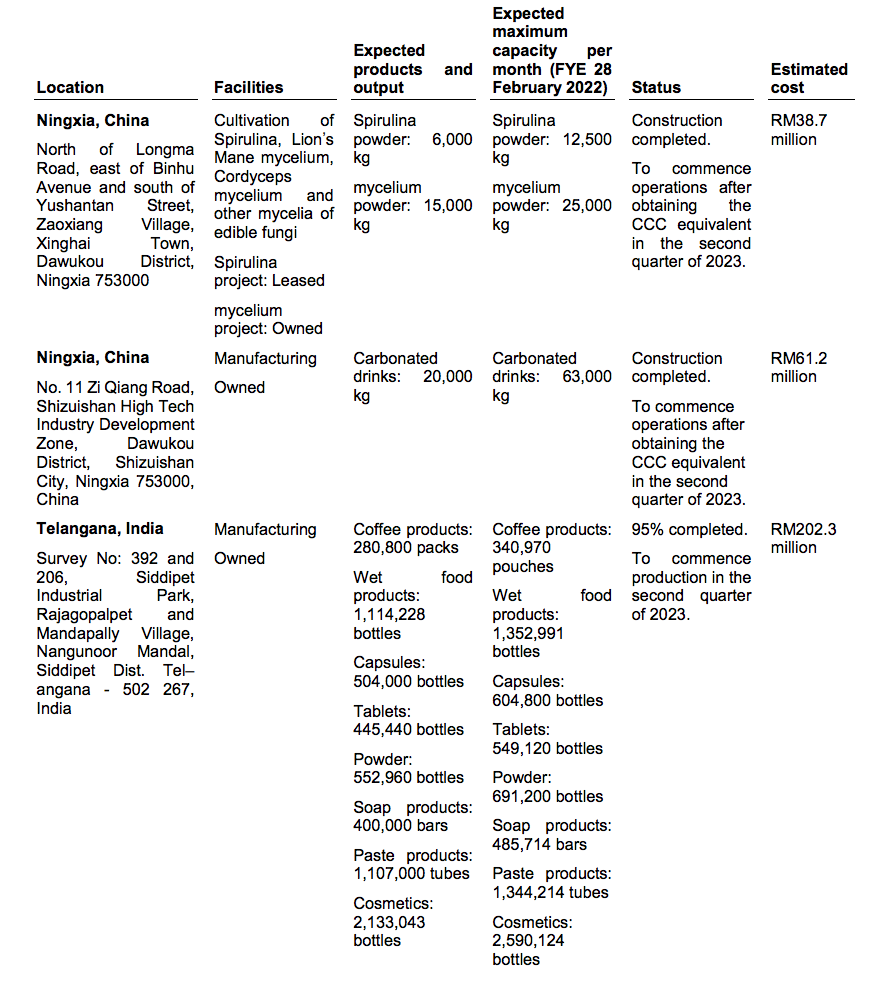 Source: Page 169 of DXN's IPO Prospectus
5. New Markets
Also, DXN is looking to expand into five markets globally. They are as follows: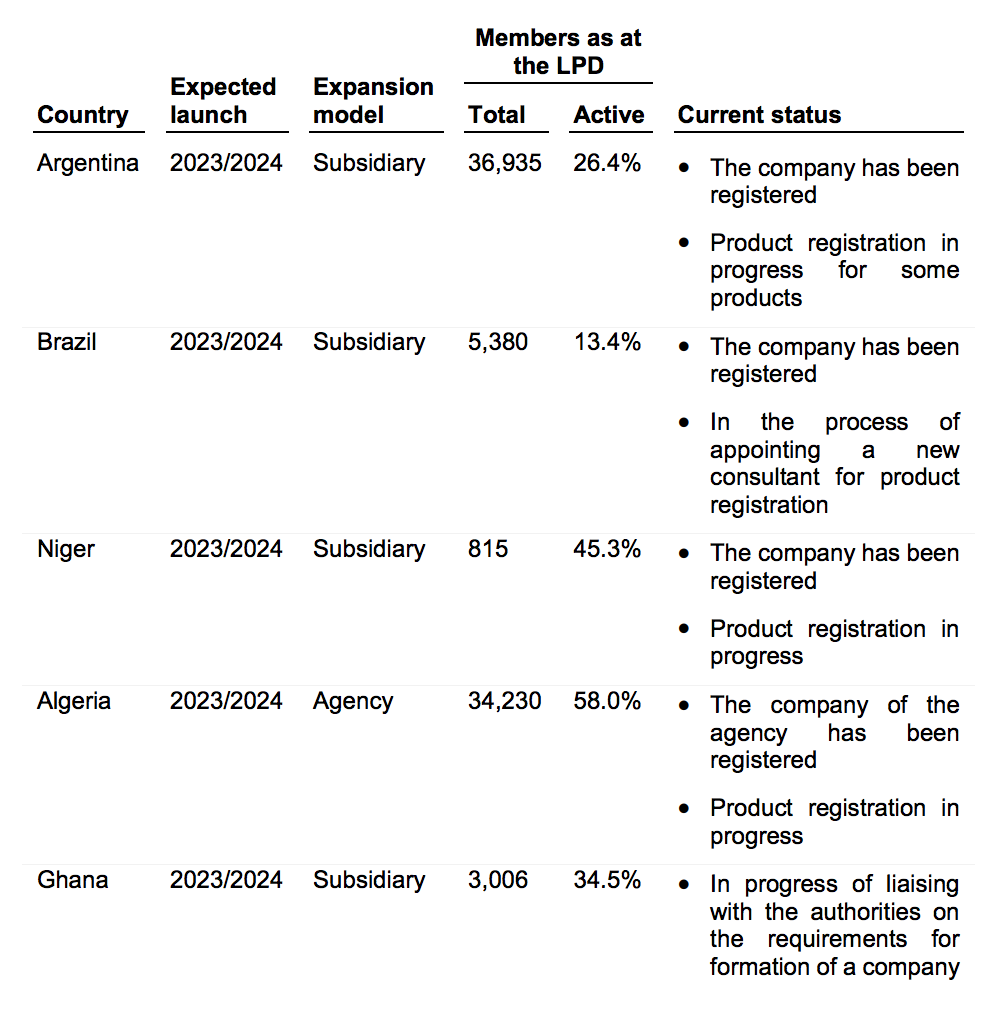 Source: Page 124 of DXN's IPO Prospectus
#6 Utilisation of IPO Proceeds
DXN intends to raise as much as RM 121.6 million in gross IPO proceeds. Of which, DXN plans to use them in the following manners: 

Source: Page 17 of DXN's IPO Prospectus
1. Repayment of Bank Borrowings (RM 80.0 million)
DXN expects to derive RM 5.83 million in interest savings per annum. Below are the loan facilities that DXN plans to settle: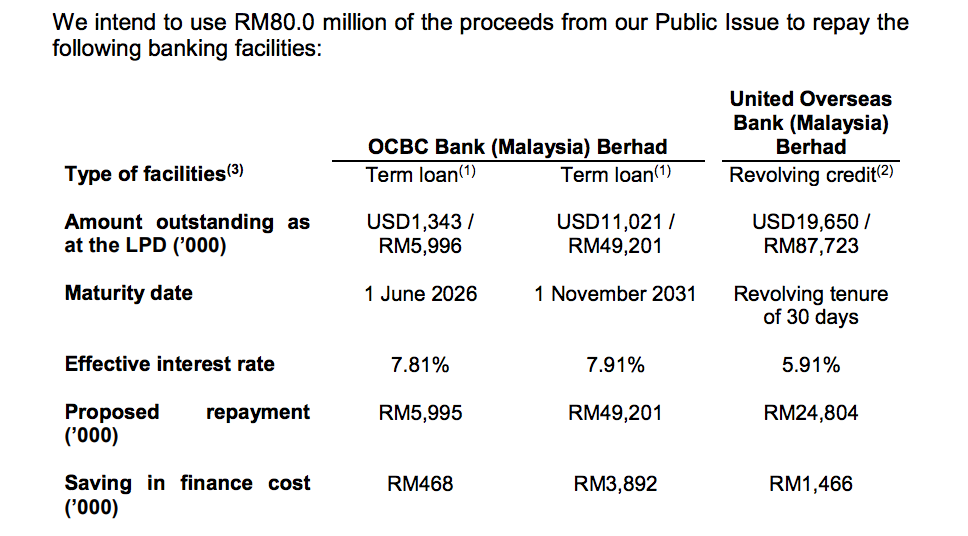 Source: Page 35 of DXN's IPO Prospectus
2. Working Capital (RM 17.5 million)
It refers mainly to its purchase of raw materials namely: 
Coffee powder

Non-dairy creamer

Sugar

Cocoa powder

Wheat cereal powder

Packaging materials
3. Defray fees and expenses for its IPO and listing (RM 24.1 million)
#7 Major Shareholders

Source: Page 234 of DXN's IPO Prospectus
Datuk Lim Siow Jin and Datin Leong Bee Ling would remain as key shareholders of DXN with their interests in LSJ Global.
Datuk Lim Siow Jin will lead DXN as the Executive Chairman of the company. Meanwhile Datin Leong Bee Ling, his wife, sits on its board as its non-executive director. 
#8 DXN Valuation and Dividend Yield
In 2022, DXN had reported to make 4.87 sen in earnings per share (EPS), translating into a P/E ratio of 15.6x based on the IPO price of 0.76 sen.
DXN aims to pay out 30%-50% of its earnings to its shareholders as dividends. If it is able to do so, based on its EPS 2022, DXN's dividends per share (DPS) works out to be 1.46 to 2.44 sen, which equates to an initial dividend yield as much as 1.9% – 3.2% per annum. 
Conclusion
Since its privatisation, DXN had expanded its business and had achieved growth in sales and profits in 2011-2022.
The company has a global presence and has a large network of active members. Moving forward, DXN has a strong pipeline of initiatives to grow its operations.
For investors in Malaysia & Singapore, it offers them a rare opportunity to gain exposure in the Latin American market. The main thing here is for investors to weigh such exposure (both its risks and rewards) and the growth prospects before making an investment decision.