On 3 February 2021, Mobilia Holdings Bhd (Mobilia) had extended its invitation to the public to subscribe its IPO shares at 23 sen a share until 9 February 2021.
Upon completion, Mobilia would issue 400 million shares and as such, lifting its market capitalisation to RM 92 million. Here, you may download Mobilia's IPO's Prospectus as attached below:
In this article, I will run through 5 key things that you may need to know before subscribing to Mobilia IPO shares. 
1. Mobilia's Business Model 
Mobilia is into design and manufacturing of home furniture, where its products include dining room furniture, living room furniture, and bedroom furniture.
Its furniture is manufactured and packaged either in a fully-assembled form or in a ready-to-assemble form.
Since its founding in 2010, Mobilia had gradually grew its furniture manufacturing business as stipulated follow: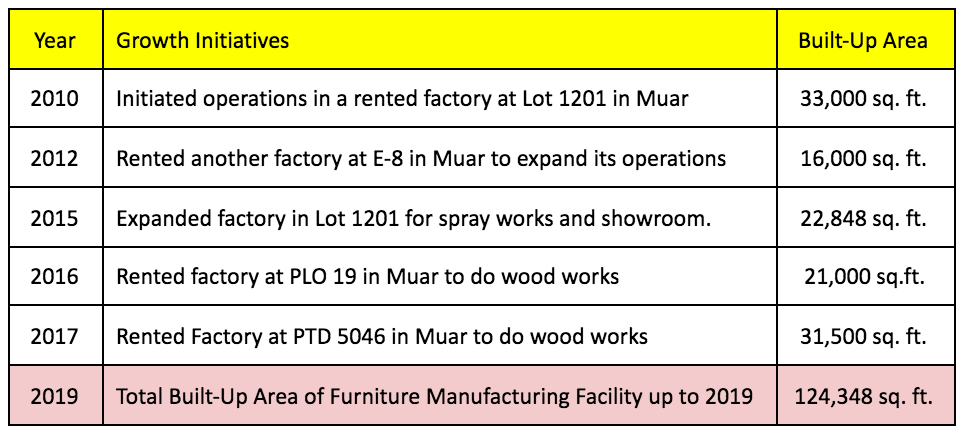 In 2016, Mobilia acquired 16.5 acres of freehold land in Muar for RM 10 million where it would construct its manufacturing plant under three phases:
Thus, its total built-up area of manufacturing plant would be:

2. Mobilia's Marketing Strategies
In 2019, Mobilia derived ⅔ of its sales from export markets and ⅓ from its local market.
This is contributed by Mobilia's initiatives in participating in the fairs all over the world such as:

In 2020, Mobilia revealed a couple of furniture fairs and exhibitions were either postponed or cancelled due to the COVID-19 pandemic. This limits the ability of Mobilia to reach out to new potential customers and expand its customer base.
As I write, Malaysia is implementing the Movement Control Order (MCO) 2.0. It has not disrupted the company in terms of operations. Thus, exhibitions remain unallowed throughout the period of MCO 2.0.
3. Mobilia's Financial Results
Mobilia has achieved rising sales and profits in 2017-2019 except in 2020 which reported a fall in both sales and profits due to disruptions by COVID-19.
Mobilia has increased its borrowings in 2019 as it used it to construct its manufacturing plant under Phase 1A (Refer Note 1).
Nevertheless, it has kept its current ratio at above 1 and had grown its cash balance from RM 5.9 million in 2017 to RM 13.2 million in August 2020.
4. Uses of IPO Proceeds
Mobilia intends to raise gross proceeds of RM 13.8 million from its IPO and had revealed that it would utilise them in the following:
5. Mobilia IPO Valuation
In 2019, it reported RM 8.4 million in earnings. Based on 400.0 million shares, it has an earnings per share (EPS) of 2.11 sen. Mobilia does not adopt a dividend policy at the moment.
Thus, based on EPS 2019, its IPO share is offered at a P/E Ratio of 10.93x. You can compare Mobilia's P/E with other listed furniture stocks in Malaysia as below:

Conclusion:
Mobilia is in the midst of constructing its manufacturing plant in Muar, Johor. In 2020, it had recorded decline in sales and profits as a result of disruption which was brought by the COVID-19 pandemic.
Presently, there are a number of listed furniture stocks in Malaysia with a longer history of listing. Investors may check their fundamentals first and compare them with Mobilia before deciding on it.