LY Corporation Limited, a Malaysian furniture firm, is set to be the 1st to debut on SGX this year 2018.
Here's 5 Things You Need to Know on the company:
1. LY Corporation Limited IPO Details
LY Corporation IPO Prospectus can be found here.
LY Corporation IPO Product Highlights can be found here.
2. LY Corporation Limited Profile and Competitive Advantages
LY Corporation Limited is one of Malaysia's leading manufacturers and exporters of wooden bedroom furniture. Let's summarize its profile in point-form:
Strong track record of approximately 40 years in the furniture industry
Established original design manufacturer ("ODM") & original equipment manufacturer ("OEM") principally engaged in wooden bedroom furniture
Operates from 15 factories and warehouses
Products sold mainly to overseas dealers such as furniture wholesalers and retailers who
– generally resell the products to end-users through their respective retail networks, and
– domestic customers who are primarily third party agents who typically export and resell its products outside Malaysia, such as to the U.S.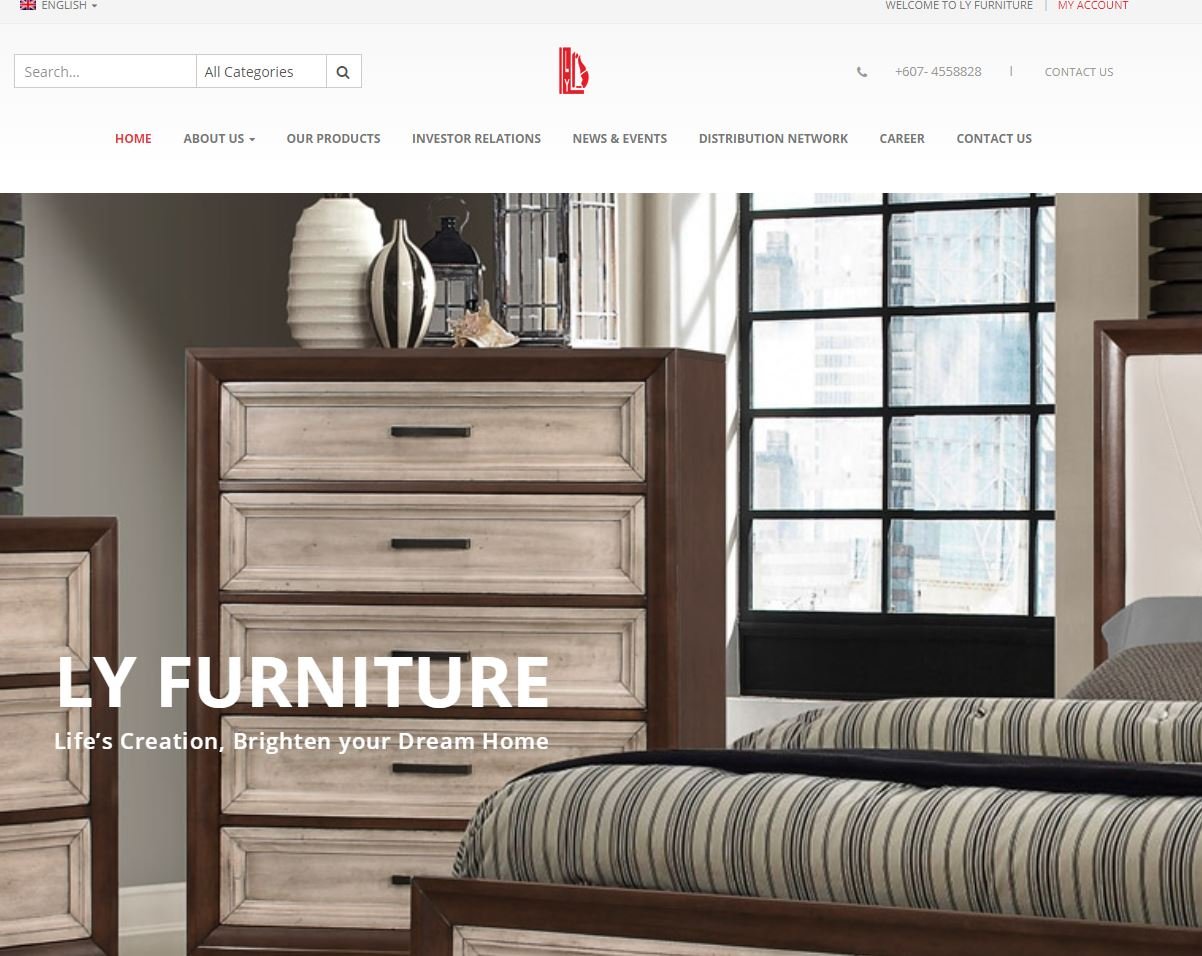 We focus on the main gist of the competitive advantages below:
Established track record of 40 years in the furniture industry since starting out in year 1976.
Experienced and committed management team.
Long-standing relationships with customers and agents with Repeat business accounted for >80% of revenue for FY2016
Low-cost Economic Moat from the following:
– Strong in-house design and development capabilities,
– Established subcontractor network – 19 subcontractors (some of which have worked with LY Corp for >10 years)
– Bulk purchases of raw materials
Quick Turnaround with sufficient raw material inventories and automation into production processes
3. Use of Proceeds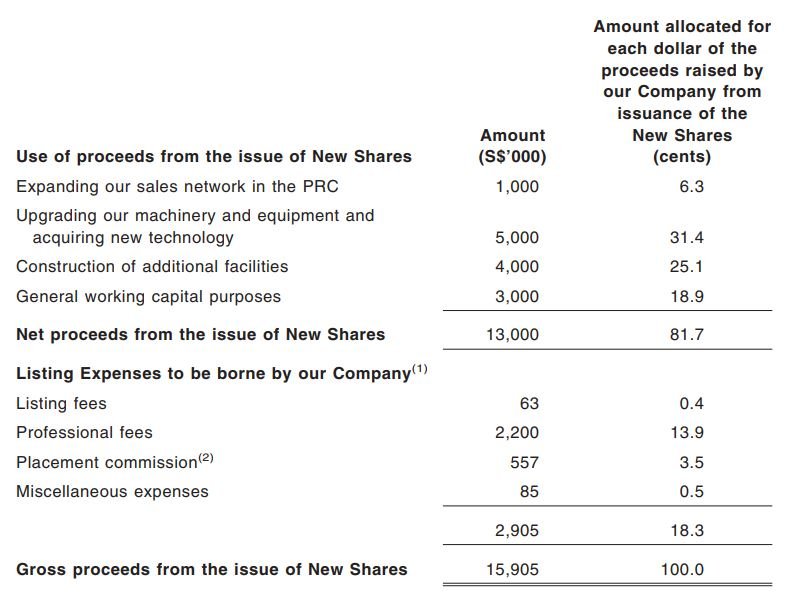 The listing will raise gross proceeds of S$15.9 million, with $2.9 mil going towards listing expenses. (that's 18%! How lucrative Investment Banking is… haha
I see that only S$1 mil is allocated to expansion in China as a testing phase.
I zoomed into the Prospectus on the upgrading of machinery and construction of additional facilities and found the below…
Upgrading our machinery and equipment and acquiring new technology
To cater for our future growth and development, we intend to invest in new technologies to increase our productivity and achieve cost efficiency as well as increase our existing capability. We also intend to upgrade our machinery and equipment and to replace aging machinery with new machinery including advanced and automated woodworking machinery and robotic spraying arms.
We intend to use approximately S$5.0 million of the net proceeds from the issue of New Shares for this purpose.
Construction of additional facilities
We plan to enhance our manufacturing and service capacity and capability by possibly acquiring new premises, in particular those located near our factories and warehouses.In addition, we have allocated approximately 1.9 acres of land at LY12, which is within walking distance from our factories, for the purpose of constructing a new hostel to house all our foreign workers. Our expenditure for the construction of the hostel is approximately RM8.5 million. As at the Latest Practicable Date, we have paid approximately RM2.3 million for such construction.
We intend to use approximately S$4.0 million of our net proceeds from the issue of New Shares for this purpose.
4. Financial Highlights
Revenue for the past 3 years have been going up. Same goes for the profits, it more than doubled from RM 17.3 mil in FY 2014 to RM 43.4 mil in FY 2016.
I checked the "MANAGEMENT'S DISCUSSION" and realized one thing: The increase in sales is due to higher selling prices underpinned by a higher USD/RM FX rate as well as higher volumes. As such, investors should be aware of any appreciation of the RM as it will adversely affect the top-and-bottom-line.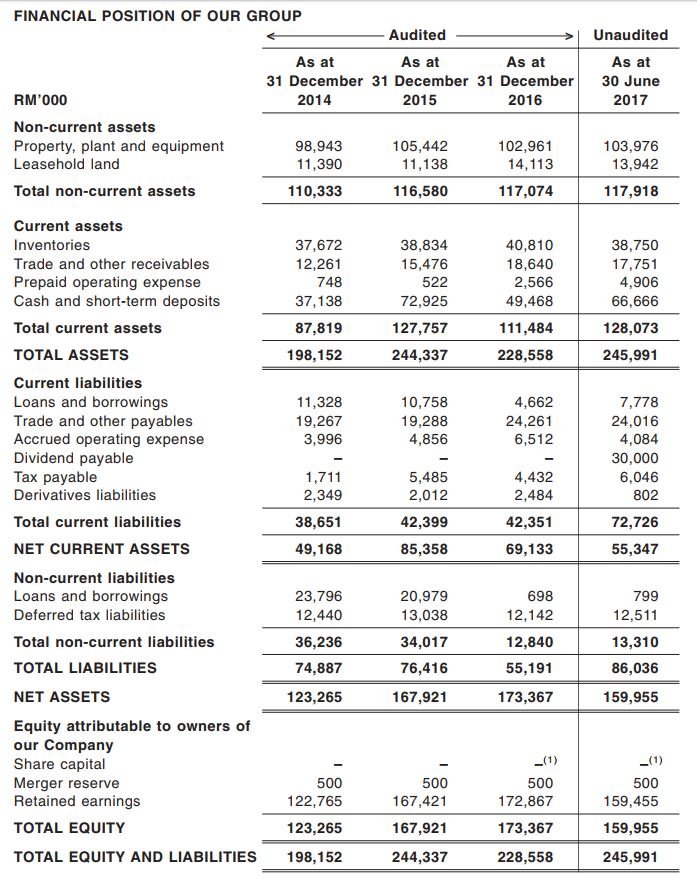 That said, I like how they are paring down their borrowings from FY2014 to FY2016. The loans are RM 5.3 mil as compared to RM 49.4 mil Cash, pointing to a pristine balance sheet.
5. Our Take on No Signboard IPO
Overall, we are positive about this IPO for its short-term potential and neutral on its long-term potential. Our thoughts are as follows:
– For short-term/flipping: Positive
Price of $0.26 is reasonable at 8.1x P/E ratio based on Audited FY2016 EPS.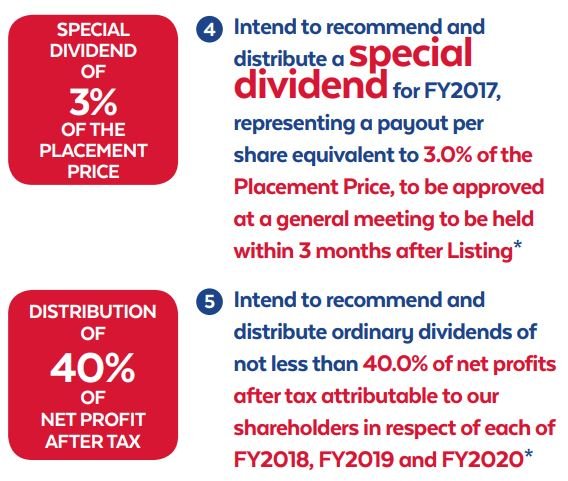 Furthermore, the company is rather generous and promises a special dividend 3% of the S$0.26 placement price. Assuming the EPS of Singapore 3 cents stays constant for FY2018 – 2020, that translate to a decent dividend yield of 4.6%.
Strong Balance Sheet, Growing Financials, Low P/E ratio and alluring Dividend yield; what's more to ask for?!
– For long-term holding: Neutral
On the other hand, the LY Corp has done a research for the IPO Prospectus which indicates that there are approximately 500 to 600 furniture manufacturers in Malaysia, most of which are operating on an Original Equipment Manufacturing ("OEM") basis. Competition is very stiff in the country as Furniture manufacturing is Malaysia's mainstay industry.
Furthermore, LY Corp intends to venture into a new country – China, and that will signify additional risks.
To sum up, LY Corp seems to be the leading wooden furniture manufacturer in Malaysia judging from the higher gross margins and ranked in the 1st few when it comes to CAGR of revenue and profits. What remains to be seen is whether the property market in U.S. or China will continue to boom going forward. Any sluggish signs may lead to lower demand for houses; and then lower demand for the furniture too.
Fancy an Ebook that teaches you the hallmarks of multi-bagger stocks and how to find them? Simply click here to receive your copy of a brand-new FREE Ebook titled – "100 BAGGERS" by Christopher W. Mayer here today!
Last but not least, do remember to Like us on Facebook too as we share the latest investing articles and stock case studies for you!