On 20 May 2022, LGMS Bhd (LGMS) released its IPO Prospectus (Part 1 and Part 2) and had invited the public to subscribe its shares at 50 sen per share.
Upon successful listing, its market capitalization would be lifted up to RM 228.0 million. Its closing date for this IPO subscription is set to be on 26 May 2022.
Here, I had summarized 8 key things on LGMS before subscribing its IPO shares.
#1 Business Model 
Established in 2005, LGMS offers a wide range of cybersecurity services mainly in Malaysia and Singapore such as:
Cyber risk assessment

Compliance

Threat & incident response services
Source: Page 65 of LGMS's IPO Prospectus
#2 Financial Results 
For the last 4 years, LGMS had achieved higher sales and profits. Revenues have increased from RM 17.4 million in 2018 to RM 28.3 million in 2021.
As such, the company's shareholders' earnings grew from RM 6.0 million in 2018 to RM 10.3 million in 2021.
This is due to higher demand for its services from key industries such as financial services, technology, aviation & logistics during the period.
For the 4-year period, LGMS's earnings per share (EPS) had increased from 1.31 sen in 2018 to 2.26 sen in 2021. 
Source: Page 160 of LGMS's IPO Prospectus
#3 Balance Sheet
LGMS's current ratios were well above 1 and its gearing ratios were <50% in the four-year period.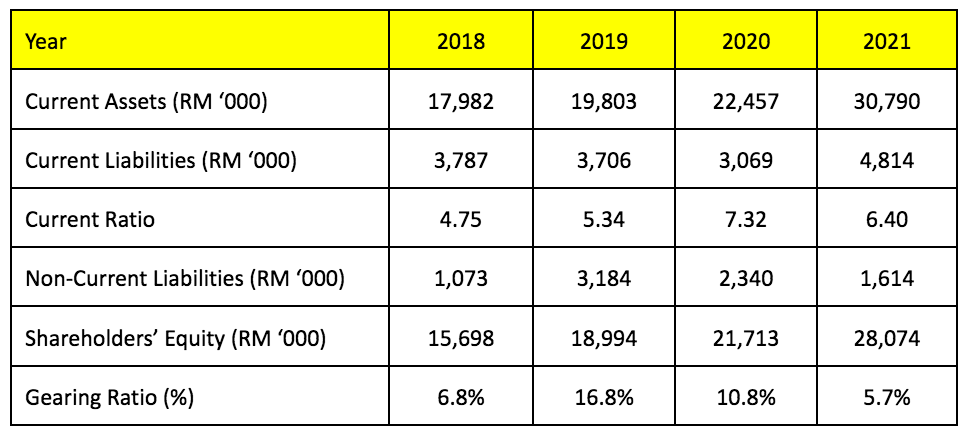 Source: Page 161 & 162 of LGMS's IPO Prospectus
#4 Concentration Risk
Apart from the failure of maintaining the cyber security of its clients, it revealed that it generated 50+% of its annual sales from one key industry: financial.
In addition, LGMS had generated 33.6% of its sales in 2021 from 5 key customers as follows: 
Source: Page 99 of LGMS's IPO Prospectus
#5 Utilization of IPO Proceeds
LGMS intends to raise RM 45.7 million in gross IPO Proceeds. From it, LGMS has revealed that it would allocate the proceeds in the following items: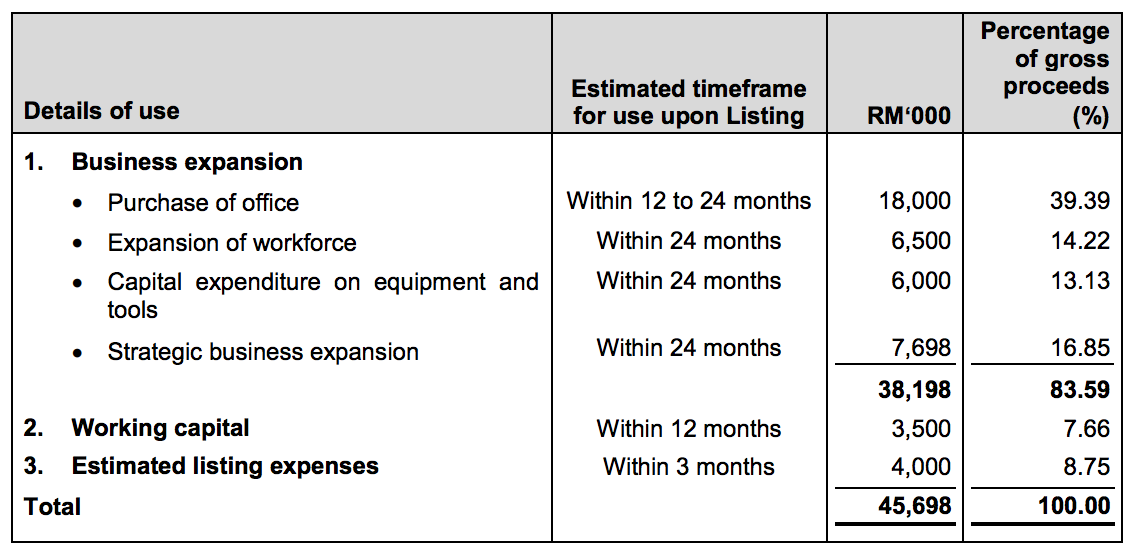 Source: Page 25 of LGMS's IPO Prospectus
1. Purchase of Office (RM 18.0 million) 
Presently, LGMS operates from 2 office units at Empire Office Tower, Subang. At that premises, it has a corporate office, 7 test labs, 1 forensic lab, and 6 training classrooms, which could accommodate up to 85 employees. 
Hence, LGMS intends to acquire its new office space where it could house up to 8 test labs, 1 forensic lab, and 6 training classrooms. The location of the office is to be decided.
Upon successful relocation of its business premises, it could save up to RM 557,000 a year in rental expenses.
LGMS budgets RM 18 million on its office purchase and the allocation is as follows: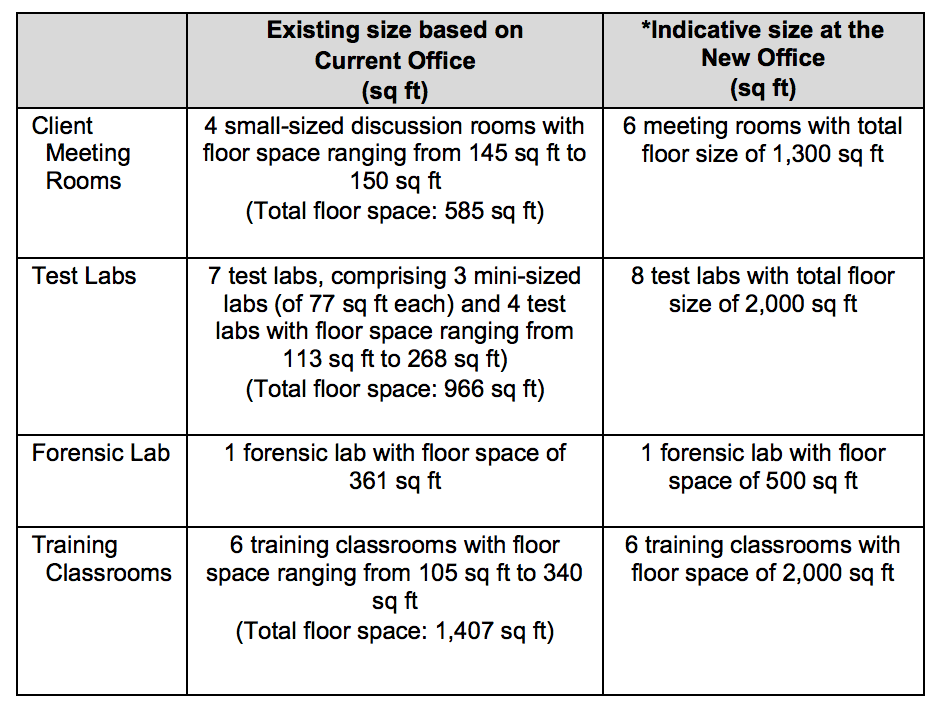 Source: Page 27 of LGMS's IPO Prospectus
2. Expansion of Workforce (RM 6.5 million) 
This refers to the hiring of an additional 70 technical personnel for the next two years costing RM 5.5 million and RM 1.0 million in relevant training cost. 
3. Capital Expenditures on Equipment and Tools (RM 6.0 million) 
This includes purchase of laptops, software, and equipment for its labs and also its training centres. 
4. Strategic Business Expansion (RM 7.7 million) 
This refers to its setting up of a new branch in Singapore costing RM 2.5 million.
In addition, LGMS budgets RM 5.2 million for joint ventures & tie-ups with local partners in Vietnam and Cambodia and strategic acquisitions if any arise. 
5. Working Capital (RM 3.5 million) 
This refers to RM 2.5 million in sales and marketing expenses, which includes its media advertisements to promote awareness of cybersecurity in the public and RM 1.0 million in general overhead expenses.
#6 Major Shareholders

Source: Page 13 of LGMS's IPO Prospectus
LGMS's co-founders namely, Fong Choong Fook and Goh Soon Sei would remain as the 2 biggest shareholders with 53.9% and 16.1% direct shareholdings of the company.
Both Fong and Goh are husband & wife. Fong is appointed as LGMS's Executive Chairman while Goh, his wife, is appointed as its Executive Director. 
#7 Dividend Policy 
The company has not adopted any formal dividend payout policy. 
#8 Stock Valuation
LGMS's IPO shares are offered at 50 sen a share. 
Thus, this offer is valued at P/E Ratio of 22.1 based on FY2021 EPS of 2.26 sen.
It is valued at 3.1x P/B Ratio based on 16 sen in NAV per share for 2021 too. 
Conclusion
Overall, LGMS has achieved growth in sales and profits and maintained a steady balance sheet with high current ratio and low gearing ratio in the last four years from 2018 to 2021.
LGMS's growth is dependent on its capability to secure new contracts or to renew its contracts from its existing customers.
As investors, the key is to determine if the IPO valuation at P/E Ratio of 22.1 and P/B Ratio of 3.1 is attractive and if we can find fundamentally better stocks with these valuation figures.